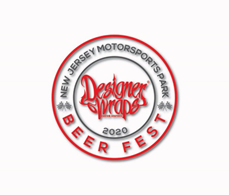 New Jersey Motorsports Park announced today that the Designer Wraps Beer Fest will be rescheduled for Saturday September 12, 2020 between 4 p.m. – 8 p.m. to be held in following the MotoAmerica Superbikes at New Jersey.
NJMP expects over 30 craft breweries to participate with 60 styles of beer, in addition to food trucks, vendors, live music and more. The event ticket includes beer samples from all participating breweries. Megan Knight who recently appeared on American Idol will be the featured performer at the Beer Festival.
While there will be more details to come in the upcoming weeks, the Beer Fest will be held after the track activity is done that Saturday on the grounds of the NJMP Clubhouse.
Tickets for the Beer Festival can be purchased for $35.00 on-line and $40.00 at the gate.
Visit https://www.etix.com/ticket/p/6708183/2020-designer-wraps-beer-fest-at-new-jersey-motorsports-park-millville-new-jersey-motorsports-park to buy a ticket and follow the event on our Facebook Event Page at https://www.facebook.com/events/799398023837503/ to see additional details including participating breweries, food trucks and vendors.
This will be the 12th visit to New Jersey for MotoAmerica which is always one of the biggest events of the season for NJMP. In a statement from Brad Scott, NJMP President/COO he states" Everyone from the breweries that are participating to the MotoAmerica organizers are excited about the new date and the pairing of the beer fest with world class motorcycle racing".
Tickets for the MotoAmerica Superbikes at New Jersey can be purchased by visiting NJMP's website https://www.tickets.motoamerica.com/event/motoamerica-superbikes-at-new-jersey–september-11-13-2020 and Facebook page. Stay tuned for updates on other rescheduled events.