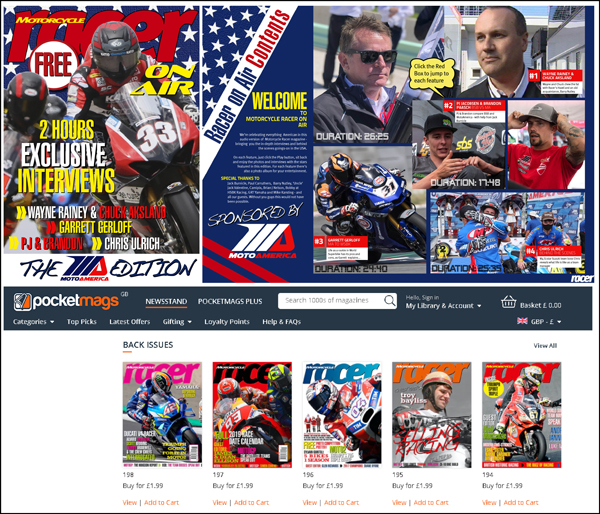 The following is from Motorcycle Racer…
The very first edition of "Motorcycle Racer On Air," the Audio Visual version of Motorcycle Racer magazine, is now available free of charge, thanks to Pocketmags.
Featuring MotoAmerica, it includes exclusive audio interviews with a plethora of race photographs that you can see – and listen to – free of charge.
You can get this on your PC through a web browser or through the Pocketmags App on your mobile phone or tablet.
Yes, this Special Edition is free of charge – you just need to click the link below and select the Read option. You'll need to enter your email address and make up a password and off you go!
If you have got a smartphone or tablet, download the Pocketmags App when invited to and view it from that – as it's much better! Check out the back issues and make sure you've got notifications turned on to hear about the next release.
Click on: https://pocketmags.com/motorcycle-racer-magazine/motoamerica
If you already have the Pocketmags App – or download it separately – then simply search for "Motorcycle Racer Magazine" to get this free edition – and also back issues.
Motorcycle Racer thanks Chuck Aksland, Jack Burnicle, Paul Carruthers, Garrett Gerloff, PJ Jacobsen, Mike Karsting, Barry Nutley, Brandon Paasch, Wayne Rainey, Chris Ulrich, Jack Valentine, Camipix, Brian J Nelson, and Bobby at HSBK Racing for their input!
For any enquiries, please email [email protected] or call +44 7831 577 654.