The following is from Yamaha…
Fresh N' Lean Attack Performance Yamaha Racing's Jake Gagne scored another dominant victory in today's race one of the MotoAmerica Superbike tripleheader at the New Jersey Motorsports Park in Millville, New Jersey. His impressive 14th-straight win moves him closer to his first title in the premier class. Toni Elias joined him on the podium in third. After two months away, Josh Herrin had a solid first race back, coming just shy of a top-five finish in sixth.
Gagne set the pace early, leading every session to maintain his perfect qualifying record this season. The Colorado rider got a great start from pole position and led every lap to take his 14th win of the season by a 7.6-second margin. With 100 points left on the table and five races remaining, Gagne's 98-point lead in the championship puts him just two points away from clinching the title a week early.
Elias got a great start from the second row of the grid to third and quickly moved into the runner-up spot. He then found himself in a three-way battle for the podium and on Lap 7, he was passed by fellow Yamaha rider Mathew Scholtz. The Spaniard kept pushing but then had a moment after the halfway mark and lost some ground. With another rider on his heels, Elias kept cool under pressure and held off the competition to secure third for his second podium finish in three tries aboard the Fresh N' Lean Attack Performance Yamaha R1.
After being sidelined from the previous two rounds with Covid-19, Herrin had a solid return to racing. Qualifying fifth, he started on the second row next to Elias and was fifth after the start. The Californian was able to close the gap to the riders ahead, but started to lose some time five laps in and found himself locked in an intense three-rider battle for fifth. Herrin exchanged positions a few times and fought all the way to the finish line, coming short of the top-five finish by just .051 of a second.
The Fresh N' Lean Attack Performance Yamaha Racing Team returns tomorrow for two more races to complete the MotoAmerica Superbike tripleheader at the championship's penultimate round at the New Jersey Motorsports Park.
Richard Stanboli – Fresh N' Lean Attack Performance Yamaha Racing Team Manager
"Today was a fun day at NJMP. Jake rode a great race and won from the front. We told him not to worry about the championship and do what he has been doing, and everything else will fall into place.
"It was also good to have Toni on the bike. He has a wealth of knowledge in addition to being a great rider. It was good to see him race at the front and finish on the podium. He is really enjoying his time on the Yamaha R1.
"We also welcome Josh back after recovering from Covid, and he is quickly getting back up to speed. We will have a look at our data tonight and make some further improvements for tomorrow. It would be good to see all three riders on the podium, and we will work hard to give them that opportunity."
Jake Gagne – Fresh N' Lean Attack Performance Yamaha Racing
"It was another great day for the team. We had a productive practice, and we were able to understand how the bike was going to work over the race distance. I got off to another good start and just clicked off the laps until the end for another win. We've got two twenty-lap races tomorrow, which will be a lot, but I'm ready for it."
Toni Elias – Fresh N' Lean Attack Performance Yamaha Racing
"I'm very happy to be on the podium. This track is difficult, but we have made some improvements since Pittsburgh. I've been struggling a bit with rear grip, and this hurt me a little bit today. I had a really great start, and for seven or eight laps, I followed Jake and kept that one-second gap, but at the end, I started to slide and lost touch with him and then fought with Mat (Scholtz). I think we can make another step tomorrow. I want to say thank you again to the team for working so hard and bringing me back to the podium."
Josh Herrin – Fresh N' Lean Attack Performance Yamaha Racing
"I'm so happy to be back. It wasn't the result we wanted, but being off the bike for two months made it hard. I was a little too far back and knew I wasn't going to catch those guys once (Loris) Baz was there with me. We had a great battle; I think we probably had fifteen passes there at the end of the race. I'm sure that we've got a lot to look at when we get back to the truck. It's been a long road climbing back to where we're at right now, but we're going to keep working as hard as we can to get back on the podium."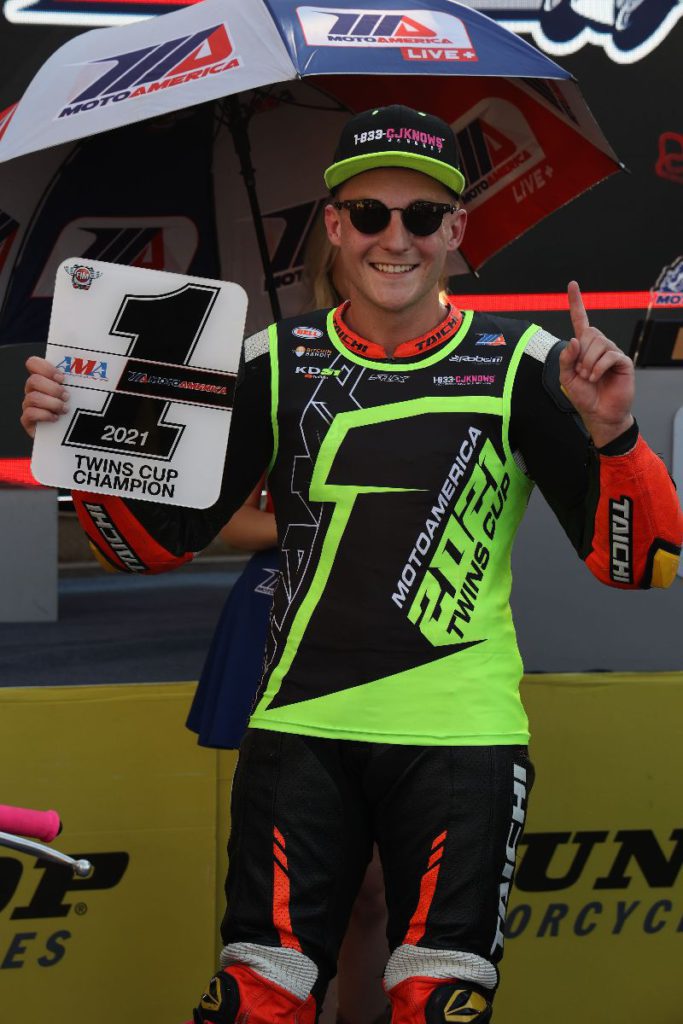 The following is from Robem Engineering…
Kaleb De Keyrel was on the verge of clinching his first MotoAmerica No. 1 plate at the start of this weekend's MotoAmerica Superbikes at New Jersey, and the Aprilia rider wasted no time wrapping up the 2021 MotoAmerica Twins Cup title on Saturday at New Jersey Motorsports Park. The Minnesotan piloted his Aprilia RS 660 to a podium finish that also secured Aprilia's first MotoAmerica crown in its maiden year competing in the Twins Cup.
The weekend also marked the MotoAmerica debut of Aprilia test rider Tommaso Marcon aboard a Robem Engineering Aprilia RS 660, and 15-year-old Max Toth returned for the New Jersey round after making his debut with the team at Pittsburgh International Race Complex last month. Saturday saw Marcon claim the Twins Cup pole in his first time racing on NJMP's 2.25-mile Thunderbolt circuit and Toth score his first Twins Cup podium.
De Keyrel started the weekend with a 53-point lead over second place in the Twins Cup standings and needed to finish Saturday's race with at least a 50-point advantage to secure the championship. Marcon and De Keyrel took part in a test day at NJMP of Sept. 3, which helped the team develop good setups for its Aprilias — something that has been a struggle with campaigning a newly-homologated-for-2021 motorcycle this year.
All three of the team's riders were near the top of the time sheets in Friday Twins Cup practice. Marcon led the team's efforts when he posted the second-fastest time of the session. Toth finished the session third fastest and De Keyrel was fifth fastest. Later Friday, all three riders finished in the top five in the weekend's first qualifying session. Marcon was again the second fastest rider, and his best lap time was within 0.2 seconds of the session leader and two seconds faster than his best practice time. De Keyrel finished the session in third, and Toth was fifth.
Qualifying concluded early Saturday afternoon with Marcon having claimed pole position and De Keyrel having secured third on the starting grid. Toth finished qualifying in seventh place.
The first of two Twins Cup races slated for the event got underway late Saturday afternoon with Marcon getting the holeshot and De Keyrel holding onto third place into Turn 1. De Keyrel fell as far back as fifth place on Laps 2-4 with his chief championship rival ahead of him in the running order. Marcon was battling for the lead on Laps 4 and 5 with another rider, but lost grip with the rear tire and unfortunately crashed as he exited Turn 1 on Lap 6. With Marcon dropping out of the race, De Keyrel moved up to third place and into a position to win the title after his championship rival dropped to ninth place on Lap 5.
Another front runner dropped out of the race on Lap 6, leaving De Keyrel and Toth in a three-way battle for the race lead. Though the championship was on the line, De Keyrel and Toth put on a great show of close racing – swapping positions twice– and brought their RS 660s home in second and third place, respectively. De Keyrel's runner-up finish was enough for him to clinch the 2021 Twins Cup title, having secured an unassailable 62-point advantage in the standings.
All three Robem Engineering riders will be back in action Sunday for the second and final Twins Cup race of the weekend. The race is scheduled to start at 4:10 p.m. and is to be broadcast on Facebook Live.
Kaleb De Keyrel (No. 51)
"My Robem Engineering Aprilia RS 660 felt really good from the start of the weekend. We made very minor changes from the setup we were running at the test day, but I knew I had some things to work on to find a little more time. It was a crazy race today, especially with the title on the line. I was on the fence about whether I should push hard to get the win or play it safe. There was a lot of craziness going on, but I'm a racer and I really wanted to go for the win. And we almost had it. I'll do my debrief with the team tonight and will see if we can come out swinging tomorrow. Winning this championship feels amazing. I've been working hard at the go-kart track and my girlfriend, Marissa, has been working extremely hard behind the scenes with my training. It's just incredible to finally get the No. 1 plate this season. It's really tough to put together a good, full season of racing, regardless of what class you're in. A national championship is a life-long ambition of mine, and it's humbling to have won it."
Tommaso Marcon (No. 70)
"I'm starting to get used to American race tracks, and yesterday we had a couple issues with the bike during qualifying and couldn't finish the session. This morning in Qualifying 2, we made pole position, which was very good. In the race, I had a good rhythm going and my plan was to get away from the field. However, I crashed on Lap 6 after touching the paint with a little too much lean angle. I was pushing very hard, but the guys behind me were catching up to me with the slip stream. Tomorrow is another race, and we will focus on continuing to improve tomorrow."
Max Toth (No. 58)
"Yesterday, we had a lot of work to do after missing the test day. We had to make sure we had the bike dialed in from the first session, and I think we did a good job with that — and it showed in our race result. This is a big step for us from my first round at Pittsburgh, where we had trouble getting a clean lap in practice and qualifying. I was pretty confident in the bike from the first session all the way through the race."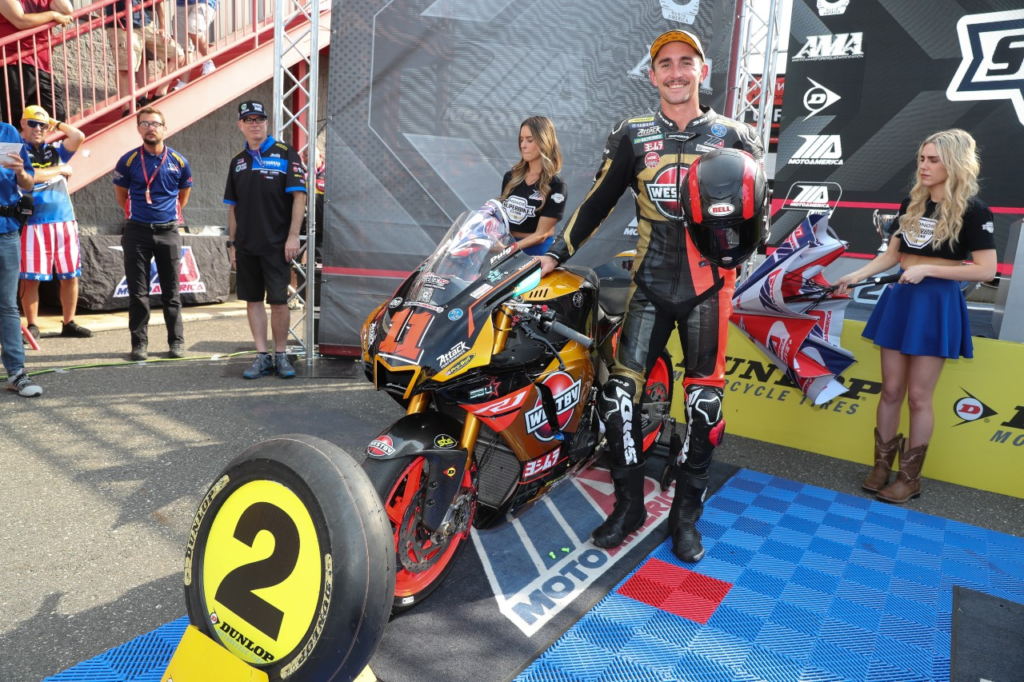 The following is from Westby Racing…
On Saturday at New Jersey Motorsports Park, Westby Racing's Mathew Scholtz not only finished on the Superbike podium for the 11th time in this year's MotoAmerica Championship, his second-place result was the fifth time he has finished as runner-up this season.
And, while winning races is obviously the number-one objective of Mathew and the team, the consistency, which includes their current six-race podium streak, has given them a stone-cold lock on second place in the point standings, with a gap of nearly 60 points to the third-ranked rider with five races left in the season.
Starting from the middle of the front row, Mathew got a good jump off the line and tried to overtake Jake Gagne on the opening lap, but he ran out of room. After that, Toni Elias overtook Mathew, but Mathew had good pace and got past Toni as the race approached the halfway point. From there, Mathew maintained second place all the way to the checkered flag.
"Second place, I kind of have to be happy," Mathew said. "Obviously, we would like to win, but Jake (Gagne) is on form now. It's kind of nice to be the next-best guy after the Attack Yamaha. At this point it's pretty clear to see that they have the best package. So, it's always good to be up there. I think Jake beat us by seven or eight seconds, which is a little bit far, so we're just going to go back to the briefing room now and try to figure out what we can do better. The first five or six laps, I felt good. We did a 21.2, 21.3, and I felt comfortable. Then, I got to lap five or six, and I was just pushing the front and sliding out of almost every single right-hand corner, so we've got to try to figure out how we can kind of hook up better. Obviously, if you're going to do something, you've got to pass Jake early on because once he settles into his own groove and he's gone, he definitely has a better pace than everyone else. So, hopefully, tomorrow I'll be able to get a decent jump and try to do something out of the first couple corners. For now, just got to be happy with this second place. I had a decent battle with Toni. It's always good to see him back up here. Happy with the Yamaha sweep of the podium. Just a big shout-out to the Westby Racing team. We've been working hard. We completely changed the motorcycle about four or five rounds back, and I feel like we've been making steady progress forward. So, we've just got to keep on working at it and just chip away a couple tenths, and we should be right there."
Ed Sullivan, Westby Racing Crew Chief said, "Solid race for Mathew and our team today. Another strong second place. We have some changes ready for Sunday morning warm up, and I'm confident we will make the step needed to get Mathew up fighting with Jake."
Chuck Giacchetto, Westby Racing Team Manager, added, "Today was the best day of our 2021 effort, in my opinion. I am so pleased and proud of our team. The guys found a very nice rhythm of late, and it's all coming together. With regard to Mathew, he's worked very hard to change not only his riding style but he has also found a much calmer approach to addressing his needs, which, in turn, gives Ed and the crew much more precise feedback.
"I know there is only a small mathematical chance to win the championship at this point, but I'm so ready to address the improvements that the team wants and needs because we still have room to improve. To be as close as we are and realize that there's still room for improvement is very exciting as we look forward to the 2022 season."
Sunday's Superbike race two is at 11 a.m. ET, and Superbike race three is at 3 p.m. ET. Both races will be broadcast live on FOX Sports 2 (FS2), as well as streamed on MotoAmerica Live+.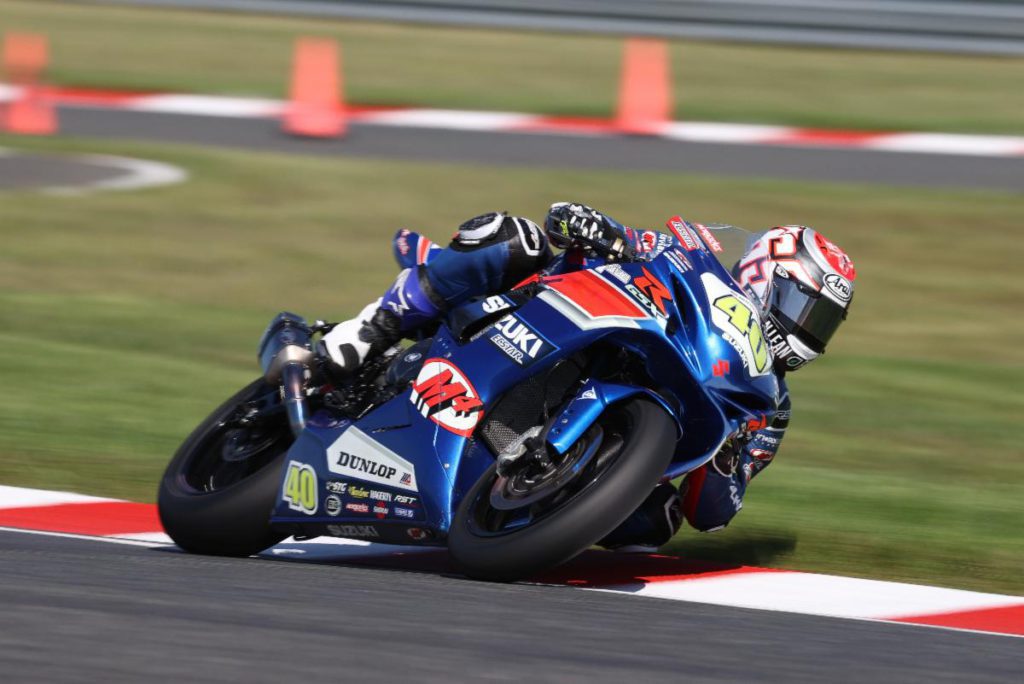 The following is from Team Hammer…
Team Hammer enjoyed a sensational Saturday of the penultimate round of the 2021 MotoAmerica AMA/FIM North American Road Racing Championship at New Jersey Motorsports Park. M4 ECSTAR Suzuki's Sean Dylan Kelly showed his ability to keep the pressure on his opponents once again in the MotoAmerica Supersport contest, pulling off yet another final-lap victory in jaw-dropping fashion. The series points leader was forced to work very hard yet again, dicing it up with teammate Sam Lochoff over the first half of the contest before settling into a one-on-one duel with the defending class champ in the race's decisive laps. The final of five lead changes that took place over the race's last-lap-and-a-half came courtesy of 'SDK' leveraging the extreme agility of his GSX-R600 to unexpectedly slot into first position in the middle of the chicane.
That maneuver set up a drag race to the checkered flag that was only decided once officials reviewed the start/finish line camera. Kelly was officially credited with a 0.001-second margin of victory. The win was his 11th of the season and improved SDK's chance to lock down the title early. Kelly needs a finish of just seventh or better on Sunday to clinch the title even if his closest challenger were to win out in the remaining races.
"Clearly, I was willing to risk quite a bit," Kelly said. "I went out there to win. Everyone's talking about my chances to win the championship, and how I possibly didn't even have to win to clinch this weekend. That doesn't matter. I come here because I work hard to win, so I'm going to do that every single weekend. We've been doing that all season long, so why not keep doing it? "This is amazing. I'm really happy, but we still have tomorrow, and that's going to be an important day for us."
Lochoff registered arguably his most impressive ride yet in middleweight competition. The South African secured provisional pole on Friday and proved his competitiveness by leading multiple laps while pushing the class' established powers before settling into a secure third. The result was the fourth podium of the rookie's maiden Supersport campaign.
He said, "Riding with the fastest guys, I was learning every lap. I made a couple mistakes, especially on the long left. But we're going to go back and make a couple changes for tomorrow. Leading some laps, it felt like a win. But I think if we make the right changes, maybe we can be even more competitive tomorrow."
Meanwhile, Altus Motorsports Suzuki's Jake Lewis already completed his ultimate goal for the 2021 season by claiming the Stock 1000 crown a race early. Lewis put the finishing touches on his championship with a dramatic victory, executing a final-lap pass aboard his Team Hammer-built GSX-R1000R to claim the championship in ideal fashion.
"I wanted to go out and get the championship from the top step to reward my team and that's what we did," Lewis said. "Last year, I was out of the paddock, sitting on the couch, over 200 pounds, and in a tough spot. I thought about quitting racing, but I've been traveling the country in a van with my mom and dad since I was four years old, chasing a dream. I worked hard to get back in shape. After I got my butt kicked at the first round, I knew it was time to get going, and we've been on the podium pretty much ever since.
"Big thanks to Altus Motorsports for the opportunity and to Team Hammer as well for the amazing technical package."
M4 ECSTAR Suzuki's Superbike teammates, Bobby Fong and Cameron Petersen, put up a strong fight as well on Saturday. Fong battled it out for a podium throughout aboard his Suzuki GSX-R1000R, coming up 0.132 seconds short of the box in fourth. Petersen, meanwhile, engaged in a three-way scrap for fifth before ultimately finishing in seventh. Wyatt Farris added another top-ten finish to the team's tally by finishing tenth aboard his M4 ECSTAR Suzuki GSX-R1000R in the Stock 1000 contest.
Sunday will be another big day at the track for Team Hammer at NJMP with Kelly and Lochoff going for victory in Supersport and the premier Superbike class racing not once, but twice.