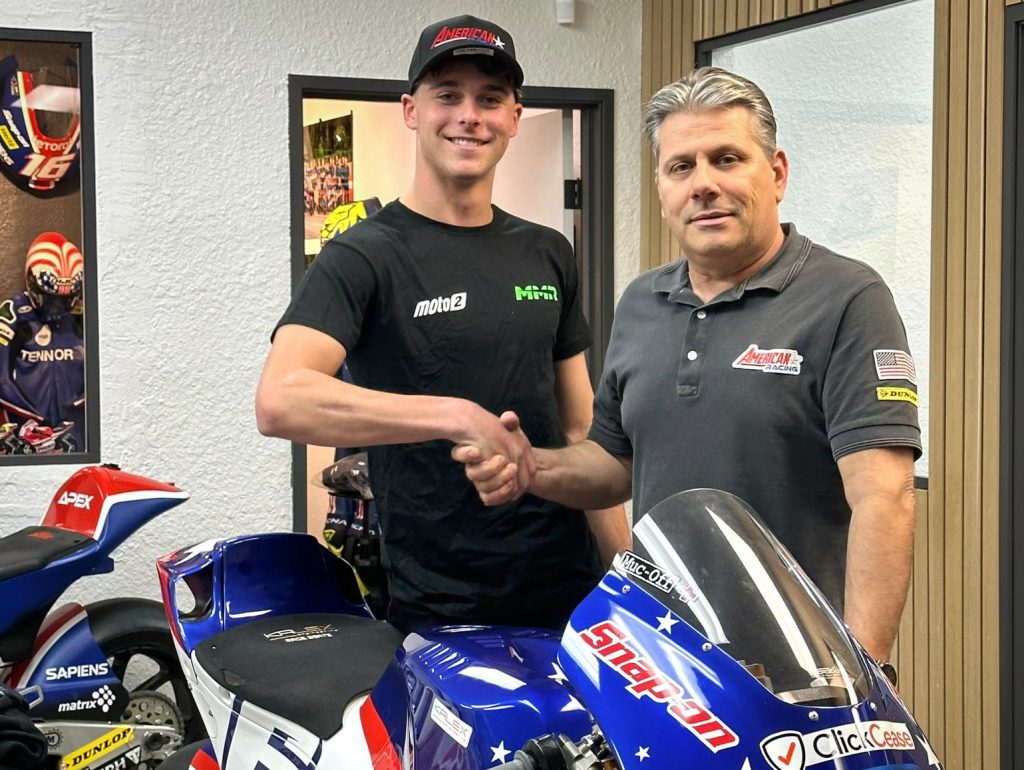 The following is from American Racing…
American Racing is delighted to announce that Max Toth has joined the American Racing Academy program in a long-term management agreement that will see him receive direct support from Apex Motorsports Agency for the 2023 JuniorGP Moto2 European Championship.
Toth will race for Team MMR as part of a joint venture with American Racing. He competed with the team at the end of 2022 as a wildcard in Valencia, his first time racing a Moto2-category machine. For 2023, he'll contest the full 7-round, 11-race calendar, ranging through Spain and Portugal, learning Moto2 machinery, and pitting himself against future World Championship contenders.
The 17-year-old American comes to the project with decent experience in European racing, having competed in Italy for a number of years at the MiniGP, CIV Junior, and Moto3 levels. In 2022, he moved up and contested the Aprilia RS 660 Trophy, winning four races and finishing the season as Champion.
Taking the step up to the JuniorGP Moto2 class puts Toth well onto the path towards a World Championship career, and the American Racing Academy will be behind him every step of the way.
Max Toth, Rider –
"I'm ecstatic about racing Moto2 in the JuniorGP for 2023. Being a Moto2 rider has been a dream of mine for a very long time, and for it to actually come to fruition is a dream come true. I'm grateful to Massimiliano and Eitan for putting this project together and giving me the opportunity to not just represent them on the world stage, but the rest of the United States of America, as well.

"I'm excited to be working with John Hopkins more closely this year. His knowledge and experience will undoubtedly push me into being a better version of myself on- and off-track. I believe we can achieve some great results, enduring new challenges and working harder than ever before, and I'm ready and eager to get the racing started!"
Eitan Butbul, Co-Owner at Apex Motorsports Agency and Team Manager at American Racing –
"We're very happy that Max has joined the agency and the academy program. He's a great rider who's shown already how talented he is and that he's ready to fight for the top.

"We understood last year that having a program extending to the JuniorGP will be useful in the American Racing mission to prepare and bring riders from the U.S. to the top of World Championship racing. The European Moto2 class is now of the standard that it is a viable alternative path to the world stage intermediate class, and it's no longer absolutely necessary for riders to pass through the Moto3 ranks first. Therefore, after speaking with Team MMR owner Massimiliano Morlacchi, it was clear they were a perfect match for us, and we established a collaboration. It has given us the option to be involved and have a spot for a new American rider on the road to the World Championship.

"I want to say a huge thanks, as well, to Massimo Rivola from Aprilia, who has helped us enormously in arranging this project."
John Hopkins, Co-Owner of Apex Motorsports Agency and Racing Director for American Racing –
"We're super-excited to have signed Max. He's a really strong, young American talent that we can't wait to help build and grow. He's really motivated and determined to race in Europe, which is obviously what we have to do these days to get Americans in the World Championship. So, we're really happy to have secured him a Moto2 spot in the JuniorGP for 2023. He'll also be working very closely with American Racing in the World Championship, as well, traveling to a lot of the races to see how it works.

"I've said for all of my career that it's a lot more difficult for Americans or other riders from outside of Europe at this level, due to the sacrifice of spending full years at a time away from home while in the prime of their lives in their teenage years. But Max is willing to take on that challenge to get to where he wants to go. He's happy to do it in preparation for hopefully getting him into the Moto2 World Championship in the future. He's a great young kid, coming from a fantastic family, and we're delighted to be working with him. Along with Sean and Rory, who are also managed by us, having riders under our management on our team is a real privilege, and we all have a big year ahead!"
Massimiliano Morlacchi, Owner of Team MMR – 
"First of all, I'm very happy to be able to continue this year wearing the colors of the Trofeo Aprilia RS 660; at the same time very excited to be able to announce the start of the collaboration with American Racing, a team of absolute prominence in the Moto2 World Championship that trains and grows young talent from America. The whole team is very excited to welcome Max as an official rider for 2023. We followed his past season closely together with the BK Corse staff (Trofeo Aprilia RS 660 promoter), and we noticed his professionalism and his potential, the same potential that was evident in the first weekend in Valencia where Max participated as a wildcard with a convincing performance. Obviously, we would like to thank American Racing for this collaboration, which brings prestige to our 2023 and makes us proud."