The following is the 21st and final of our "21 In '21" series that highlighted one of the 21 AMA Superbike Champions as we moved through the 2021 MotoAmerica season – the 45th year of the premier class championship.
To a man, the riders in the MotoAmerica Superbike Championship will tell you that Toni Elias raised the level of racing in the U.S. when he arrived in 2016 armed with a Yoshimura Suzuki.
With a Moto2 World Championship and a MotoGP victory on his resume, Elias didn't come to America to retire. He came to win and that's what he did – 32 times. And in 2017, Elias became the only rider other than Cameron Beaubier to win a MotoAmerica Superbike title from 2015 to 2020.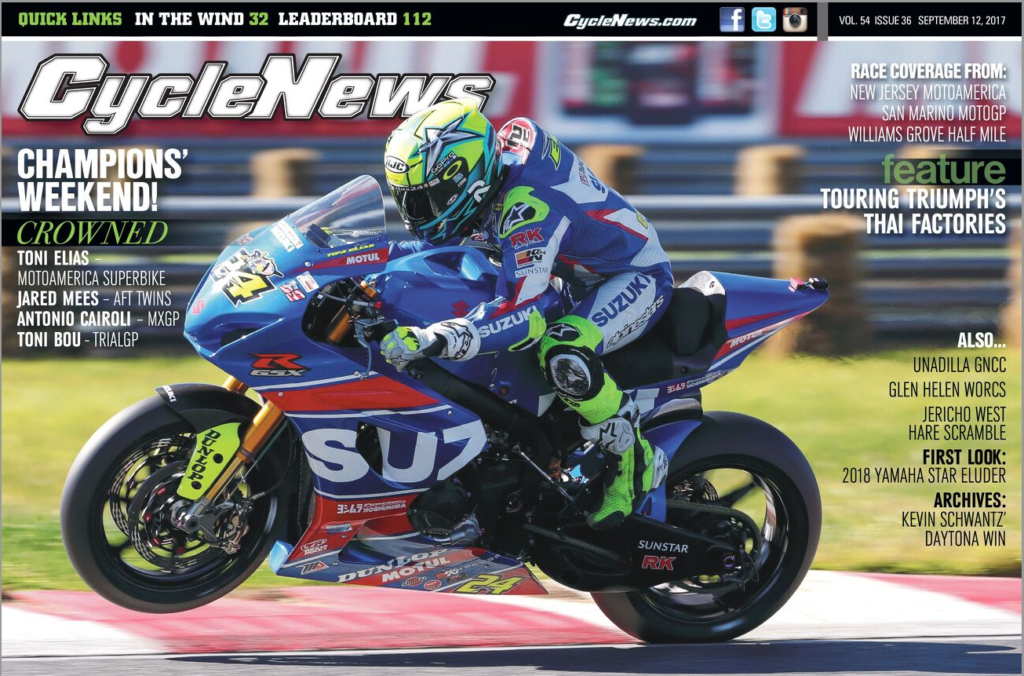 Elias arrived with the credentials of a World Champion, but he arrived at a down period in his racing career. But given the opportunity, he made the most of it.
"Well, after I dedicated all my life to this beautiful sport, until arrive the MotoGP and won the Moto2 Championship in 2010, it was a difficult period for me, with some years trying different things, back to Moto2, World Superbike. At some point I decided to stop. I said, 'Okay, this is not working. Everything I try is not what I want or the results I expect. It's better to stop.' At this point, I received an (Suzuka) Eight Hours offer. That made me restart again. I had a lot of fun. Then I replaced some injured guys in MotoGP. After that, I was still without a job, but waiting. The fact that I had that three or four races doing all these things, I had a good visibility and that's why at some point when Jake Lewis had the injury, Yoshimura called me. Initially it was just for the test, to help them develop the bike or give some advice from the experience of many years. It worked well. They were happy. Me too. They said, 'Well, we believe you can win, so why you don't stay for the first race?' So, I did it and we won both races. So, surprise for them, surprise for me. Everyone was happy. 'Why you don't come for the next race?' Of course. Then we went to Atlanta. I won one, and the second one I was about to win but I crashed. But everything was positive and was nice. So, it's been really good. From stay at home to have this opportunity with this historical team, Yoshimura Suzuki, it was amazing. The results helped. They were happy and me too. Everything was amazing. It was very nice."
In 2016, Elias fought with the likes of Cameron Beaubier for the championship, but he didn't get the job done. The next year, however, he certainly did, and it helped that he was armed with a new GSX-R1000.
"The '16 was a really good year for us, and we fight for the title, but the bike was still one or two steps behind the Yamaha at that time," Elias said. "We were waiting for the new model to have better engine, better electronics, to help us in different areas. That's what happened. We received the new bike and everything was new, was different. We set up everything quickly and together we did a nice job. That bike, yes, was another level of bike. We could be at the top more easy. Always with Yamaha, it had depended on the track, we were stronger or the other tracks they were stronger than us. But always was that back and forth. But, with that bike we could defend everything a little bit better. We won a lot of races, and at the end we could win that championship. It was amazing, something impossible to think about when I was at home and in two years I was there winning this championship here. That was a super great year, super great job, nice people, great memories with Roger (Hayden), the best teammate. It was so good."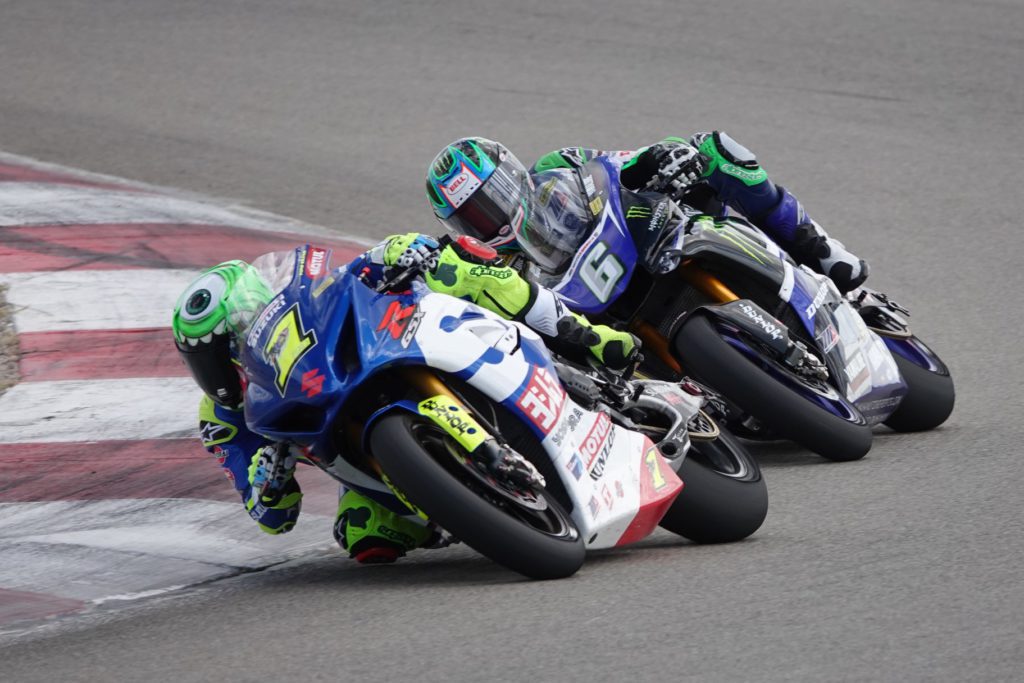 While it started as a nice place to visit and race, America soon became home to Elias. He moved to a beach city near Los Angeles and immersed himself in the lifestyle.
"Everything changed," Elias said. "That was not my initial plan. My initial plan was come to race here, win races, of course win championships, but then maybe come back or maybe stay, but it was quick. I met Kristie (his American wife) and after seven, eight months we decided to go have Toni (his son). That was crazy, but it was good because I really wanted to be a father, but when he arrived, it's amazing. This feeling is the best thing in the world. To me, just motivates me to race better. Maybe to be more calm and see things in a different way. After that, I didn't win any other championship, but that was not the problem. There's other stuff. But it's what happened. Living in Manresa, a little town next to Barcelona, to racing in America, living in America, having an American wife, American kids, Toni arrived, now Joanna (his daughter) arrived. I really like here. I want to stay forever. I will stay. I really enjoy all this. Always it's good to come back to Barcelona, visit family, visit friends, but now I'm here. I'm a father, and I'm happy. I love surfing. I cannot surf in Spain, even in Spain I have drive six hours to surf. Now I have to drive 15 minutes and it's all good. It's perfect. All the package is nice."
Elias' memories of racing in the U.S. are plentiful but, of course, 2017 is the one year that sticks out.
"Well, there's many good moments," Elias said. "All the victories had something special, but always in a championship you have your ups and downs. It happened the same in 2010 when I won the Moto2 Championship. It's like you are leading the championship. You go opening the gap, more points, more points, more points. At some point, something happens and you go back, and then you have to increase again, and then something happens and you go back… It's like there's something else. Doesn't let you relax too much. If you are relaxing too much, boom. Back here. Concentrate. Let's go, let's go, let's go, let's go. And come back. The racers, we would like to be in that comfort area like, 50 points, 60 points, 100, 120 points. Okay, I'm the champion. Maybe some years have been bad. Not many. If I have to say a very difficult moment, was in Pittsburgh. Pittsburgh was a moment when Cameron (Beaubier) was kind of getting five points, 10 points every race. They did a step, and we arrived there and that race was really important to continue keeping the distance or start to lose many points. I remember I had a bad tire. We start the race, no grip, no grip, no grip. I start from first to 10th, 11th, 12th… I was going back. I've been lucky. We had a red flag. Red flag, I arrive there. This tire is not working well. I need another tire. 'Toni, I'm sorry, but it's not possible. The rules, you have to keep the same tire for all the race, red flags and whatever will happen.' So, I said, 'Okay. Let's think about some quick solution. Think.' I was telling to the guys on the team, 'Think! Think!' But no one knew what to do exactly. 'Okay, I don't care. Put five tons of pre-load in the front fork to put more force on the rear.' We did it and start the race again leading. I was second, third fighting with Cameron. We passed each other a lot, but Roger (Hayden) just left. With that fight and that five tons of front pre-load, gave me the situation to be with Cameron, to put pressure until he makes a mistake. That was the key to win this championship, because he didn't crash but got injured. After that, my biggest rival was out and I think that moment is when we won the championship. Besides, we had a lot of victories and really good moments."
Elias has returned to the racetrack this year in a one-off ride on Kyle Wyman's Ducati and a two-race stint on the Fresh N' Lean Attack Performance Yamaha.
"If you asked me this four months ago, I would say, I don't want to race," Elias said. "I'm pissed off. I'm not happy. I'm not happy with the things, how the people move. Everyone wants to do teams. Everyone has a lot of money. Everyone may go on a promise, but at the end, it's just smoke. I don't know why people try to sell smoke. I've been really annoyed with that. I want facts. If you don't want to do the team because you don't have money, don't do the team. If you tell you want to do the team because you have a lot of money, okay, let's do it. If you have the money, create a team. We create a team in one week, but top team, good people, good factory bikes, everything is necessary. A lot of promises and nothing happened. So, I was just working in my shoes project, the one I am doing with my sister. We were in Italy preparing everything. We just need to press the green button to start everything. So, that was my job. I was not even thinking about to come back racing. To me, I was retired. Also, I told my family and some friends, let's see what happens but if some months it continues like this at the end of the year, I will make a little press release and thanks to everyone. This has been my life. This is who I am today. Thanks for all these years. But Kyle Wyman called me and said, 'Hey, do you want to race my bike in Laguna?' I said, 'Why not? Let me think a little bit.' Twenty minutes I call him back. I said, 'Okay, I want to do this, just for one reason: because now I have Toni and Joanna and I want to have a race weekend with them. Rent a motorhome and just have fun with them. Put him on the bike. Take a golf cart. Like this, Kristie and the kids can go to watch Papa.' That's the only reason I did it. Surprised. This brings me other things. The thing I had very clear, I didn't want to have more time on a motorcycle, like last year. I was not happy. Something I don't choose. I had to accept it. I felt all the support from the team, M4, from Suzuki, but it was just not what I wanted. This is what I have clear. If you're racing in good conditions, you race with material to fight for the win, to fight for championships. To me, it doesn't make sense. Didn't even make sense to race in Laguna with Kyle's team, with the Ducati, which I never rode the Ducati. Why you go to Laguna, one of the most difficult tracks in the championship? For this reason, for enjoy the family. But that gave me visibility and that's why when Josh (Herrin) couldn't ride for COVID, I received this phone call. Of course, who would say no to Attack Yamaha? Right now, it's the best team. It's the best bike. With Yamaha, we've been rivals four or five years. Probably we hate each other, but things change. Cameron is fighting for other things. Even if it was for a race, but we could work together. I was happy. They've been happy. Looks like we have another opportunity. One month ago, this was impossible to think. What options we have on the table? Ducati? No. I don't want because they piss me off. I can say public, that team pissed me off. I don't understand why a team promised me things during three months, and at the end they choose Loris Baz. I'm sorry, but when I see these people right now, I can't even digest it. I'm happy now to have this bike and to have this team, even if it's one, two, three races, or in the future I can race this bike. I'm happy. I'm motivated. I feel like I'm 20 years old. The kids motivate me. Toni is happy. Papa is racing. Training, I have experience. Pittsburgh, I didn't get much experience with that bike. We had only two hours for work. We jumped in the podium. Everything was amazing. I really believe in the future the opportunity to work with this package, with this group of people. We really can do good things. I know the potential of R1, and I can feel the experience of Richard (team owner Stanboli) and this with my experience, because at this age, I have clear what I want. When you have clear what you want and you've found a man who understands perfectly what you want, that is dangerous. This is my wish. But, every wish at the right time. I had the opportunity to ride this bike after that weekend. I had the wish to race again before finished the season. I communicated this to Richard, to Tom Halverson. I really would ride the bike again before this year finished. To me, it's like you guys let me try the salad. Now that I taste it, I just want to try also the first and the second (courses) They were laughing but give us two days. We have to think and talk and yes, surprise. They gave me the opportunity again. I'm super happy."