The following is the 12th in our "21 In '21" series that highlights one of the 21 AMA Superbike Champions each week as we move through the 2021 MotoAmerica season – the 45th year of the premier class championship.
Troy Corser came, he saw, and he conquered. And his veni, vidi, vici came, naturally, on an Italian Fast By Ferracci Ducati.
Corser arrived from Australia in 1994 as a virtual nobody, won three races and the AMA Superbike Championship in his rookie season in the series. And, just as quickly, he was gone, snatched up by Ducati to take on the World Superbike Championship. G'day, America. Ooops. Arrivederci, America.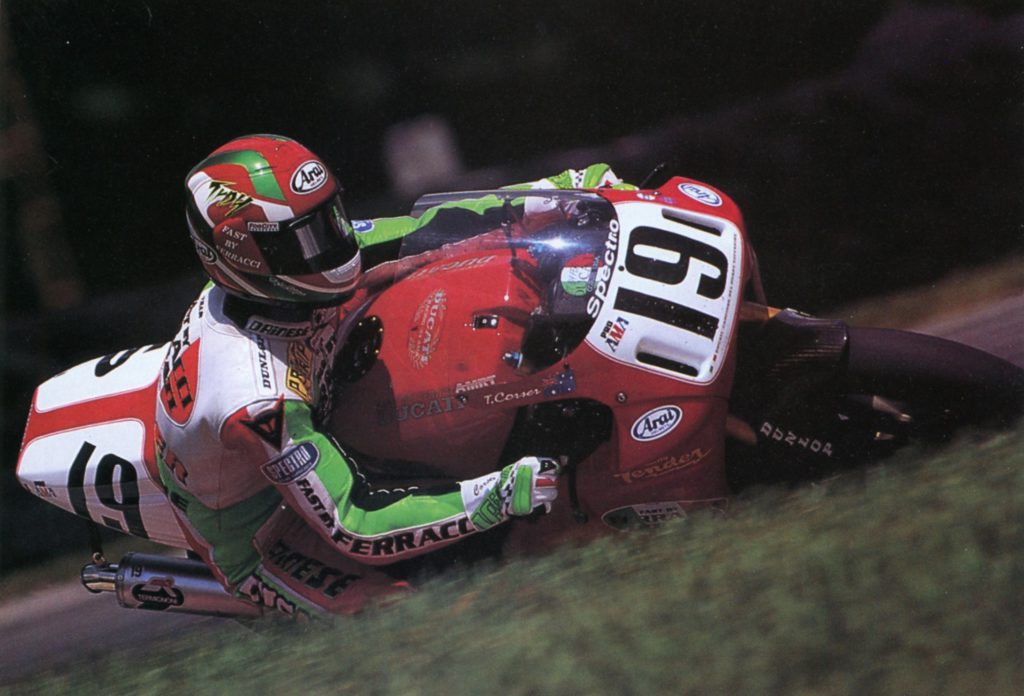 As one MotoAmerica social media follower said recently: "I didn't even know he raced in America."
Corser wasn't here for long, but he made a name for himself. And he parlayed his AMA Superbike Championship into a career that culminated in two World Superbike Championships. So how did he even get here?
"I pretty much had just left Australia," Corser explained. "I had won the Australian Superbike Championship the year before coming to the AMA. The opportunity actually came up from Barry Sheene. He contacted Eraldo Ferracci and said, 'I've got a young, fast kid out here in Australia and he's just won the championship, and I'll bring him to Daytona and have that test ride.' Ferracci used to run it (a test ride) at the end of every year. Top six riders. I think the other five were American riders – Colin Edwards, Jamie James, a few other guys. Whoever got the fastest lap, got the ride that year. I was lucky enough to get the fastest lap, so I got the ride. To go on and win the championship off the back of that was very special."
So what's the one thing that's changed the most between the Superbikes that Corser rode and the ones ridden today?
"Probably the power of the bikes, to be honest," Corser said. "I think 600s have got as much horsepower now as what our Superbikes used to have back then. So, they probably were a bit tamer to ride I guess back then at the time, but I think the tires and stuff and the suspension have all come have a long way from there. Electronics… absolutely. We didn't really have that much of an electronics system at all on the 888 on the Ferracci bike. So, it's moved on quite a lot. Mainly the electronics."
Corser enjoyed his brief trek around the U.S. in 1994. His success on the track was impressive and his off-track exploits made for good stories, including a certain rental car story.
"Yeah, the old rental car from Brainerd, I think it was," Corser said. "Got a chance to go out there. I'd never been to the track before, like all the circuits that year. Luckily enough, the circuit director said, 'I'll let you go out and do three laps in the rental car, just so you know where you're going tomorrow.' I convinced (Eraldo) Ferracci to jump in the car with me and his younger son in the back as well. I had a friend of mine come travel with me for that year. They were in the backseat. Long story short, we ended up off the side of the track and the car was upside-down. We all walked away from it, but there's still photos circulating around from that little episode. There were numerous events. Off-track stuff was great fun. Kevin Magee was over there racing that year as well with the Smokin' Joe's guys. So, I had a fellow Aussie there to go out and have a few beers with and stuff like that and create some chaos. It was a fantastic time. I enjoyed it."
One race that really stands out to Corser was Daytona in 1994.
"For me, I think the Daytona race, the first race of the year where I turned up and I finished second behind Scotty (Russell), and Eddie Lawson finished third," he said. "So for me, that was probably the biggest race of the year for myself. To get pole position at that race and come away with the Rolex and all that, it was probably the biggest one for me. Obviously, the last race of the year, the way it all turned out. I had my mom over there watching at the time. The race didn't go as planned as what we thought, but I managed to walk away by one point in the championship, so it was pretty special."
Following his AMA title, Corser's career sky-rocketed and he became a superstar in the World Superbike Championship. He also had a go at Grand Prix racing.
"Pretty much after I won the AMA championship, Barry Sheene was still involved with me," Corser explained. "He wasn't my manager, but he was trying to help me get placement and stuff. So, he contacted the Castiglioni brothers from Ducati and said, 'Look, I want to bring Troy over and do a wild card race for the end of the season.' They gave me an opportunity to go to Donington Park, Mugello. I think I did three races that year, the last three of the World Championship. I got a couple of podiums and stuff like that. That was pretty much my next step to go to a wild card. I think I finished 11th in the championship in three rounds. Scored some good points. To stay there the next season and continue, and to finish second in that next season, was a big achievement, and then go on and win it the season after that. So, pretty fast from ground steps."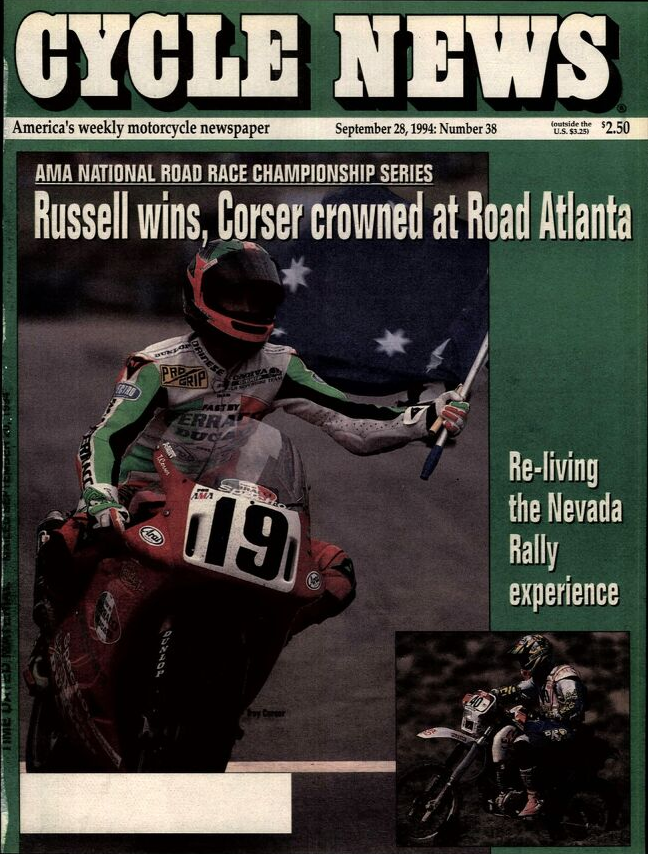 Corser's career saw him on Ducatis, Aprilias, Petronas, Suzukis, Yamahas and BMWs. The racing part of his career ended at BMW, where he took on the role of developing the company's S1000RR, and he now instructs at the Troy Corser Racing School in Europe, though COVID-19 has stopped that for now.
"Since I stopped racing, which was like the end of 2011, I was racing with BMW in '09, '10, and '11 helping develop the new S1000RR," Corser said. "Well, I decided I was going to stop racing. I decided myself at 40… I'm going to stop racing. BMW were very supportive of that. They said, 'If you'd like, would you like to stay on and do some race school stuff for us, guest appearances?' So, I started doing that work with the Race Academy, it was called, a Dutch company. Done about three or four years with them guys and then ended up branching off from them and actually got my own Troy Corser Racing School, traveling around Europe at the moment. Still with the Dutch team. Same instructors I've worked with for 10 years, so it works really well. Obviously, at the moment with COVID, I can't get there at the moment. But the boys can still go and set up. They're over that side of the world, so they can still drive to the place, set up. We've done about five events this year. It works really well. I really enjoy it. It gives me a chance to get back on a bike, get out throwing around on the bike, giving a bit of development stuff back to BMW as well and stuff. I think can improve the bike chassis-wise. So, it's good. It's like 45 riders come for three days and we ride around Mugello, all the tracks I've raced at in the World Championship level, and just give them some tips on how to improve and be safer riders. That's working really well. I do hundreds of laps a day when I go out. I'm riding and riding and doing these schools. I do more riding now than I did when I was racing."