The following is the second in our 21 in '21 features that highlight one of the 21 AMA Superbike Champions each week as we move through the 2021 MotoAmerica season – the 45th year of the premier class championship.
The name Wes Cooley is synonymous with Superbike racing in the late 1970s and early 1980s. The bikes of that era were bucking broncos and Cooley was the young cowboy, hellbent on taming the beast.
With a style that went against the grain, featuring smoking rear tires and wheelies on the exit of corners, Cooley was young, hard-charging and had a flair about him. His long locks were blonde, he hailed from Southern California and he stood out from the rest. But he wasn't all show no go. He could race. And he was successful, winning the AMA Superbike Championship twice in 1979 and 1980.
The son of a racer, Cooley honed his skills club racing with his father in AFM, the club of which the elder Cooley was a founder and president. First it was two-stroke GP bikes… and it led to a Yoshimura ride on a Kawasaki KZ1000. The beast of all beasts.
"I didn't know any better when it came to the bikes being handfuls," Cooley said this week. "It was a handful, but I knew that because I'd ridden bikes that handled pretty good. They had so much horsepower, but there were no real good frames or anything to hold it in place. You'd go to Daytona and go onto the banking and it'd start wobbling. It was like it had a hinge in the Coomiddle going down the track. That's what I had and that's what I grew up with."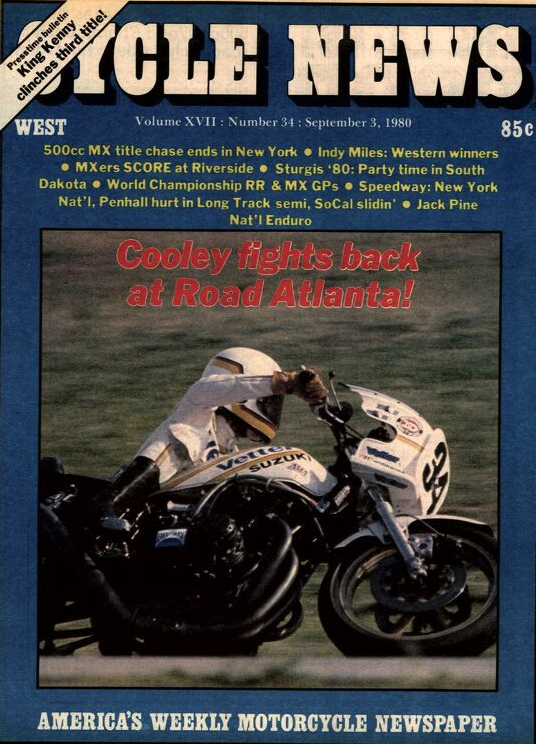 His first Superbike win came in October of 1977 at Riverside International Raceway, which is now a Southern California shopping mall. He rode the Yoshimura Kawasaki to victory after battling to beat the Ducatis of Cook Neilson and Paul Ritter. It was the last race of the season and it was a glimpse into the future.
Cooley didn't win the title in 1978, but he did win two races. He was still teamed with Yoshimura, but the aftermarket tuning company had then joined forces with Suzuki and Cooley had a tamer GS1000 on which to compete.
A season later and Cooley and Yoshimura were champions. Ditto for Suzuki, which with Cooley in the cockpit, had won its first-ever AMA Superbike title. His year began with a second-place finish in the Daytona Superbike race (which still didn't feature Superbikes in the 200, but rather in a support race) and he didn't win a race the entire year. His consistency, however, paid off with podiums in every race delivering him the title over Ron Pierce and a young phenom named Freddie Spencer.
The 1980 season was big for Cooley and even bigger for AMA Superbike racing as the upstart class started to gather momentum toward becoming the premier series in AMA road racing. And it was Cooley who helped take it there as the title went back and forth between brands (Cooley and Suzuki, Eddie Lawson and Kawasaki and Spencer and Honda) with Cooley in the mix the entire way. It came down to the final two races with Cooley needing to win both in order to take the title. And he did. It made him a star.
"The 1980 year was the best," Cooley said. "There was the most competition with factory riders. The '79 class was still a true privateer class, but in 1980 it started getting bigger with Honda, Suzuki and Yoshimura, and Kawasaki started to do their thing."
If Cooley's name is synonymous with Superbike racing, it is also synonymous with Yoshimura as he was the company's first American star.
"Pop (Yoshimura) really helped me out, teaching me stuff that he knew," Cooley said. "It was me giving him input back so he could fix things that I didn't know how to fix at the time. It was a really good relationship, and I really learned a lot from him."
In addition to his titles in the U.S., Cooley also won the first-ever Suzuka 8 Hour in Japan when teamed with Mike Baldwin on a Yoshimura Suzuki GS1000 in 1978, and he won it again two years later with New Zealander Graeme Crosby – again on a Yoshimura Suzuki. Now he was a star in Japan as well.
Cooley had two seasons on his Suzuki, years that were dominated by the Kawasaki/Honda Superbike battles. He finished fourth in the Superbike Championship in 1982 on a Katana-based Suzuki and third in the Formula One Series behind Baldwin and Steve Wise.
In 1983, Cooley was hired by Kawasaki, but a broken elbow thwarted his championship run. He still managed six podium finishes and seventh in the championship.
Cooley was back on Suzuki in 1984 but racing only in California yet he won the Sears Point Superbike National, ending a three-year Superbike win drought. It would also be his final AMA National victory.
In May of 1985, Cooley suffered life-threatening injuries when he crashed into the hillside on the outside of turn one at Sears Point, a track he likely knew better than any other. He recovered and made a return to racing in the late 1980s, but not with the results he was accustomed to.
"I think physically I was able to go as fast as I had before," Cooley said. "But I lost that mental edge that it takes to run at the highest level."
Post retirement, Cooley taught others to ride and also earned a nursing degree. He is now retired and living in Idaho.