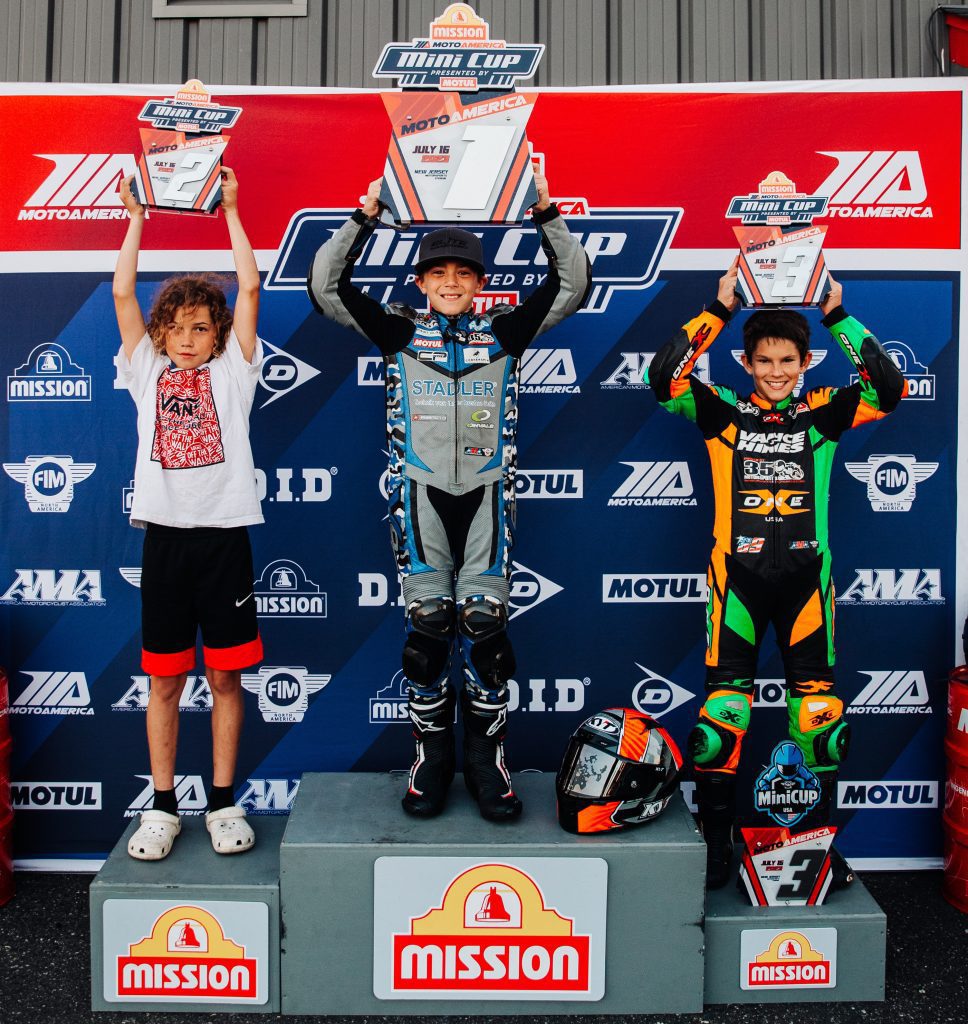 The make-up round for the previously rained-out MotoAmerica Mission Mini Cup by Motul and FIM Mini Cup races at New Jersey Motorsports Park (NJMP) from July 15-16 were held on Saturday, September 2 at NJMP with three different riders tasting victory in the Ohvale 160 classes while one rider dominated the four Ohvale 190 races.
It was Alpha Omega's Ryder Davis who stood above the rest after winning both of the Mission Mini Cup by Motul Ohvale 190 races while also taking victories in the pair of FIM Mini Cup Ohvale 190 finals. American Racing's Joshua Raymond played second fiddle in the two Mission Mini Cup races and also finished second in the two FIM 190 races. American Racing's Connor Raymond finished third in all four 190 races.
Davis holds down a 45-point lead in the FIM 190 point standings over Raymond and a 55-point lead over Joshua Raymond in the Mission Mini Cup by Motul standings.
The Ohvale 160 races had a bit more parity with Connor Raymond, Historic GP's Mahdi Salem and Stadler America's Nathan Gouker all scoring victories on Saturday.
Raymond and Salem split wins in the FIM Mini Cup Ohvale 160 races with Gouker winning the pair of Mission Mini Cup by Motul 160 races. Gouker leads the FIM point standings by just nine points over Salem going into the series finale, September 23, at NJMP. In the Mission Mini Cup by Motul title chase, Gouker is 69 points clear of Reese Frankenfield.
In Stock 125 action, Jacobsen Motorcycle Training/Bettencourt Racing's Nathan Bettencourt won all four races to improve his perfect race-win record to 20 victories in a row. Sinister Minis Squad's Logan Barrow, meanwhile, made his Stock 125 debut a successful one with four second-place finishes on the day. Bettencourt has a perfect 500 points on his 2023 scorecard.
Two riders came away with victories in the Stock 110 class with Ryan Clark Racing's Ryan Clark taking three of the four wins only to be topped in the final race by WrenchRite Racing's Joel Laub. Varnes Racing's Cole Varnes and Cole Peterman split third-place finishes on the day with two apiece.
The Stock 50 races featured two wins by Beastmode Racing's Christian Berlowitz and two wins by runaway championship points leader Cruise Texter. Cory Texter Racing/Roof Systems-backed Texter holds a 121-point lead heading into the finale at New Jersey Motorsports Park. The Mission Mini Cup by Motul series will complete its season, September 23, at New Jersey Motorsports Park in conjunction with the series finale of the MotoAmerica Championship.