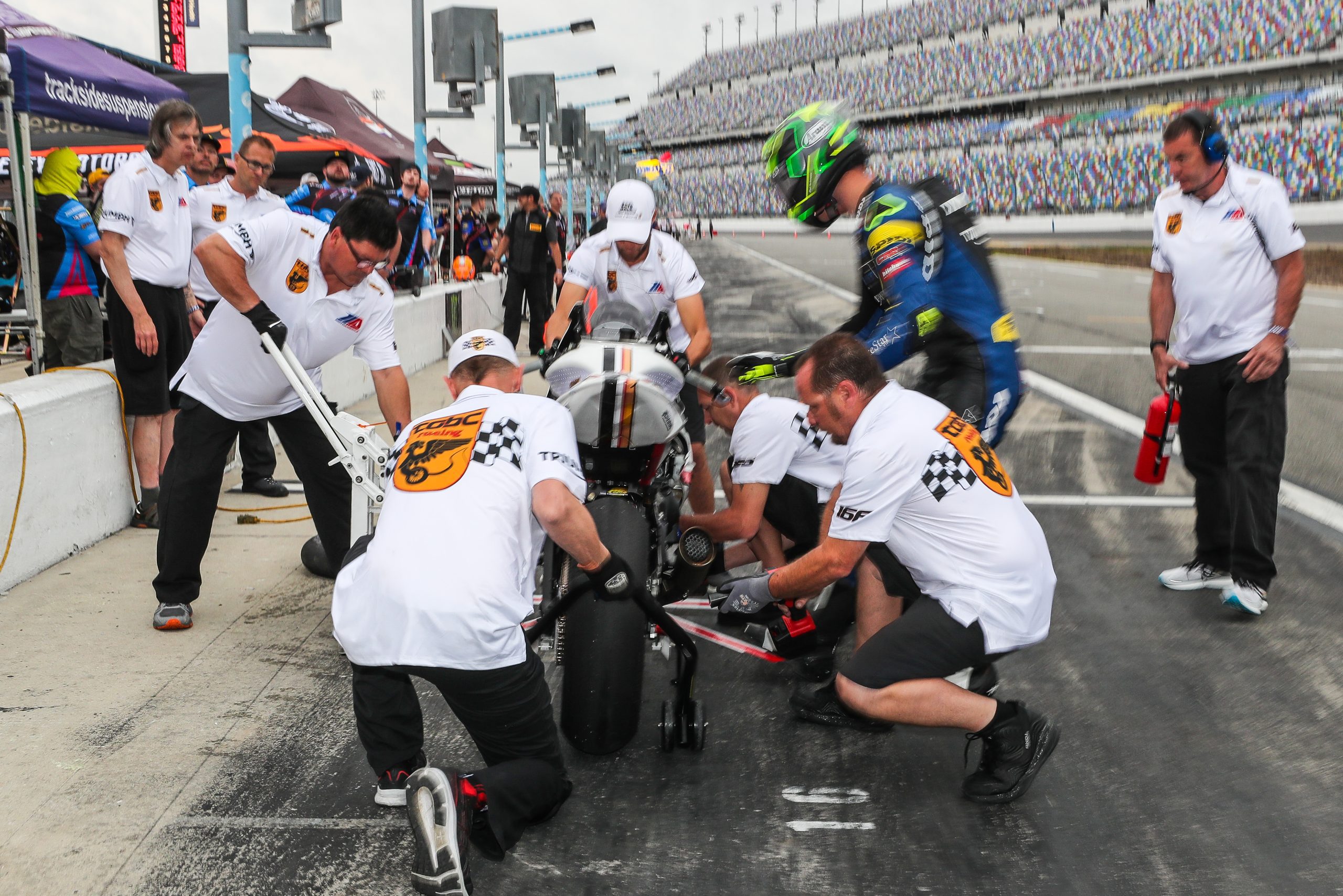 The Daytona 200 is a unique beginning to the MotoAmerica road racing season, and a critical part of winning the "Great American Motorcycle Race" is the pit stops. Last year, and for the first time ever, the Daytona 200 became the one and only MotoAmerica race where riders enter pit lane for fresh tires and fuel. Valuable seconds and place-positions can be won or lost during pit stops, and racing truly takes on a team aspect.
In fact, "teamwork" is a big reason why MotoAmerica has two more pit-stop races on the schedule for 2023, with "Supersport Extended Races" at Barber Motorsports Park and WeatherTech Raceway Laguna Seca added to this year's MotoAmerica Supersport Championship (the Daytona 200 is a standalone MotoAmerica race that does not count towards the regular-season Supersport Championship).
Last year, TOBC Racing's Brandon Paasch repeated as the winner of the Daytona 200, and he'll be going for the threepeat in March. With the team aspect in mind, here is what goes on during a Daytona 200 pit stop, with TOBC Racing captured by the ever-present and spectacular lens of Brian J. Nelson.
But first, these were the roles and names of the six TOBC Racing crew members who went "over the wall" for the 2022 Daytona 200:
• Front tire/front stand: Eziah Davis
• Front axle: Chris Tullock
• Rear tire/rear stand: Andrew Deming
• Rear axle: Rob Silva
• Quick-fill fuel can: Mike Simms
• Fire extinguisher/crew chief: Rick Matheny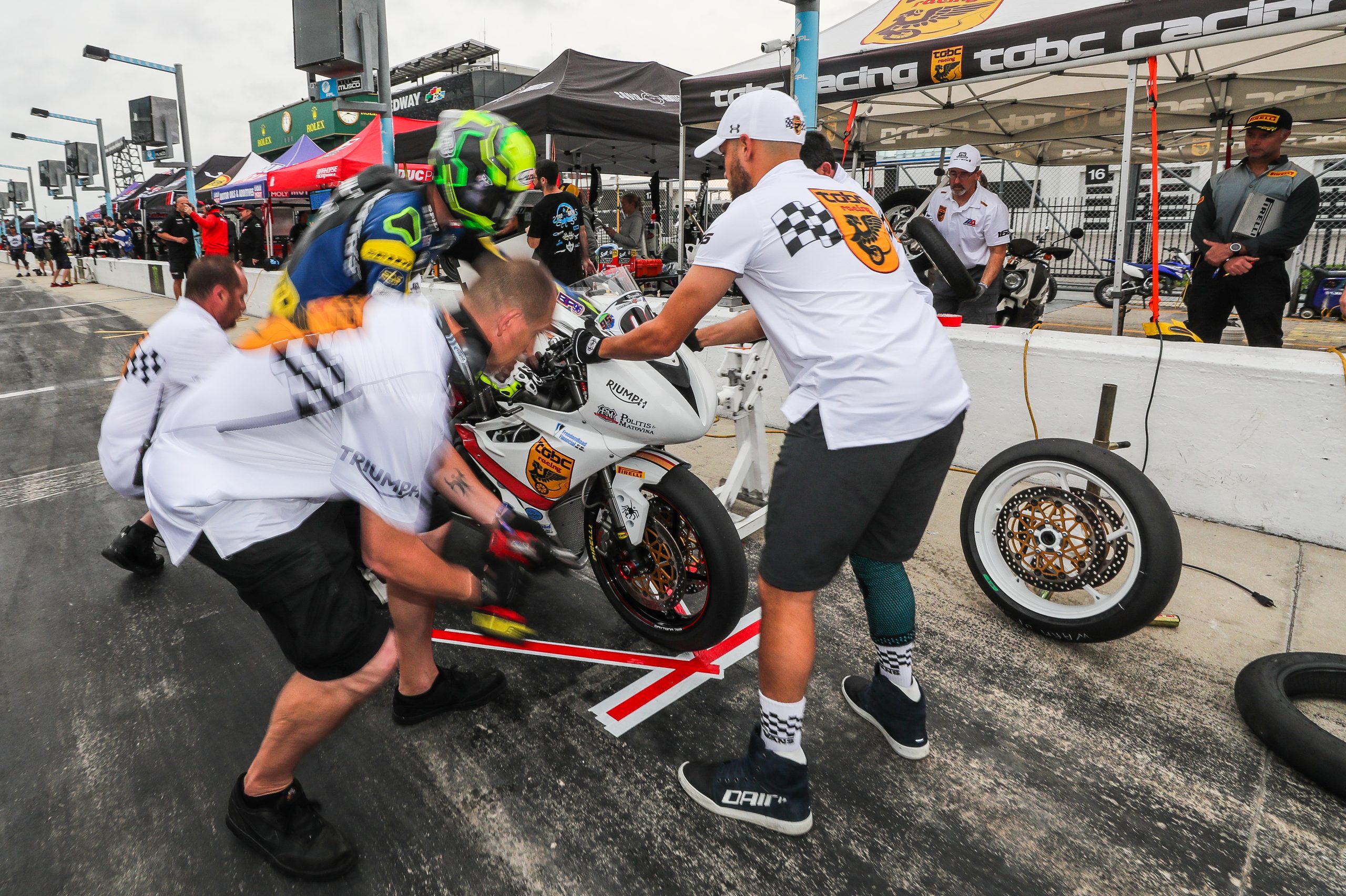 Brandon Paasch comes down pit road and stops within the staging markers placed in his pit box. Eziah Davis "catches" the bike. Mike Simms and Andrew Deming put the front and rear stands under the bike while Paasch jumps off and stands next to Rick Matheny, who is holding the fire extinguisher.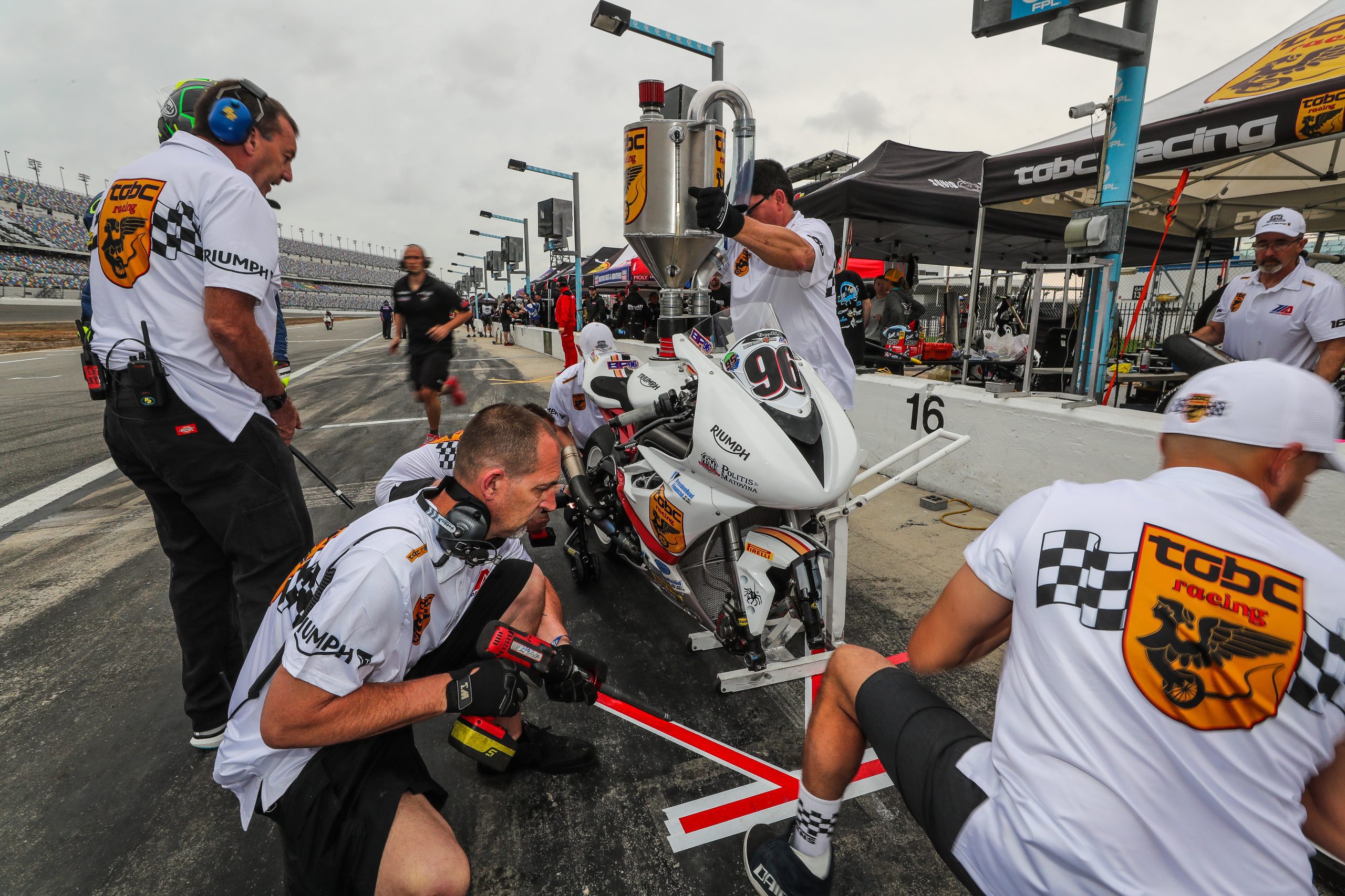 While Simms inserts the fuel can nozzle into the fuel tank's dry break, Chris Tullock loosens and pulls out the front axle while Rob Silva loosens and pulls out the rear axle. At the front, Davis pulls the front wheel straight forward and out. At the back, Deming grabs the chain in front of the rear sprocket and pulls it to the side while extracting the rear wheel.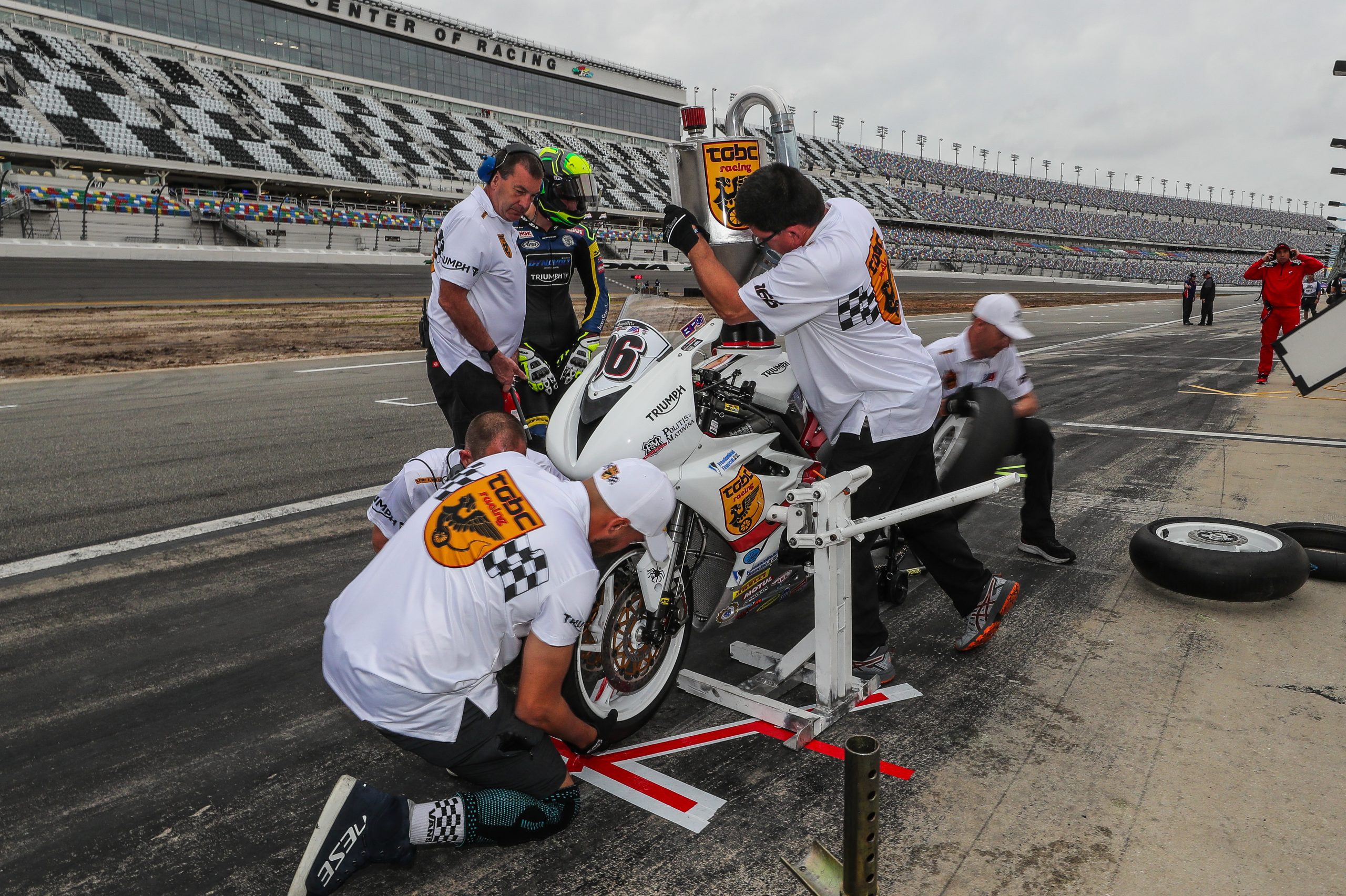 Davis places the new front wheel and tire between the forks. Tullock inserts the front axle and tightens it. Deming places the new rear wheel and tire in the swingarm. Silva inserts the rear axle and tightens it while Deming lines up the chain along the bottom of the rear sprocket and rotates the rear wheel forward. Simms finishes adding fuel.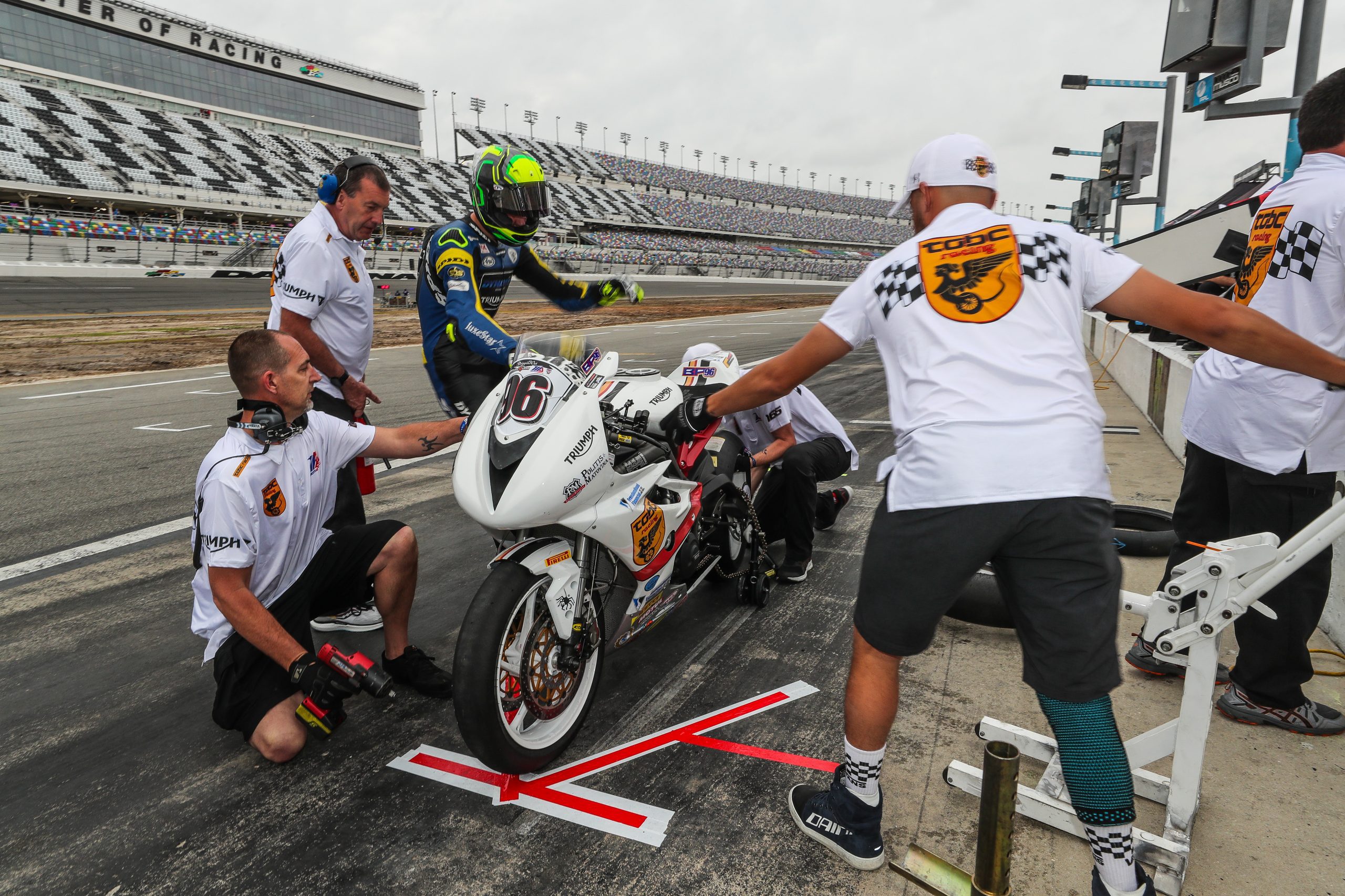 Davis drops the front stand and Deming removes the rear stand while Paasch climbs back aboard the bike.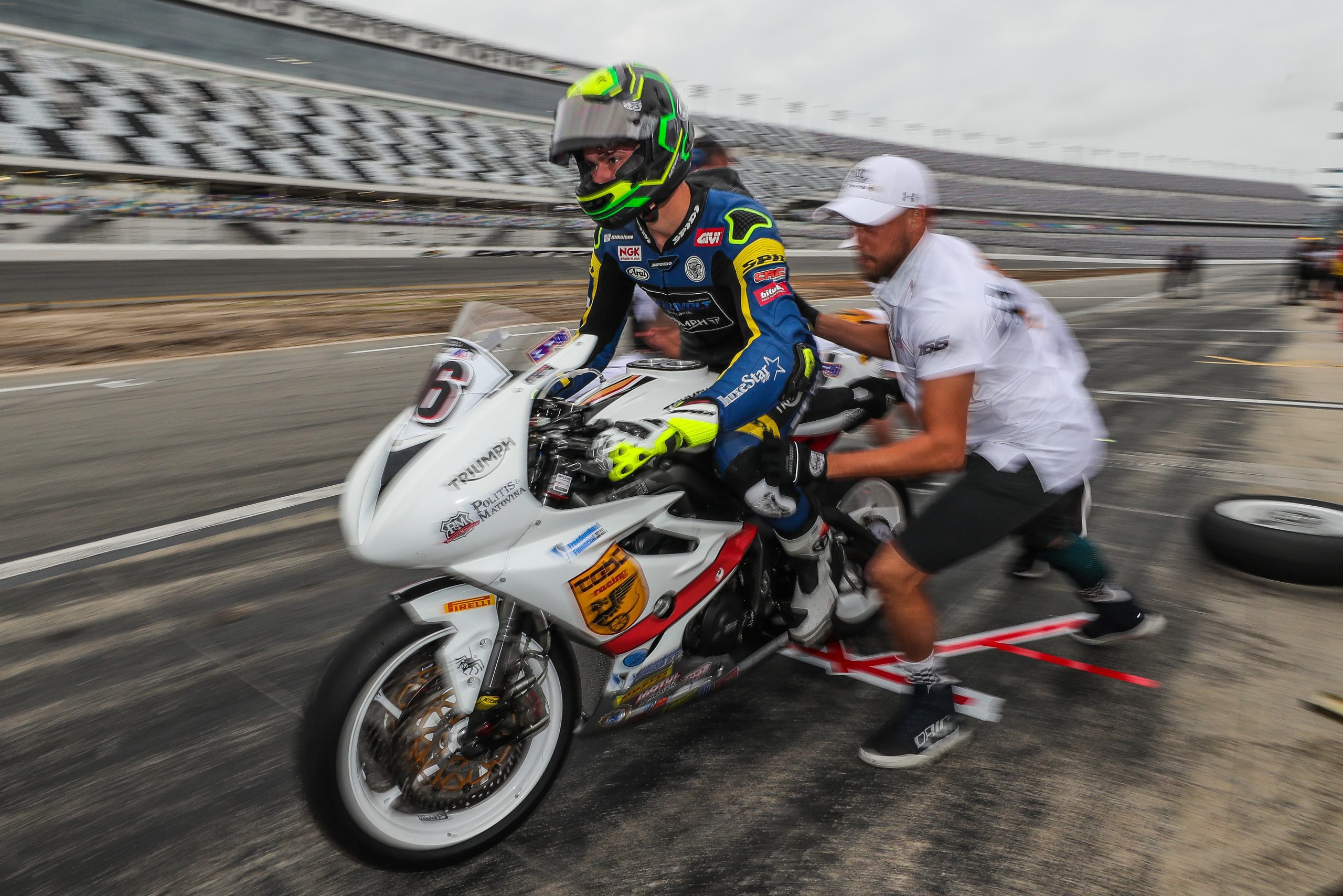 Paasch gets a push-off from Davis and Deming.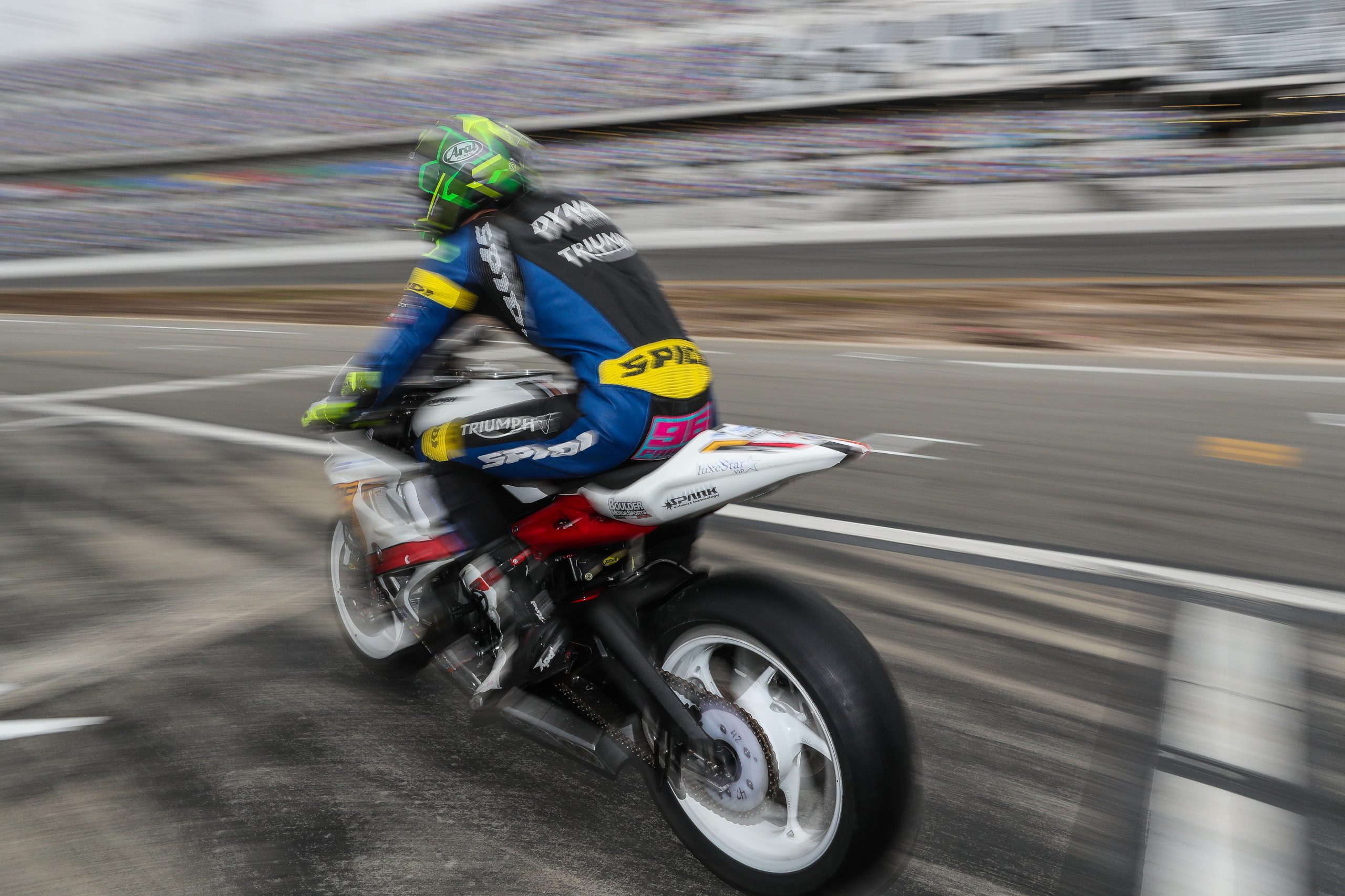 Paasch leaves the pits and heads for victory.
For the full 2023 MotoAmerica schedule and to purchase tickets for MotoAmerica events, click HERE
For information on how to watch the MotoAmerica series, click HERE