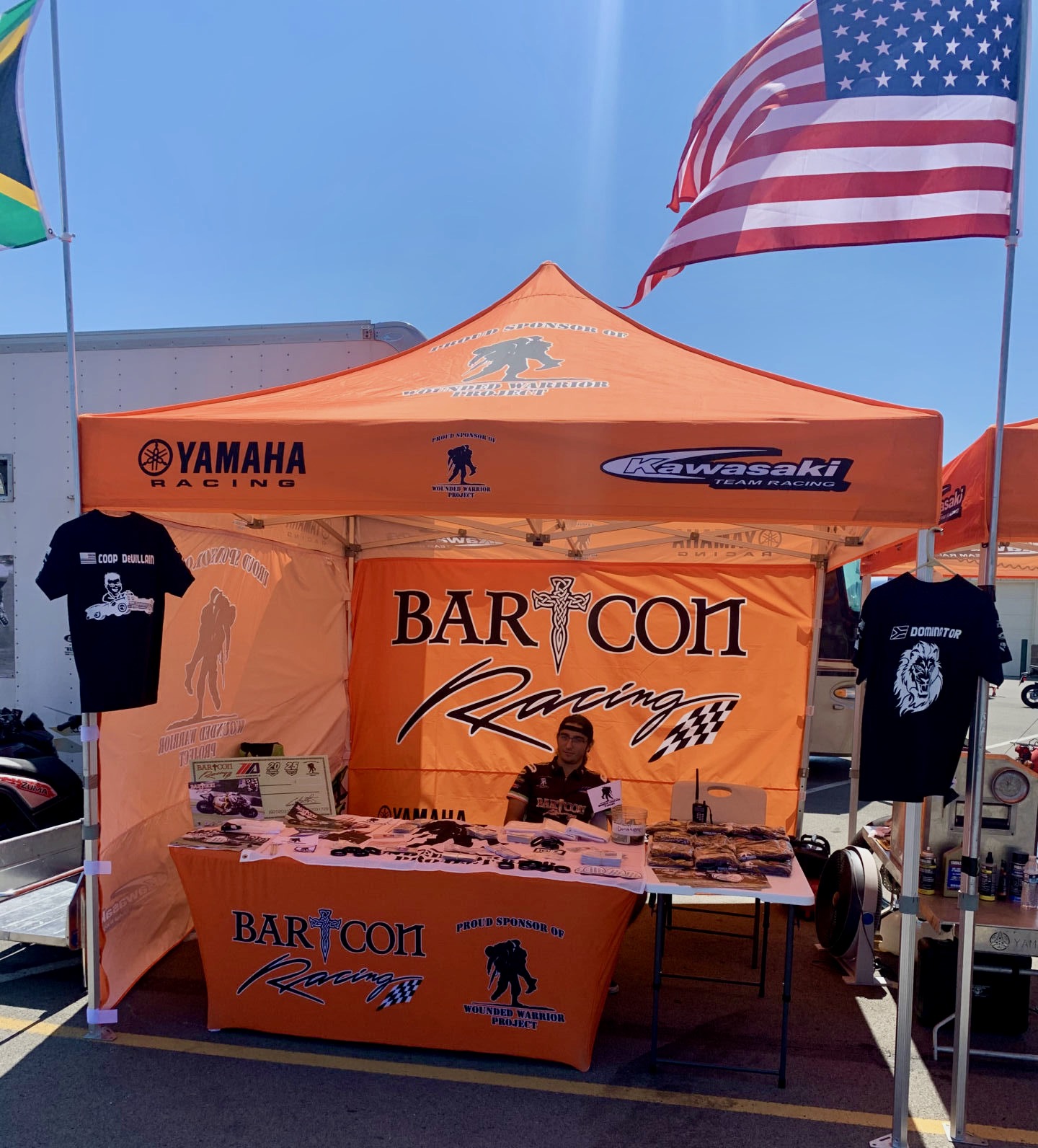 Colin Barton was an even busier man than usual at last weekend's round four of the MotoAmerica Championship at PittRace. The team owner of BARTCON Racing, which fields riders Dominic Doyle in Liqui Moly Junior Cup and Cooper McDonald in Twins Cup, hosted four Wounded Warriors on his team, while also making a couple of very generous philanthropic contributions, as well as conducting a couple of fundraisers.
Marine Corps Staff Sergeants David Cain and James Martin, Marine Corps Sergeant Walter Paciorkowski, and Marine Corps Corporal Gabriel Beltres were embedded with BARTCON Racing, and they participated Saturday's Opening Ceremonies for HONOS Superbike race one, which included the singing of our National Anthem by Alexa Speicher.
BARTCON Racing sold special event T-shirts for the occasion, at a tent set up adjacent to the team's paddock spot, and they also took donations. Altogether, the T-shirt sales and donations raised $1,000 for the Wounded Warrior Project, and Barton matched that amount out of his own pocket to bring the fundraising total to $2,000.
In addition, Barton made a $1,000 donation to MotoAmerica Chaplain Raymond Rizzo for the Finding The Finish Community Center fundraiser, which is an ongoing effort to acquire a movable Community Center for the riders, teams, staff, and fans who attend MotoAmerica events.
To donate to the Wounded Warrior Project in the name of BARTCON Racing, go to www.SupportWWP.org/BARTCONracing
To donate to the Finding The Finish Community Center, visit https://app.mobilecause.com/vf/FTFCC/team/MotoAmerica
To purchase tickets for all MotoAmerica events, click HERE
For information on how to watch the MotoAmerica Series, click HERE
For the full 2020 MotoAmerica Series schedule, click HERE