Magnetism is a physical phenomenon produced by the motion of electric charge, resulting in attractive and repulsive forces between objects.
In humans, magnetism can also mean the ability to attract and charm people.
But, what about motorcycle magnetism? We've witnessed it several times over the past few years in the MotoAmerica series. The phenomenon seems to regularly involve 17-year-old New Hampshire-based rider Ben Gloddy.
Previously in the Junior Cup Championship, and now in the REV'IT! Twins Cup championship, when it comes to motorcycle magnetism, it seems that Gloddy's Cups runneth over. Every year, someone runs into him. Like steel to a magnet, another rider suddenly, inexplicably gets up-close and personal with The Glod-man.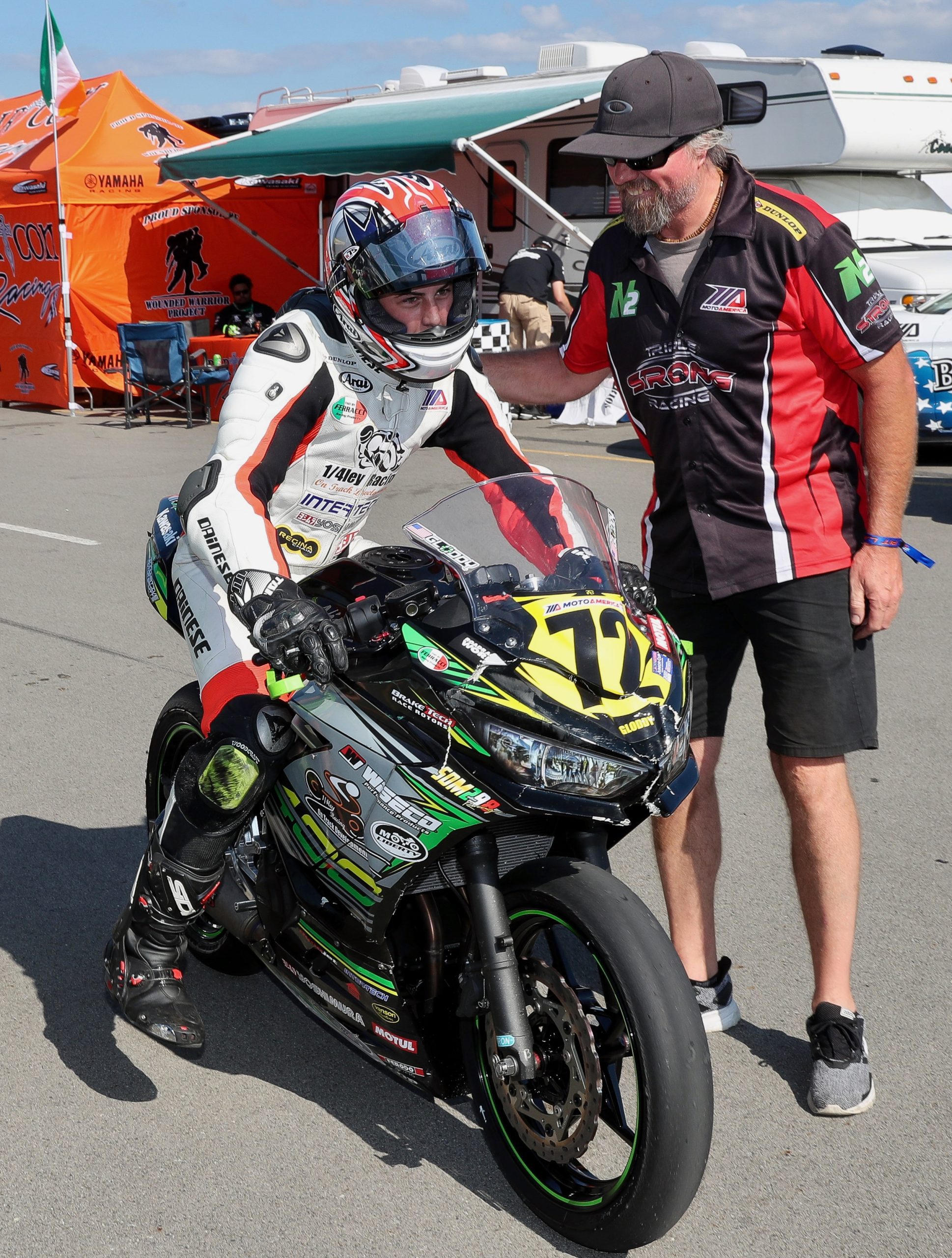 The phenomenon first came to light on August 8, 2020, during Junior Cup race one at Pittsburgh International Race Complex. Dominic Doyle collided with Gloddy in an incident that also involved Alexis Olivera and Isaiah Burleson. Gloddy actually came out of the situation better than Doyle, Olivera, or Burleson since he was the only one of the four downed riders to make the restart. And, even better, Gloddy finished on the podium.
Later in 2020, on October 10, during Junior Cup final qualifying at Indianapolis Motor Speedway, Blake Davis went down and slid into Gloddy as Gloddy was entering the track.
Then there was September 11, 2021, at New Jersey Motorsports Park. On the warmup lap for Junior Cup race one, Jack Roach inexplicably plowed into the back of Gloddy's bike, sending both riders and their bikes into the grass. Gloddy was able to grid up for the race, albeit with a noticeably bent rear rotor, and he somehow managed to finish fourth in the race, salvaging as many points as he could towards that season's championship, which, incidentally, he lost to Tyler Scott by 44 points.
And, who can forget last year's REV'IT! Twins Cup race one on March 11, 2022, at Daytona when Gloddy's Robem Engineering teammate Tommaso Marcon ran into the back of Gloddy's bike with such obvious magnetism that the two bikes stuck together? The Aprilia caboose proved to be two much for Gloddy, however, and he derailed shortly after the unintended coupling.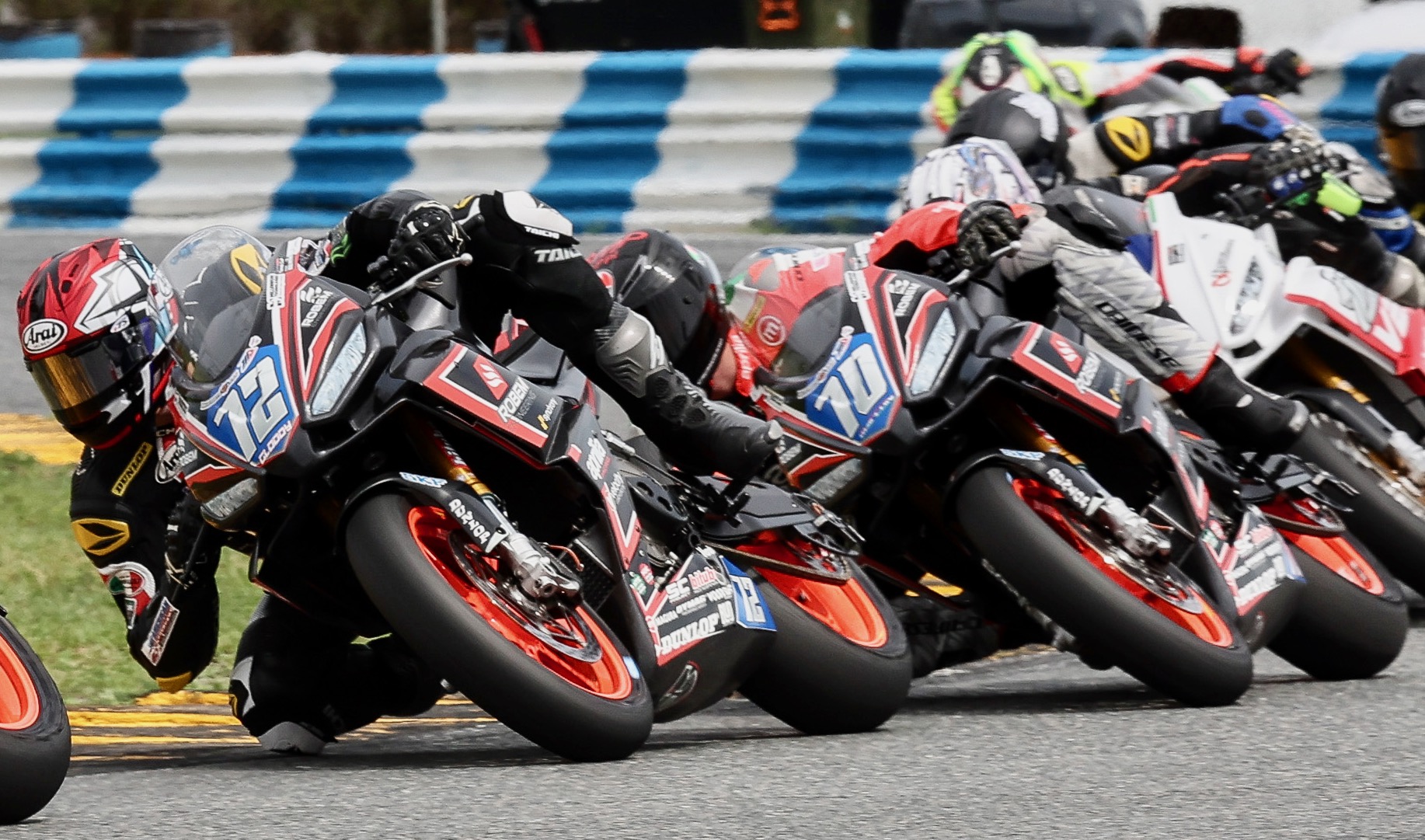 Finally, there was REV'IT! Twins Cup race one this past March 10 at Daytona when Doyle went down and took out Gloddy a second time causing Gloddy to straddle his pancaked Aprilia in mid-air. At that delicate moment, one of his footpegs, with sharp, boot-gripping edges filed into it for extra effect, caught him in his nether regions, and sent him to the hospital to get stitches for which his future children will benefit, if not, thank him. "Chicks dig scars," as the saying goes, but probably not scars there.
So, maybe that was it. Maybe Ben Gloddy managed to de-magnetize himself during that most recent and truly gruesome incident. But, just to be safe, perhaps the REV'IT! Twins Cup rider should buy a cup, you know, to protect his twins.
For the full 2023 MotoAmerica schedule and to purchase tickets for MotoAmerica events, click HERE
For information on MotoAmerica Live+, our subscription streaming service, click HERE