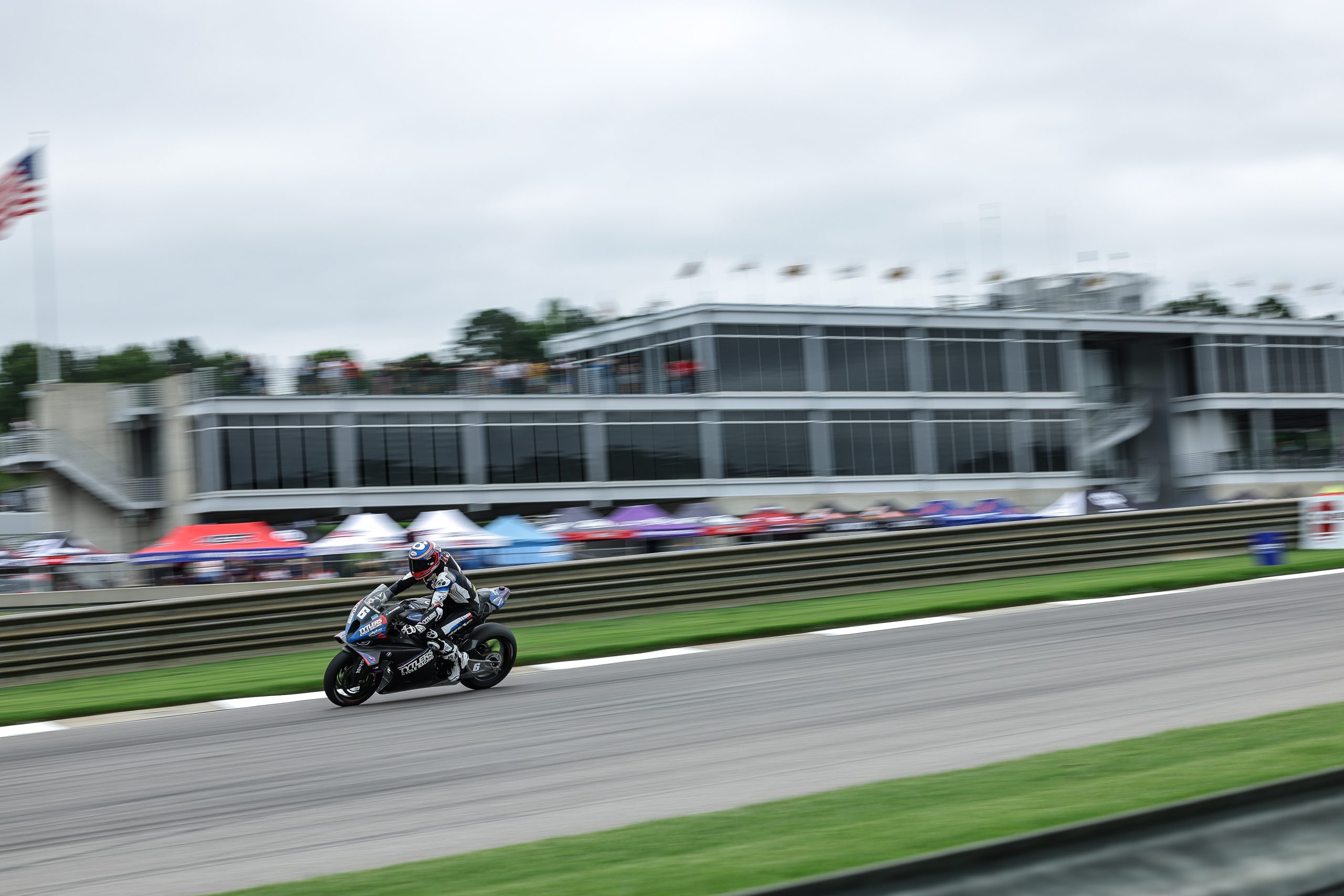 Random notes, comments, statistics, musings, and bits of trivia from the MotoAmerica Superbikes at Barber event:
Accelerated Learning
The 17-turn, 2.38-mile road course at Barber Motorsports Park is known more as a technical track than a speed-burner circuit, but still, the MotoAmerica bikes produce some pretty high trap speeds.
The fastest overall rider throughout the weekend was Tytlers Cycle Racing BMW's Cameron Beaubier, who reached a maximum trap speed of 159.9 miles per hour in Friday afternoon's Medallia Superbike Qualifying 1 session. Beaubier reached that velocity on lap 16 of the 17 circulations he made during that provisional qualifying session.
Here are the riders whose motorcycles topped the charts in the other four race classes:
Steel Commander Stock 1000: Orange Cat Racing BMW's Kaleb De Keyrel went 154.5 miles per hour on his 11th and final lap during Medallia Superbike Qualifying 1 on Friday afternoon.
Supersport: Vision Wheel M4 ECSTAR Suzuki's Tyler Scott went 141.4 miles per hour in Friday's Supersport Qualifying 1 on lap 13 of 16, and then, Tytlers Cycle Racing Kawasaki's Stefano Mesa reached that same exact trap speed of 141.4 miles per hour on lap 6 of the 15 he did in Saturday's Qualifying 2 session.
REV'IT! Twins Cup: Trackday Winner/Blackmon Racing Yamaha's Jackson Blackmon had the highest trap speed in the two-banger class when he went 130.2 miles per hour on just the second lap of the ten he did during Saturday's Qualifying 2.
Junior Cup: On the white-flag lap (lap 10 of 11) during race one, SportbikeTrackGear.com Kawasaki's Max Van went 111.6 miles per hour.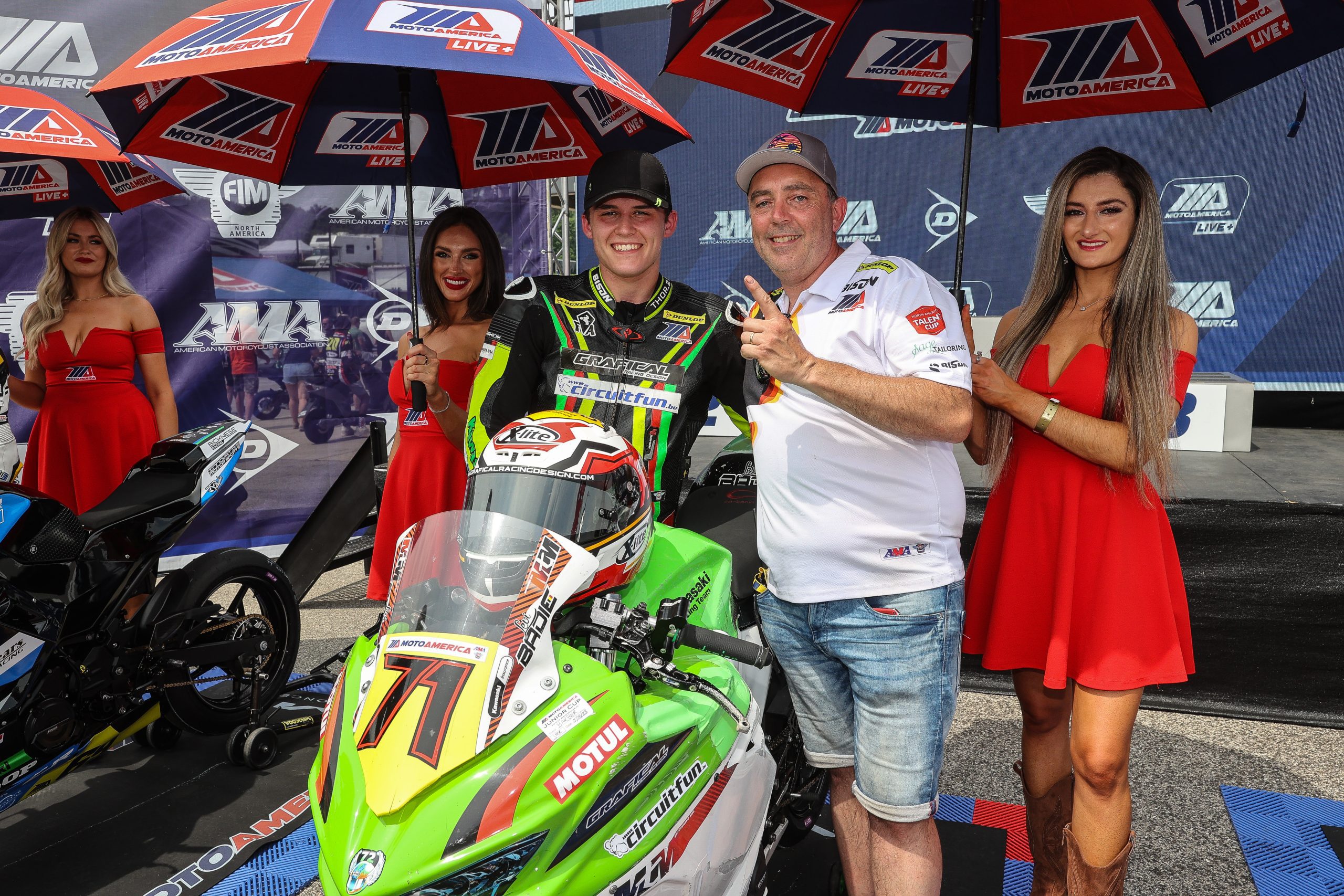 This Belgian Didn't Waffle
Speaking of Junior Cup, Badie Racing's Levi Badie, who is from Nazareth, East Flanders, in Belgium, became the first Belgian-born road racer to win a MotoAmerica race when he took the checkered flag aboard his Kawasaki Ninja 400 in Junior Cup race two on Sunday. Could Badie someday eclipse Didier de Radiguès as Belgium's most successful motorcycle road racer? De Radiguès won four Grand Prix races during his career, so let's all keep an eye on Badie.
Lapping Faster
Fresh N Lean Progressive Yamaha Racing's Jake Gagne broke his own race lap record twice this past weekend. On lap two of Saturday's Medallia Superbike race one, Gagne did a 1:22.806 to eclipse his old race lap record of 1:22.917 that he set in Medallia Superbike race one last year. And then, in this past Sunday's Medallia Superbike race two, Gagne broke his one-day-old race lap record when he did a 1:22.463, also on lap two.
Supersport rider Tyler Scott set a new overall lap record in his class when he did a 1:26.348 aboard his Vision Wheel M4 ECSTAR Suzuki on the 5th of the 12 laps he did during Saturday's Qualifying 2 session. The old record of 1:26.361 was set by Warhorse HSBK Racing Ducati's Josh Herrin at Barber last year in Q2.
Ventura Not Feeling Aces
Our thoughts go out to the riders who suffered crashes this past weekend, and especially those who were injured. Disrupt Racing Suzuki's Cory Ventura crashed on the first lap of Saturday's restarted Supersport extended race. We checked in with Ventura, and he said, "I started to lose the front coming out of the first set of esses, which quickly turned into me losing the rear, and then, the front tire gained traction and sent me into a highside." Ventura unfortunately suffered compound fractures in his left tibia and fibula and also broke some bones in his left foot. He had surgery Sunday morning in Birmingham, but he's not yet sure how long he will be out. "Disrupt Racing and I don't want to rush the process," Ventura said. "We will be back as soon as I have recovered 100%."
Bermuda Shorts
The MotoAmerica AMA/FIM North American Road Racing Championship continues to attract racers from all over the world, and this past weekend, we welcomed two riders, who also happen to be good friends, from Bermuda. A.I.R. Onze Moto Racing Team's Jediah Cumbermack, who is from Southampton, Bermuda, competed aboard his Kawasaki Ninja 400 in both of the weekend's Junior Cup races. Also, Cumbermack's friend Nevaeh Gaugain, who is from Pembroke, Bermuda, rode his Animal Racing Ohvale 160 in the Mission Mini Cup by Motul Championship at Barber Motorsports Park.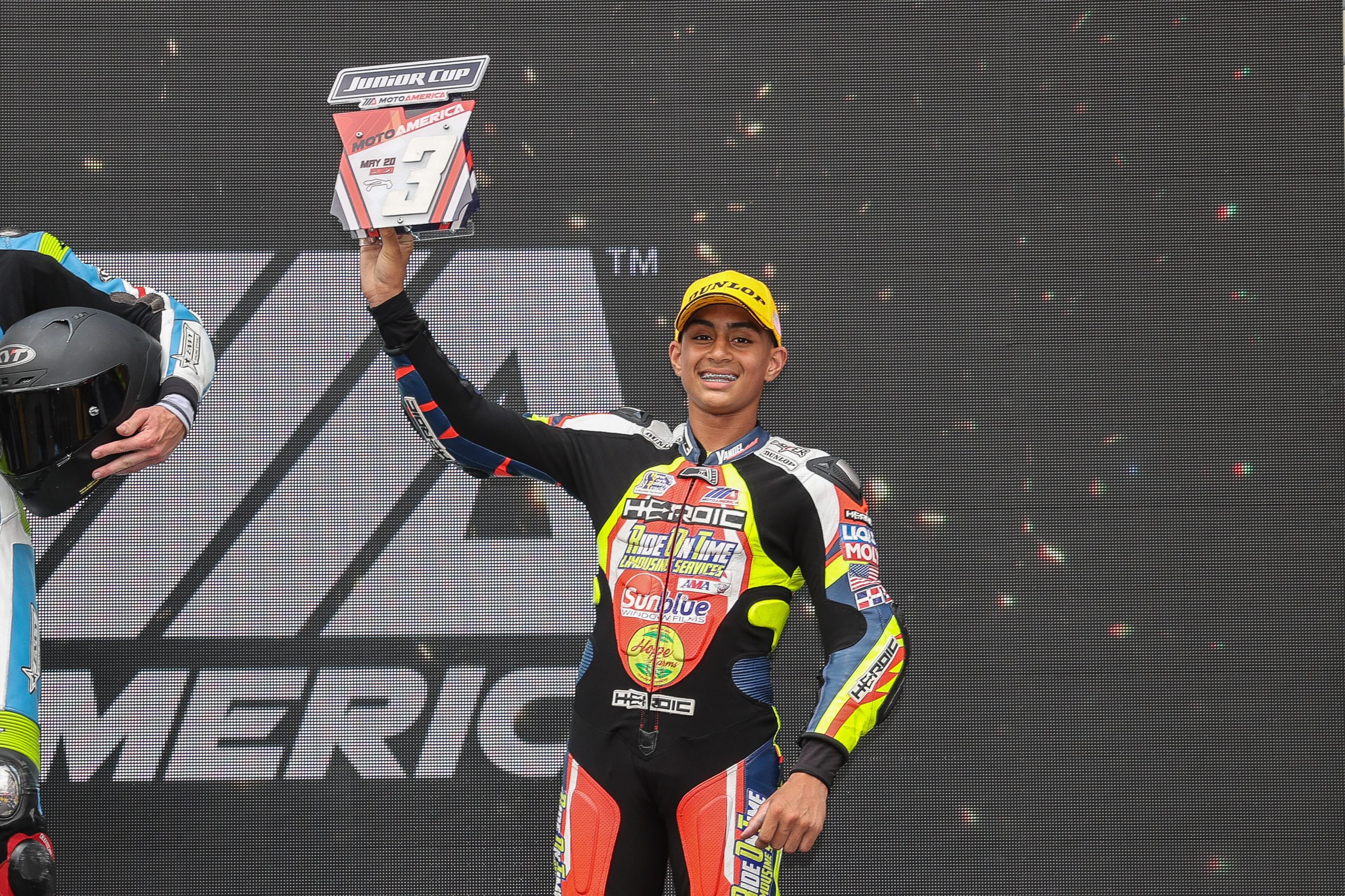 A Bronx Tale
Congratulations to Junior Cup rider Yandel Medina. The Bronx, New York, resident—who was born in the Dominican Republic—finished third in Junior Cup race one at Barber Motorsports Park for his first-career MotoAmerica podium. The ever-smiling 15-year-old, who I've dubbed "Funky Cold" Medina, then finished fifth in Sunday's Junior Cup race two.
Rock-o Landed
On a personal note, I want to give a shout-out (actually, it was more like a scream-out) to the jagged little bastard that decided to begin a hateful journey from my left kidney to the outside world back in February. At about 4:00 a.m. on Sunday morning, I finally bid a not-so-fond farewell to the orzo-sized hellion. Imagine trying to slowly push a spiked tennis ball through a garden hose—only the hose was my tortured left ureter—and you get the picture.
The faint, but satisfying, "plink" in the bowl made me want to light up a cigar like I'd birthed my own offspring. And, for those who wonder, yes, I fished it out of its porcelain bathinette and named thee "Stoney Rocco Landers."
For the full 2023 MotoAmerica schedule and to purchase tickets for MotoAmerica events, click HERE
For information on how to watch the MotoAmerica series, click HERE