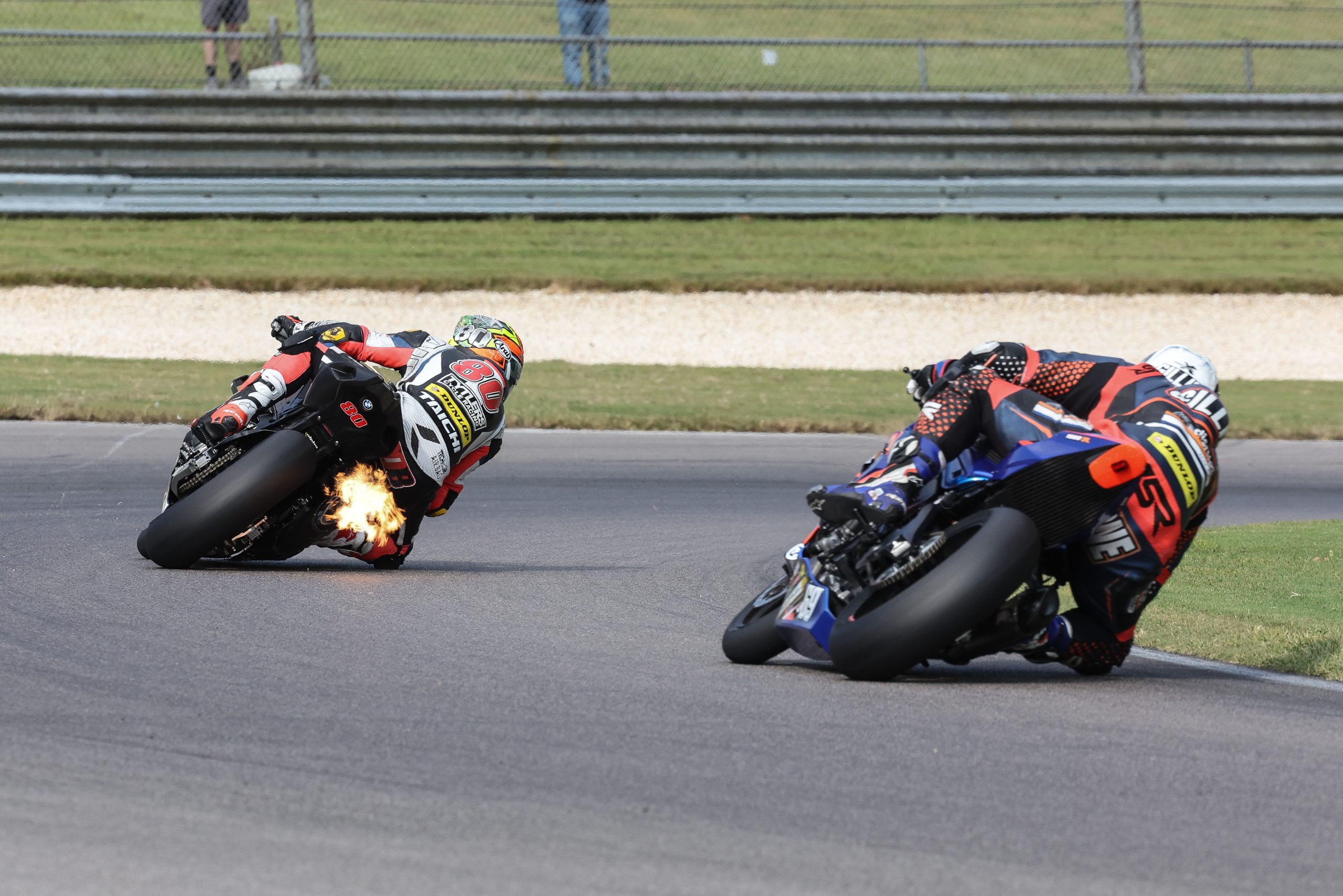 Random notes, comments, statistics, musings, and bits of trivia from the MotoAmerica Superbikes at Alabama event at Barber Motorsports Park:
The Fire Down Below
What is it with these BMW M 1000 RR Superbikes and their penchant for displaying pyrotechnics from their exhaust systems? I posed the question to Scheibe Racing team owner and noted motorcycle engineer/mad scientist Steve Scheibe. "It's part of the engine-braking strategy," Scheibe said. "I assume they are turning off the ignition on some cylinders and opening the throttle more for finer control. They apparently keep the fuel flowing to minimize the abruptness when the rider starts to open the throttle, and then, they turn the ignition back on and the residual fuel in the exhaust pipe ignites."
Petrucci's PeTrap Speed
Who had the fastest trap speed of the entire weekend at Barber Motorsports Park? It was Medallia Superbike rider Danilo Petrucci, who went 161.0 miles per hour aboard his Warhorse HSBK Racing Ducati Panigale V4 R on the final lap of the 15 laps he did in Friday afternoon's Superbike Qualifying 1 session.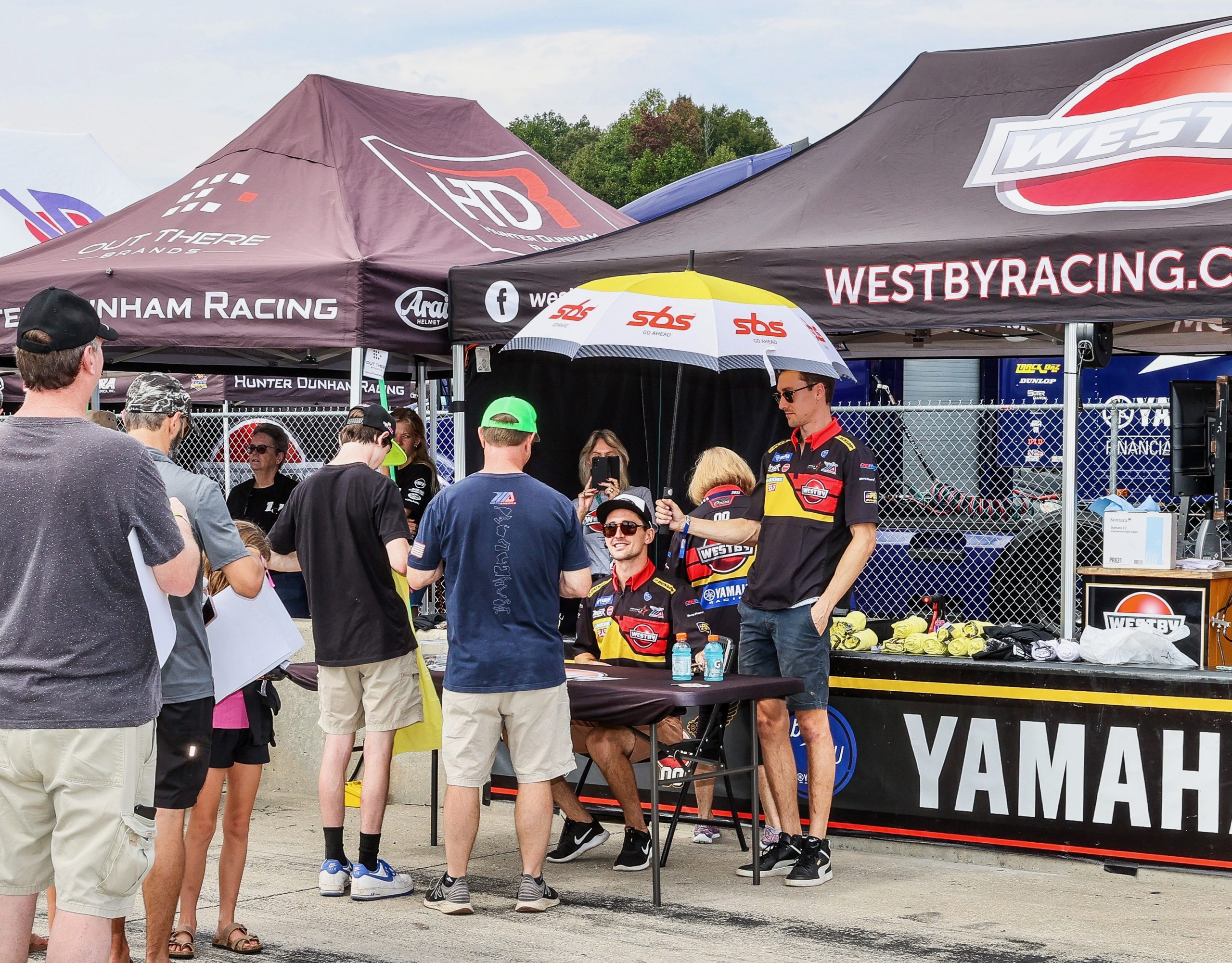 DoppelScholtz
Anybody who saw Mathew Scholtz walking around the paddock had to think they we experiencing double vision. Scholtz's slightly younger brother Dean traveled from Durban, South Africa, to watch Mathew race, and when both of the Scholtz boys are wearing sunglasses, it's difficult to tell them apart, even when they're standing right next to each other.
Lapping It Up
Tire strategy came into play in Supersport race two at a damp Barber Motorsports Park as Josh Herrin's choice to race on rain tires prevailed over Stefano Mesa's and other riders' decision to go with slicks. The rain tires held up for Herrin despite the track drying out, and he was able to get the win, but it was strange to see the riders, including Mesa, get lapped in the beginning of the race and then unlap themselves towards the end of the race. When Herrin was asked if he ever recalls that happening before, he said, "I don't remember a time that that has happened to me. It probably has, but I can't remember. When we started the race I saw (Mesa) pull up on slicks, and I was laughing in my helmet. I waved to him like, 'Just stay away from me.' So, when I lapped him, I kind of laughed again in my helmet, and when he came back by and I waved to him and he gave me a thumbs-up, it was another funny moment. It was definitely weird, but it made it exciting."
Smashing Records
Lap records were broken at Barber Motorsports Park in four different race classes over the past weekend. In Medallia Superbike, Cam Petersen broke and re-broke the track record multiple times aboard his Fresh N Lean Progressive Yamaha Racing YZF-R1. In Friday morning's Practice 1, he set a new lap record of 1:22.510 and then, in the afternoon's Qualifying 1, he lowered the record to 1:22.323. On Saturday morning, during Qualifying 2, he went 1:22.035, which is now the outright lap record at Barber Motorsports Park. Also, Petersen's teammate Jake Gagne did a 1:22.917 in race one, which set a new race lap record.
In Yuasa Stock 1000, Disrupt Racing Suzuki's Hayden Gillim set a new literbike class record of 1:25.255 in Qualifying 1, and then he lowered even more to a 1:24.183 in Qualifying 2.
Warhorse HSBK Racing Ducati NYC rider Josh Herrin set a new Supersport record in Qualifying 1 with a 1:26.443, and then he did an even quicker 1:26.361 in Qualifying 2.
REV'IT! Twins Cup rider Kaleb De Keyrel broke the track record in the two-banger class aboard his Veloce Racing Aprilia with a 1:29.398 in Qualifying 1, which he broke again in Qualifying 2 with a 1:29.088. DeKeyrel also set a new race lap record of 1:29.467 for the Twins Cuppers.
Overcooking The Donuts
At WeatherTech Raceway Laguna Seca this past July, Westby Racing had a technical issue that caused a tire warmer to overheat part of a rear tire on Mathew Scholtz's Yamaha YZF-R1. One section of the tire basically overcooked, and it changed the compound of the tire to something more akin to a bowling ball. On track, the overheated section of the tire caused a slip-grip-slip effect, which made Scholtz's bike almost unrideable.
According to Warhorse HSBK Racing Ducati NYC rider Danilo Petrucci, he and the team had an epiphany at Barber Motorsports Park, and it involved how long they had been leaving the tire warmers on their tires. "We also discovered that all year we warmed up the tire too much — over two hours," Petrucci said. "We warmed up the tire just for 40 minutes, and the bike was really nice to ride; I was riding in the high 1:23s and the low 1:24s, at least for the first laps. In general, we cooked the tire all season. I don't want to think this was the problem, but the championship is gone."
So, was Petrucci's season-long problem acclimating to the Dunlop tires due to them being overheated, which essentially transformed the rubber to a harder compound than they should have been? You be the judge, but Petrucci seems convinced that was the issue.
Breaking Ties
For the first time in MotoAmerica history, and also the first time that anyone can remember in AMA road racing history, two different race classes ended up dead-even in points. In SportbikeTrackGear.com Junior Cup, Alpha Omega Kawasaki's Cody Wyman and Rodio Racing Kawasaki's Gus Rodio both ended the season with exactly 285 points. Likewise, in Yuasa Stock 1000, Corey Alexander and Hayden Gillim had accumulated the same identical 192 points. The tiebreaker in situations like this is race wins, and Wyman and Alexander won the championships in their respective classes based on the fact that they had more wins than the other rider.
Which just goes to show you that every point counts in MotoAmerica racing, and you always want to collect the most points you can each season. That's how you become a champion.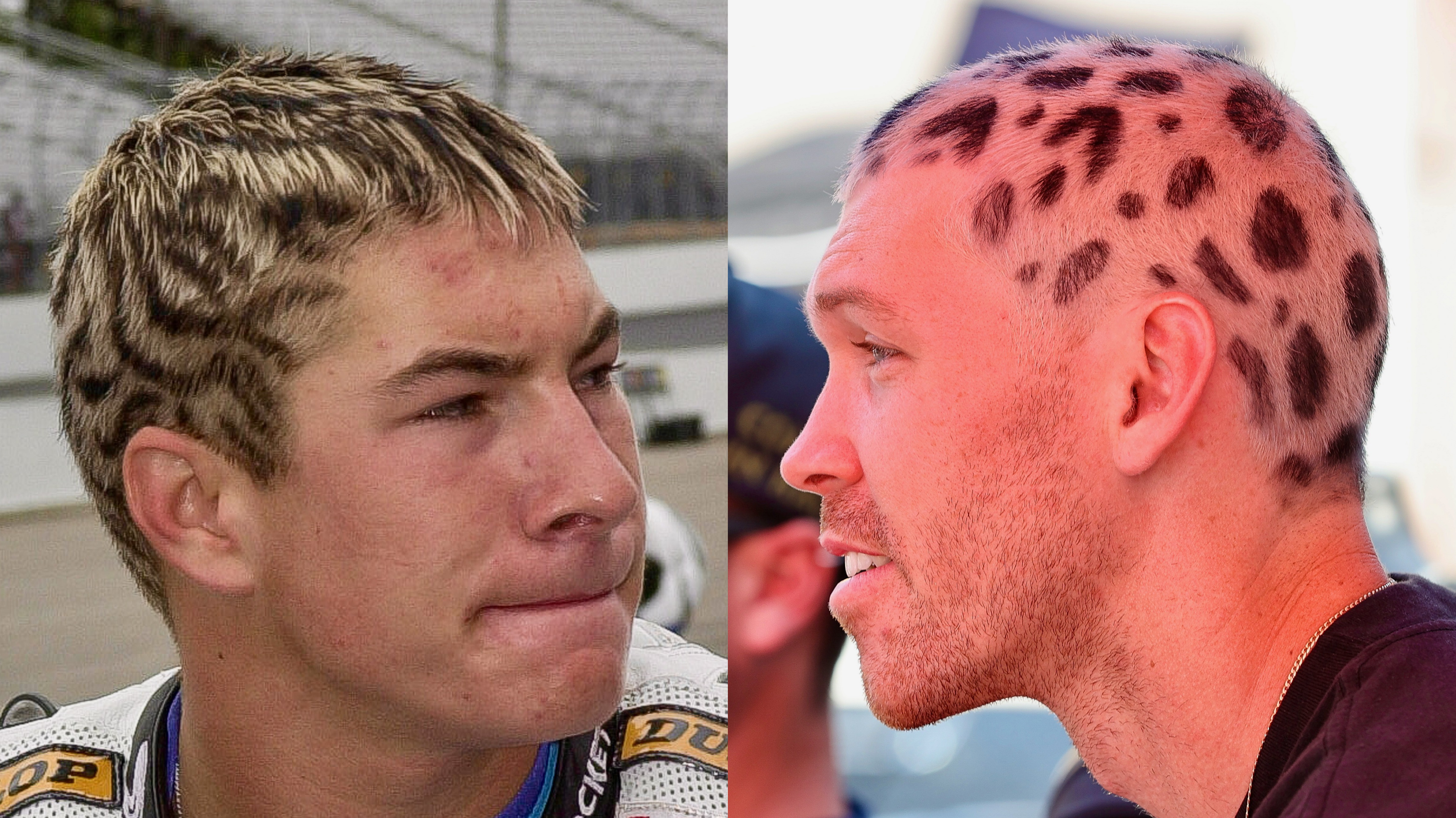 Cheeky Cheetahs Or Leapin' Leopards?
Corey Alexander had an interesting hair style going at Barber Motorsports Park, and it gave us a feeling of déjà vu. Whether the look Alexander was going for was a big dalmation or some kind of big cat like a cheetah or a jaguar, it reminded us of the mottled mop that Nicky Hayden once sported back in the day in the AMA paddock.