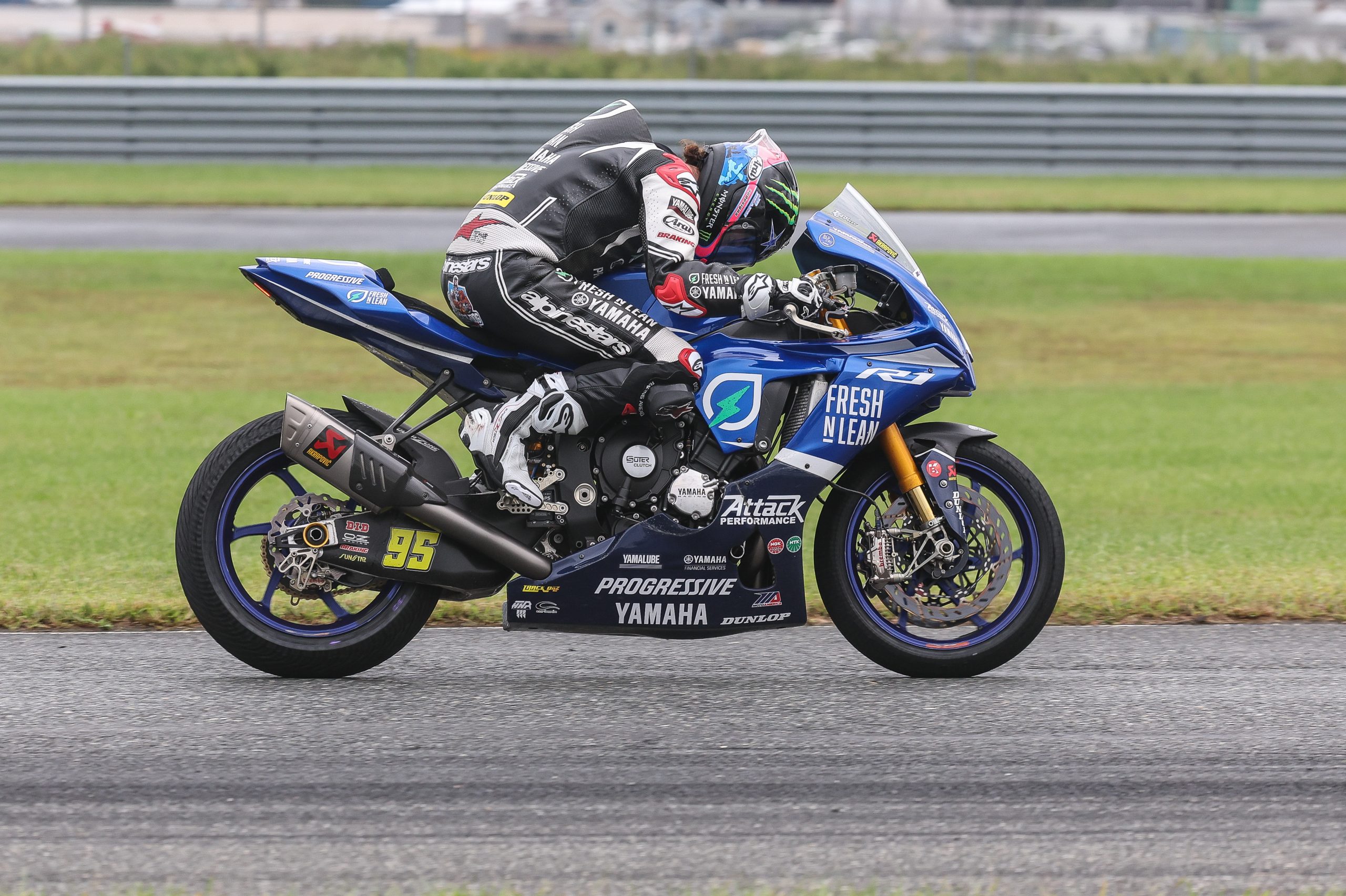 Random notes, comments, statistics, musings, and bits of trivia from the MotoAmerica Superbikes at New Jersey event: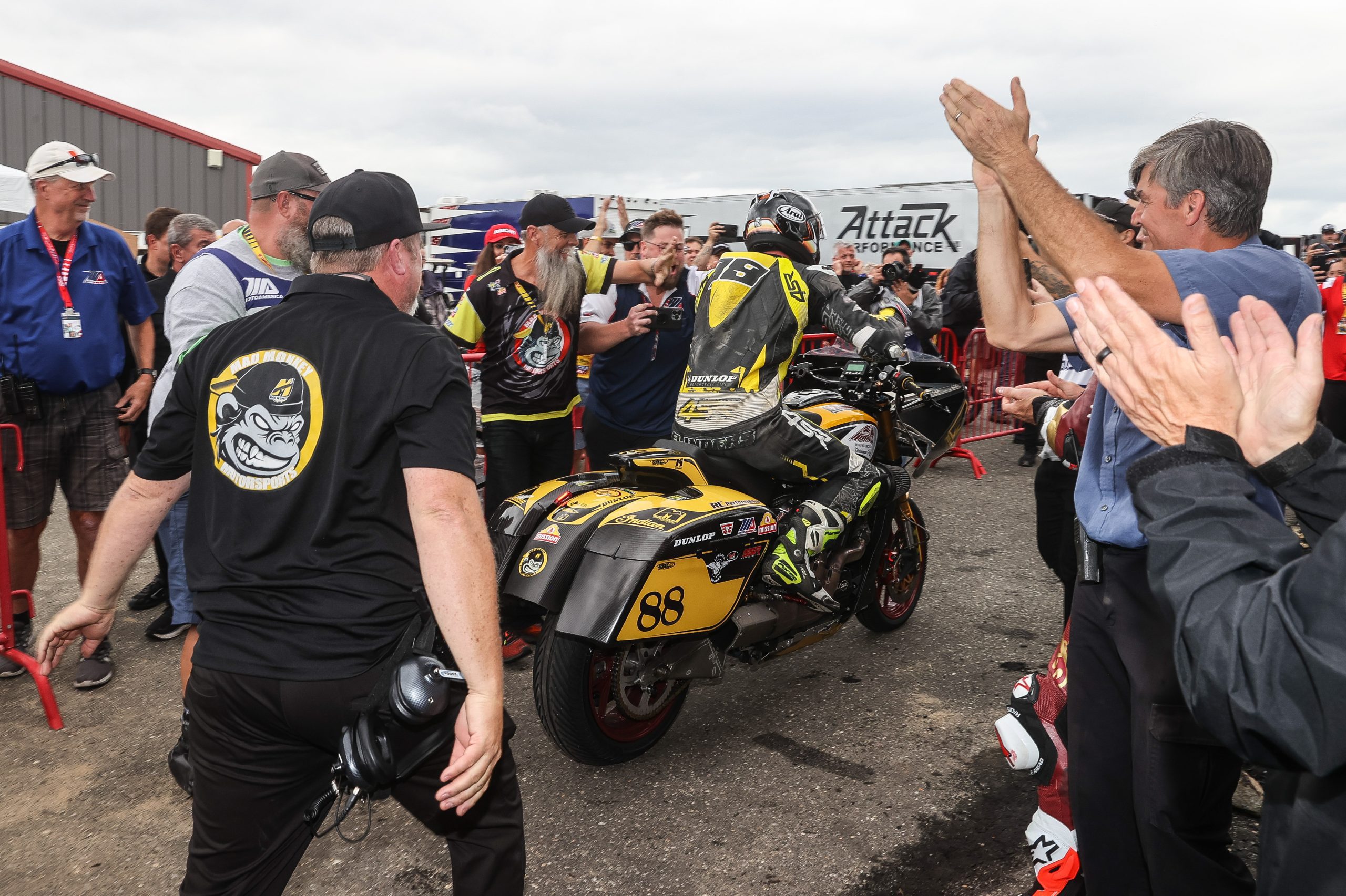 Feel-Good Flinders
I'd be shirking my "Duly Noted Duties" if I didn't mention three of the most "good-feeling" feel-good stories of the weekend. the first one is about Hayden Gillim, who followed up the Steel Commander Stock 1000 Championship he clinched at Circuit of The Americas with the Mission King Of The Baggers Championship he won at New Jersey Motorsports Park. And, between those two rounds, his wife Summer gave birth to a baby daughter. But wait, there's more. In only seven races back with MotoAmerica during the closing rounds of the season, de facto Gillim family member JD Beach hit for the cycle. He notched a third-place finish at COTA, a runner-up result in the penultimate Superbike race, and he capped it all off with a victory in the final Superbike race of the year.
And then, there's Max Flinders. He was the very first rider to take to the track at COTA back in 2015 for the very first MotoAmerica pre-season test. And, at NJMP on Sunday, Max put his M3/Revolution Performance Indian Challenger on the box in third, which was the first podium result of his MotoAmerica career. What a way to wrap up the 2023 MotoAmerica season not only for Max but for all of us.
Cue One
Tropical Storm Ophelia was a big story at NJMP, and she made things very soggy for the riders, teams, officials, staff, and fans. As it turned out, though, Friday had fairly decent weather, so the top trap speeds in all five MotoAmerica classes were recorded during the afternoon's provisional qualifying sessions. Here's the rundown:
• Medallia Superbike: Tytlers Cycle Racing BMW's PJ Jacobsen: 174.6 miles per hour
• Supersport: North East Cycle Outlet Racing Yamaha's Anthony Mazziotto: 154.6 miles per hour
• Mission King Of The Baggers: Indian Motorcycle/Progressive/Mission Foods' Jeremy McWilliams: 154.1 miles per hour
• REV'IT! Twins Cup: Cycle Tech Yamaha's Hayden Schultz: 141.1 miles per hour
• Junior Cup: Fairium NGRT – Gray Area Racing KTM's Rossi Moor: 124.1 miles per hour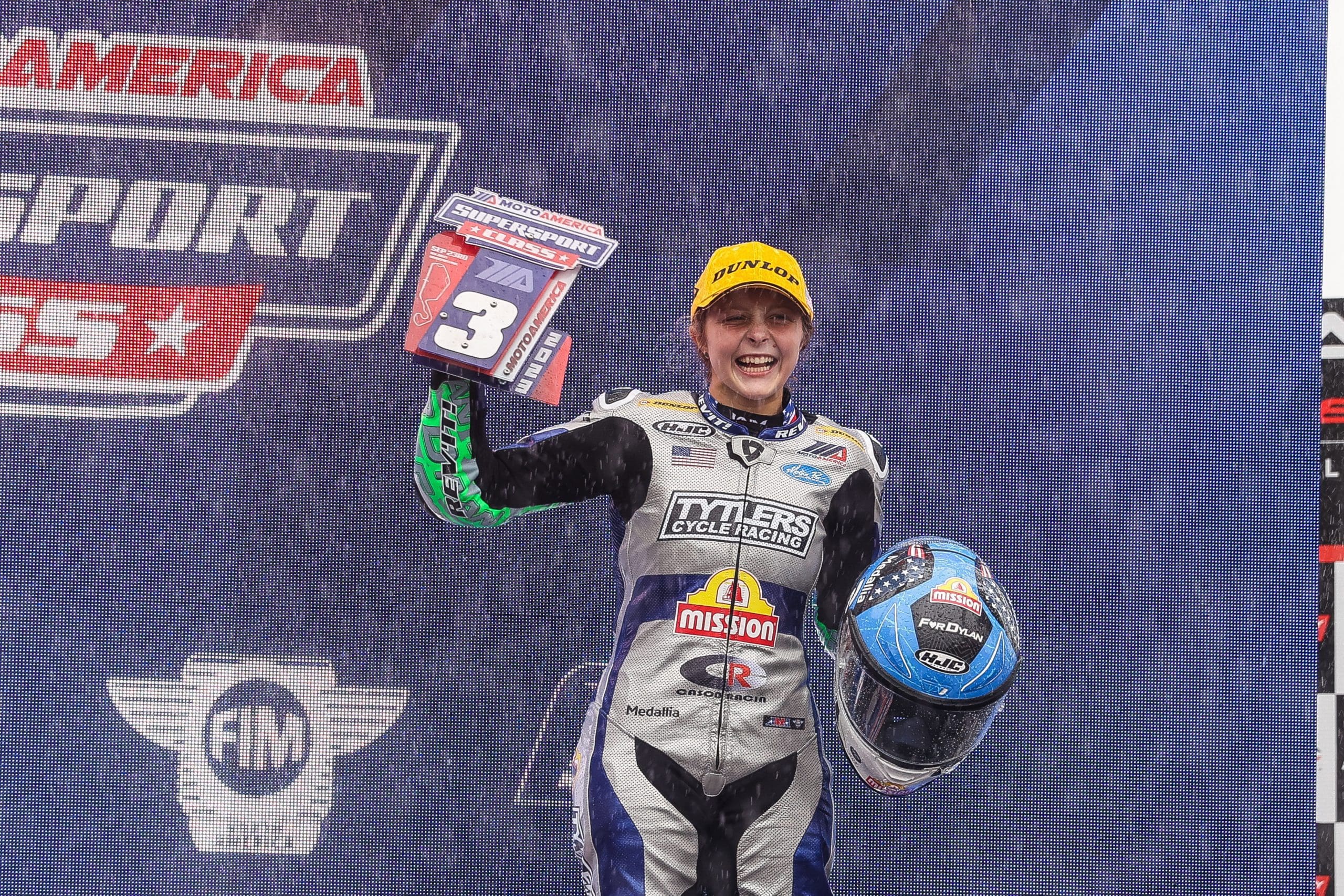 Kayla Nailed It
For those who may have wondered if the Supersport class might be a bit too much too soon for 16-year-old Kayla Yaakov, in Saturday's race one, the Gettysburg, Pennsylvania, native became the first female in MotoAmerica history to finish on a Supersport podium. And, if that wasn't enough to convince you she belongs in Supersport, Yaakov's lap time of 1:40.640 aboard her Tytlers Cycle Racing Kawasaki was the fastest lap of the race. Also, Yaakov became the first female in the history of American motorcycle road racing to stand on the podium in three different race classes: Junior Cup, Twins Cup, and Supersport.
Thunderbolt And Lap Records
Despite the less-than-ideal track conditions, two new lap records were set at New Jersey Motorsports Park. And just like the top trap speeds, the lap records also happened during Friday's provisional qualifying sessions. H-D Screamin' Eagle's Kyle Wyman already owned the Mission King Of The Baggers lap record with his fastest lap of 1:24.553 set last year during final qualifying, but he broke his own record this year with a fastest lap of 1:24.447 during Q1. Rodio Racing – Powered by Robem Engineering Aprilia rider Rocco Landers set a new REV'IT! Twins Cup lap record of 1:24.659, eclipsing Jody Barry's old record of 1:24.737 set during final qualifying in 2022.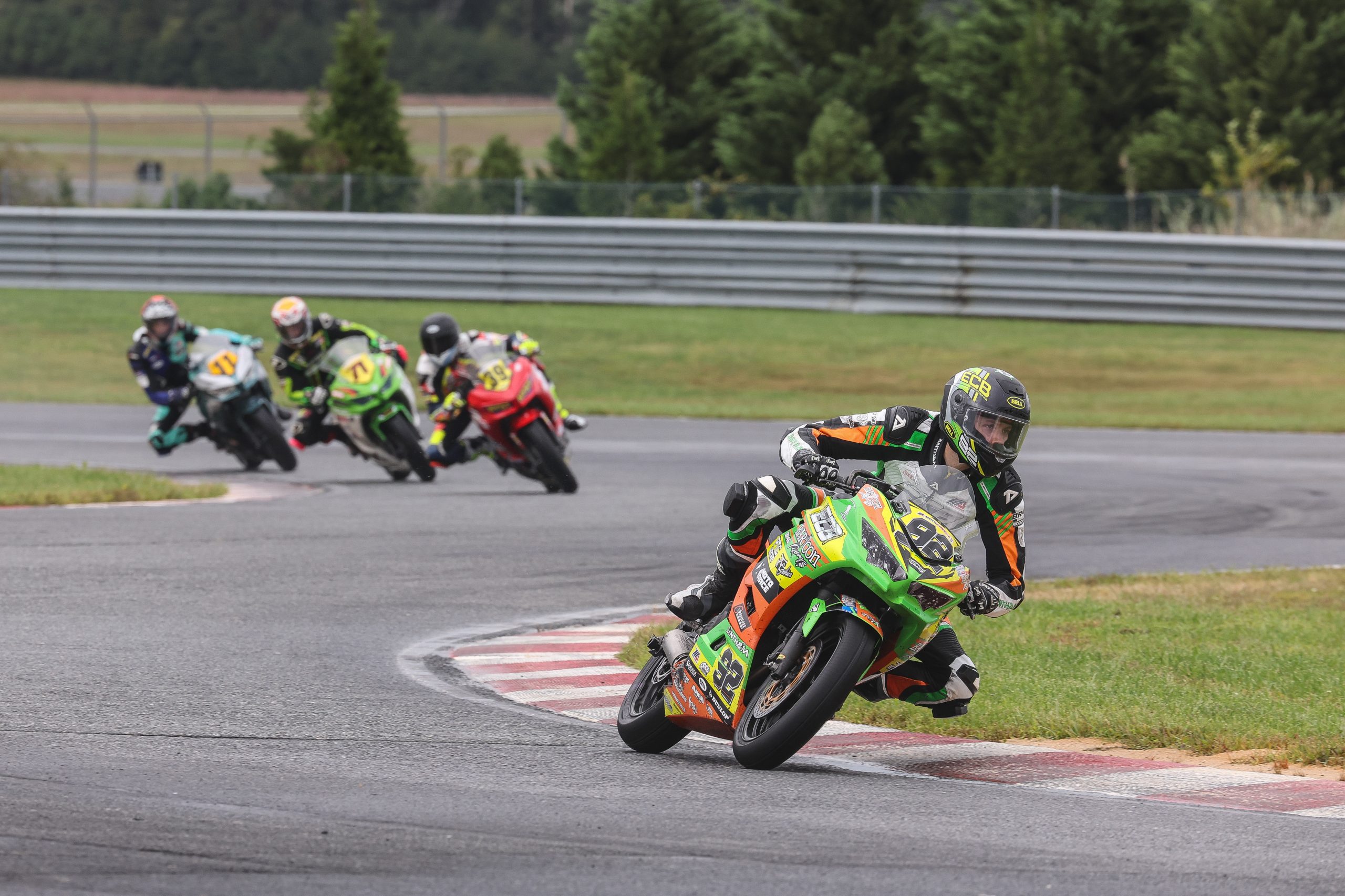 New Block On The Grid
Prior to the start of the 2023 MotoAmerica season, BARTCON Racing's Colin Barton mentioned that a New England-area rider named Eli Block would be racing in the Junior Cup Championship, but only at the Pitt Race and New Jersey Motorsports Park rounds. And, as the season progressed, I almost forgot what that Irishman with the big heart and colorful vocabulary had said. Sure enough, the Junior Cup entry list for Pitt Race included Block, and he proceeded to finish seventh and ninth aboard his Team ECB/BARTCON Racing Kawasaki. Not bad for his first MotoAmerica race weekend of the season.
This past weekend at NJMP, the freshly minted 21-year-old (his birthday was on Friday of the NJMP race weekend) had an absolute Block party. He won both races in the tricky conditions and put himself in the window for teams to consider signing him for 2024, whether in Junior Cup, Twins Cup, or even Supersport. "I'll race in any MotoAmerica class just to be able to race a full season." Block said.
Junior No More
A couple of other Junior Cup riders who reached the podium at New Jersey Motorsports Park used the occasion to announce their racing plans for 2024. Race two second-place finisher Levi Badie said in the post-race press conference that he will compete in MotoAmerica Supersport next year, while third-place finisher Yandel Medina also said in the press conference that he will move up to the MotoAmerica Twins Cup Championship in 2024.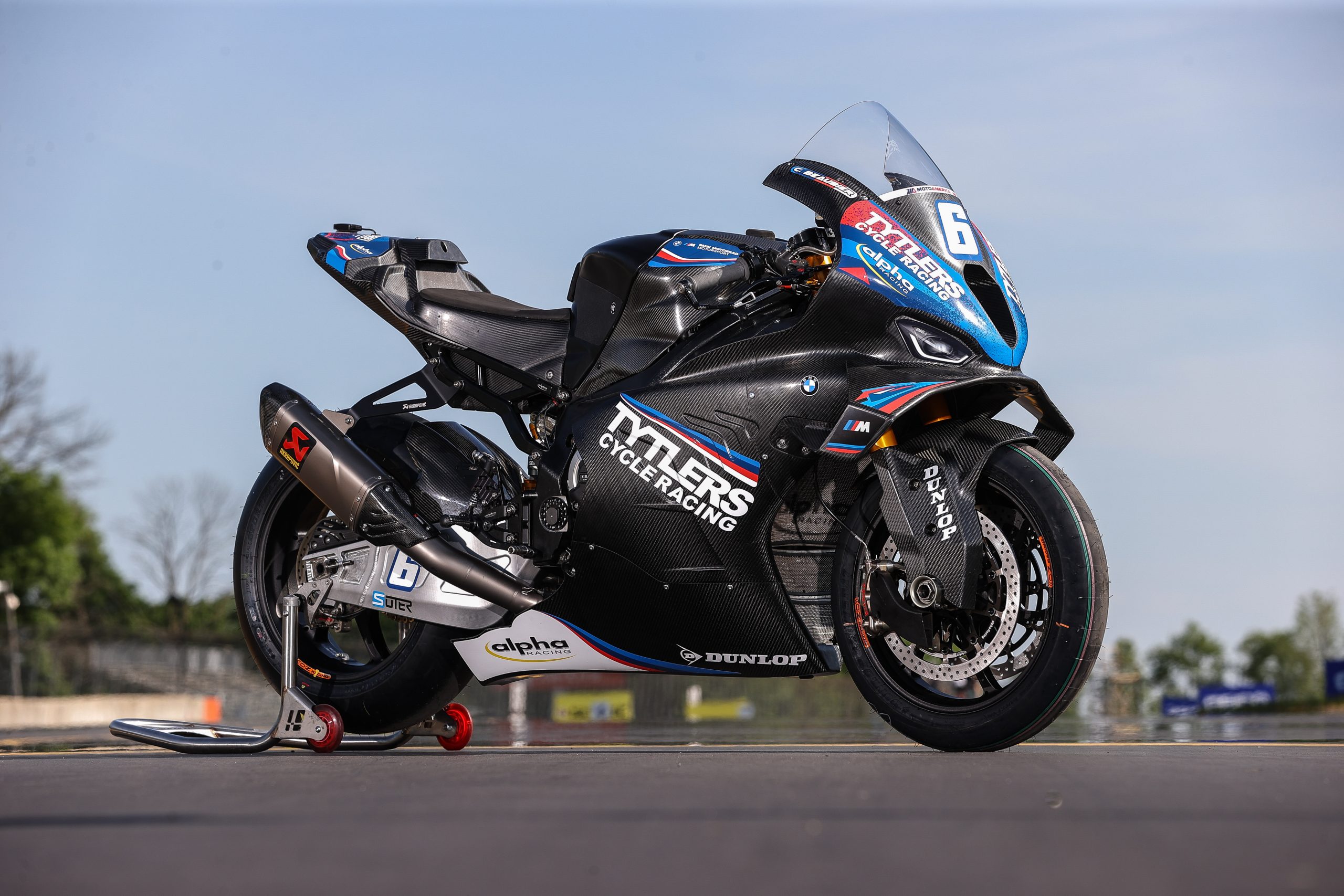 Beamer's Demeanor
Perhaps no other motorcycle brand and model has made a more immediate impact on MotoAmerica than BMW and its M 1000 RR. The bike podiumed five times in its first season in the Medallia Superbike Championship and 13 times in Stock 1000, including seven race wins by 2022 Stock 1000 Champion Corey Alexander last year. And then, this year, the Bavarian Motor Works' M-model literbike notched 18 Medallia Superbike podiums and six race wins, plus 17 podiums and four race wins in Steel Commander Stock 1000. All told, that's 53 podiums and 17 race wins across two MotoAmerica race classes over just the past two years. Very impressive.
Which is why it's especially peculiar that rumors point to two of the paddock's most successful BMW teams not coming back, at least in their current form, in 2024. Tytlers Cycle Racing in Medallia Superbike and Orange Cat Racing in Steel Commander Stock 1000 may both be calling it quits. Or, so we've heard.
Whether those team's riders, crew members, and racing assets will be transferred to another team or teams in 2024, that remains to be seen. But, at this point, it's very hard to imagine a MotoAmerica Superbike or Stock 1000 starting grid without a brace of BMW M 1000 RR's lined up and ready to race.
Stay tuned.