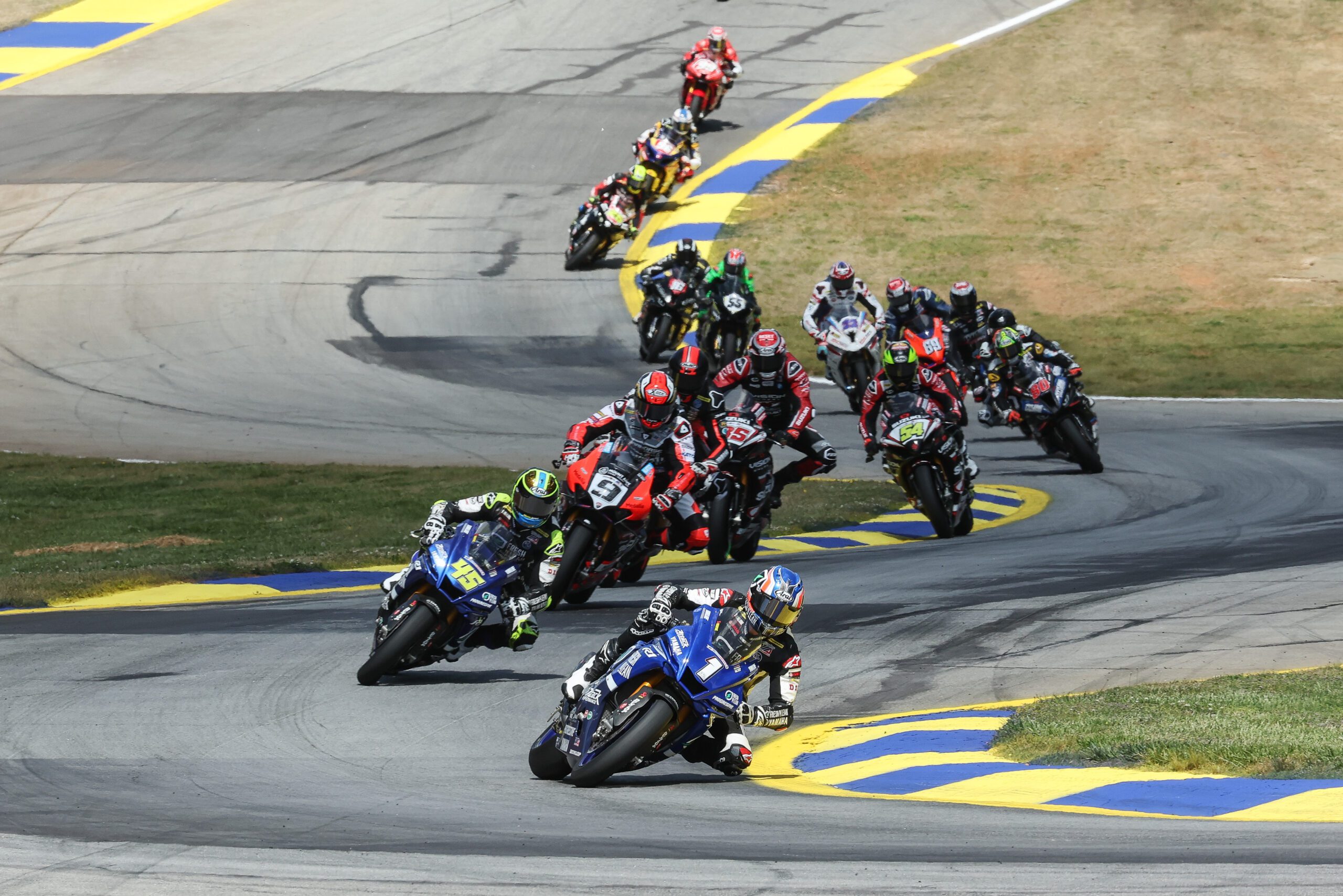 Random notes, comments, statistics, musings, and bits of trivia from the MotoAmerica Superbikes at Atlanta event:
The Snake Was Speedy
Who had the fastest top speed among all the Medallia Superbike riders at Michelin Raceway Road Atlanta? It was Vision Wheel M4 ECSTAR Suzuki rider Jake Lewis. The Kentuckian went 188.7 miles per hour aboard his Suzuki GSX-R1000 in race two on Sunday. Keep in mind that, at 6′ 3″ tall, Lewis is one of the tallest riders in the paddock so he's obviously got a fast bike and a heck of a tuck.
Planet Of The Apes
There was only one Twins Cup main event at Michelin Raceway Road Atlanta, and it was an Aprilia sweep. Riders aboard the Italian company's RS 660 took all three spots on the podium, with Veloce Racing's Jody Barry winning over Robem Engineering teammates Teagg Hobbs and Ben Gloddy. Yamaha YZF-R7 riders Jackson Blackmon and Blake Davis did, however, round out the top-five finishers in the race.
Samurai Sam The Seven-Fifty Man
The highly anticipated debut of the Suzuki GSX-R750 took place at Road Atlanta, and Vision Wheel M4 ECSTAR Suzuki rider Sam Lochoff became the first professional road racer anywhere in the world to compete aboard the iconic three-quarter-liter sportbike in Supersport and under the new "Supersport Next Generation" rules. Lochoff finished second in both Supersport races over the weekend. Look for more GSX-R750s to join the fray at the next MotoAmerica round, which is VIRginia International Raceway on May 20-22. By then, the new electronic throttle kit for the 750, required under the Next-Gen rules and developed and marketed by Team Hammer, should become more widely available. Team principal Chris Ulrich told us at Road Atlanta that only one throttle kit was available, hence, Lochoff was the only rider able to race the 750 this past weekend.
Petrux Pips Beaubier; Gagne Goes Even Faster
Warhorse HSBK Racing Ducati NYC rider Danilo Petrucci broke the MotoAmerica Superbike race lap record at Road Atlanta. His 1:23.934 on lap five of race one was faster than Cameron Beaubier's lap record of 1:24.085 that he set in 2020's race one. Incidentally, the outright lap record for motorcycles at Road Atlanta was also broken by the same rider who previous held it. Defending Superbike champ and Fresh N Lean Progressive Yamaha Racing rider Jake Gagne eclipsed his own 1:23.746 lap (set in last year's provisional qualifying) by doing a lap of 1:23.407 in final qualifying on Saturday.
Building Better Baggers
How steep is the development curve for the motorcycles competing in the Mission King Of The Baggers Championship? Defending champion Kyle Wyman had the fastest laptime in Sunday's race aboard his H-D Screamin' Eagle Road Glide Special, which was a 1:31.789. By comparison, the fastest laptime recorded in 2021's King Of The Baggers race at Road Atlanta was a 1:36.392 by Mission Foods/S&S Cycle/Indian Challenger Team's Tyler O'Hara. For those of you keeping score at home, the Baggers riders were going nearly five seconds per lap quicker this year than they did last year.
Say It Fast: "One One-Thousandth For The Stock One-Thousands"
In the one and only Yuasa Stock 1000 race held at Road Atlanta, Tytlers Cycle/RideHVMC Racing BMW rider Corey Alexander won over Cycle World/Octane/Chuckwalla Suzuki rider Michael Gilbert by just one one-thousandth of a second. By definition, that is one millisecond and it was also one of the closest-ever finishes in AMA, let alone MotoAmerica, history.
Life In One Day
The aforementioned Kyle Wyman had quite a day on Sunday at Road Atlanta. The defending Mission King Of The Baggers Champion overcame adversity to win Sunday's Baggers race, which was the first victory for him and Harley-Davidson out of the three KOTB races thus far this season. Then, serving as a fill-in rider for Tytlers Cycle Racing rider PJ Jacobsen, who was ill this weekend, Wyman raced the team's BMW M 1000 RR to a third-place finish in Medallia Superbike race two. After notching his second podium result of the day, an understandably emotional Wyman commented in the Superbike press conference that his stint on the Superbike was an opportunity for him to ride free and unencumbered by the responsibilities he felt when he ran his own Superbike team for more than a decade. Also, since he is a factory Harley-Davidson factory rider, his King Of The Baggers race win earlier in the day checked off that box, too. So, racing the Tytlers Superbike was all about the pure joy of being on a fast motorcycle and not having to think about anything else. He received a round of applause from the media after his soul-baring comments.
The Belgian Didn't Waffle
BARTCON Racing's Levi Badie became the first Belgian rider to race in the MotoAmerica series, and in his first race weekend in America, he qualified his Kawasaki Ninja 400 on pole in SportbikeTrackGear.com Junior Cup. In Saturday afternoon's race one, he was one of the frontrunners in it to win it until he crashed out of the lead. And then, in Sunday's race two, Badie was part of a multi-rider battle for the win, but in the final turn on the final lap, he crashed again. Thankfully, he was not seriously injured in either incident, and it's clear that, if he can keep it on two wheels, Badie will be a contender for the Junior Cup Championship.
For the full 2022 MotoAmerica schedule and to purchase tickets for MotoAmerica events, click HERE
For information on how to watch the MotoAmerica series, click HERE