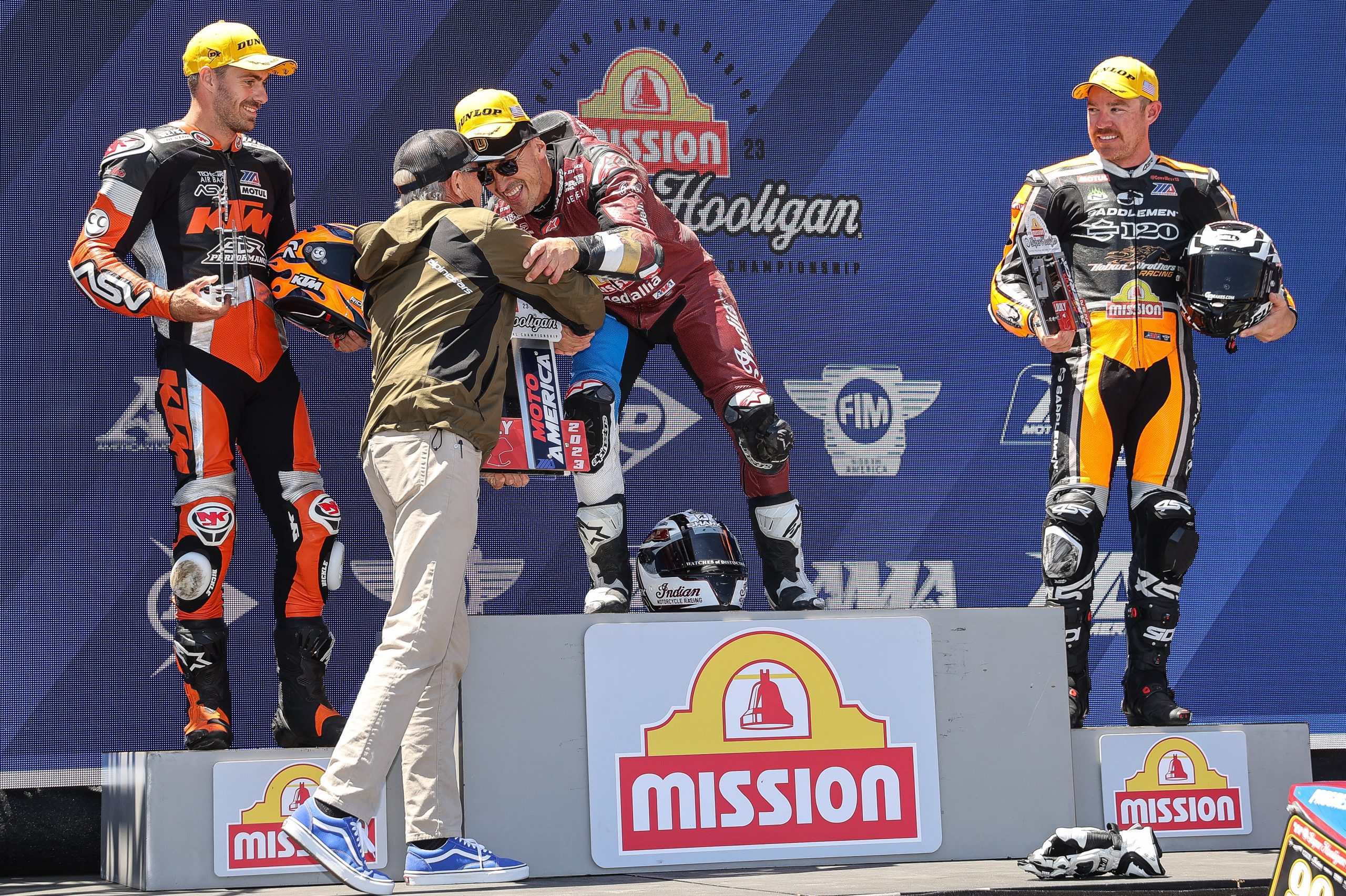 Random notes, comments, statistics, musings, and bits of trivia from the MotoAmerica Superbike Speedfest at Monterey:
Let's Hear It For The Old Boy
Fifty-nine-year-old Jeremy McWilliams is the walking, talking, and racing epitome of "the older I get, the faster I am." The Ulsterman has absolutely found a home with the Indian Motorcycle/Progressive/Mission Foods team, and he's definitely earning his keep, too. He won both Mission Super Hooligan National Championship races over the weekend by holding off DiBrino Racing KTM rider Andy DiBrino and Team Saddlemen Harley-Davidson-mounted Cory West in race one, then defending class champion and teammate Tyler O'Hara, along with DiBrino again, in race two. And, best of all, he was presented with the race one winner's trophy by 1993 500cc Grand Prix World Champion Kevin Schwantz, who is also 59 years old, but technically two-and-a-half months younger than McWilliams.
Caught In A Trap (Speed)
The 11-turn, 2.238-mile WeatherTech Raceway Laguna Seca is known more as a technical road course than a speed-burner circuit. But, still, the trap speeds achieved in each of the five race classes over the weekend are impressive. The highest overall trap speed achieved over the weekend was, of course, in Medallia Superbike, and Tytlers Cycle Racing BMW's PJ Jacobsen went 160.8 miles per hour in Saturday's race one on Lap 15 of the 17 laps completed in that race. In Saturday's Supersport Extended Race, Vision Wheel M4 ECSTAR Suzuki's Tyler Scott went 144.5 miles per hour on lap 6 of 38. Mission King Of The Baggers rider Tyler O'Hara achieved a maximum trap speed of 143.2 miles per hour in Saturday's race one on lap 7 of 8, and that same speed was also reached by Vance & Hines Harley-Davidson's James Rispoli in Sunday morning's warmup session, on lap 2 of the 7 he completed. There was also a tie for highest trap speed in the Mission Super Hooligan National Championship where Andy DiBrino went 136.5 miles per hour in Sunday's race two on lap 2 of 8, and then Tyler O'Hara also went 136.5 miles per hour in race two on lap 6 of 8. Finally, in REV'IT! Twins Cup, The WagBar MP13 Racing Yamaha's Kayla Yaakov went 133.4 miles per hour in Saturday's race one on lap 2 of 12.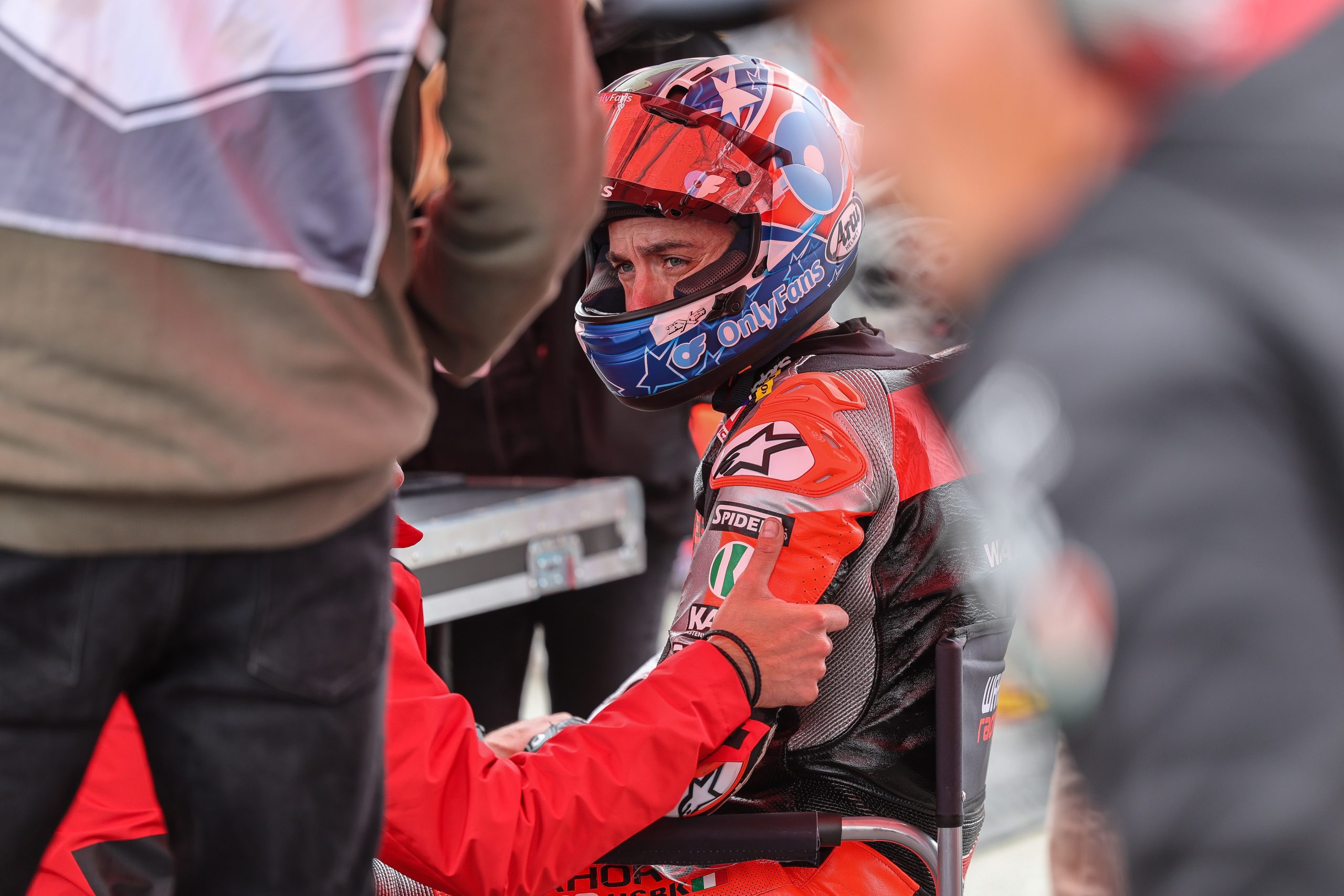 Beast Mode
If you need any further proof that racing in the MotoAmerica Medallia Superbike Championship is a tough sport, then you need look no further than the "riding wounded" who haven't missed a race lap all season long. They say that hockey players are the toughest athletes in the world, but I submit that motorcycle road racers have the toughness scale absolutely pinned. First, you've got Fresh N Lean Progressive Yamaha Racing's Cameron Petersen with a nagging wrist injury, a right forearm that's still healing from an in-season compartment syndrome surgical procedure, and now he's fighting pain and numbness in his left forearm and hand because he's overworking it to compensate for the issues with his left arm. Second, there's five-time MotoAmerica Champion and Tytlers Cycle Racing BMW rider Cameron Beaubier, who injured his hip in a big crash during Saturday's race one, and still managed to not only compete in, but also win, both races on Sunday. Then, there's Westby Racing Yamaha's Mathew Scholtz, who also crashed in race one, was left bruised and battered from the incident, yet finished sixth and eighth, respectively, in Sunday's race two and race three. But, the King of the Beasts is definitely Josh Herrin, who got ragdolled after earning the pole at Ridge Motorsports Park, then rode his Warhorse HSBK Racing Ducati to two podium results, despite barely being able to walk from the ankle injury he sustained. He came into WeatherTech Raceway Laguna Seca with a diagnosed broken bone in his ankle and soft-tissue damage in his shoulder. Despite all that, Herrin notched three more podium finishes, including two runner-up results, and he solidified his third-place position in the season point standings. Rub some dirt on it, boys, it's race time.
Head Games
Just one day before the start of the MotoAmerica Superbike Speedfest at Monterey, MotoAmerica issued a Competitor Bulletin, which was the latest in the ongoing Supersport Next Generation balancing procedures. Tweaking the Ducati Panigale V2 and Suzuki GSX-R750 has already been done thus far in the season, so it was the Yamaha YZF-R6's turn to get some attention. Since the 599cc R6 has the smallest engine displacement in the class, porting and polishing of the cylinder head is now allowed on Yamaha's venerable middleweight sportbike. The allowance brings the bike more in line with FIM World Supersport rules, and Squid Hunter Racing happened to have a ported-and-polished cylinder head in their arsenal at Laguna Seca. Rider Josh Hayes started the weekend without the new head on his bike, but on Saturday, he was able to compete in the 38-lap Supersport Extended Race with the newly hot-rodded R6. After finishing on the podium, Hayes declared that the ported-and-polished head is a step in the right direction, but not quite the weapon he'd like to have. Word is that the head, when done properly, provides a few more horsepower, but it is the torque that gets a sizeable increase. Hayes noted that the bike provides better drive out of the corners and enables him to stay a little closer to the other bikes at the front. He also stated that what he really wants is an "R636" with the same displacement as the Kawasaki ZX-6R. In fact, Warhorse HSBK Racing Ducati rider Xavi Forés and Suzuki pilot Tyler Scott both agreed with Hayes that the Kawasaki 636 is the alpha dog in the class right now. It may not be just the back, however. Hayes also added that Tytlers Cycle Racing Kawasaki's Stefano Mesa has really stepped up his game this season. "He's no longer a club racer," Hayes said. "He's a national championship-caliber rider now." So, what about a Yamaha R636? According to MotoAmerica Technical Director Tige Daane, "That's never going to happen. No way." Daane refused to comment, however, on if the Kawasaki ZX-6R is next in line for balancing, so stay tuned.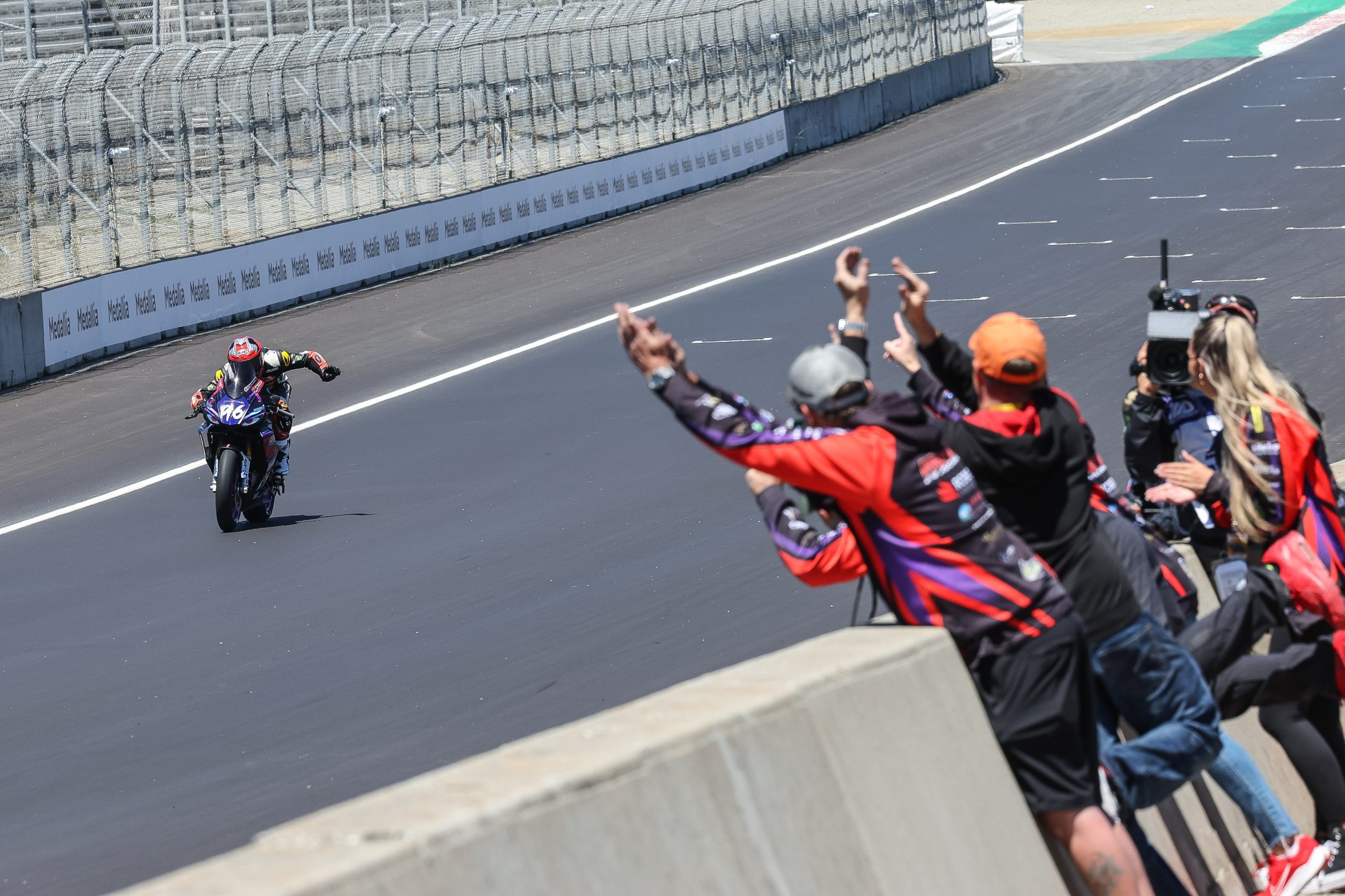 Laps Of Honor
Going into the MotoAmerica Superbike Speedfest at Monterey, the expectation was that, like the newly repaved Road America earlier this season, lap records would be broken like balloons at a porcupine's birthday party. But, whether it was the lack of rubber embedded in the new aggregate, the cool temperatures throughout weekend, or the phase of the moon (Waning Gibbous, if you wondered), very few new lap records were set. In Mission King Of The Baggers, H-D Screamin' Eagle's Kyle Wyman set a new overall class lap record and race lap record of 1:28.338 on lap 2 of Saturday's 3-lap Mission King Of The Baggers Challenge. In REV'IT! Twins Cup, Gus Rodio did a fastest lap of 1:29.269 in Sunday's race two on lap 8 of 13 aboard his Rodio Racing – Powered by Robem Engineering Aprilia, which was also a new overall class lap record and race lap record. And, finally, in the Mission Super Hooligan National Championship, Jeremy McWilliams set two new lap records. He did a 1:29.298 in Qualifying 1 on lap 7 of 8 for a new overall class lap record, then in Sunday's race two, he did a 1:29.643 on the final lap (lap 8 of 8), which was a new race lap record in the class.
Down In Front
Speaking of the Supersport class, Xavi Forés won his eighth-consecutive Supersport race, breaking the consecutive-wins record that current World Superbike rider Garrett Gerloff set in 2018. So, the Spaniard's rookie season in the MotoAmerica series remains perfect. However, it wasn't so easy at Laguna Seca. By his own admission, Forés struggled mightily with the front-end of his Warhorse HSBK Racing Ducati Panigale V2. When asked about it, Forés explained that the quick-change fork on the front of his bike, which was used to facilitate faster front-wheel replacement for the mandatory pit stop in the Supersport Extended Race, adversely affected the handling of the bike. Forés said he much prefers the standard fork on his Ducati and is glad that the remainder of the Supersport season will be shorter sprint races that don't require a pit stop nor the quick-change fork.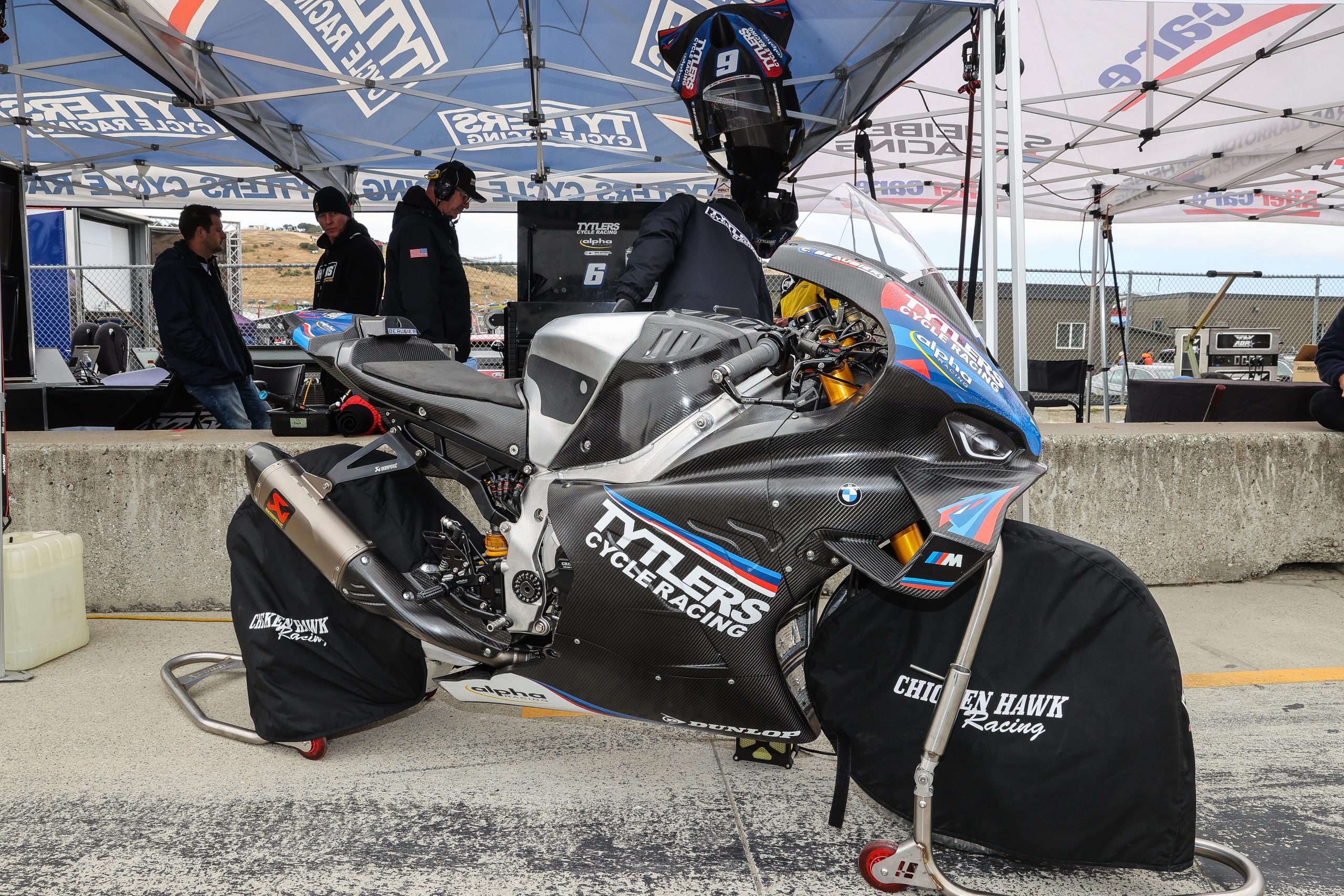 Frame By Frame
Tytlers Cycle Racing BMW is an interesting Superbike team, and not just because they have a three-rider squad. It's also because each of the three riders is on a slightly different spec of motorcycle. They are all racing BMW M 1000 RR Superbikes, but Corey Alexander is aboard one of the Tytlers Superbikes from last year, PJ Jacobsen is racing a 2023 BMW M 1000 RR, but Cameron Beaubier's 2023 BMW M 1000 RR is equipped with all the latest upgrades, including a specially braced frame that provides more stiffness and a unique fuel tank designed especially for the upgraded frame. The team only had one of the special fuel tanks, and it got damaged in the crash that Beaubier had in Saturday's race one at Laguna Seca. So, the Tytlers Cycle Racing crew had to go to a backup bike that doesn't have the upgraded frame and fuel tank, and Beaubier competed on it in Sunday's Superbike race two and three. And, oh, by the way, he won both of those races. When asked to compare the newer bike that he crashed on Saturday with the older bike that he raced on Sunday, Beaubier said that the older frame is a little bit more forgiving on bumpier tracks. It flexes more, which he said can be a benefit. So, he and his team now have the choice of two bikes with two different frames and they can pick whichever one works the best on each particular track. Clearly, Beaubier has proven that he can win races on either bike.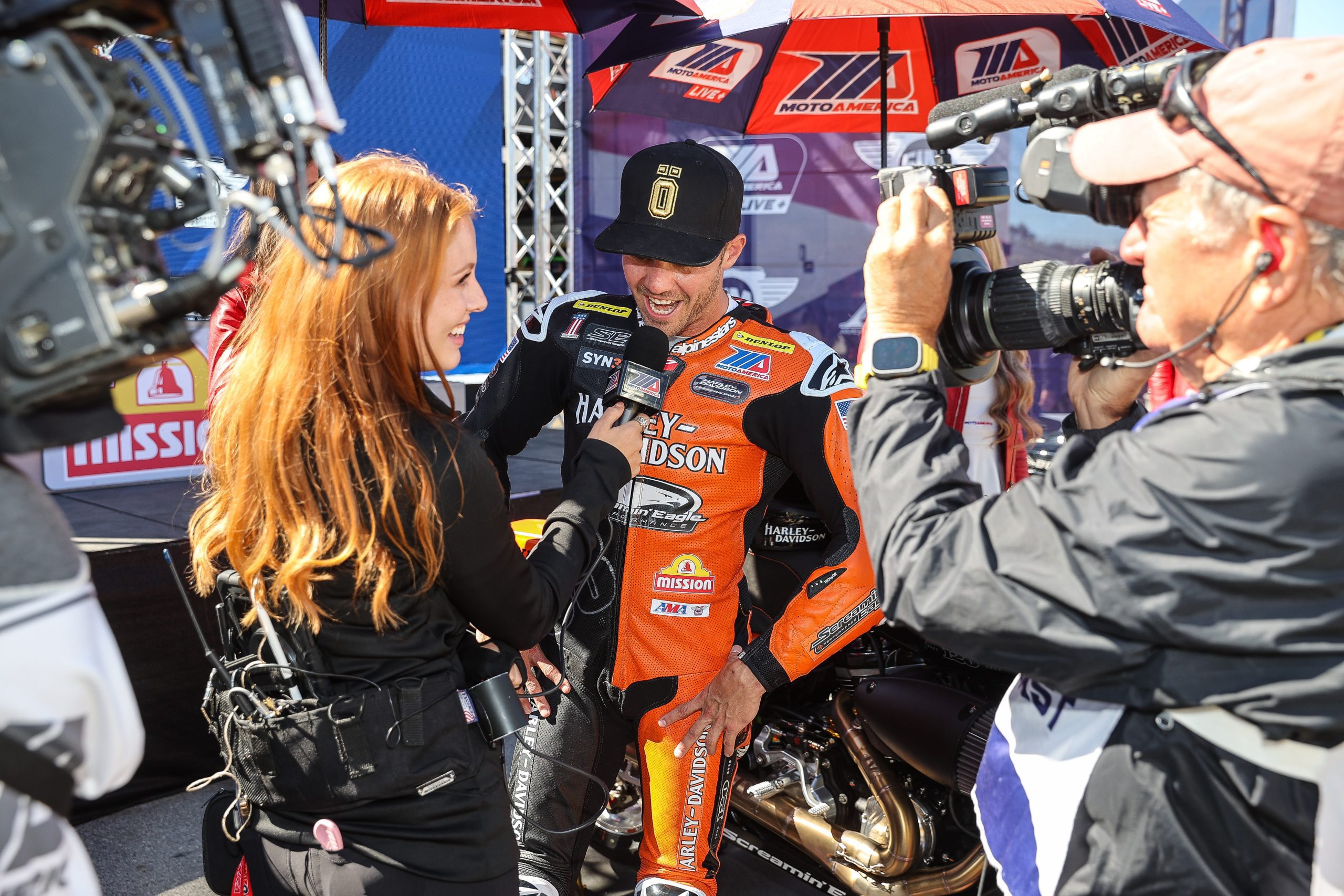 The Best Thing I Saw All Weekend
I saw a lot of greatness over the weekend. Wayne Rainey, Kenny Roberts, Eddie Lawson, Bubba Shobert, Kevin Schwantz, Doug Chandler, Carlos Checa, Max Biaggi, and motocross legend Ricky Johnson all together in one place, well, that's pretty much a once-in-a-lifetime experience. And seeing all those people and all those cars, trucks, motorcycles, and campsites at Laguna Seca felt like a USGP or World Superbike event from the past. But the best thing I saw all weekend was when MotoAmerica sideline reporter Hannah Lopa interviewed Mission King Of The Baggers race two winner Kyle Wyman on Sunday, and he promptly dedicated the victory to his wife Hannah. Kyle and Hannah had just celebrated their fifth wedding anniversary, and Hannah Lopa especially enjoyed Kyle's dedication to Hannah Wyman. The wink from Hannah and Kyle's trademark extreme close-up, for me, were a perfect wrap-up to another incredible weekend at WeatherTech Raceway Laguna Seca. Let's do it again next year.
For the full 2023 MotoAmerica schedule and to purchase tickets for MotoAmerica events, click HERE
For information on how to watch the MotoAmerica series, click HERE