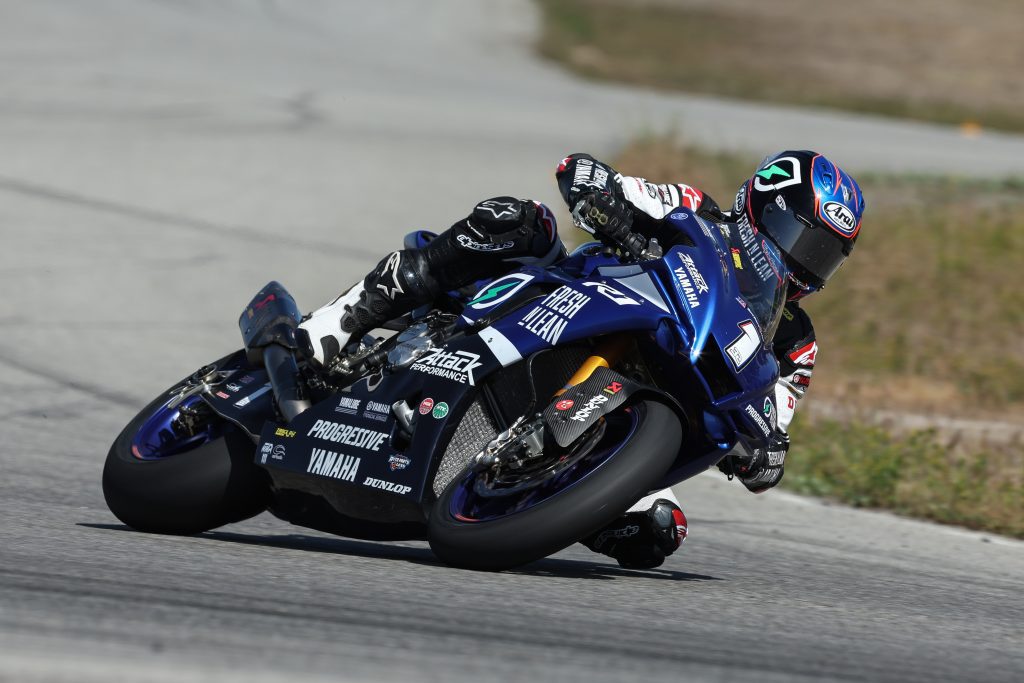 Seven Superbike riders took part in the first of two days of semi-private testing at Buttonwillow Raceway Park on Tuesday, but the name at the top of timesheets was the same as it was a few weeks ago – Fresh N Lean Progressive Yamaha Racing's Jake Gagne – even though the track was run in the counterclockwise direction and the day was cut short by heavy winds.
The lone soldier under the Attack Performance umbrella with the absence of his teammate Cameron Petersen, who recently underwent a fasciotomy (arm-pump surgery), Gagne was solid as always with the two-time and defending MotoAmerica Medallia Superbike Champion following up his successful test from February 7-8 at Buttonwillow with another solid day at the track located some 35 minutes north of Bakersfield.
Gagne's best today was a 1:41.274, which came on his 19th of 28 laps, and it came in what was his second time running the Buttonwillow track counterclockwise, though he said he likes both directions.
"It was good," Gagne said. "We all ended the day early because some wind came in that was pretty gnarly. We got some good riding in this morning, but nothing too crazy. We ran the track backwards today. I've been here one other time when we ran the other way. It's nice that we can switch directions because it changes some stuff, and it just changes the track so we can try something else (settings wise). There's also one section that we don't use so there's one added section so there's a couple of different turns that we don't have going the other way (clockwise). It does work out that the fast time one way is close to a fast time the other way. We still have some stuff on our list to try tomorrow, mainly just different chassis stuff we haven't had to try and there's always electronics and things like that."
Tytlers Cycle Racing's Cameron Beaubier was second best, the five-time MotoAmerica Superbike Champion in his second outing at Buttonwillow on his new BMW M 1000 RR as he returns to the series following a two-year stint in the Moto2 World Championship. The Californian did 26 laps today with his best – a 1:42.113 – coming on his 22nd lap and it was .839 of a second off Gagne's fast time.
"We wanted to pick up where we left off at the test a couple of months ago, but we couldn't compare back-to-back because we ran the track the other way," Beaubier said. "It ended up going good and we had a decent day. We stayed on the same harder compound tires all day. We only did like 30 to 35 laps or something like that and we started and ended on the same tires. I threw in a new set of the harder option, and I went out at the end and the wind picked up, so I pulled in after a lap. The wind was trying to blow the front wheel out from under me, so it was sketch. We had some updated torque maps to try, and we worked through those a bit. I think we have a new swingarm to try tomorrow so that will be cool. We will keep working at it."
Westby Racing's Mathew Scholtz ended the day third fastest with a 1:42.322 in his first-time running Buttonwillow in the counterclockwise direction.
Vision Wheel M4 ECSTAR Suzuki's Richie Escalante was having his first outing of the preseason at Buttonwillow Raceway Park, and he ended the day fourth fastest with his 1:42.918.
PJ Jacobsen joined his new teammate Beaubier under the Tytlers Cycle Racing garage and was fifth fastest with a best of 1:43.813.
2010 Moto2 World Champion and 2017 MotoAmerica Superbike Champion Toni Elias was back on a Superbike for the first time since he raced an Attack Performance Yamaha YZF-R1 at New Jersey Motorsports Park in September of 2021. It also marked Elias' return to the same Vision Wheel M4 ECSTAR Suzuki team that he rode for in 2020. The Spaniard turned in 34 laps today as he shook the cobwebs out, ending up sixth fastest with a best of 1:43.962.
"My eyes were popping out from my face," Elias said of his first laps on a Superbike since 2021. "It was fun, it was good. For two or three practice (sessions) it was just getting used to it again, and then we started to work a little bit, but the weather didn't help. It got windy when we started to test some things. It's okay. Tomorrow it will be interesting. It was like a new track (going the other direction) and it made my first day a little bit more difficult. It's okay. I could go back to the bike, increase the speed every run and I'm very happy to come back. I'm excited and I needed it because I only ride street bikes for the last almost two years. It's been one point eight years since New Jersey. I'm happy to be back with Team Hammer and thank them for giving me the opportunity to race with them again."
Tytlers Cycle Racing's Corey Alexander was seventh fastest on day one with a 1:45.824 coming on the 21st of 24 laps on the 2022 Yuasa Stock 1000 Champion's BMW M 1000 RR
"It took us all a little by surprise this morning to have to learn the track," Alexander said of him and his teammates. "Cam (Beaubier) had ridden it once that way. PJ (Jacobsen) and I had never gone that direction."
The seven riders will be back on track tomorrow morning.