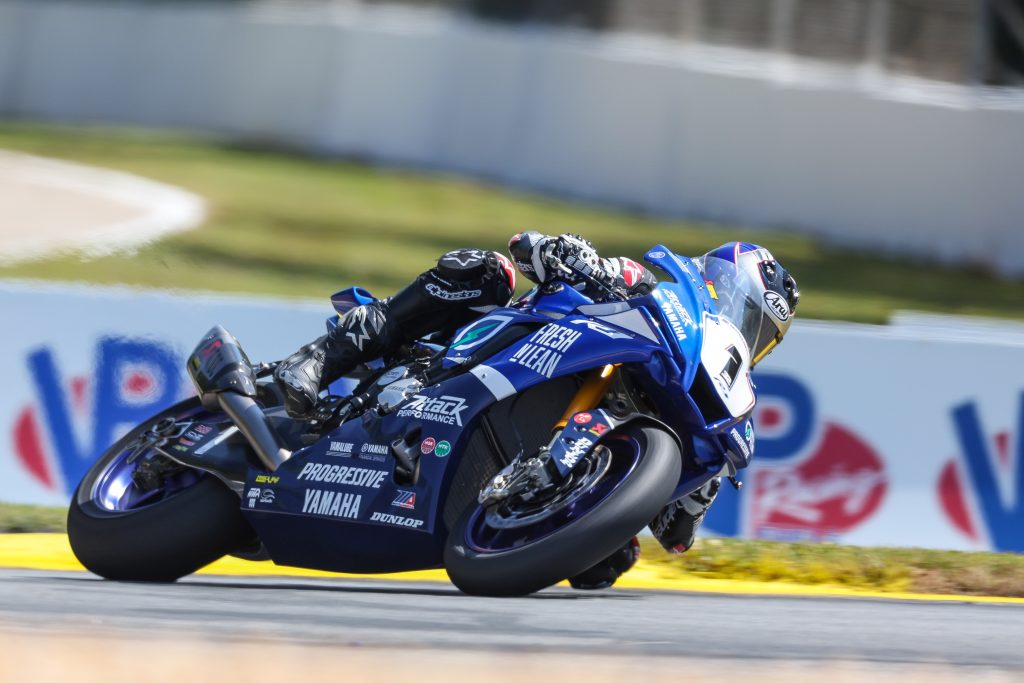 There are still many question marks on the eve of the opening round of the 2023 MotoAmerica Medallia Superbike Championship at Michelin Raceway Road Atlanta but defending champion Jake Gagne showed that he's not one of them.
Gagne earned provisional pole position for this weekend's two Medallia Superbike races with the Fresh N Lean Progressive Yamaha Racing rider lapping at 1:23.453 on his YZF-R1 on his fourth lap of the 40-minute session. Gagne's best lap was .928 of a second faster than the returning Cameron Beaubier, the five-time MotoAmerica Superbike Champion lapping at 1:24.381 on the Tytlers Cycle Racing BMW M 1000 RR in his return to the series after two years in the Moto2 World Championship.
Gagne's teammate Cameron Petersen completed the provisional front row despite a crash, the South African lapping at 1:24.542 – just a tick over a second off Gagne's best.
Westby Racing's Mathew Scholtz completed the opening day of the Superbike season with the fourth fastest time with Beaubier's teammate PJ Jacobsen fifth and the last rider to crack into the 1:24s. Josh Herrin, in his debut on the Warhorse HSBK Racing Ducati NYC Panigale V4 R, was sixth at the end of day one and ahead of Vision Wheel M4 ECSTAR Suzuki teammates Richie Escalante and Toni Elias.
Corey Alexander, third member of the Tytlers Cycle Racing team, was ninth with Wrench Motorcycles' David Anthony rounding out the top 10.
"We started with a new tire and didn't want to put another one on," Gagne said. "Like always, the beginning of the race is important but that second half of the race and the tires being a new generation, nobody is going to know what to expect. We tried to get the best idea we could, and I had some good close calls in that session, enough so I know what's going to happen after a couple of laps. Still, the second half of the race will be like who knows? Dunlop has done a good job, though, and I'm happy with the tires. It's just a little different. How they wear is a little different, temperature and pressure is a little different. It's kinda fun though, something new. We were so dialed in on the old stuff so it's another challenge."
Stock 1000 – Ezra!
It was a good day to be a Beaubier on Friday at Road Atlanta with Ezra Beaubier riding the Orange Cat Racing BMW M 1000 RR to the fastest lap in Stock 1000 Q1, besting Geoff May Racing's Geoff May by a scant .029 of a second. Disrupt Racing's Hayden Gillim ended up third and just .211 of a second from first and .130 of a second ahead of Ezra Beaubier's teammate Kaleb De Keyrel in his Stock 1000 debut.
Junior Cup – New Names
Altus Motorsports' Alessandro Di Mario led the Junior Cup class qualifiers at Road Atlanta on Friday, the Kawasaki Ninja 400 rider leading Bicknese Racing's Hayden Bicknese by .312 of a second. Bad Boys Racing's Avery Dreher completed the top three on his Kawasaki.
Supersport – Great Scott
Vision Wheel M4 ECSTAR Suzuki's Tyler Scott ripped off a 1:28.977 on his 16th lap of Q1 to earn provisional pole in the Supersport class. Scotts' best was .526 of a second faster than Tytlers Cycle Racing's Stefano Mesa, on a Kawasaki ZX-6R, with Michael Gilbert Racing's Michael Gilbert ending up third in his return to the Supersport class on his Suzuki GSX-R750.
Four-time AMA Superbike Champion Josh Hayes was fourth fastest and just ahead of Warhorse HSBK Racing Ducati NYC's Xavi Forés, the Spaniard racing for the first time at Road Atlanta since competing in a Suzuki Cup race here in 2004. Forés was fighting electrical issues that have carried over from the issue that put him out of the Daytona 200 early. Despite a limited number of laps, Forés was just 1.3 seconds off Scott's pace.
REV'IT! Twins Cup – Landers Is Back
Rocco Landers didn't have a ride at Daytona in March and for a while it looked like he wouldn't have a ride for Road Atlanta, either. But things changed just a few days ago when Landers was brought on by the Rodio Racing – Powered By Robem Engineering to replace Benjamin Gloddy, who is still recovering from his Daytona injuries.
Landers took full advantage of the opportunity on Friday by earning provisional pole position for the weekend's two REV'IT! Twins Cup races. Landers, who won nine Twins Cup races en route to the title in 2020, lapped at 1:31.907 to top Optimum Performance Motorsports' Jody Barry. Defending class champion Blake Davis was third fastest on the N2 Racing/BobbleHeadMoto Yamaha, 1.3 seconds slower than Landers.
Landers' teammate and REV'IT! Twins Cup Championship points leader Gus Rodio was fourth fastest.
Mission King Of The Baggers – Wyman's New Lap Record
Screamin' Eagle H-D's Kyle Wyman took 1.248 seconds off his lap record from a year ago in Mission King Of The Baggers Q1 on Friday afternoon, the New Yorker ripping off a 1:30.941 to earn provisional pole position.
Wyman's best was just .151 of a second better than Indian Motorcycle/Progressive/Mission Food's Tyler O'Hara. Sac Mile/SDI Racing/Roland Sands/Indian's Bobby Fong rounded out the provisional front row, .649 of a second slower than Wyman.
Vance & Hines/Mission/Harley-Davidson's Hayden Gillim and O'Hara's teammate Jeremy McWilliams rounded out the top five