The overwhelming success of last year's King of the Baggers Invitational held during the final round of the 2020 MotoAmerica season was undeniable. Among the riders, media and spectators in attendance as well as on MotoAmerica Live+, and also the hundreds of thousands of fans worldwide who have commented favorably on our social media channels, the inaugural KOTB event was a big hit.
So, in order to give the people what they want, the powers that be at MotoAmerica made the easy decision to bring back KOTB for 2021 but make it even bigger and better than it was in 2020.
And so, round one of the three-round 2021 Mission King of the Baggers Championship will commence next weekend at Michelin Raceway Road Atlanta. Let's take a look at the early favorites to win this year's title.
The three riders who reached the podium in last October's King of the Baggers Invitational are all back for 2021 and will race in Atlanta. Tyler O'Hara, who has the right to display the number 1 on his Mission Foods S&S Cycle Indian Challenger deserves first mention as he defends his 2020 title. O'Hara and his team have been testing and improving their Indian racebike, and they mean business. Look for O'Hara at the front when the Mission KOTB competitors take to Road Atlanta's 2.54-mile, 12-turn natural road course next weekend.
Hayden Gillim, a name synonymous with motorcycle road racing in America, is back for 2021, and he will again be aboard the #79 Vance & Hines Harley-Davidson Electra Glide on which he finished as runner-up in the 2020 KOTB Invitational. Gillim is married now, and his wife Summer has a baby on the way, but that won't slow down Gillim one bit. He has logged more race miles around Road Atlanta than either podium finisher in last year's Invitational, and you know Vance & Hines has been working hard to extract even more stonk from their Big V-Twin racebike. Gillim has got the fire in his heart, the muscle, and the racecraft to exploit the bike to its fullest.
In contrast to Gillim, Frankie Garcia has never before raced at Michelin Raceway Road Atlanta. But that won't stop the California native from wringing the neck on his #14 Roland Sands Design Indian Motorcycle Challenger. Garcia's third-place finish in last year's Invitational motivated him to train hard in the off-season, and he is taking the 2021 Mission King of the Bagger Championship seriously. The versatile rider, who has competed in everything from Supermoto to Hooligans Flat Track, feels like he's found his calling in going fast around a racetrack aboard a performance bagger.
New to KOTB for 2021, but clearly the rider with the most experience as a motorcycle road racer is Kyle Wyman, who will race his #33 Panera Bread Ducati Panigale V4 R in two HONOS Superbike races at Road Atlanta and also compete in KOTB aboard the #33 Harley-Davidson Screamin' Eagle Road Glide. As a full-fledged factory Harley-Davidson racer, Wyman is fulfilling a dream. Being an H-D factory rider is something that he's coveted ever since he was a young boy growing up in central New York State when he competed aboard Harley-Davidson flat trackers. His mother Kim Wyman owns Harv's Harley-Davidson, a dealership that was once owned by Kim's father and Kyle's grandfather. Kyle is not taking this year's KOTB Championship lightly. He will be going for wins and the title with the same gusto he puts into his Superbike program. In fact, at a recent test at Inde Motorsports Ranch in Willcox, Arizona, Wyman did a 1:50.8 lap time aboard his Screamin' Eagle Road Glide. Compare that with his 1:45.6 Superbike lap record at Inde, and you get a pretty idea what this opportunity means to him.
Michael Barnes. Among fans of motorcycle road racing in America, the name "Michael Barnes" conjures up visions of a seemingly ageless road racer who always has a smile on his face and always wears his heart on his sleeve. Whether it's the Daytona 200, races aboard the famed Britten V1000, or his recent stint aboard an air-cooled Ducati in MotoAmerica Twins Cup, "Barney" will race any motorcycle, on any track, and that includes the 2021 Mission King of the Baggers Championship. He'll be in the saddle of the #34 DTF Performance/Hoban Brothers Racing Harley-Davidson Road Glide at Road Atlanta, and you owe to yourself to watch him race. He's an icon of the sport of motorcycle road racing.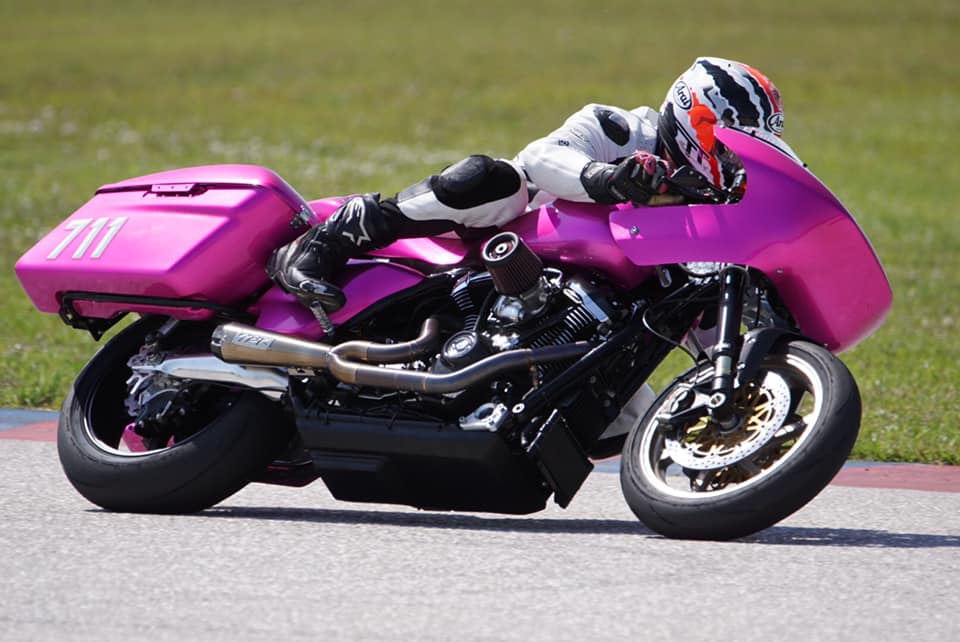 Robert Fisher's shirts never seem to fit him. It's not that they're too small, it's just that, like the Incredible Hulk, he seems to bust out of his threads, although not when he is angry but when he is in a road racing paddock. A long-time team owner and racer, Fisher is most closely associated with Twins Cup machines. Well, over the winter, he went Big V-Twin and built a KOTB bike, which he will debut next weekend at Road Atlanta. Fisher's racebikes are always colorful, and his #711 Roaring Toyz Harley-Davidson Road Glide is no exception. Look for the Sarasota, Florida, native to flex his KOTB muscles next weekend.
Another rider who competed in the 2020 King of the Baggers Invitational, Eric Stahl is back for the three-round Mission KOTB Championship, and he will race the #55 Jiffy Tune Racing Harley-Davidson Electra Glide. A self-proclaimed "regular Joe" with a day job and a family, Stahl is continuing to follow his passion and natural talent for riding fast on a Harley, and the Californian is looking forward to road racing on the East Coast.
To purchase tickets for all MotoAmerica events, click HERE
For information on how to watch the MotoAmerica Series, click HERE
For the full 2021 MotoAmerica Series schedule, click HERE