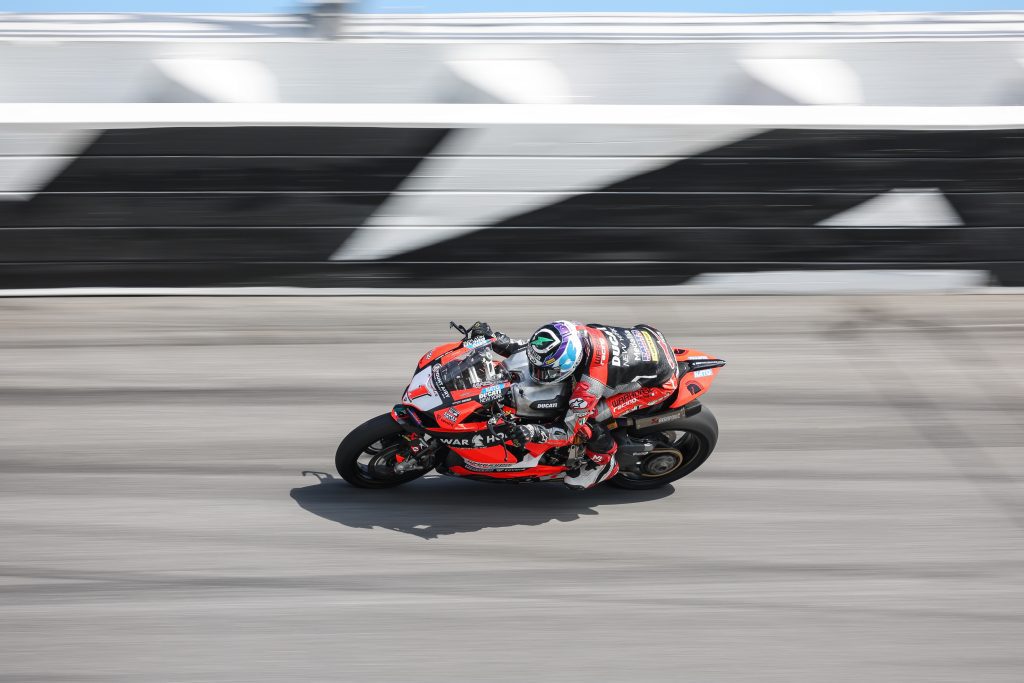 The first day of qualifying for Saturday's Daytona 200, sponsored in part by Pirelli and Bridgestone, got rolling on a sunny Thursday at Daytona International Speedway with Warhorse HSBK Racing Ducati NYC's Josh Herrin earning provisional pole position, with pole to be decided in tomorrow's Supersport Time Attack.
Herrin's best was a 1:49.043, which was a second faster than the 1:50.088 that earned him pole position a year ago. While last year only one rider broke into the 1:49s during qualifying, so far there are six riders in the 49s.
Second best to Herrin is Disrupt Racing's Hayden Gillim, the Kentuckian .409 of a second adrift of Herrin and just .007 of a second ahead of Vision Wheel M4 ECSTAR Suzuki's Richie Escalante.
Two-time and defending Daytona 200 Champion Brandon Paasch was fourth with his 1:49.477 on the TOBC Racing Triumph and Squad Hunter Racing's Josh Hayes rounded out the top five. Celtic/Tytlers Cycle/TSE Racing's PJ Jacobsen, who led the morning session, ended the day sixth and was the final rider to crack into the 1:49s with his 1:49.805.
"The morning session I was a little stressed out because we had an issue with some of the quick-change stuff on the front-end, so we lost about half the session removing something in the front," Herrin said. "In the beginning of the second session I just wanted to work on riding by myself, but when I came in, I was a bit down because the rest of the pack was about .7 seconds quicker than me. But I knew I did the lap by myself but still, when you see the time on the screens, you just get fired up because you want to be in the front. After that I got a draft off Xavi (his teammate Xavi Fores). I used him for the draft at the beginning of the lap so he could get a tow on the flyer. It helped me get that time. I'm really happy, the bike's feeling really good and I'm looking forward to the opportunity of getting another win."
Daytona 200 Q1
Josh Herrin (Ducati) 1:49.043
Hayden Gillim (Suzuki) 1:49.452
Richie Escalante (Suzuki) 1:49.459
Brandon Paasch (Triumph) 1:49.477
Josh Hayes (Yamaha) 1:49.737
PJ Jacobsen (Yamaha) 1:49.805
Tyler Scott (Suzuki) 1:50.124
Sheridan Morais (Yamaha) 1:50.253
Xavi Fores (Ducati) 1:50.283
Teagg Hobbs (Suzuki) 1:50.404