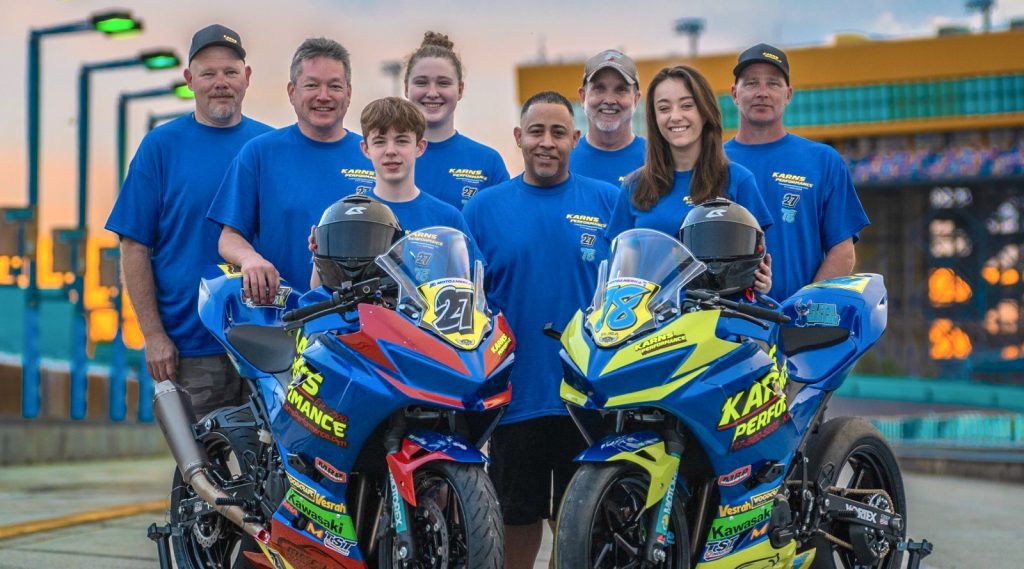 The following is from Karns Performance Racing…
Karns Performance Racing is proud to announce they will field Chris Clark and Elisa Gendron-Belén in the MotoAmerica Junior Cup category for the 2023 season.
Returning to the team is Chris Clark, who in his fourth year of racing where he has secured 17 top-five finishes, 13 podiums, four wins and a second place across multiple series, including the North America Talent Cup. Chris also competed in select rounds of the MotoAmerica Junior Cup with four top-10 finishes. 2022 also included various club races where he finished with nine podiums in 10 races, including 3 wins. Chris's success in 2022 led to him being one of five Americans invited to the Red Bull Rookies Selection Event in Modena, Italy.
Chris Clark: "I'm excited to be returning to Karns Performance Racing for the 2023 season alongside Elisa. I'm looking forward to a competitive season against some talented riders and am ready to work hard and hope to get the results we are looking for."
Joining the team is Elisa Gendron-Belén, who has proven her competitiveness with multiple regional titles in ASRA/CCS racing over the past two years and clinching 40 podiums in 40 races in 2022. She also participated the past two seasons as a fully sponsored rider in the International Latin American Women's Cup in Mexico, with an overall top-10 finish among eligible women from as many as 20 countries. She feels fortunate to have the privilege and opportunity to race motorcycles and is always ready with a quick smile and a kind word of encouragement to her competitors.
Elisa Gendron-Belén: "I'm proud to be joining Karns Performance Racing for the 2023 Junior Cup season and can't wait to get out on the track. I am definitely excited and motivated and am very much looking forward to a great season with a great team."
Jason Karns – Team Owner: "To say our team is proud to be working with these two talented young riders is an understatement. These riders set an incredible example of what it means to be hard-working and humble both on and off the track. Both have a bright future in the world of road racing, and we are truly looking forward to being a part of that journey and to a great season."
Team sponsors: Karns Performance, Mecks Autobody, Woodcraft, Vortex, Motorex oils, NG Brakes, TST Racing, Vesrah, Moto D.