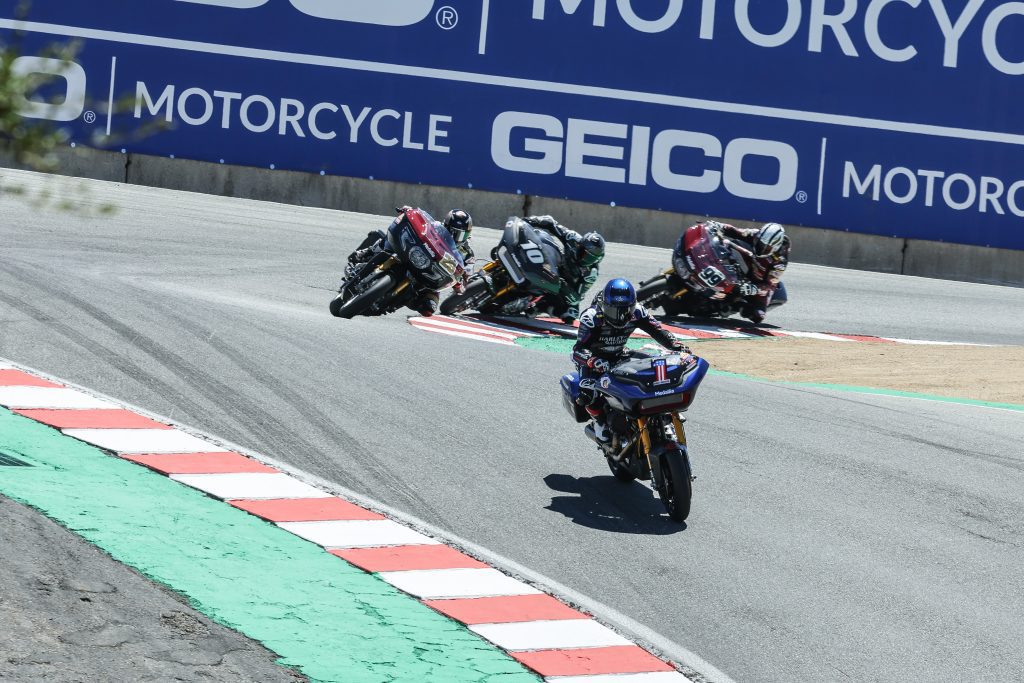 The fireworks expected from the four support classes to the three Medallia Superbike races at WeatherTech Raceway Laguna Seca should rival any from the Fourth Of July as Mission King Of The Baggers, an "extended" Supersport race with its mandatory pit stop, REV'IT! Twins Cup and Mission Super Hooligan National Championship will highlight a race weekend that will feature 10 races on the iconic racetrack located a few miles east of Monterey, California, July 7-9.
Mission King Of The Baggers – Back To The Birthplace
The inaugural Mission King Of The Baggers race was held at WeatherTech Raceway Laguna Seca as an invitational event in October of 2020 and it was a rousing success. Now, three years later, the fourth round of a six-round (12 races) championship will kick off the second half of the season for the popular Baggers.
H-D Screamin' Eagle's Kyle Wyman, the 2021 Mission King Of The Baggers Champion, leads the championship point standings after a one-month hiatus and following the third round of the series in Wisconsin. Wyman and his four victories on his Harley-Davidson Road Glide gives him a 13-point lead over Vance & Hines/Mission/Harley-Davidson's James Rispoli, who in turn is just one point ahead of his teammate Hayden Gillim.
Defending Mission King Of The Baggers Champion Tyler O'Hara has yet to win a race this year, but has three runner-up finishes in 2023 as he attempts to defend his title. O'Hara is currently fourth and 35 points behind Wyman.
Three riders have won races in 2023 and Sac Mile/SDI Racing/Roland Sands/Indian's Bobby Fong was the latest to join that list (Kyle Wyman and James Rispoli) with a victory in race two at Road America. Fong is 53 points behind Wyman and 18 points behind O'Hara.
Supersport – Extended Again
Warhorse HSBK Racing Ducati's Xavi Fores is a perfect seven-for-seven in the 2023 Supersport Championship, including his victory in the first-ever "Extended" Supersport race at Barber Motorsports Park back in May. Five of those seven races were won on racetracks that Fores had never seen before., but that won't be the case at WeatherTech Raceway Laguna Seca.
With the second "Extended" Supersport race scheduled for WeatherTech Raceway Laguna Seca this weekend, there's no reason to expect anything less than victory from Fores and his team in the race that will feature a mandatory pit stop. After all, Fores has not only raced at Laguna before in the World Superbike Championship, but he also likes it. And that might be double trouble for those trying to thwart his perfect season.
Fores, who is hoping to be able to throw his leg over a second Warhorse HSBK Racing Ducati Panigale V4 R if he clinches the title early, has a 76-point lead going into this weekend's extended 38-lap race that will pay double points.
Tytlers Cycle Racing's Stefano Mesa has been the best of the rest so far in 2023 with four runner-up finishes behind Fores. Mesa is 76 points behind the Spaniard and 12 clear of Vision Wheel M4 ECSTAR Suzuki's Tyler Scott with the youngster standing on the podium three times this season.
Nine points behind Scott is Squid Hunter Racing's Josh Herrin, the veteran crashing out of the last race at Ridge Motorsports Park to mar his perfect record of point-scoring races in the first seven races. Hayes has four podiums on his scorecard.
Scott's teammate Teagg Hobbs had his best weekend of the season at Ridge with two third-place finishes. He sits fifth in the title chase but is a whopping 117 points behind Fores.
REV'IT Twins Cup – Tight At The Top
Five riders – Blake Davis, Rocco Landers, Stefano Mesa, Gus Rodio and Dominic Doyle – have won REV'IT Twins Cup races in 2023 and that parity has led to the top five being separated by just 40 points after eight races.
Defending REV'IT! Twins Cup Champion Blake Davis is atop the championship point standings on his N2 Racing/BobbleHeadMoto-backed Yamaha YZF-R7, but he's just 11 points clear of the fast-closing Rocco Landers and his Robem Engineering Aprilia RS 660.
Landers has won four of the past five races in his return to the class he dominated in 2021. Landers is just two points ahead of his pseudo teammate Gus Rodio, who has one victory and four other podiums on his scorecard.
Cycle Tech's Hayden Schultz and Trackday Winner/Blackmon Racing's Jackson Blackmon round out the top five as the series heads to California.
Mission Super Hooligan National Championship – Still O'Hara
Despite being DQ'd from the most recent round of the Mission Super Hooligan National Championship round after crossing the finish line one-two at Ridge Motorsports Park, defending champion Tyler O'Hara and Jeremy McWilliams still occupy the top two spots in the championship as the series readies for round three in Monterey.
With his three wins to McWilliams's two, O'Hara holds down a 19-point lead over his Indian Motorcycle/Progressive/Mission Foods teammate with McWilliams and his Indian FTR1200 just four two points ahead of Andy DiBrino Racing's Andy DiBrino, who inherited the race-two victory at Ridge Motorsports Park when the two Indian FTR1200s of McWilliams and O'Hara were DQ'd with the technical infraction.
DiBrino and his KTM 890 Duke R, meanwhile, are only seven points ahead of Roland Sands Design/Indian Motorcycle's Bobby Fong, who in turn is just one point ahead of fifth-placed Cory West and his Team Saddlemen Harley-Davidson Pan America.
WeatherTech Raceway Laguna Seca Pre-Race Support Class Notes…
Josh Herrin was perfect last year at WeatherTech Raceway Laguna Seca with his two Supersport class victories on the Warhorse HSBK Racing Ducati Panigale V2. The podium was identical in both races with Tyler Scott and Rocco Landers finishing second and third in both races. Herrin has moved up to the Medallia Superbike Championship for 2023.
Kyle Wyman won the Mission King Of The Baggers race at Laguna last year with the Screamin' Eagle Harley rider besting his brother Travis and Vance & Hines Harley's James Rispoli.
Last year's REV'IT! Twins Cup race was won by Cory Ventura over eventual class champion Blake Davis and then-defending champion Kaleb De Keyrel. Ventura won't be racing at WeatherTech Raceway this year as he recovers at home from a badly broken leg suffered at Barber Motorsports Park.
Garrett Gerloff, who currently races in the World Supersport Championship, is still the lap record holder at WeatherTech Raceway Laguna Seca in the Supersport class with his 1:25.406 dating back to 2017. With the racetrack being completely repaved for this year's event, that long-standing record might finally be in danger of being broken.