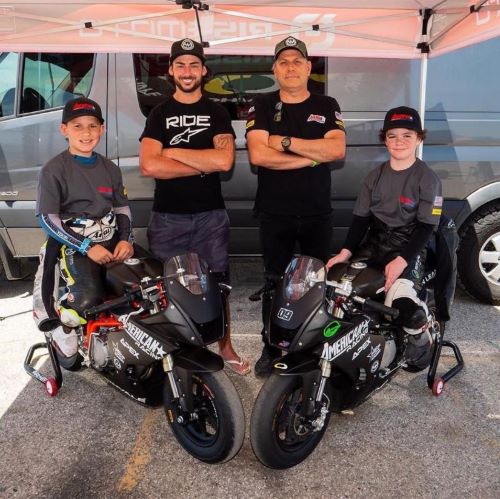 The following is from American Racing Academy…
The American Racing Academy riders found success often during Round 2 of the MotoAmerica series and the opening round of the MotoAmerica Mini Cup by Motul.
The second round of the MotoAmerica series featured the debut of the MotoAmerica Mini Cup by Motul Championships. The Academy Project "The American Racing Ohvale Team" supplied 4 riders to the championship series with Jesse James Shedden and Travis Horn in the 160cc race Started P3 and P18 (After a crash in the heat race) with Shedden finishing P4 and Travis Horn, in a superb race, finishing P5.
The 190cc class saw podium finishes by Academy riders Julian Correa and Jesse James Shedden, with Correa finishing P2 and Shedden finishing P3. Academy rider Kayla Yaakov finished in 5th spot after a hard-fought race.
In the Liqui Moly Junior Cup, defending champion Rocco Landers had an impressive weekend as well, finishing second in race one with 0.006 sec from the 1st place and taking top spot in race two after an impressive over take at the final straight away right before the finish line. Landers once again pulled double duty, participating in the Twins Cup as well. Similar to his efforts in the Liqui Moly Junior Cup, Landers took the 1st place for the first Twins Cup classification victory of his career.
This round featured the return of the fans and the weekend saw a large crowd taking in the racing action. Fans were treated to great racing and provided some extra atmosphere, which was missing in round one.
The focus of the American Racing Academy is to Support and provide the youngest generation of American riders a chance to learn and grow and provide a structured path to a career at the highest levels of road racing.
The following is from KWR…
Kyle Wyman earned two podium results this past weekend at Road America, for round two of the MotoAmerica Superbike series. Wyman placed 3rd in both Superbike races aboard his KATO Fastening Systems/KWR Ducati Panigale V4 R.
The KWR team went into the weekend with a fresh start, new settings on the bike and a promising outlook for a return to the Wisconsin circuit. Wyman, however, started the weekend on the wrong foot by crashing his Ducati Superbike in turn 6, and missing out on an entire valuable session of data gathering and tasking the KWR crew with a full rebuild. The team made only 6 total laps on Friday.
"I still don't really know what happened," Wyman said. "I had done my first flying lap, and was just working into the new tires and getting up to speed, and I just tucked the front. It was such a small mistake, but the bike took a weird bounce when it hit the grass and just exploded parts everywhere. I couldn't believe it."
The KWR crew was able to get the bike back out in the afternoon, but mostly as a shakedown. The team and Wyman started fresh on Saturday morning, for 'take two' on the weekend. With new settings to try that came in with help from Ducati Corse and their WorldSBK team, the morning free practice laps were crucial for Kyle to get a feel for the bike in its latest form. He would end up 6th fastest in that session but with valuable data and feedback for the crew. In Superpole, Wyman put together a good lap and finally broke into the "12's" by posting a time of 2:12.863 which was good enough for 6th position, and a second-row start on the grid.
Wyman got off to a tremendous start in race one, and found himself passing 4 riders before turn one, tipping into the first corner in 2nd place. He lost two positions in the opening laps and settled into 4th position, right behind 2017 champion Toni Elias. Wyman was able to build a gap to the riders behind and settle into a race-long battle with Elias, stalking him until a last lap move.
Wyman dove up the inside of Elias in the chicane area, passing the Spanish rider for the final spot on the podium. Elias was able to make a counter move into 'Canada Corner' just moments later, and would hold the position through the final sector to put Wyman fourth across the line.
Toni's pass, however, was in a corner where at the time there was a yellow flag condition, due to another rider crashing on the previous lap. With MotoAmerica rules prohibiting a pass during a waving yellow flag, Elias was docked a position, promoting Wyman to his first podium placing since the 2017 season. Wyman waited 1,022 days between his first MotoAmerica Superbike podium and his second.
"It feels amazing to finally get this podium and put the Ducati Panigale V4 R up front where it belongs," Wyman said. "I had a great race going, and Toni was riding well, I'm just glad I was able to put a move on him in the last lap and force him in a position to have to pass me back. I'll take this podium–I feel I've earned it and I'm happy to pay back the KATO Fastening Systems, KWR crew with a result."
Wyman would not have to wait another 1,022 days for a third Superbike podium.
In race two, Wyman got off to another strong start and was in 6th place early on, but had to fight his way through the pack in the first few laps to gain positions back. Wyman passed fellow competitor Mathew Scholtz on lap one, and followed it up on lap three with a brave move into Canada Corner on Toni Elias once again. Wyman found himself in 4th position with the top-three up the road, and Elias and Scholtz trailing close behind.
Shortly after, disaster struck for race leader and championship points leader Cameron Beaubier, who crashed in turn one and promoted everyone else in the field up one spot, putting Wyman back in 3rd place.
Wyman would hold off the duo of Elias and Scholtz for the entirety of the race, but not without drama behind him and a close fight to the end. Scholtz made an aggressive pass on Elias mid-way through the race that caused Elias to crash, and Wyman was able to pull just enough of a gap to run the second half of the race unchallenged. Wyman beat out Scholtz for the final step on the podium by a gap of 1.552 seconds.
"I really wanted to duplicate my start from race one, but that was going to be a tall order," Wyman said. "Fortunately I still gained a couple spots before turn one and was able to put myself in the lead fight early on. I got past Mat and Toni pretty quickly and just put my head down and tried not to make any mistakes. I was able to stay consistent and stay just far enough ahead where neither of them could make a move, and I guess the two of them got together at some point. I just kept my head down and focused through to the end for another podium. I couldn't be happier."
Wyman now sits 4th in series standings, after scoring 5th, 4th, 3rd and 3rd in the first four races of 2020. Wyman is only two points out of 3rd place and 19 points out of the championship lead.
"We came into this season with expectations of fighting for the podium sometime mid season, and grabbing a couple when the opportunity presented itself," Wyman added. "This weekend was a massive step in all aspects of my team. My riding took a big step, as well as my confidence to race with these guys. My crew worked tremendously hard and the bike has improved significantly since the first round already. From where we were on Friday, with the crash and making so few laps, it really shows the strength of the crew I have around me in 2020."
"It bodes well for the rest of the season, but mostly I need to enjoy this now knowing I rewarded the team and our sponsor KATO Fastening Systems with a couple of podiums. I'm going to remember this weekend for a very long time."
The following is from Altus Motorsports…
Mixed Results at Round 2 for the Altus Motorsports Tucker Hagerty Rangeline Team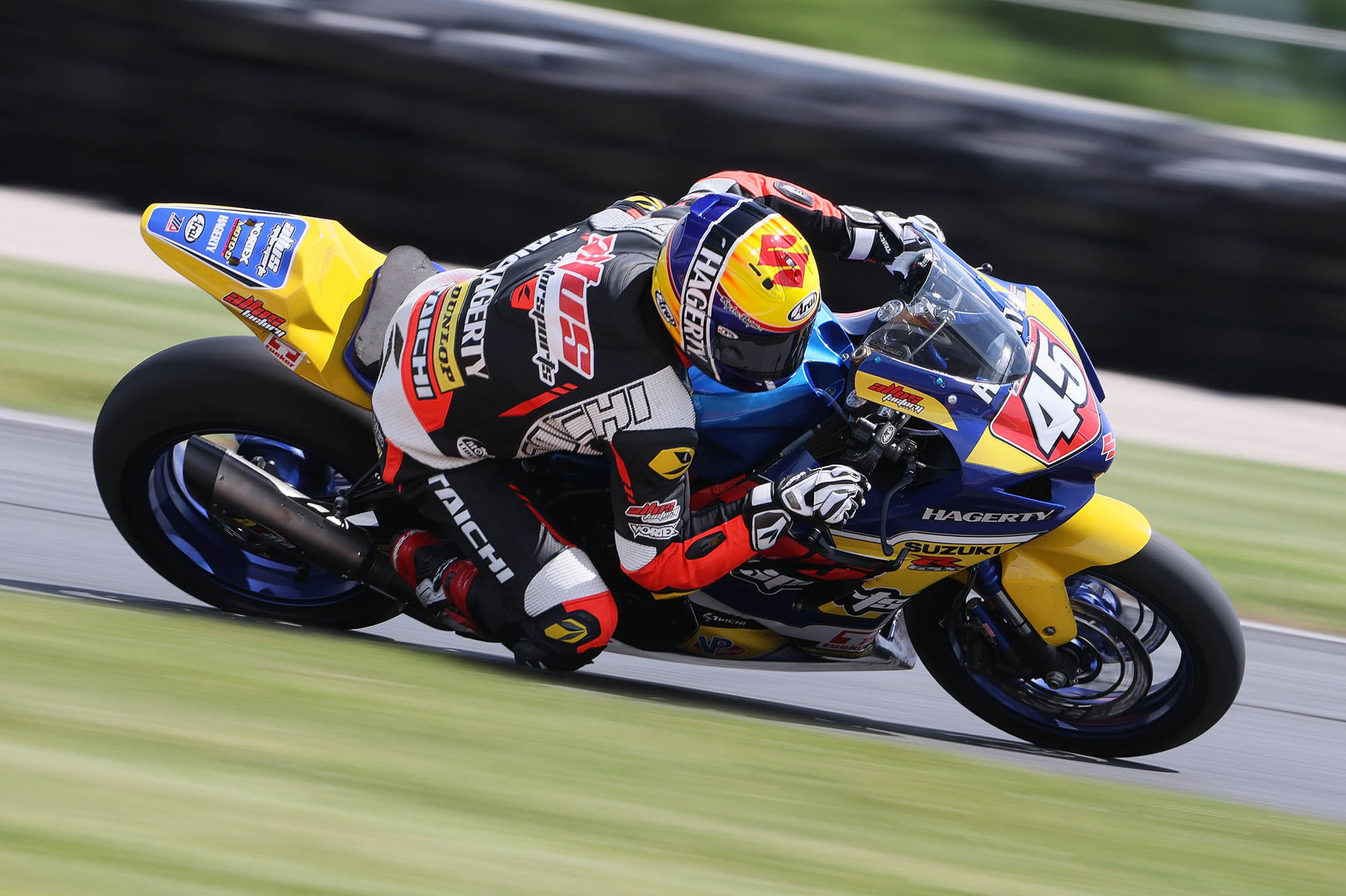 While some of the team struggled with their new rides, others saw great success at Round 2 at Road America. Altus Motorsports scored their first win of the season in Stock 1000 with Cam Petersen. "Cam's talent continues to impress everyone at Altus. And, when others are having a rough weekend, he's the perfect personality to have in the pit," said team owner George Nassaney.
Honos Superbike & Stock 1000: In Round 2, Cameron Petersen built on his strong finish at Round 1. Once again, he rode the Stock 1000 Altus Motorsports Suzuki GSX-R1000 in both Superbike and Stock 1000. On Saturday in Race 1 of the premier class, he crossed the line 10th and, on Sunday, he bettered his position to 8th in the second race.
The Stock 1000 class only had a single race during the Round 2 weekend. After solid practices and continuous improvement in each session, Petersen started from pole and never looked back. He had a great launch and led from flag to flag to finish six seconds ahead of the closest competitor.
Supersport: After a good season opener, Jaret Nassaney came into this round with high hopes. He did not expect to struggle in finding a good setup on his freshly built GSX-R600. In the first qualifying session, he went into turn seven slightly off line, hit a bump and then struck the ground at over 100 mph. The team put the bike back together and Nassaney was able to complete the entire second qualifying session but was not able to gel with the bike or better his lap time. For the first Supersport race of the weekend, Jaret finished in 11th place. In the second race on Sunday, he bettered his lap time and finished in 15th, in spite of a small tipover.
"This past weekend, we rode the struggle bus. We couldn't get up to pace and then, unfortunately, had a big get off in turn seven at 101 mph. We didn't finish the races anywhere close to where we wanted. We are going back to the drawing board these next couple weeks and get rolling in the right direction. We walked away this weekend unscathed so we learn from everything and move forward," said Jaret Nassaney.
Kevin Olmedo showed up at Wisconsin riding an amazing high. First round he showed how quickly he was adapting to the 600 with a podium finish. Unfortunately, his second visit to Road America proved to be just the opposite. It started good enough – Olmedo was fourth fastest in the first practice session and seventh fastest in the first qualifying. Then Kevin had a massive highside at the beginning of Qualifying 2. The crew rebuilt the bike in time for the first race but a crash on the out-lap kept him from starting. Stiff and sore, Olmedo and the team decided it was best to sit out the second race. After some healing, Kevin is going to do some hard training and head to Atlanta ready to recapture his Round 1 momentum.
Liqui Moly Junior Cup: Daniel Kinard's goal for the first few rounds of the 2020 season is "learning and experience." Kinard made minor improvements during the practice and qualifying sessions but then, during Race 1, he dropped four seconds off his lap time to finish in 13th. Race 2 did not go as well. Daniel had a fall early in the race. he will spend the next month healing in an effort to grid up for Road Atlanta at the end of July.
George Nassaney had one final comment on the weekend: "Our thoughts are with PJ Jacobsen for a speedy recovery. We revel in competition and sincerely hope he will be on the grid in Atlanta. It will be great to get to a new track and fight for a win."
Altus is proud to welcome our newest sponsor: The Rangeline Group. They provide Wet Tapping, Hot Tapping, Line Stopping, Valve Inserting and Specialty Concrete Pipeline Services. "It's great to have a company outside of our industry take interest in Altus and the sport of road racing. We are privileged to have their support," said George Nassaney.
The Altus Motorsports team is supported by our great family of sponsors: Altus Motorsports, Tucker Powersports, Hagerty, Suzuki, The Rangeline Group, VP Lubricants, RS Taichi, Arai, Moto D, Bonamici, Hotbodies Racing, SBS Brakes, Vortex, Motion Pro, Law Tigers Oklahoma, M4 Exhaust, Arata Exhaust, Dunlop, Team Hammer, and Altus Factory Racing
The following is from Scheibe Racing…
Changes, Progress, and Fans at Round 2 at Road America
The second round of MotoAmerica competition held at Road America saw the return of fans to the 640-acre facility near Elkhart Lake, Wisconsin, and Scheibe Racing welcomed friends, family, and local sponsors Hayes Brakes and Regina Chain USA to their "home" track.
The BMW S 1000 RR Superbike underwent a few changes in the weeks between events, and the team spent much of the weekend dialing it in for rider Josh Herrin. Underneath the visual update to the livery, a new World Superbike-spec racing swingarm replaced the stock piece. This change brought other integration challenges with brake calipers, rear wheel speed sensor, shock potentiometer and the need to add ballast to the bike to bring it back up to the minimum weight required in the class rules. A lot of time was spent getting the swingarm functional rather than focusing on performance improvements due to COVID-19 shipping delays and late arrival of parts. The team plans to do more testing before the next event to get it working for Herrin.
"It seems like we got the new swingarm and it was a step forward, but it was almost a step backwards because now we have something new to set up." Josh noted, "It was frustrating but you have to stay optimistic about it that it'll help us later on once we find the sweet spot with it. Then we lost a lot of time in the second practice because it rained, and that was a bummer because we went into Superpole with not that many laps on the bike."
Josh managed to keep his times similar to the first round, and finished race one in seventh place. Race two saw him finish fifth.
"Race one was pretty good, and I kept up with the rider ahead of us and ran a consistent race. In the warmup before race two, we made an improvement, and then made another change for the race that was a bit of a gamble. I had the guys put on a new master cylinder and lever before the race, and I had some issues with it adjusted too far out as a precaution in case there was any air in the line and it was like a brick. My grip was too wide so my hand went numb for most of the race and I was fighting with that. I don't know that it would have changed our position much, but I think we would have been pretty close to the guys fighting for third and fourth. We ended up with fifth, and I've always been told that to win, first you must finish so even though we're struggling we finished all the laps and we're probably not doing too bad in the points. That gives us a little head start. Hopefully we'll get the bike figured out a little more and improve the next couple rounds."
Josh sits in fifth place in the championship heading into round three at Road Atlanta at the end of July.
"I'm excited for Road Atlanta because my family is all there. It was nice being in Wisconsin again with the fans and sponsors, but Atlanta has my family and the Herrin Compound and a lot of the people who go there will be at the race. I don't have the best results there but I like the track and we'll see what this bike does there where I'm not as worried about getting the good run onto the straights. Road Atlanta is more tight, with technical corners, and the power of the brakes is good, which is important at a track like Road Atlanta with a lot of hard braking areas."
"We're finally getting to a point where I'm figuring out what I like and don't like with seat time and more data and that's the most important thing for setting up the bike."