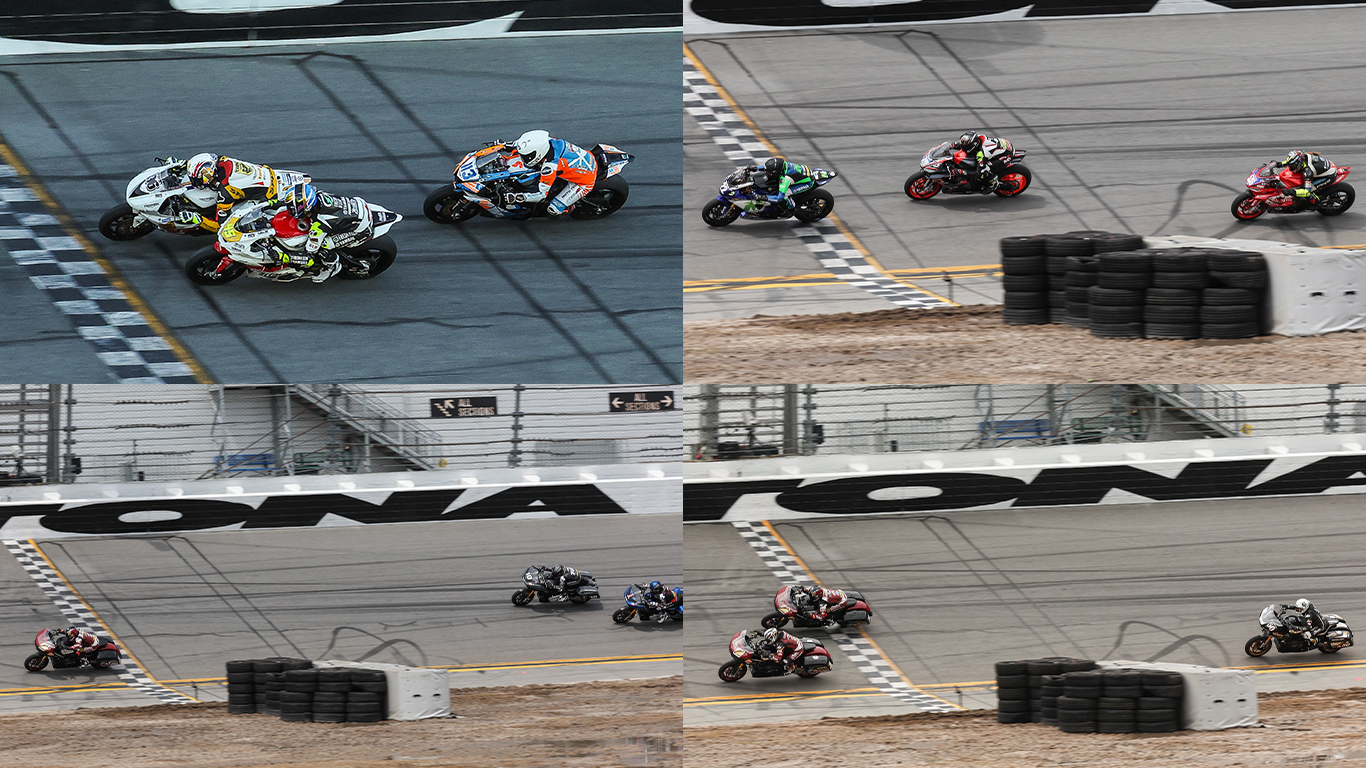 OK, I'll admit it. I was nervous about Daytona.
Not only was it MotoAmerica's first-ever event at the World Center of Racing, but the Daytona 200 was the first-ever race run with "Supersport Next Generation" motorcycles on the grid. It was also the first time MotoAmerica's Twins Cup Championship had ever raced on the high banks at Daytona. Oh, and yes, it was also the first time that MotoAmerica's Mission King Of The Baggers had raced at Daytona.
I was nervous.
I was also skeptical. Math is not a skill that I possess, and I was told that there were algorithms, formulas, rev limits, and weight restrictions in place to help ensure parity not only in the Daytona 200, but in all the other MotoAmerica race classes that competed at our Daytona event. But this is DAYTONA. The banking, the chicane, the drafting to the finish line. Daytona is very much about top speed and "mile an hour." But, there are also some intangibles like the old adage that you should never lead coming out of the chicane. All the algorithms, formulas, rev limits, and weight restrictions in the world cannot account for what happens at Daytona.
And then, there was the weather. MotoAmerica races, rain or shine, at every track we go to…except Daytona. So, why not throw rain into the equation and see how that settles the nerves? It didn't, but it sure did sting the nostrils.
It's taken me until now, a little more than a week, to really grasp what took place. We held six races in four classes over the course of two days–seven races when you also count the three-lap "dash for cash" that was the Mission King Of The Baggers Challenge–and each one of those races was compelling. They were all decided on the final lap, and almost all of them went right down to the finish line.
The closest finish was in the Daytona 200 itself, and that was the race that had me the most worried. 599cc four-cylinders against 636cc four-cylinders against 765cc three-cylinders against 955cc two-cylinders. And, in the end, Brandon Paasch raced one of those 765cc three-cylinders to victory by just seven milliseconds over Cam Petersen aboard his 599cc four-cylinder.
All things considered, it was quite a parity party at Daytona this year. We'll see how the remainder of the MotoAmerica season goes, especially when the highly anticipated Suzuki GSX-R750 makes it to the Supersport grid at a still-to-be-determined upcoming round. But, if what happened at Daytona is any indication of how level the playing field will be as the season progresses, then maybe my nervousness and skepticism were all for naught.
Maybe I should just relax and enjoy the party.