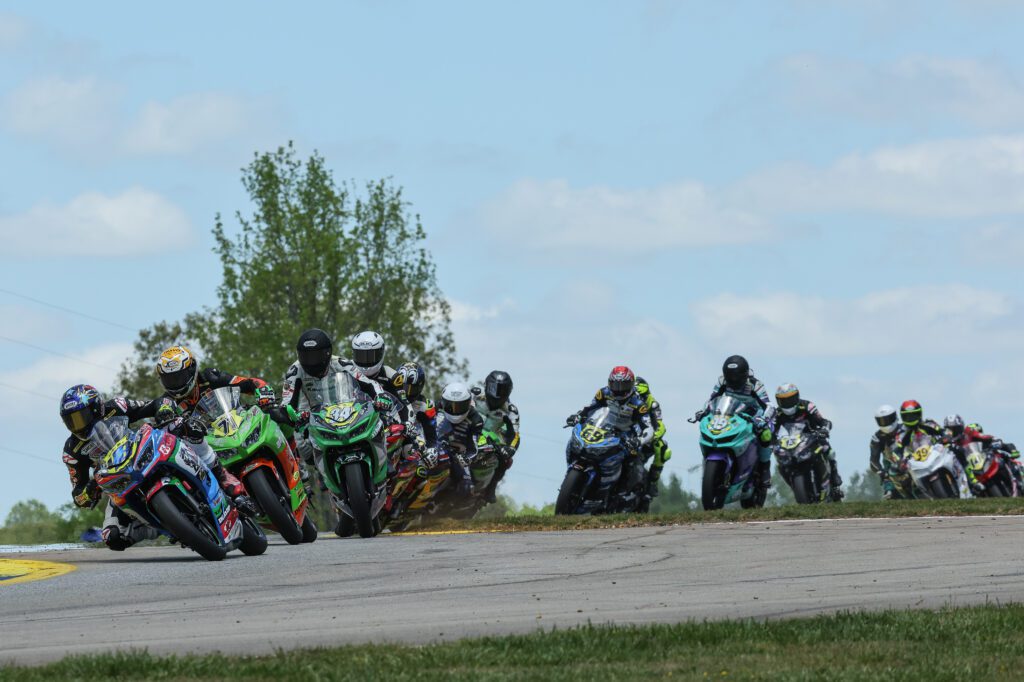 Four riders from SportbikeTrackGear.com Junior Cup race two at Michelin Raceway Road Atlanta on April 24 were penalized for passing under a yellow caution flag on the final lap, which has since caused controversy in the racing community. The riders penalized were Kayla Yaakov, Cody Wyman, Levi Badie and Gus Rodio. Following the penalties, Yaakov was demoted from first to third, Rodio from second to fourth and Wyman from third to fifth. Badie crashed in the final corner on the last lap, which neutralized his penalty since he failed to finish.
With Yaakov docked two positions, Max Van was declared the winner, his first-career victory in the MotoAmerica Championship. Aden Thao was second with Yaakov third, Rodio fourth and Wyman fifth.
The decision to penalize was based on the following:
When a rider racing behind the lead pack crashed on the penultimate lap in Turn 10, yellow flags were immediately deployed in the appropriate locations both on the back straight leading to Turn 10 and directly adjacent to Turn 10. Marshals left their positions and went into the gravel trap to assist the downed rider. Per MotoAmerica rules, a standing yellow flag denotes hazards off the racing surface, while waving yellow flags denote hazards on the track surface itself. As the rider was not on the track, and since there was no debris on the track, a standing yellow flag was deployed, according to MotoAmerica rules. As the lead pack approached the yellow-flag zone, the downed rider was still in the gravel trap near his bike, and marshals were still present providing assistance. At the point when the leaders entered the yellow-flag zone, several riders continued to race through both yellow flags in Turn 10 and making passes before the finish.
Race control was immediately aware that an infraction may have occurred. Flagging stations radioed reports that passing under a yellow flag had occurred, prompting a review of footage from numerous camera angles. Race control, which consists of the Race Director, AMA/FIM Safety Officer, and the Riders Representative, all reviewed the evidence and unanimously concluded that there was indeed passing under the yellow flag. This review was not instantaneous, and it took several minutes to ensure that the correct ruling was made.
"First of all, it's unfortunate that all of this transpired as it impacted several riders, their teams, our sponsors and our fans." said MotoAmerica COO Chuck Aksland. "It was heartbreaking for Kayla Yaakov, who lost what would have been her first-career victory in our series, and it wasn't the way Max Van wanted to win his first race either. Unfortunately, these things happen in racing. However, yellow flags are there to protect fallen riders and the cornerworkers who are assisting those riders and they are of paramount importance and a key component of our safety procedures. The decision to penalize came as quickly as possible and was not the result of a protest, as some had originally thought. It was a decision made by race control, which is made up of three people and headed up by our Race Director. In the days since our race, class sponsor SportbikeTrackGear.com and race winner Max Van have been unfairly targeted by some. This was a MotoAmerica and AMA decision, and we stand by both the decision and the penalties that resulted from those decisions."