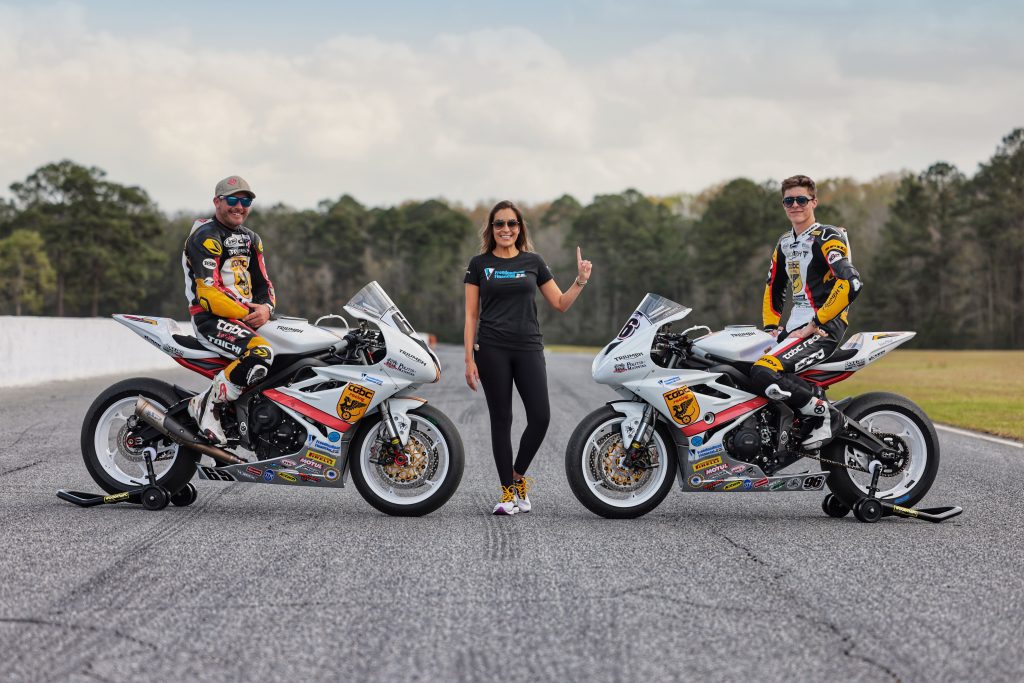 The following is from TOBC Racing…
The TOBC – Triumph racing team, supported by FreedomRoad Financial, returns to the Daytona 200 aiming to repeat Brandon Paasch's sensational win in last year's race.
For the 2023 race, a win by either Paasch, or teammate Danny Eslick would reinforce the competitiveness of the TOBC Triumph team and the Street Triple. It would also make history for both the winning rider and team principal Michelle Lindsay.
Another win for the two-time defending champion, Brandon Paasch would make him the only rider in history to win three Daytona 200 races in a row while a victory for Danny Eslick would put the veteran racer in rare-air, tied for most wins all-time with five. Lindsay has already made history as the only female team owner to reach the top of the Daytona 200 podium, and a 5th win would further add to her legacy.
Brandon and Danny will both pilot the all-new 2024 Triumph Street Triple 765 RS. After powering Paasch to the top of the 2022 podium and four seasons of outstanding performance and reliability as the exclusive engine in the Moto2™ World Championship, the 765 triple engine has been enhanced for the 2023 season. The upgraded engine, which is now included in the all-new 2024 Street Triple 765 family of production motorcycles, has already seen its first taste of race action in the World SuperSport Championship and will be a notable improvement to the already proven race bike.
Michelle Lindsay – TOBC Racing owner: "I am grateful TOBC Racing will have the opportunity to compete in another Daytona 200 thanks to the support from Triumph Racing and FreedomRoad Financial. We're also thankful for the support from key sponsors Politus & Matovina P.A. Attorneys, Palm Beach Police and Fire Foundation, Pirelli, and Boulder Motorsports to help make this all happen."
Danny Eslick – Rider & 4-time Daytona 200 Winner: "Last year was tough, knowing I was in the hunt the whole race and just having a couple things not go my way. I can tell you one thing, I learned from last year though and it's that this is the bike and team to be on. So no doubt about it, I'm coming for win number five next week."
Brandon Paasch – Rider & 2-time Defending Daytona 200 Winner: "I've been waiting all year to jump back on my Triumph and race the Daytona 200 with this TOBC team. Last year's win reinforced the trust I already had in the bike and in Michelle's team. It will be great to carry that confidence into the 2023 race as we strive to defend last year's win. I'm also thankful for the continued personal support from the Classic Car Club of Manhattan, Evolve GT, and Luxe Star."
Jeremy Appleton – Global Racing Manager, Triumph Motorcycles: "The Daytona 200 ranks among the world's legendary races, making the win in 2022 a significant moment in the history of Triumph Racing. Now it's down to business again and going racing to demonstrate that the Triumph Street Triple and its 765 three cylinder engine represents the ideal combination of power and handling. Michelle's experience and professionalism with her TOBC Racing team combined with the pedigree that Brandon and Danny bring to the race make for a formidable combination. We are grateful for the continued support from FreedomRoad Financial, long-time partners of Triumph and aiming to add another trophy to the cabinet which would be just reward for all the work done by Brian at Boulder Motorsports and the engineers back at Triumph's HQ in the United Kingdom."
Tom Collins – Managing Director, FreedomRoad Financial: "We are proud to have Triumph as our longest tenured OEM relationship as we've been their retail finance partner since 2008. Given our valued partnership we were honored to help Triumph get back to the top of the podium last year. We were so proud of the performance from our long-time partner in last year's race, and we're very pleased to support them in their 2023 outing."