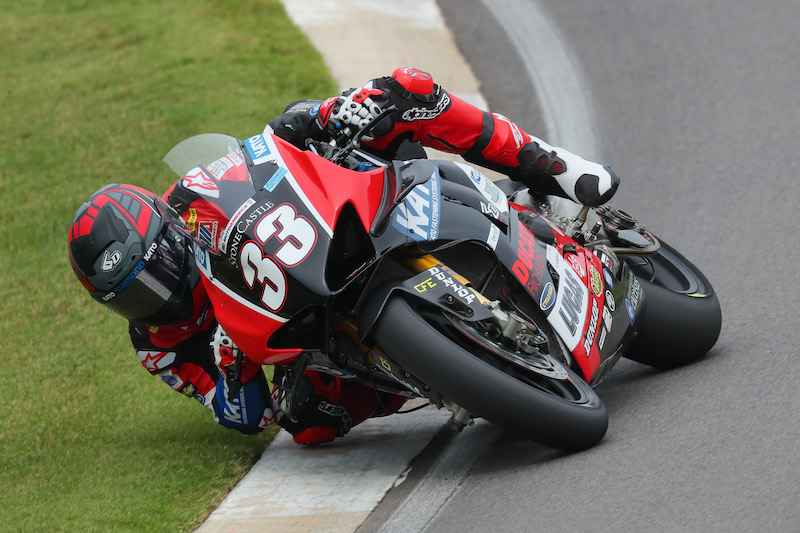 The following is from KWR Ducati…
The KWR Ducati Team is ready to cap off the 2020 season at WeatherTech Raceway Laguna Seca this weekend for the round 9 and the final MotoAmerica Superbike event of the year. Kyle Wyman will ride the #33 Ducati Richmond/KWR Ducati Panigale V4 R for the triple header Superbike weekend.
Wyman currently sits 7th in series standings with 145 total points scored, and just 21 points out of 5th place with three points-paying Superbike races yet to run in the final round this coming weekend. The KWR team hopes to score valuable points and claw back up to 5th overall on the season. Wyman looks poised to break his personal best season points haul of 157 points that he scored in the 2018 MotoAmerica Superbike Championship, finishing 8th overall.
The Laguna Seca race track should give Wyman a great opportunity to fight again for podium positions, with some data gained from the 2019 event. Wyman was taken out in the first race at Laguna last year however, and scored zero points on the weekend.
"I'm excited to get back to one of my favorite racetracks on the schedule at Laguna Seca," Wyman said. "Last year this was one of our better Friday results, but in race one I was taken out last year and broke my wrist, so we do not have some race-long data to compare to. I feel great after the third race at Indy though and I feel like our bike should work well at Laguna this year. Big thanks to the Ducati Richmond dealership in Canada who supports our team, and can't wait to put on a good show for the fans all over the world who have tuned in to MotoAmerica this year."

Action begins at 10:40am PST Friday, October 23rd with a Superbike QP1 session. With one race on Saturday, and two on Sunday, all three races will be shown live on FS2 and the MotoAmerica Live+ streaming service.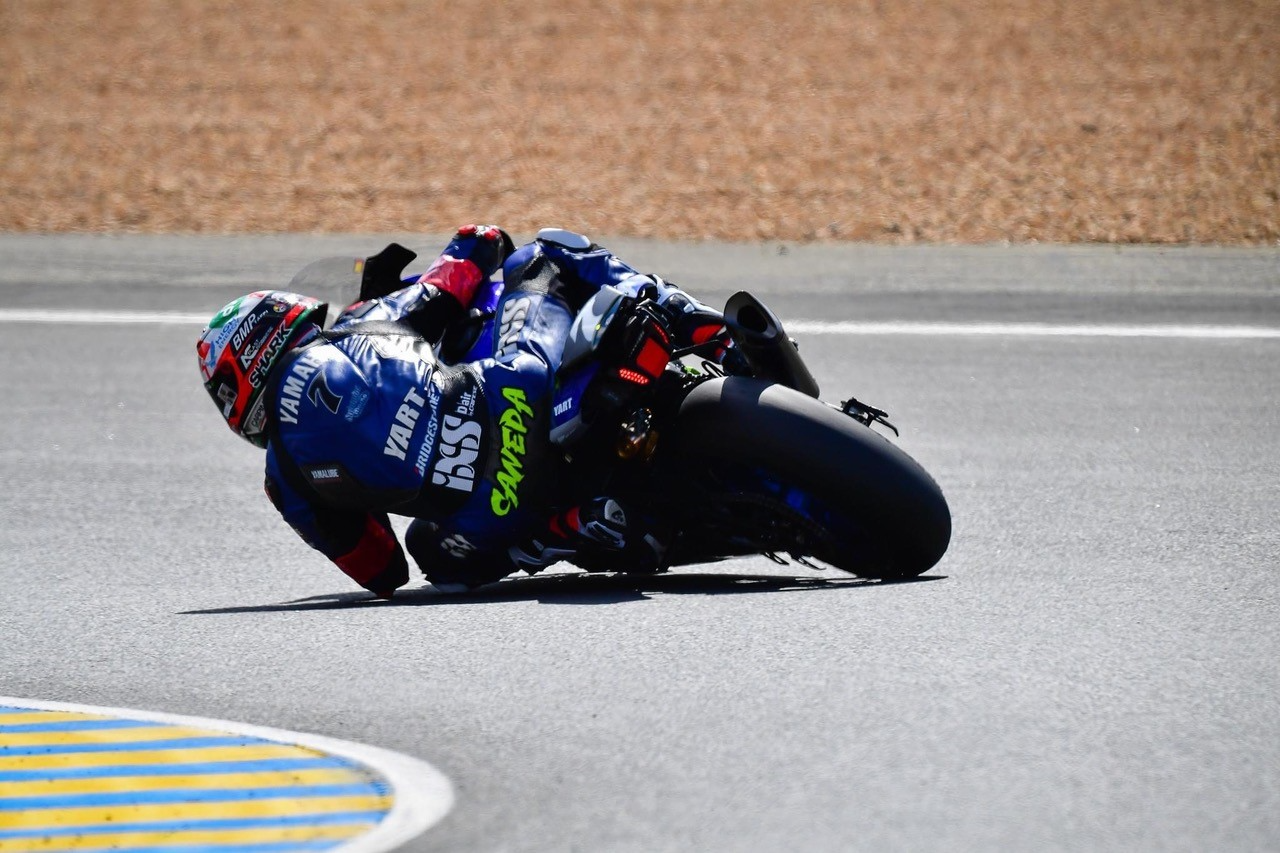 The following is from Westby Racing…
The 2020 MotoAmerica AMA/FIM North American Road Racing Championship concludes this weekend at WeatherTech Raceway Laguna Seca in Monterey, California, and the Westby Racing team is determined to conclude the season on a high note.
Niccolò Canepa, the team's fill-in Superbike rider in place of injured Mathew Scholtz, is ready for his return to WeatherTech Raceway Laguna, which he considers to be one of his favorite racetracks anywhere in the world. With Niccolò's familiarity and love for Laguna Seca, along with his vast experience aboard the Yamaha YZF-R1 both in sprint racing and endurance competition, the team is very much looking forward to the Italian's feedback and input, in order to continue developing the Westby Racing Yamaha R1 Superbike for the upcoming 2021 season.
"I'm excited for the opportunity to ride the Westby Superbike this weekend," the Yamaha World Superbike test rider said. "Laguna Seca is one of my favorite circuits in the world. The layout is unique, and the atmosphere is completely different from the racing in Europe. I came to Laguna with MotoGP and with World Superbike for many years. The last time I was there was in 2016, and I was the fastest Yamaha World Superbike rider across the finish line that weekend. I'm ready to compete aboard the number 59 Westby Racing Yamaha R1 Superbike and am 100% fit for this race weekend!"
Superbike race one is on Saturday at 3 p.m. Pacific, Superbike race two starts on Sunday at 11 a.m. Pacific, and race three is also on Sunday, at 3 p.m. Pacific. All three Superbike races will be broadcast LIVE on FOX Sports 2 (FS2) and Eurosport. In addition, all Superbike qualifying sessions and races will be streamed live and also available on Video On Demand through MotoAmerica Live+.
Westby Racing's MotoAmerica Junior Cup rider Cody Wyman is also relishing his return to WeatherTech Raceway Laguna Seca, a track that, like his teammate Niccolò, he counts among his favorites.
"It has a been a long and challenging year, but I'm really excited to get to Laguna Seca," the rider of the number 34 Westby Racing Yamaha YZF-R3 said. "It's such a fast and flowing layout that it should be a lot of fun on the Yamaha R3. I raced at Laguna back in 2015 and had a decent top-ten finish. My goal is to be fighting for a podium spot and stand on the box this weekend. Thank you to my team, sponsors, family, and friends for supporting me and believing in this program. I want nothing more than to finish the year off strong."
Junior Cup race one starts on Saturday at 4:10 p.m. Pacific, and race two is on Sunday at 2:10 p.m. Pacific. Both Junior Cup races will be streamed on MotoAmerica Live+, and they will also be broadcast via tape-delay on FOX Sports 2 (FS2) on Tuesday, October 27th starting at 6 p.m. Pacific.
For more updates about Westby Racing, including news, photos, and videos, follow "Westby Racing" on your favorite social media sites. Also, visit https://www.WestbyRacing.com
The following is from Travis Wyman Racing…
Travis Wyman Racing BMW is pleased to announce Klock Werks will be the team's title sponsor for the season-ending MotoAmerica Superbike Speedfest at Monterey, which takes place Oct. 23-25 at WeatherTech Raceway Laguna Seca in Monterey, Calif.

The South Dakota-based company makes a wide range of parts and accessories for motorcycling and off-road enthusiasts and will have its branding displayed prominently on the team's 2020 BMW S 1000 RR.

"I met [Klock Werks President and Visionary] Brian Klock years ago while I was working for Kuryakyn," Wyman said. "When I approached Brian about joining my team's family of sponsors, he was enthusiastic about getting on board. I'm really happy about the opportunity to help get the word out about Klock Werks' products to MotoAmerica fans across the nation."

Founded in 1997, Klock Werks rose to national prominence when it won the 2006 Discovery Channel Biker Build Off with its "World's Fastest Bagger" entry. The company's wide-ranging line includes handlebars, fenders, patented Flare windshields, klip hanger and ergo handlebars, stamp steel fenders, iOmount phone holders and Shine Werks cleaning products.

"Since I met Travis in 2012, I've been very impressed with his professionalism and passion for the sport," Brian Klock said. "With a little bit more support, I believe Travis can become one of the most successful riders in MotoAmerica. I'm 54 now, and I think it's time I start giving back to up-and-coming young people in the motorcycling industry. I expect Travis to emerge as one this industry's leaders over the next 10 to 20 years."

Wyman also is set to race for Trask Performance in the MotoAmerica King of the Baggers exhibition race, in addition to competing one Stock 1000 Class race and three Superbike races.

Phoenix, Arizona-based Trask Performance is one of 14 companies invited by MotoAmerica and Drag Specialties to participate in the exhibition. The bike Wyman will compete on is a 2017 Harley-Davidson Road Glide that was built specifically for the King of the Baggers.

Trask Performance founder Nick Trask said the motorcycle generates about 200 horsepower from its turbocharged, 107 cubic-inch engine. Wyman put some laps in aboard the Trask machine at Arizona Motorsports Park on Sunday and said he felt very comfortable while riding the bike.

How to Watch
All three Superbike races slated for the MotoAmerica Superbike Speedfest at Monterey are to be broadcast live on Fox Sports 2, Eurosport and the MotoAmerica Live+ streaming service. The Stock 1000 race is to be broadcast on MotoAmerica Live+ and on Facebook Live, and the King of the Baggers race will be broadcast on MotoAmerica Live+ only.

Wyman's first race of the weekend is the Stock 1000 race, which gets underway at 3:30 p.m. Eastern/12:30 p.m. Pacific. Coverage of the Saturday Superbike race starts at 6 p.m. Eastern/3 p.m. Pacific, and the King of the Baggers race is scheduled for 7:45 p.m. Eastern/4:45 p.m. Pacific.

Coverage of Sunday's first Superbike race starts at 2 p.m. Eastern/11 a.m. Pacific. The third and final Superbike race of the weekend takes place at 6 p.m. Eastern/3 p.m. Pacific.