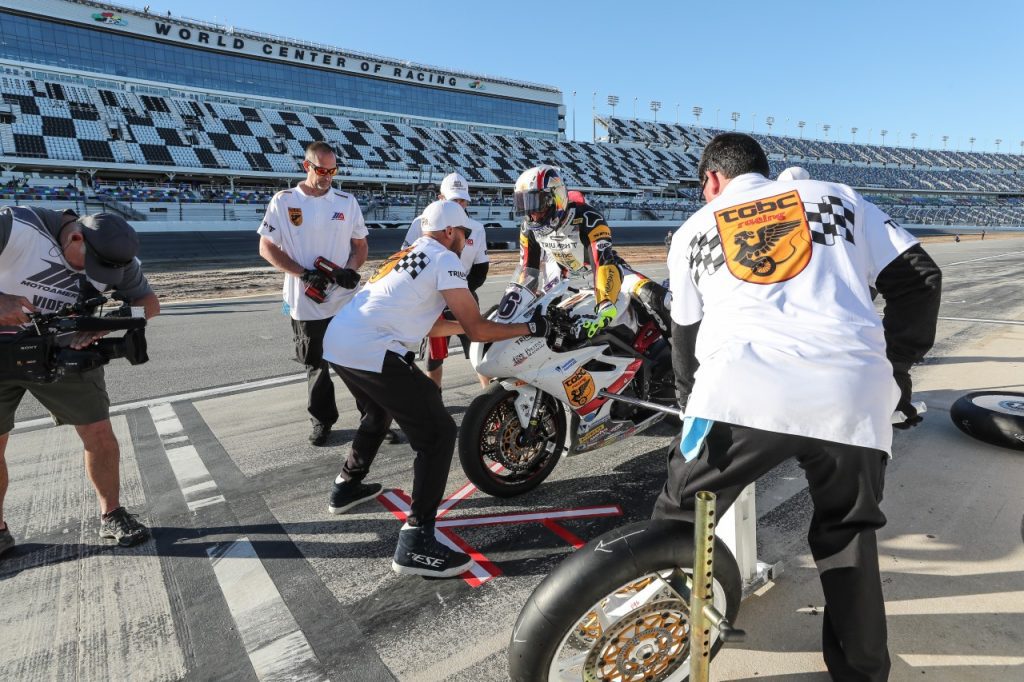 The following is from Pirelli…
Pirelli Tire North America is set to return to the 81st running of the Daytona 200 hosted by MotoAmerica as the three-time defending champions. America's most iconic motorcycle race has always been a priority for Pirelli, who boasts a deep racing heritage. For 2023, the brand continues to show its unwavering support for racing by coming on board as a sponsor of the Daytona 200 that will take place March 9-11. Pirelli's championship-winning run at Daytona International Speedway began with Kyle Wyman in 2019 and was followed by Brandon Paasch in 2021-22. No race was held in 2020.
Pirelli will once again bring its high-performance DIABLO Superbike slick range to the grid for 2023, consisting of the DIABLO Superbike SC1 and DIABLO Superbike SC2 for front options and the DIABLO Superbike in a special compound developed specifically for Daytona on the rear. Paasch relied on the performance of Pirelli's 120/70R17 DIABLO Superbike SC2 front and 190/60R17 Daytona rear tires to set the fastest lap and take the victory in 2022.
"The Daytona 200 is such a special race for the Pirelli brand," said Oscar Solis, Senior Racing Manager, Pirelli. "It's unique compared to any other race, putting the ultimate test to performance and durability, which has really benefitted our DIABLO Superbike slicks. The results from the last several years speak for themselves. When racers have been given a choice, as we see at Daytona, they choose Pirelli."
"Pirelli has a successful history with the Daytona 200, and we are delighted that they continue to support the event as an official sponsor," said MotoAmerica COO Chuck Aksland. "This unique event brings the top tire manufacturers together to battle it out every year in one of the toughest events in motorcycle road racing. Pirelli is the defending champions as they won last year's race with the TOBC team and Brandon Paasch. We look forward to watching them take on the challenge of defending their title and the competition that it will bring from them and their competitors. This year's Daytona 200 promises to be every bit as exciting as last year's, and we can't wait to get started."
"I am really excited to get back to Daytona and go after my third straight win," said Brandon Paasch, defending champion of the Daytona 200. "Having Pirelli back on board with my program is huge. We've had some great success together this last couple of years, and I credit a lot of it to the performance of the Pirelli tires and the strategy of their trackside support team."
In 2022, Pirelli racers swept the podium in dominating fashion at Daytona, led by two-time defending champion and TOBC rider Brandon Paasch who captured the victory by just 0.007 seconds in a 57-lap shootout over Attack Yamaha's Cam Peterson. Sheridan Morais completed the podium in third aboard his Syntainics / Penz 13 racing machine, just 0.057 seconds behind the race winner. Six out of the top eight positions and more than half of the grid went to racers competing on Pirelli's DIABLO Superbike slicks.
As the focus shifts to a fourth consecutive victory, Pirelli brings a star-studded lineup to this year's grid, which includes Paasch, Peterson, Morais, and more.
Kicking off the Daytona festivities on Wednesday, March 8, Pirelli will be presenting the 2023 Daytona 200 Monument of Champions, which will take place at the boardwalk and honor the racing career of special guest Michael Barnes and the late ASRA/CCS president Kevin Elliott Sr. at the world center of racing. As the winner of the 2016 Daytona 200, Barnes has played a tremendous role in the history of the Daytona 200. In addition to serving as an event sponsor, Pirelli will also sponsor the Pit Stop Challenge, held at Daytona's victory lane the Friday before the race and features five teams competing for their shot at clocking the quickest pit stop ahead of Saturday's race.