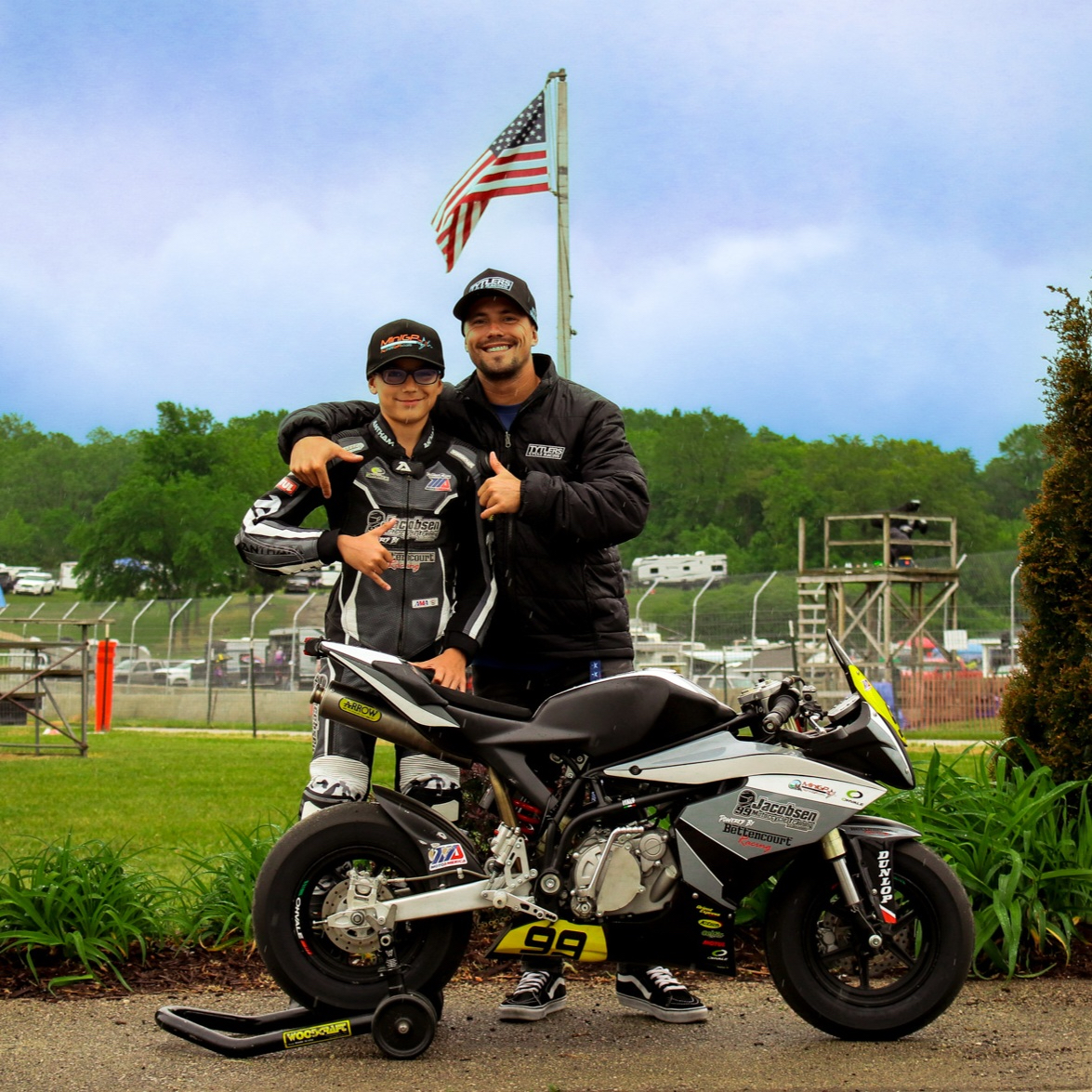 The following press release is from Jacobsen Motorcycle Training…
Fresh off a stellar return to the podium in the Medallia Superbike series at Road America, PJ Jacobsen is proud to announce his support for 11-year-old Nathan Bettencourt in the Mini Cup by Motul for the 2022 season.
"We met through a special event with NJMiniGP a couple of years ago," PJ said. "The 'Day of Champions' event was designed to give these young racers a chance to train with a professional racer. We rode together that day, and then I rode with Nathan and hung out with the whole Bettencourt Racing family up at my home track (Oakland Valley Raceway Park) the following season."
The two started working together more formally with the launch of Jacobsen Motorcycle Training Establishment earlier this year, and spent a few weeks over the past winter training at Bushnell Motorsports Park in Florida on Ohvales, the weapon of choice for the series. The improvements have been drastic. Nathan is showing more confidence and speed thanks to the training.
"The difference is quite amazing," Nathan's dad, Mike Bettencourt said. "Having PJ officially on-board our program gives us great access to a riding coach and mentor like PJ, and for a young kid like Nathan, that's something really special."
"It's cool because usually you don't have adults that can hang on the little bikes, but PJ is fast on anything. It's awesome to have a world-class rider to chase around!" agreed Nathan.
For coaching credentials, PJ has quite the resume. His return to the MotoAmerica Superbike class this season with Tytlers Cycle Racing is just one of many that include a championship in the USGPRU 125cc class (2006), 2nd in World Supersport (2015) and a stint in World Superbike (2018). His training, based on his World Supersport program including on- and off-track components, has been considered a key success factor for another young racer making a splash, Sam Lochoff in the Supersport class.
"I'm happy to help the kids and excited to see Nathan achieve his dreams," PJ added.
For more information and news, go to https://jacobsenmotorcycletraining.com/home/