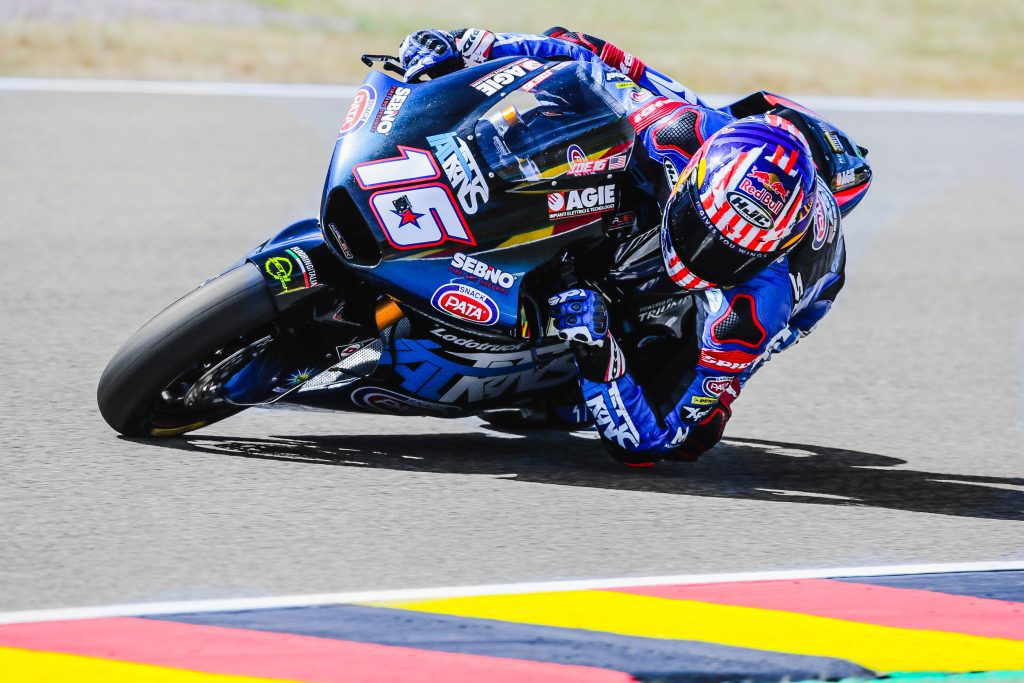 Italtrans Racing's Joe Roberts missed out on pole position for tomorrow's Monster Energy British Grand Prix by just .034 of a second, but the Californian will start the race at the Silverstone circuit second on the front row. Roberts' fellow former MotoAmerica Champion Cameron Beaubier will start the Grand Prix from 13th on the grid on his American Racing Kalex.
Roberts put in a quick lap early, then backed it up with quicker laps in the closing stages of the second. His 2:04.137, however, was bettered by Red Bull KTM Ajo's Augusto Fernandez and his 2:04.173. IDEMITSU Honda team's Ai Ogura with the Japanese rider lapping at 2:04.280.
"It started off a bit not slow, but it was hard to find our one-lap pace this weekend," Roberts said. "But it came together at the end there. I made a little mistake there in the last sector on the last lap and was in third gear when I should have been second, but I'm super-stoked, and I feel the pace is really good."
Second is Roberts' best qualifying since he was also second at the European GP in 2020.
Beaubier will start tomorrow's GP from the fourth row after clocking a 2:04.934 for the 13th fastest time. His teammate Sean Dylan Kelly, meanwhile, ended up 28th with a 2:06.543 in Q1.