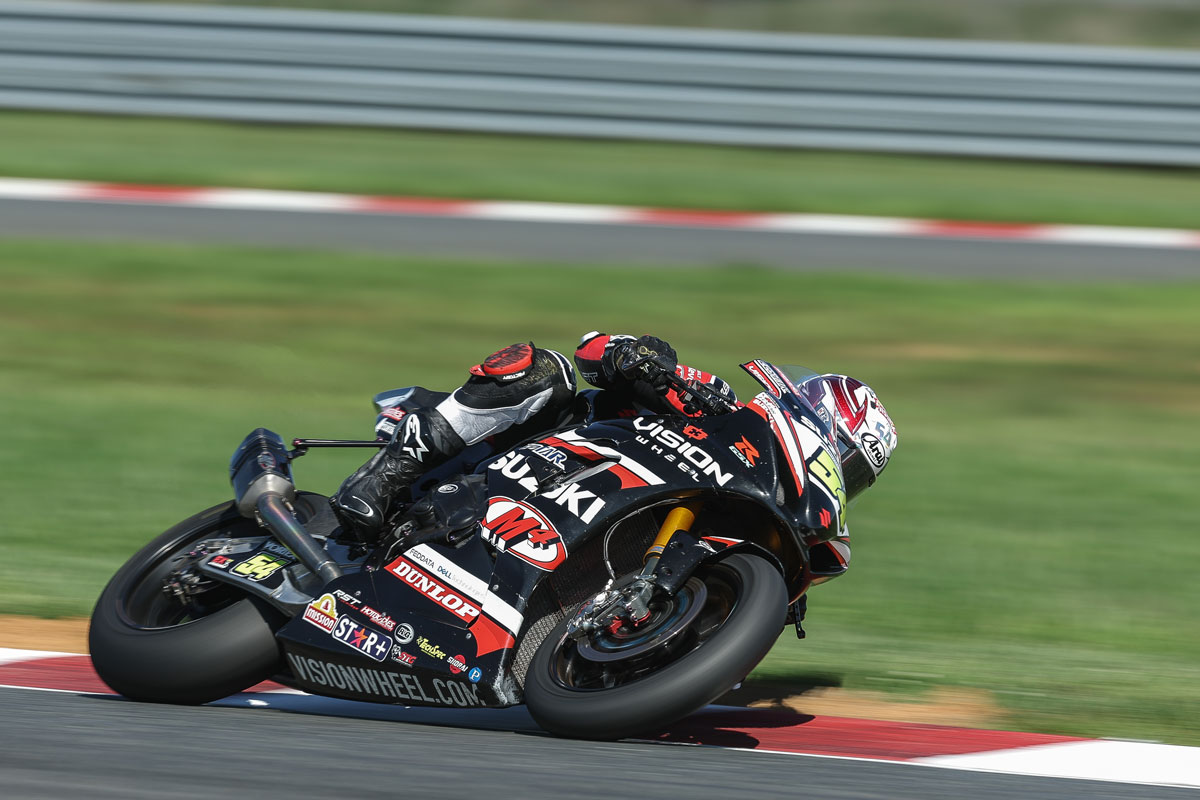 The following is from Suzuki…
Team Hammer, Inc., is excited to confirm that Supersport sensation Tyler Scott and former MotoAmerica Supersport Champion Richie Escalante will return to the team for the 2023 season.

Scott will return to compete for the 2023 MotoAmerica Supersport crown aboard a Vision Wheel M4 ECSTAR Suzuki GSX-R750. Scott will also race with the team in Supersport or Superbike in 2024 with additional options for Superbike in 2025 and 2026.

Escalante will once again race the MotoAmerica Superbike class for Vision Wheel M4 ECSTAR Suzuki on board a Suzuki GSX-R1000R.
Still just 17 years old, Scott was a revelation in his first season of middleweight competition after previously dominating the Junior Cup category. The Pennsylvania native quickly established himself at the front of the pack and was third in the final point standings.

Scott earned nine podium finishes during the 2022 season, including his first Supersport victory, which was secured via a strategic masterclass at Road America.
His 2022 Supersport exploits were just the latest in a lifetime of two-wheeled excellence. His 2021 Junior Cup title came via a mammoth, 44-point margin courtesy of 11 wins. Prior to that, he participated overseas in the Red Bull Rookies Cup and the FIM CEV European Talent Cup.

Scott is also a dirt track prodigy of the highest order; he's a four-time AMA Youth Dirt Track Racer of the Year with 13 AMA Grand Championships to his name.

"I'm super-excited to be back with the team," Scott said. "It's for at least two years and I am happy about that. The plan is for a championship push in Supersport this year and, if all goes to plan, next year the goal is to give Superbike a shot. I will be working with Jeremy Toye as my Crew Chief in 2023, and I can't wait for the first race. I had a good year last season, but this year the goal is no DNFs and to get as many podiums and wins as possible."

"Tyler performed well during his rookie year," said Chris Ulrich, Team Hammer Vice President of Operations. "He won and was a consistent podium contender. The team and Tyler expect him to improve in 2023 and to fight for more wins and podiums as he improves his skills."
A native of Tizayuca, Mexico, Escalante became the first Mexican to win an AMA Pro/MotoAmerica National road racing championship in 2020 with a stunning 13-win, 16-podium Supersport campaign. His title defense was another strong campaign as he won three races and earned 14 podiums before joining Vision Wheel M4 ECSTAR Suzuki to race in the Superbike class.

The 2022 season saw the hard-charging Escalante flash in his rookie Superbike campaign as he transitioned to the Suzuki GSX-R1000R before injuries slowed him down.
"This off-season, I took some time to fully recover from my Brainerd crash and now I am fully fit. I am ready to test and get ready for the long season and really happy about how things are shaping up," said the 27-year-old.
"I am glad to be coming back with the same team and the same bike. I feel like I know the tracks on a Superbike now and that is especially important for our results. Of course, any rider's goal is to win the championship and I think my next step in being able to do that is getting on the podium regularly," continued Escalante. "Last year, our results were up and down but I learned so much about Superbike racing. Compared to Supersport, the competition is higher, so the process is more important. You have to work closely with the crew to get the ideal setting and then the results can improve." 

"We are really excited to have Richie back," said Ulrich. "Going from the 600 to the Superbike is never easy but Richie gave maximum effort. By mid-season, he was closing the gap to the front and making progress before some crashes set him back. With another season together, we expect him to continue to close that gap and to fight for the podium." 
For the full 2022 MotoAmerica schedule and to purchase tickets for MotoAmerica events, click HERE
For information on how to watch the MotoAmerica series, click HERE