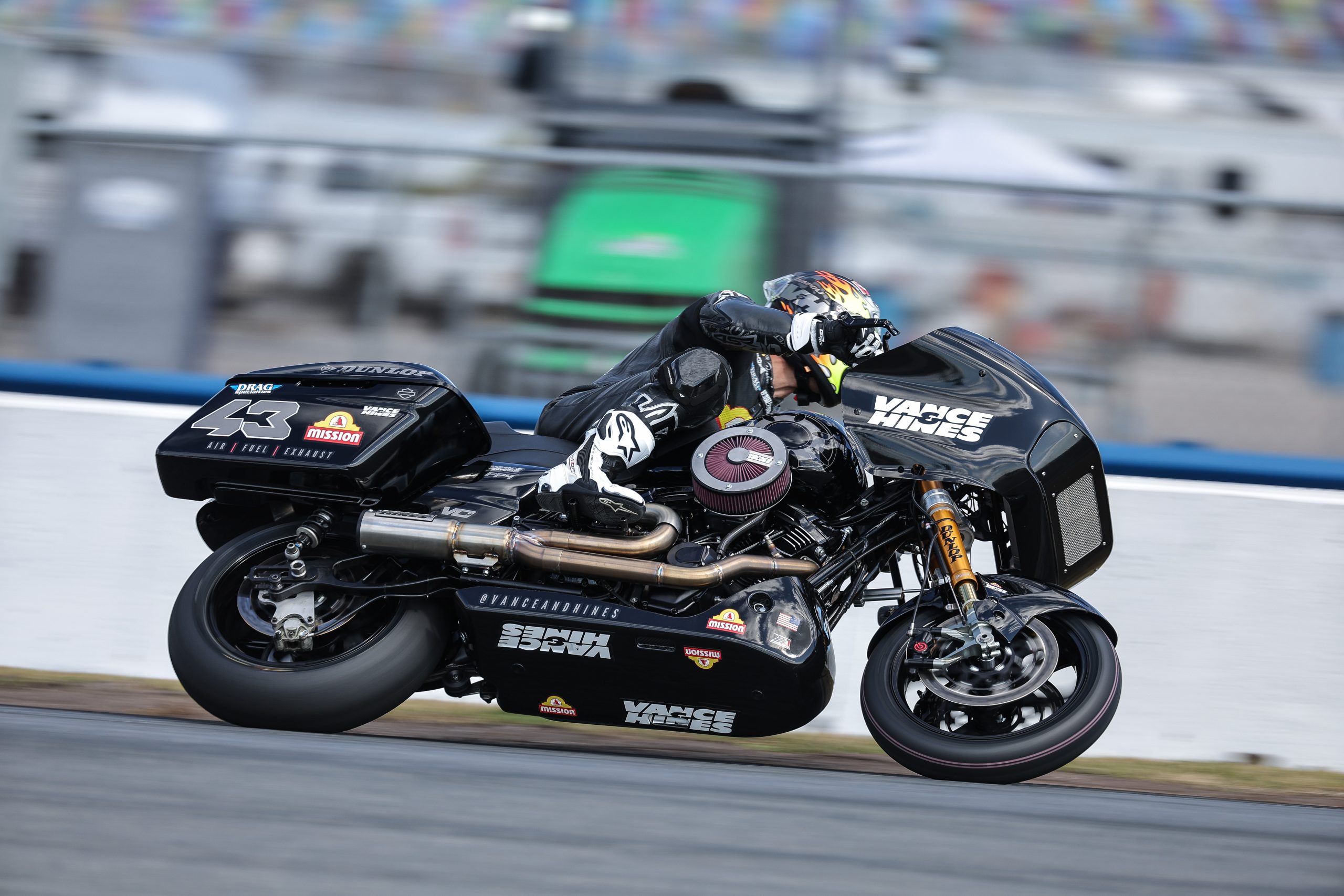 While two MotoAmerica Championships got their start in early March at Daytona International Speedway, three more classes will join the premier Medallia Superbike class in getting their fresh beginning of a new season with those title chases kicking off at Michelin Raceway Road Atlanta, April 21-23.
Mission King Of The Baggers and REV'IT! Twins Cup got their seasons rolling in Florida as support classes for the non-points-paying Daytona 200 (which features Supersport-class motorcycles), but Stock 1000, Junior Cup and Supersport will open their championships at the iconic Road Atlanta this weekend.
Supersport – A New Champion Guaranteed
With Josh Herrin making a return to the Medallia Superbike Championship, the only thing we can count on is that the Supersport title will go to a new champion in 2023 in what promises to be a wide-open affair between young guns and seasoned veterans.
With four of the top five from last year's championship not entered in the opening round of the series at Road Atlanta, others have come from other classes and/or have changed teams.
The ex-Herrin Warhorse HSBK Racing Ducati NYC Panigale V2 may be the most coveted ride in the class, and it falls this year to Spaniard Xavi Forés. Forés made his debut on the bike at Daytona, but a mechanical problem thwarted his progress before it really got going as it put him out of the 200 early. Thus, his season really begins at Road Atlanta. If he's like any of the Europeans who have come before him, those first laps of Road America will open his eyes.
There is no more of a veteran in the class than four-time AMA Superbike Champion Josh Hayes. Though he's not sure of how many races he and the Squid Hunter Racing team will partake in this season, Road Atlanta is a definite and Hayes will be attempting to put his name into the record books as his next MotoAmerica victory will be his 87th and it will make him the winningest rider in AMA road racing history across all classes.
On the other end of the spectrum is Vision Wheel M4 ECSTAR Suzuki's Tyler Scott, the youngster finishing third in last years' title chase while winning the first race of his promising career at Road America. Scott will be back on the same Suzuki GSX-R750 for the same team and will start the championship as one of the favorites. Scott will be joined on the team by another youngster, Teagg Hobbs.
Michael Gilbert Racing's Michael Gilbert returns to the Supersport ranks after several seasons in the Stock 1000 class. Gilbert will be racing a Team Hammer built Suzuki GSX-R750.
While Hayes may be the most veteran of those in Supersport, Stefano Mesa would come close to matching him in miles raced. Journeyman racer Mesa is slated to ride a Tytlers Cycle Racing Kawasaki ZX-6R in the series.
Cory Ventura moves to the Disrupt Racing team for 2023 after a few quality outings as a fill-in rider last year on the Vision Wheel M4 ECSTAR Suzuki team. Ventura will likely benefit from being under the same awning as veteran Hayden Gillim, who will ride Disrupt Racing Suzukis in the Superbike and Stock 1000 classes.
Others looking to make an impact on the class include the two-rider North East Cycle Outlet Racing team of CJ LaRoche and Anthony Mazziotto, Team Brazil's Danilo Lewis, Altus Motorsports' Jaret Nassaney, and Gilbert's teammate Alejandro Thermiotis.
Stock 1000 – Too Many To Choose From
Forty-one Stock 1000 riders will attempt to qualify for the two races in the series opener and, again, the 2022 class champion isn't among them. While series champ Corey Alexander will focus his efforts on the Medallia Superbike Championship in 2023, last year's runner-up Hayden Gillim will again do double duty on his pair of Disrupt Racing Suzukis and will compete in both Stock 1000 and Medallia Superbike. And Gillim, with five wins in 2022, will most definitely start the season as the favorite in Stock 1000.
Travis Wyman Racing's Travis Wyman, who finished third in the 2022 championship, is also returning with his BMW M 1000 RR after a six-podium season a year ago. Not as fortunate is Brandon Paasch with the New Jerseyan out of action at least for the early part of the year after breaking a bone in his back in a motocross training accident. Paasch's spot on the Altus Motorsports Suzuki has been taken over by Anthony Norton.
Orange Cat Racing will field two riders in the Stock 1000 class – Ezra Beaubier and Kaleb De Keyrel. Beaubier raced for the team last year and ended the year ranked ninth while De Keyrel is new to the class after finishing fourth in the REV'IT! Twins Cup Championship in 2022 a season after earning the title in the class.
Whether or not Road Atlanta marks the final race of a great career for Geoff May remains to be seen, but the veteran is entered to compete in the Stock 1000 class in his native Georgia. May is entered on the same Geoff May Racing Honda CBR1000RR-R SP that he rode to fifth in last year's championship.
Junior Cup – Fresh Faces
There are lots of new faces set to do battle in the Junior Cup class with 24 riders entered for the opener at Road Atlanta.
New faces? Well, for starters, Max Van is the only rider entered for this weekend's two Junior Cup races who finished in the top five in last year's championship. Last year's champion Cody Wyman? Gone to REV'IT! Twins Cup. Ditto for Gus Rodio, Kayla Yaakov and Joe LiMandri Jr.
Beyond Max Van, the next highest finishing rider in the class from 2022 who is returning is Bad Boys Racing's Avery Dreher, who ended up seventh a year ago. Bicknese Racing's Hayden Bicknese (eighth last year) also returns along with 3D Motorsports' Chase Black (ninth in 2022) and Yandel Racing's Yandel Medina (11th).
Headlining the list of new faces is Fairium NGRT – Gray Area Racing's Rossi Moor, the dominant Mini Cup by Motul rider from the 2021 season. In addition to being new to the class, Moor will also be riding the only KTM RC 390 R in this year's series. Remember, however, that Tyler Scott rode a KTM to the title in 2021.
The only other non-Kawasaki Ninja 400 in this year's title chase is the Yamaha YZF-R3, which will be ridden by MP13 Racing's Aiden Sneed.
REV'IT! Twins Cup – The Champ Is Back
REV'IT Twins Cup is one of the classes where last year's champion will be back to try and defend his title. That rider is N2/BobbleHeadMoto's Blake Davis, the young Virginian who came away with the title after his six-podium, three-victory effort a season ago on his Yamaha YZF-R7.
And REV'IT! Twins Cup is also one of two classes that started its championship at Daytona with a two-race opening round. The two races were won by Rodio Racing – Powered By Robem Engineering Aprilia's Gus Rodio and by Stefano Mesa who was filling in for the injured Kayla Yaakov on the MP13 Racing Yamaha.
Davis, who finished with a pair of fourths at Daytona, is already under the gun as many of the riders he battled with a year ago are back for another crack at the title chase.
Optimum Performance Motorsports' Jody Barry is likely one of the hungriest after a stellar early 2022 season had him atop the point standings for most of the season. However, a less-than-stellar late season pushed him down to second in the title chase and tied with Anthony Mazziotto, who has moved to the Supersport class for 2023. Barry started his season with sixth- and seventh-place finishes.
Of the riders moving up to REV'IT! Twins Cup, it was Rodio who started with a bang at Daytona, winning race one and finishing second in race two, he leads the championship by nine points over Jackson Blackmon.
Blackmon had a great weekend at Daytona, especially so, considering it was his first race back from a badly broken ankle that kept him out of most of the races a year ago. Blackmon rode his Track Day Winner/Blackmon Racing Yamaha YZF-R7 to second and third at Daytona.
Another nine points behind Rodio after leaving Daytona with third-and fifth-place finishes is Cycle Tech's Hayden Schultz, who is just one point ahead of Davis.
Other riders expected to challenge in the REV'IT! Twins Cup class are non-defending Junior Cup Champion Cody Wyman, Altus Motorsports Joe LiMandri Jr., Rodio's teammate Ben Gloddy and Team Iso's Dominic Doyle with the latter two having Daytonas they'd rather forget. Doyle crashed twice, taking Gloddy with him the first time and leaving Gloddy injured and unable to take part in race two. Both are entered to compete at Road Atlanta.
Mission King Of The Baggers – Let The War Resume
The first of what will be a season-long war between Harley-Davidson and Indian Motorcycle riders in the Mission King Of The Baggers Championship got their start at Daytona International Speedway in early March and round one went to Harley-Davidson – though probably not to the Harley-Davidsons you expected.
The man at the top of the championship as the series pulls into Road Atlanta for round two is Vance & Hines Harley-Davidson's James Rispoli, the New Yorker who now calls Florida home winning his first-career Baggers race in race one at Daytona and finishing second in race two. That adds up to a nice little haul of 45 points.
Second in the title chase after Daytona? Well, that would be Rispoli's Vance & Hines teammate Hayden Gillim by virtue of his second-and third-place finishes. Third in the championship after Daytona? Still not a factory Harley-Davidson or Indian, but instead Team Saddlemen Harley-Davidson's Cory West with his pair of fourths from Daytona.
Then came the big guns – 2021 Mission King Of The Baggers Champion Kyle Wyman and 2022 Champion Tyler O'Hara of the H-D Screamin' Eagle and Indian Motorcycle/Progressive/Mission Foods Indian teams in fourth and fifth, respectively.
Kyle Wyman was a non-finisher in race one and then dominated race two; O'Hara was third in race one and a rather remarkable 11th in race two despite tire issues.
O'Hara's teammate Jeremy McWilliams also struggled with a fifth in race one and similar tire woes pushing him back to an even more impressive eighth in race two.
The second of the Wyman brothers on the factory Harley team, Travis Wyman, is likely looking forward to Road Atlanta more than anyone in the class as mechanical issues forced him out of both Daytona races. He arrives in Georgia with zero points – 45 points behind Rispoli.
Road Atlanta Support Class Notes
Kyle Wyman won last year's Mission King Of The Baggers race at Road Atlanta with the 2021 class champion besting James Rispoli and Tyler O'Hara.
Kyle Wyman's fastest lap in the race was also the fastest lap of the weekend for a Bagger with his 1:31.789 making him the only rider to dip into the 1:31s. Wyman also had the fastest lap from Q1 with a 1:31.874.
The lone Stock 1000 race last year at Road Atlanta was won by Corey Alexander by just .001 of a second over Michael Gilbert. Travis Wyman finished third.
Josh Herrin got his Supersport season off to a perfect start a year ago at Road Atlanta with the Warhorse HSBK Racing Ducati NYC-backed Panigale V2 rider taking victories in both races. Herrin beat Sam Lochoff and Benjamin Smith in race one and topped Lochoff and Rocco Landers in race two.
Jody Barry beat Teagg Hobbs by just .073 of a second to win the REV'IT! Twins Cup race in Braselton in 2022 with Ben Gloddy finishing third.
In Junior Cup action, it was Cody Wyman besting Max Van and Joe LiMandri Jr. in race one with Max Van beating Aden Thao and Kayla Yaakov in race two.
Fourteen Mission King Of The Baggers races have been held, including the very first invitational race at WeatherTech Raceway Laguna Seca in 2020, and there have been six different winners in series history. Kyle Wyman, the 2021 class champion, leads the way with six wins, followed by defending class champion Tyler O'Hara's four victories. Jeremy McWilliams, Travis Wyman, Bobby Fong and James Rispoli each have a victory.
While on the subject of parity, the REV'IT! Twins Cup series has plenty of it with 21 different winners in a class that started its sixth season at Daytona in March with two new winners – Gus Rodio and Stefano Mesa. The all-time leader in class victories is Kaleb De Keyrel with 10 wins. For 2023, De Keyrel moves to the Stock 1000 class on an Orange Cat Racing BMW M 1000 RR.
For the full 2023 MotoAmerica schedule and to purchase tickets for MotoAmerica events, click HERE
For information on how to watch the MotoAmerica series, click HERE