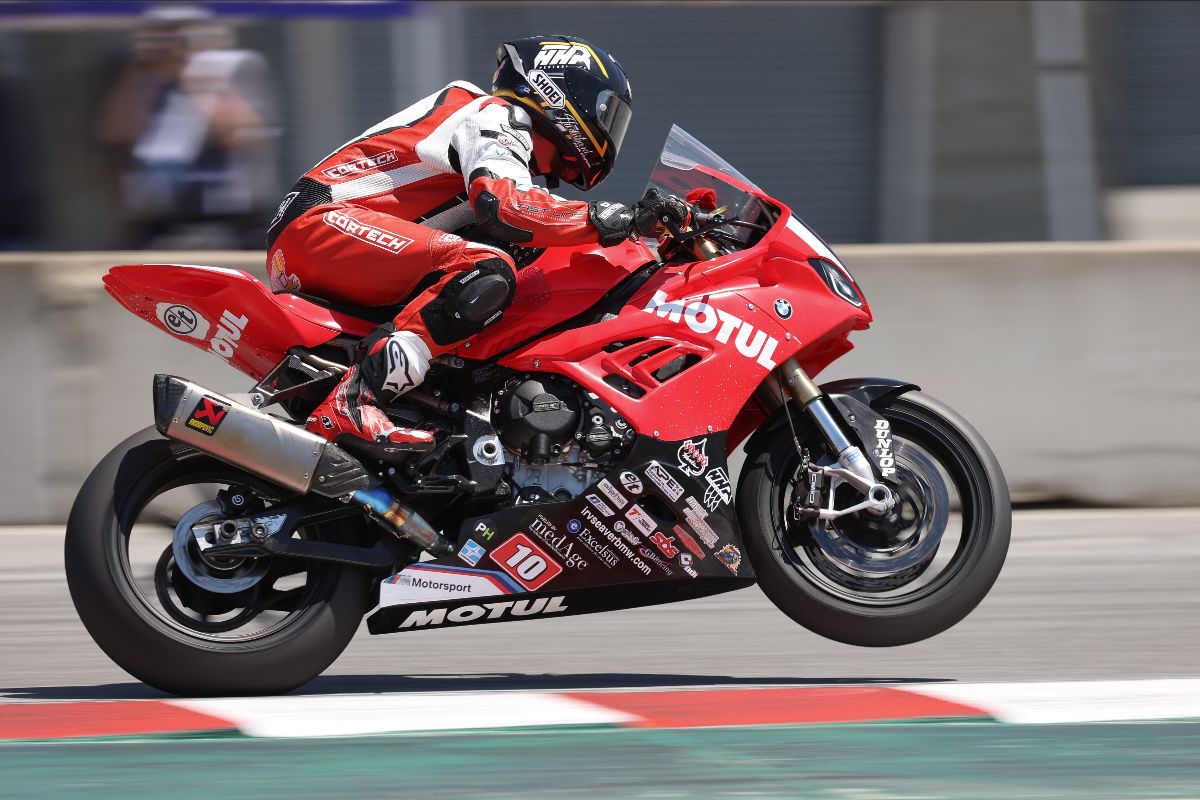 The following is from Travis Wyman Racing…
Travis Wyman struggled through practice and qualifying on Friday and Saturday at the MotoAmerica Superbike Speedfest at Monterey, but the Motul Travis Wyman Racing BMW rider had perhaps the best day of his pro racing career Sunday. The Las Vegas resident scored a hard-earned win in Sunday's Stock 1000 race, was the top-finishing Superbike Cup rider later Sunday and bolstered his chances of securing two MotoAmerica titles.

Wyman increased his lead in the Superbike Cup title chase to 17 points and moved up from fourth to third in the Stock 1000 points while sporting a Motul-themed livery on his 2020 BMW S 1000 RR. He also advanced from ninth to eighth in the overall Superbike Class standings.

Like at the previous round, Wyman and the other top five riders in the Superbike Cup points practiced and qualified with the Superbike Class. Wyman finished Friday practice and both qualifying sessions in 13th, which was enough to secure sixth on the Stock 1000 starting grid and 16th on the Superbike Race 1 grid.

Wyman's only race on Saturday was the Superbike contest. After failing to advance from 16th position before the race was red-flagged on Lap 3, Wyman got a good start and gradually worked his way to a 10th-place finish. He also nabbed the second-best finish among the Superbike Cup riders and missed out on top Superbike Cup honors by 0.284 seconds. Wyman's better pace on Saturday was thanks to his crew chief, Steve Weir, giving Wyman a completely different suspension and geometry setup for the Superbike race.

The team didn't make any changes to its BMW's setup for Sunday's races, and Wyman's new-found comfort piloting his BMW helped him come out on top in the weekend's only Stock 1000 race. Starting from sixth, Wyman had a big wheelie off the line and was running in eighth at the end of Lap 1. The BMW rider began working his way up the running order on Lap 6 of the 14-lap race. By Lap 8, Wyman has moved up to third place, and he made his move to second place on Lap 11. The only lap Wyman led was the last lap, where he got by the race leader as they exited the last corner of the last lap and took the victory by a mere 0.032 seconds.

About two hours after finishing fourth in his second race as a factory Harley-Davidson rider in the third and final King of the Baggers race of 2021, Wyman found more success in the Sunday Superbike race. Thanks to his top-10 finish in Saturday's Superbike race, Wyman started the Sunday Superbike contest 10th on the grid. Wyman fell back to 12th on the opening lap but worked his way past three other Superbike Cup riders in the remaining 19 laps to claim a ninth-place finish. He was the highest-finishing Superbike Cup rider — his third time achieving that feat this year. It also was his sixth top-10 Superbike finish of the season.

Next up on the Travis Wyman Racing BMW calendar is MotoAmerica's first visit to Brainerd International Raceway in Brainerd, Minn., on July 30-Aug. 1.

Travis Wyman / No. 10
"This was an incredible weekend for my team and my road racing career. My goal for this weekend was to get on the podium in Stock 1000 and try to get two good finishes in Superbike. We started the weekend off the pace, but Steve [Weir] turned our weekend around by going with a radically different setup after qualifying on Saturday. It was a total gamble, but it paid off big when we needed it most. To get such a dramatic and hard-fought win in the Stock 1000 race was exhilarating, especially at a track that I'd never finished on the podium at before. This was one of the best weekends of my pro racing career, and I'm so happy to have accomplished so much at my title sponsor's home race. It was great sporting Motul's logo on the top step of a MotoAmerica podium, and I can't thank them enough for increasing their support for my team this weekend."
---
The following is from Suzuki…
Suzuki Motor USA, LLC and Team Hammer added to its rapidly expanding 2021 trophy collection with two more victories, four podiums, and a pole position as the MotoAmerica AMA/FIM North American Road Racing Championship visited the iconic WeatherTech Raceway Laguna Seca in Monterey, California this weekend.
Sean Dylan Kelly was again at the front of the charge, assembling a second consecutive perfect weekend. Despite twice being confronted with a relentless challenge from his rivals, the 19-year-old pulled off a pair of tight victories aboard his M4 ECSTAR Suzuki GSX-R600 to up his MotoAmerica Supersport title advantage to an imposing 31 points.
For 'SDK,' the dominating weekend represented his second double win in a row, both in 2021 and at Laguna Seca. On Saturday, Kelly managed a fast pace despite closing off the traditional passing zones to any potential maneuvers. On Sunday, his rivals were even more aggressive, but the Floridian survived early attacks to consolidate the lead in the middle portions of the race and hold it until the checkered flag.
Reflecting on his seventh triumph of the season, Kelly said, "It was another hard race at the front, just like yesterday. It was a really close gap, and I just tried to be consistent. It came down to the end again and they were right on me. It was another one of those races where I had to play it smart and defend, and I think I played it exactly the right way.
"I'm really stoked. Thank you to my whole M4 ECSTAR Suzuki team — this is amazing."
Meanwhile, M4 ECSTAR Suzuki MotoAmerica Superbike ace Cameron Petersen put together another outstanding weekend himself. The South African further established himself a genuine podium threat in the premier class, adding his fourth top three in five races on Saturday. After a red flag, he jumped into third place and held it.
Petersen backed it up with a fourth-place ride on Sunday.
"Hats off to the M4 ECSTAR Suzuki team," Petersen said following his Saturday third. "They keep working hard and keep giving me the best possible bike every weekend. That's allowing me to show that I can do my thing and get on the podium in the Superbike class."
Stock 1000 championship contender Jake Lewis added a fourth podium of the weekend for the larger effort. The lanky Kentuckian dipped as low as eighth at mid-distance, but put in a spirited charge aboard his Team Hammer-built Altus Motorsports Suzuki GSX-R1000 in the late stages of the race to work his way into winning contention by the final lap.
Lewis ultimately finished third, just 0.286 seconds behind the win. As a result, he is now just 12 points off the title lead.
Lewis said, "It was my and the team's decision to run the harder rear tire and I think we were the only one in the top eight running it. I just couldn't get going in the beginning. They were smoking me. I just did the best I could, charged the whole race, and made some good passes. I wish I would have rewarded the Altus Motorsports Suzuki team with a win, but third is not bad. It was a good points weekend for us."
Superbike race winner Bobby Fong gritted out sixth- and seventh-place rides on his M4 ECSTAR Suzuki GSX-R1000R.
Meanwhile, rising star Sam Lochoff still ranks third in the MotoAmerica Supersport standings despite a tough weekend in California that saw him finish seventh on Saturday and crash from contention on Sunday.
M4 ECSTAR Suzuki's Wyatt Farris earned his sixth top-ten Stock 1000 result of the year with a run to tenth.
Team Hammer will next return to the Midwest with a long-awaited return to Brainerd International Raceway in Brainerd, Minnesota, on July 30-August 1.
---
The following is from Pure Attitude Racing…
The latest round of the 2021 MotoAmerica series took place at the iconic Laguna Seca circuit, home of the famous Corkscrew, this passed weekend, and Pure Attitude Racing was once again in the mix throughout, thanks to their competing riders Nate Minster, Austin Miller, and Liam MacDonald.
With tens of thousands packing the venue, the team, who were once again on track in both Twins Cup and Supersport, also took part in the first ever Party at The Podium on Saturday evening, entering the #MotoAmericanIdol contest as a group – with hilarious results.
Liam MacDonald: "I started ninth and finished ninth. It took me a while in the race to find my rhythm and that cost me time in the beginning. I don't know why but I felt like I wasn't hitting my marks and that stopped me from potentially finishing higher, but that's racing, and it can happen sometime. Able to set my fastest laps in the last laps which the team and I were happy with, we found a really good direction with the bike. It was a bit of a lonely race, but it was another top ten which is really positive. I am looking forward to Brainerd in a few weeks which is a circuit not many people have been to. A big thanks to the team – see you at the next one."
Austin Miller: "It was another great opening race for me. I made a good start and as everyone went to the inside I went around the outside. I rode my own race and was able to stick with the group. This meant that I was in a position to pick them off one by one and I took P12 in a photo finish on the last lap to take my second-best result in MotoAmerica Supersport. Race two wasn't the result I wanted but I was able to drop lap times and went faster. I lost grip towards the end of the race but overall, I am happy with my performance this weekend and am looking forward to Brainerd."
Nate Minster: "Race 1 was a struggle, but I managed to dig deep and take the last point. Race two was a pleasing step forward. We found the issue that had been affecting us all weekend and I was able to improve my lap time quite a lot. I made a good start but faded a bit towards the end. I'm happy though as we now have the right direction, and the next race is my home race so see you all there."
---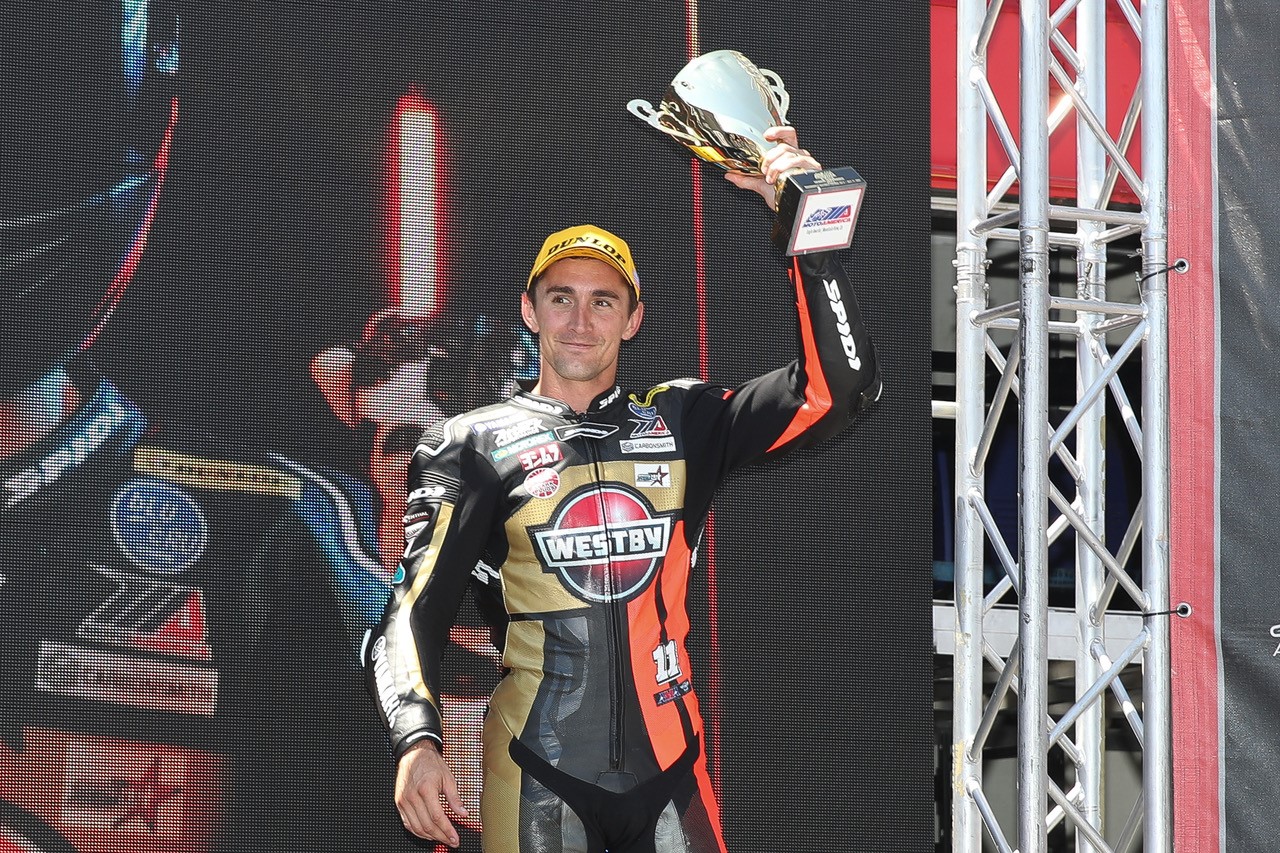 The following is from Westby Racing…
After his fourth-place finish in Saturday's Superbike race one at WeatherTech Raceway Laguna Seca, Westby Racing's Mathew Scholtz returned to the podium in Sunday's race two. For Mathew, it was his sixth podium finish of the season, and he maintained second in the championship point standings.
After making a couple of changes to the bike's setup overnight and testing the new settings in the Sunday morning warmup session, Mathew got off to a good start in the afternoon's race. In the opening laps, he challenged Jake Gagne and Loris Baz for the lead in a dramatic skirmish that occurred while the three riders were going through Laguna Seca's iconic Corkscrew. Ultimately, Mathew settled into third and tenaciously hung onto his podium position all the way to the checkered flag.
Reflecting on his weekend, Mathew said, "Yesterday was good. Finishing just 4.8 seconds behind Jake (Gagne) is the closest we've been to him. Last night, we made some changes, and it definitely helped today. The past two rounds have been difficult, so we came here and just reset everything, worked our way up slowly Friday, Saturday, Sunday, and just got quicker and quicker. I think I hung onto Baz and Jake for the first 12 (of 20) laps or something like that. I didn't think it would be possible running low to mid 24's for most of the race. I got a nice surprise for myself there. Just a huge thank you to the Westby Racing team. These have been difficult times, but we persevered and managed to work our way back up to the podium here. We definitely have our work cut out for us to catch (Gagne and Baz). I feel like the bike is now going where I feel comfortable riding it. I've had to change how I go into corners, slightly. I feel like if we carry on working in the direction that we are now, we should be able to hopefully catch them soon."
Westby Racing's Junior Cup rider Jack Roach had a solid weekend aboard his Yamaha YZF-R3. He followed up his sixth-place finish in Saturday's race one with another sixth-place finish in Sunday's race two. In both races, Jack was in a group of riders who were competing for the podium. Also, on the strength of his two sixth-place results over the weekend, he moved up to 11th in the championship point standings.
Next up for Westby Racing is round seven of the MotoAmerica Championship, which will take place at Brainerd International Raceway in Brainerd, Minnesota, on July 30 through August 1.
---
The following is from Altus Motorsports…
The weather at Laguna Seca in Monterey, California, was a welcome change after the heat of round four. The combination of the perfect temperatures and big crowds made for an exciting race atmosphere at the iconic race venue.
HONOS Superbike & Stock 1000:
Round five was a single race event for the Stock 1000 class, and the top five competitors once again practiced and qualified with the Superbikes. Unfortunately, qualifying did not go as planned as Jake Lewis could only manage a fourth on the starting grid. In the race, Lewis ran a slightly harder tire than the competition and, as a result, he dropped back off the start – as far as eighth place at one point. However, just past half race distance, the tires started to come in and Jake began making moves. With two laps to go, he was part of the three-bike breakaway battling for the win. Unfortunately, the group caught lapped traffic at an inopportune time, which foiled the chance to go for the win, and Lewis had to settle for third.
Lewis also contested the Superbike class and started the Saturday race from 14th. He took ninth and was the top Stock 1000 entry in the Superbike Cup. In Race 2 on Sunday, he started form ninth and finished 12th, fourth Stock 1000 bike.
"We had great pace in the Superbike race on Saturday but in the Stock 1000 race we opted for the harder tire. It was frustrating in the beginning watching the guys starting to get away. Eventually, the tires started to feel good and we got up to third," said Jake Lewis.
Supersport:
Kevin Olmedo qualified with the sixth-fastest Supersport time on his Suzuki GSX-R600. In Race 1 on Saturday, he hung with the front group for the first few laps but, ultimately, he finished fifth. He started the Sunday race from sixth and ran most of the race in fifth but, after catching lapped traffic at an inopportune time on the final lap, he had to settle for sixth.
"We struggled a bit with edge grip but overall, I am happy with the results," said Kevin Olmedo.
Jaret Nassaney had a solid weekend. He started both Supersport races from 14th. In Race 1, he crossed the finish line in 13th. In Race 2, he came out on top of a race-long, three-bike battle for 11th place.
Junior Cup:
Laguna Seca is another new circuit for Hayden Bicknese, but you could not tell from his results. From the very first practice session, Hayden was running top-10 pace. He qualified in ninth position for the two junior cup races, and he finished both in seventh.
"Overall, I'd say this was a good weekend. Not all the results we hoped for, but you take what you can and move on," said team owner George Nassaney.
---
The following is from Robem Engineering…
Robem Engineering rider Kaleb De Keyrel is no stranger to winning at WeatherTech Raceway Laguna Seca, but Saturday marked his first victory at the iconic California track aboard an Aprilia.
It was De Keyrel's third victory in this year's MotoAmerica Twins Cup, and the runner-up in the 2020 Twins Cup was at the head of the second all-Aprilia podium of the 2021 season.
Another Robem Engineering rider, Toby Khamsouk, scored a fifth place, giving the team two top-five finishes in the event's only Twins Cup race. The team's third rider, Hayden Schultz, led the team's qualifying effort but had to settle for a seventh-place finish after suffering a near crash on lap two.
The victory allowed De Keyrel to increase his lead in the Twins Cup points standings. The Minnesotan now holds a 15-point margin over the rest of the field, and Schultz and Khamsouk are now fifth and seventh in the standings, respectively.
The team got a slower-than-usual start to the weekend in its first time campaigning its Aprilia RS 660s on the same 2.2-mile circuit the stars of FIM MotoGP and the Superbike World Championship have raced on in years past. In Friday's practice session, Khamsouk was the fastest of the team's three riders. The Californian ended the session fifth-fastest at his home track, with Schultz finishing the session in sixth and De Keyrel in seventh. The team's pace improved later that day when Khamsouk posted the second-best time of Friday qualifying. De Keyrel ended the session in third — about 0.15 seconds off Khamsouk's pace — and Schultz finished the session in seventh.
Qualifying wrapped up on Saturday morning with Schultz claiming third on the starting grid – rounding out an all-Aprilia front row. De Keyrel and Khamsouk weren't far behind Schultz as they claimed the fifth and sixth spots on the grid, respectively.
When racing got under way Saturday afternoon, De Keyrel got a great start and was in second place as the field made its way through Turn 2 for the first time. Schultz wasn't far behind De Keyrel in fourth place, and Khamsouk finished the opening lap of the 13-lap race in seventh. Schultz briefly ran behind De Keyrel in second before nearly crashing as he entered Turn 2. After running off track, Schultz rejoined the race in eighth place. De Keyrel was part of a race-long battle for the lead with two other riders while Khamsouk was running in the top five by the end of Lap 2. Though he fell out of the lead twice, De Keyrel led the field for most of the race and claimed the win by 0.217 seconds. Khamsouk scored his third top five of the 2021 season, and Schultz salvaged a seventh-place finish.
Next up on the 2021 Twins Cup schedule is MotoAmerica's first event at Brainerd International Raceway in Brainerd, Minnesota, on July 30 through August 1.
Kaleb De Keyrel / No. 51
"Overall, it was an awesome weekend at Laguna Seca. Everyone was really close in terms of lap times in qualifying, and I got bumped down from third to fifth on the last lap of qualifying. I knew that it wouldn't be easy starting a little ways back from where I usually have this year. I made some quick passes almost right away and later made a pass for the lead within the first couple laps. I found a comfortable pace out front and was able to stay calm and hit my marks. My Aprilia RS 660 was working awesome, and I was able to stay focused on being smooth. I got passed a couple times, but I was able to pass right back. I made a bit of a sketchy pass around some lappers on the last lap, but I made it to the end of the race and took the checkered flag. It was an awesome race for me. Coming from fifth to a win was epic."
Hayden Schultz / No. 49
"We made progress all throughout the weekend, and I'm really happy with where we ended this weekend compared with where we started it. I give credit to the entire team for giving me a bike that was capable of winning. The race started out pretty well for me. On Lap 1, I was running in second right behind Kaleb. But, I made an error that pushed me all the way back to eighth place. I tried to fight my way back up the running order, but I had to settle for seventh. I don't think the result showed where we should have been today. We had the pace to be on the podium, and, if I had not made that mistake, I think we would've had our best shot at getting a win this year. You live and learn, and I'll try to use this experience to improve at the next round."
Toby Khamsouk / No. 27
"We learned a lot about our Aprilia RS 660 this weekend that I think will help me run closer to the front. I'm looking forward to the next round at Brainerd, and I think I'll be much closer to the battle for the race lead there."
Robem Engineering's technical partners for 2021 include Aprilia Racing, Piaggio Group Americas, The Center for Plastic Surgery, Velocity Calibrations, Bitubo Suspension, Dunlop, Woodcraft Technologies, Dymag, Vesrah, DNA Filters, Magura USA, Sara Chappell Photos, NGK/NTK, Blud Lubricants, Millennium Technologies and SC-Project.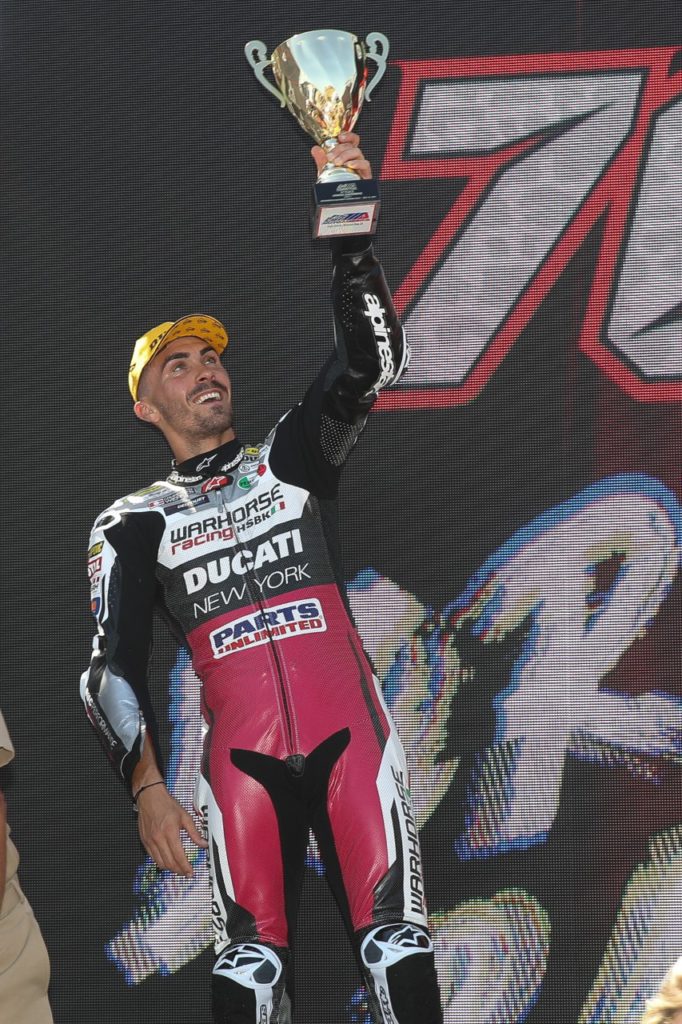 The following is from HSBK Racing…
Following 4-3 finishes at round four of the 2021 MotoAmerica HONOS Superbike Championship in Ridge Motorsports Park, Sheldon, Wash., the Warhorse HSBK Racing Ducati Team and rider Loris Baz arrived at WeatherTech Raceway Laguna Seca in California confident for additional podium finishes.
The reason was simple; the team already had data from the Ducati Panigale V4 R, and Baz had raced at Laguna Seca before— although never on a Ducati with Dunlop tires. The confidence paid off, and the 28-year-old Frenchman rode consistently to take second in both races at round five—the best performance so far this season.
The team wasted no time getting up to speed during Friday's practice and qualifying, and secured second place to start Saturday's race one. During race one, Baz got off to a quick start ahead of a red flag. Although Baz was the only rider on the front two rows using an extra soft front tire and didn't have as good of a launch during the restart, he moved his way to the front and kept the pressure on Yamaha's Jacke Gagne to the checkered flag. Baz would end Saturday in second.
The team made some minor modifications to the VR 4 ahead of Sunday's race. Baz was quick off the line and once again kept the pressure on Gagne throughout race two, even taking the lead after a mistake by Gagne. When Sunday's race ended, Baz crossed the line second for a 2-2 finish at round five of the MotoAmerica Superbike Championship in California.
"It's been a great weekend; the best we've had so far," Baz said. "We've had no real issues all weekend, besides the small fumble on Friday, we've been strong all weekend. I think since Road America, race one, we finally found a bass setup that I like on the bike, so I'm riding better and better. I've really enjoyed riding the V4 R at Laguna Seca. I was able to put pressure on Jake during race one and race two. We put on a great show in front of the many fans around the track. Considering how new this project is, we are getting better and better, so I look forward to the future."
After five of nine rounds, Baz is fifth in the Superbike Championship with 122 points, up another position. The team will now prep for the sixth round July 30 – August 1 at Brainerd International Raceway in Minnesota, a track Baz is familiar with due to testing.
The team is made possible through key partners: North American Warhorse, Parts Unlimited, Ducati New York, Horsepower HD, Competition Werkes, Mount Airy Casino & Resort, New York Safety Track, and Fast by Ferraci.
In addition to the support of their technical sponsors: Akrapovic, Bickle Racing, DID Chain, DNA Air Filters, Drippen Wet, Drive Systems USA, EVOL Technologies, FullSix Carbon, Full Spectrum, Hard Knocks Moto Coffee, Melotti Racing, OGNIBENE S.p.A., RaceSeats, Spider Racing , Samco Sport, Spiegler Performance, Race Technologies, and TechSpec.
The following is from Scott Powersports…
It was a fairy tale weekend for the Scott Powersports crew as Tyler Scott put his KTM RC 390 R on the top step of the podium in both Sportbike Track Gear Junio Cup races. Adding to that success, Tyler broke the track record on Saturday, then broke his own record in race two on Sunday with a blistering 1:36.234.
"This is some rock star type stuff right here" crew member and rider motivator Davey Loikits beamed. "We were setting the pace all weekend, but ended up with two epic battles in both races. We're proud of the results and adding a little to the points lead."
"The whole race was crazy. The front end was chattering at that speed. But my KTM worked great all weekend and it was a great race" Tyler said. "It was especially cool to be able to perform like that in front of Chris Fillmore who helped us with the whole KTM package initially." Fillmore is an accomplished racer, and KTM North America's Road Racing and Flat Track Manager.
As the team works its way back east for the next MotoAmerica round they'll stop off in Illinois for the American Flat Track Amateur Nationals at the DuQuoin Mile on 7/17. "We started out in flat track and Tyler still uses it to train, so it kind of made sense on the way back to stop off and race there" Mike Scott, team owner said. "He's been dreaming of winning the Nicky Hayden Horizon award for years, and we think showing his versatility in multiple forms of racing embodies Nicky's spirit." Tyler will be riding a KTM 450 SX sponsored by Briggs Auto Group for this event.
Round 5 of the MotoAmerica series kicks off on July 31st in Brainerd, Minnesota.
As always, Tyler and the team thank KTM North America, Arai Helmets, Scott Powersports, Bob Robbins, Davey Loikits, Dunlop , Motorex, N2 , Champschool, EvolveGT, Alpinestars, Dale Quarterley, and all the fans for their continued support.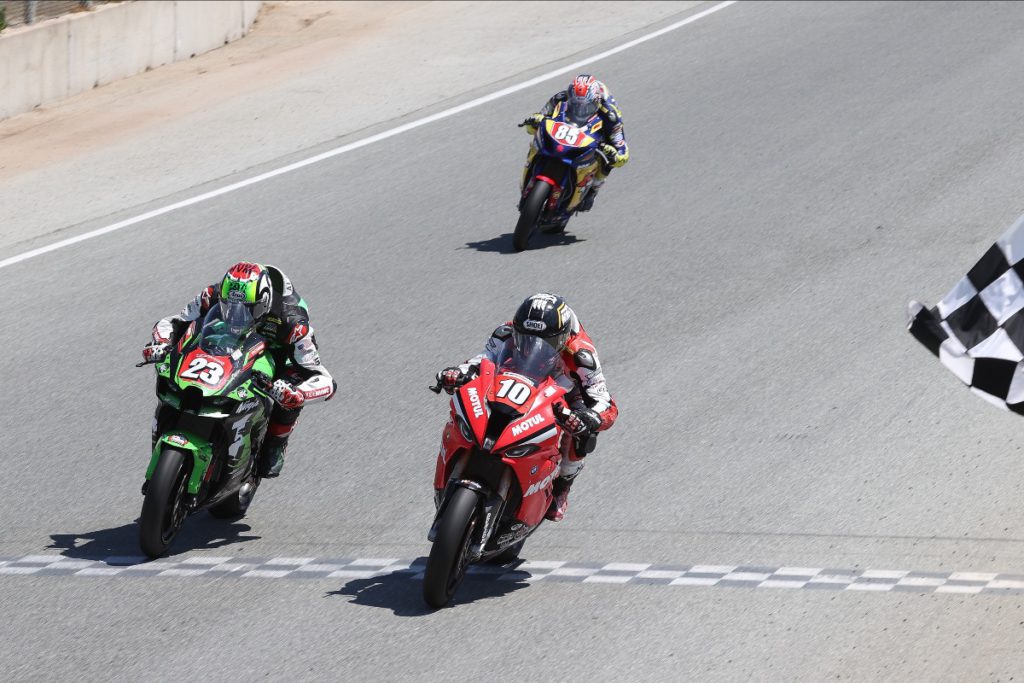 The following is from HONOS HVMC Racing…
During the 5th round of the MotoAmerica season at Weather Tech Laguna Seca Raceway in the Monterey Bay region of California the HONOS HVMC Racing team secured a pair of second place finishes in Supersport and a single second place finish in the sole Stock 1000cc race of the weekend.
Continuing with the momentum of his previous double win Corey immediately set the pace in practice. He was able to follow that up by putting his Graves-spec Kawasaki ZX-10RR in pole position to earn his first of the season. Saturday's Superbike race one proved to be difficult for the #23 and the team as he fell back to 13th during the race due to lack of grip. This led to some set up changes in preparation for Sunday's races.
Starting from the first position for Sundays Stock 1000cc race Corey fell back to 3rd place on the opening lap where he would trade passes throughout the majority of the race. Around 3/4 race distance there was a two rider breakaway with Corey out front but a late race charge from Travis Wyman would see Corey get nipped at the line for the win by just .0032 of a second.
During Superbike race two Corey suffered a low side crash whilst battling for a top ten amongst fellow Superbike Cup competitors. He was able to get up and rejoin the race securing 5 points towards the Superbike Cup championship.
"This weekend has left me with a lot of mixed emotions. We came into it with a lot of momentum and seemed to start off very strong but struggled with grip throughout. Our bike worked great with a new tire and that helped to earn us our first pole position of the year but otherwise we struggled to stay consistent over race distance. We worked hard at it all weekend and literally came up short by the blink of an eye. That's racing and I'm happy to have extended my points lead. Thanks to everyone for the support" Corey added.
Corey's second place finish extends his Stock 1000cc championship lead to 12 points. He also maintains third place in the Superbike Cup points race, 30 behind the leader with 4 rounds remaining.
Corey's personal sponsors include: Arai Helmets, Alpinestars, Sals Pizza & Pasta, Ikoniqa, Four3 Performance Lab, Redshift, Gemini, and Prestige Services Group.
Just a few days prior to the weekend Richie unfortunately injured his foot, ankle, and wrist in a crash while testing. This meant he was quite literally on his back foot going into the weekend though never showing it after leading the first practice session and qualifying just 0.158 behind pole position.
Supersport Race 1 saw Escalante and his Graves-spec ZX-6R off to a strong start applying pressure wherever he could to his championship rival. Despite his injury Richie heroically looked for a way around the leader making a few attempts throughout the 19 lap race. He would come up just short at the line 0.099 behind first place.
During the opening laps of race 2 there was a shuffle of positions with an unsuspecting leader out front for a short time. Eventually Richie and his championship competitor would make a break for it mirroring that of race number 1. What looked like would be an eventual last lap pass never came and Richie ended up again just short of victory at the line. Following the race Richie would be penalized 4 seconds for exceeding track limits still securing him second place.
When asked about his feelings on the weekend Richie commented.. "This was a difficult weekend for me in Laguna Seca. Always tough and harder with a broken bone in my left foot after a crash test on Tuesday. We are clear on where we have to improve with the bike and obviously my health. Now we have some time to rest and try to be 100% fit for the next part of the season. See you in Minnesota. Thanks to all the fans for your great support. I really appreciate it! And thank you team for always being there".
Escalante now trails his championship rival by 31 points as the team heads into the second half of the season. Richies personal sponsors include Fresh & Lean, HJC Helmets, Vircos Leathers, Alpinestars Boots & Gloves, and Hidalgo.
The HONOS HVMC Racing team heads to Brainerd International Raceway for the first time during round 6 of the MotoAmerica Championship July 30-August 1st. You can purchase tickets to the event via MotoAmerica.com or in person at the race track.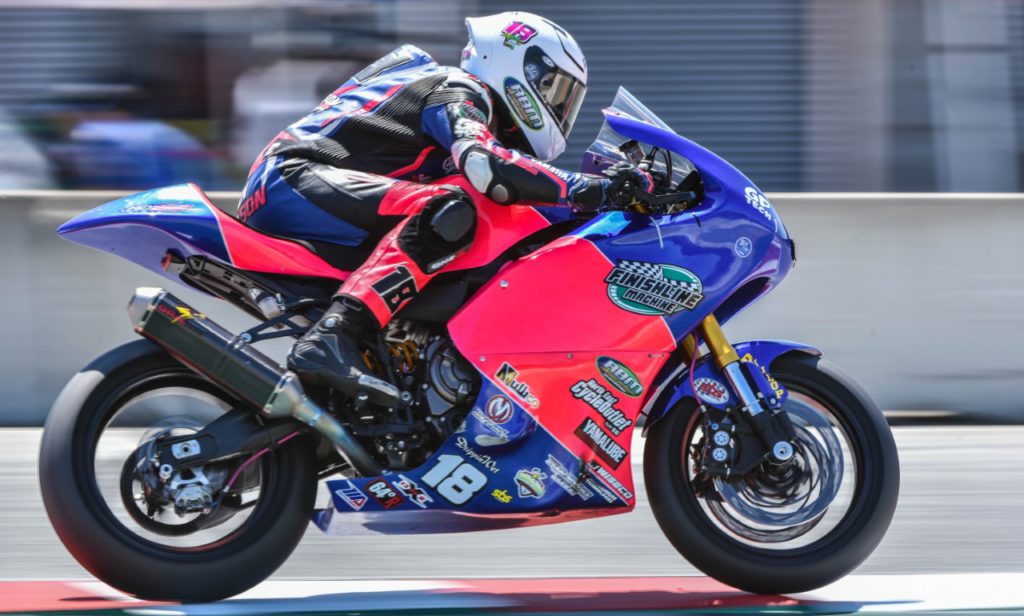 The following is from Jackson Blackmon Racing…
Jackson Blackmon fresh off a pair of Twins Cup wins at The Ridge Motorsports park, continued consistency at Laguna Seca. It was a one race weekend for Twins Cup competitors that resulted in some really close racing all weekend long. The pace was fast and very close as Blackmon qualified 7th, but only 0.55 behind the polesitter. Jackson got a good start and was up with the lead pack of 4 for most of the race. However, Blackmon just didn't have the confidence in the front end with about 4 laps to go to stay with the pack at the end. It was a good result for Blackmon, still sitting 2nd in the championship just 15 points out of the lead.
"I am very happy to continue my consistency at Laguna with a 4th place finish. We struggled a little bit with my confidence in the front end, however my bike was capable of winning I just didn't quite have the pace late in the race to stay with the leaders. We learned from the weekend and looking to improve at Brainerd. Big thanks to Yamaha and all of my supporters for making this year possible. We are right in the championship and gelling with my bike more and more everytime out."
Jackson Blackmon Racing has had a tremendous first half of the season and looking to keep the ball rolling next time out at the new race on the schedule, Brainerd International Raceway. The team has been working hard to get the all new 2022 Yamaha R7 together to race in the Twins Cup. Will Brainerd be the round they bring it out? Stay tuned to find out.
JBR would like to thank their sponsors: Yamaha Motor USA, Finishline Machine, North East Cycles, Yamalube, Trackday Winner, GP Tech, Wiseco Pistons, HJC Helmets, Roaring Toyz, Millennium Technologies, OneX, Web Cams, SBS Brakes, Vortex, and 64 Degrees.