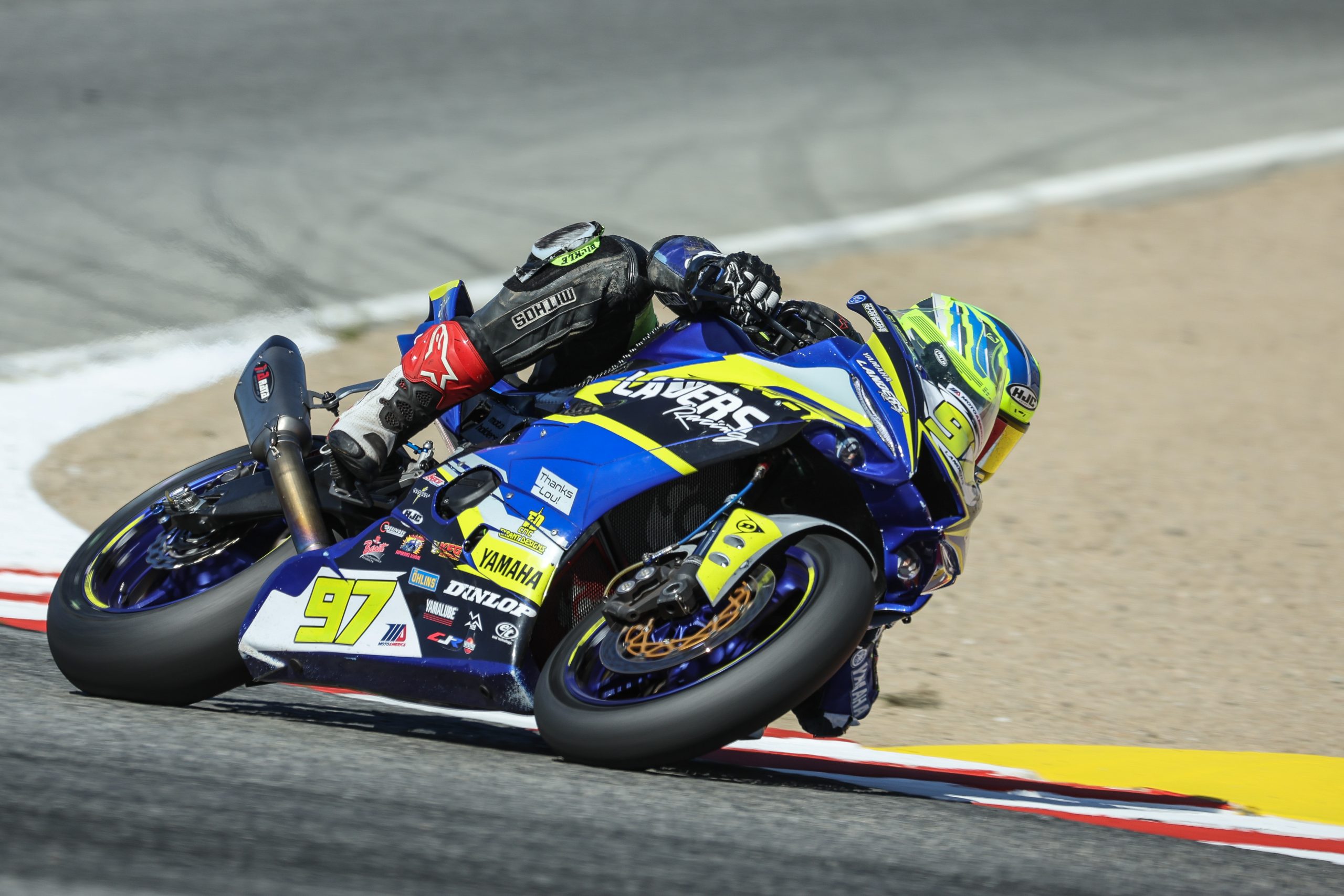 There are 16 riders on the Supersport entry list for round seven of the 2022 MotoAmerica Championship slated for next weekend, July 29 to 31, at Brainerd International Raceway in Brainerd, Minnesota. And, of those 16 riders, six of them will be aboard Yamaha's iconic and venerable Yamaha YZF-R6. The motorcycle, in its various iterations, has essentially defined AMA-sanctioned Supersport road racing in the U.S. over the past 23 years. And, in that time, riders aboard the R6 have successfully done battle against Honda CBR600RRs, Kawasaki ZX-6Rs, and Suzuki GSX-R600s. All 599cc in-line, four-cylinder motorcycles that heretofore populated the middleweight sportbike class. Streetbike customers bought them, road racers competed on them, and the Big Four Japanese manufacturers kept on giving the people what they wanted.
But, as that forlorn old saying goes, nothing lasts forever. Kawasaki's 599cc ZX-6R was replaced by the more street-friendly 636cc ZX-6R and Honda's CBR600RR, while still available as a streetbike in the U.S., is no longer being raced by anyone in MotoAmerica. That left just the Suzuki GSX-R600 and Yamaha YZF-R6 as the only 599cc sportbikes still being raced in MotoAmerica Supersport.
In late 2021, the Fédération Internationale de Motocyclisme (FIM) introduced "Supersport Next Generation." An off-shoot of that was Team Hammer's funding of the development of an electronic throttle kit for the Suzuki GSX-R750, a required modification that enables the three-quarter-liter Suzuki to compete in Supersport under the Next Generation rules. Over the course of the 2022 MotoAmerica Supersport season, more and more teams campaigning Suzuki GSX-R600s obtained the "fly-by-wire" throttle kits, which enabled them to switch to the GSX-R750. And now, there are no more Suzuki GSX-R600s competing in MotoAmerica Supersport.
Alas, the Yamaha YZF-R6 is the sole survivor. It remains as the only 599cc Supersport bike in the field. The street-legal Yamaha YZF-R6 sportbike is no longer sold anywhere in the world, either, so the iconic R6 currently only exists as a non-street-legal track day motorcycle/middleweight racebike.
Don't cry for thee, R6-gentina because in the hands of Dominique Aegerter, the R6 is currently leading the 2022 World Supersport Championship with Lorenzo Baldassarri, also aboard an R6, currently ranked second.
And yet, despite that and also despite the fact that more than a third of the motorcycles that are entered to race in the Supersport class next week at Brainerd are, in fact, Yamaha R6s, there are rumblings by certain R6 riders and teams in the MotoAmerica paddock that the Yamaha has become somewhat of a knife being wielded at a gunfight.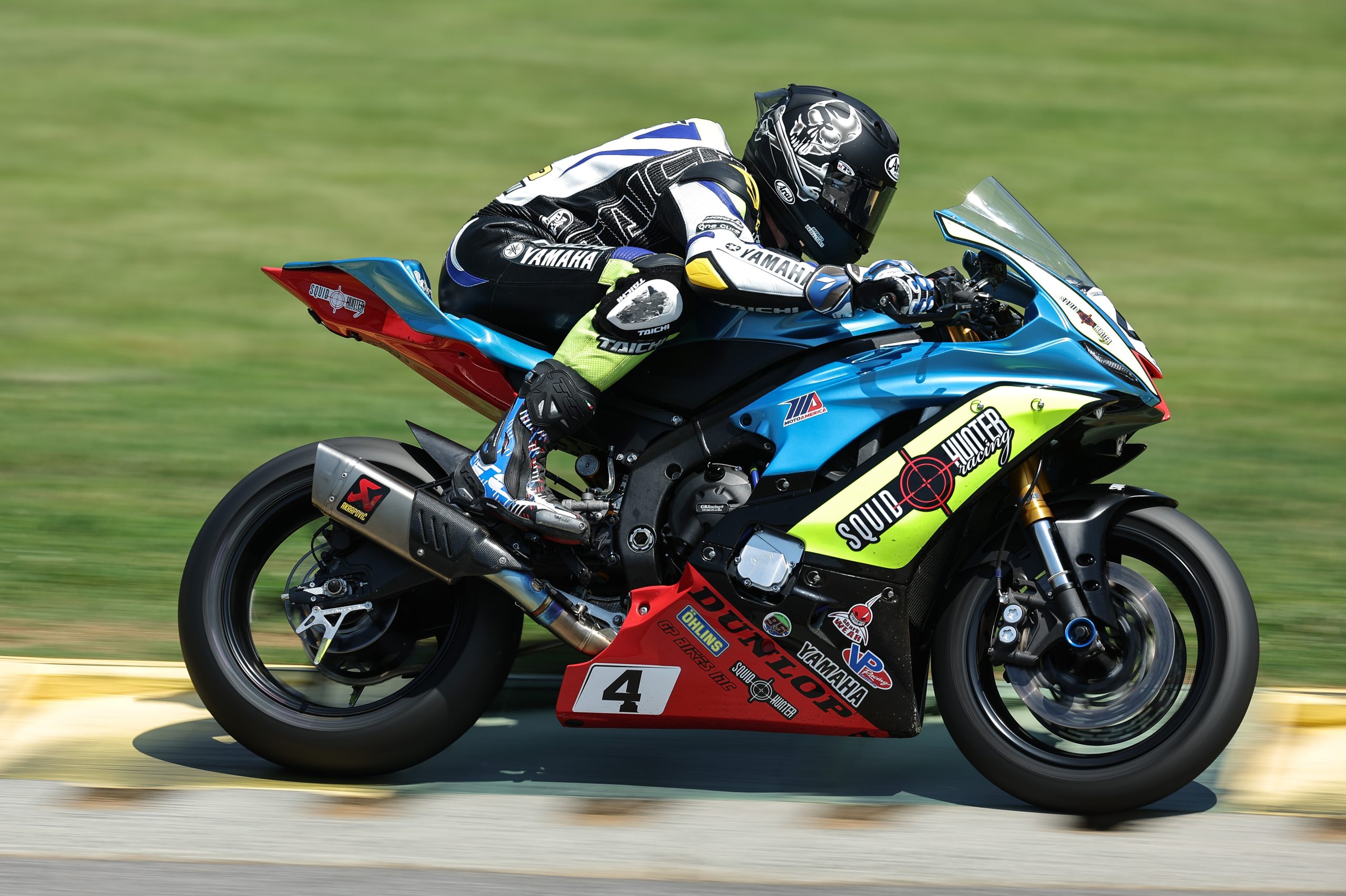 Not so, says Josh Hayes, who won Saturday's race one at VIRginia International Raceway in an epic battle against current Championship leader Josh Herrin aboard his Ducati Panigale V2, Tyler Scott piloting one of the Suzuki GSX-R750s, and Rocco Landers in the saddle of…a Yamaha R6. Gosh darn that 47-year-old upstart Hayes because the hue and cry about the R6's disadvantages were building, and then, he promptly showed that the R6, in its current state of tune, is indeed still a race-winning bike.
Then Landers put his R6 on the pole at Ridge Motorsports Park, finished as runner-up in Saturday's race one and was fourth in Sunday's race two (in which he was beaten out of a podium finish by Kevin Olmedo, who also races an R6).
At WeatherTech Raceway Laguna Seca, Landers qualified fourth behind Benjamin Smith (also campaigning an R6, by the way), and he finished on the podium with two third-place finishes. It was a pretty good weekend for Landers…but he didn't think so. Noticing that Landers, who is only 17 years old, is ranked third in the point standings with six podiums out of the 10 Supersport races thus far and is clearly starting to figure things out in the highly competitive Supersport class, I asked him how he felt about racing the R6 against the higher-displacement Next Generation Ducati and Suzuki 750. The answer he gave me was different than I anticipated. "I just wish we were following the World Supersport rules."
OK, I'll admit it. I thought we were.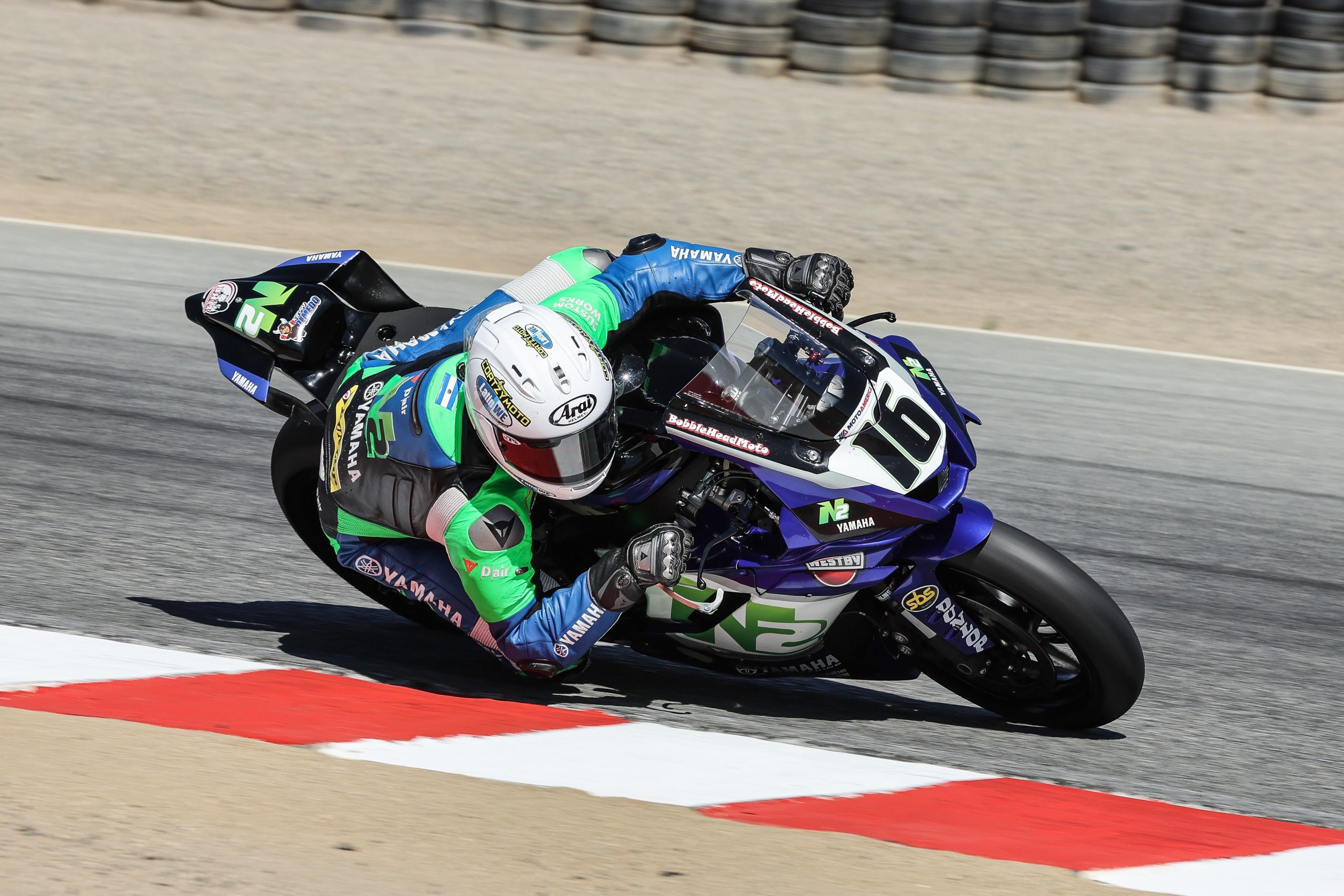 Following the Laguna Seca weekend, I contacted MotoAmerica's Technical Director Tige Daane, and he explained the situation. Daane said that we are following the FIM's "Supersport Next Generation" rules for National Championships, but to Rocco Landers's point, they are slightly different than the World Supersport rules. According to those rules, the R6 is allowed some specific modifications–ported heads, for one–which do increase the R6's performance level in World Supersport. But, and this is a very important "But," World Supersport rules also allow additional modifications to the Ducati Panigale V2, which would give Josh Herrin's bike a higher performance spec, too.
Daane also explained that the Ducati Panigale V2 and Suzuki GSX-R750 have already been balanced a couple of times this year, and he points to both Hayes' win at VIR and Landers' recent results as evidence that the Supersport class is pretty well balanced at this point in the season.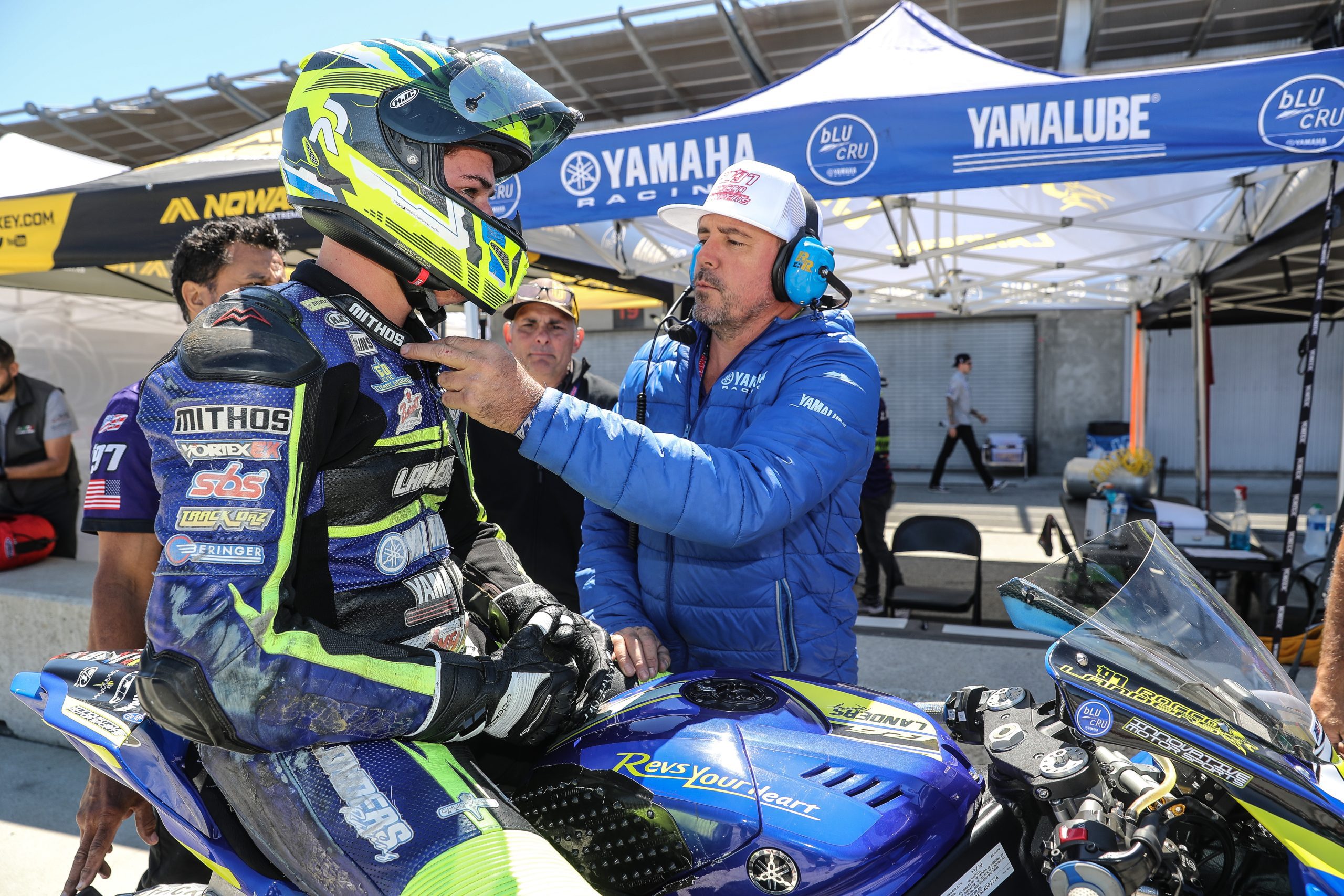 Rocco Landers' crew chief and father Stoney lamented to me about the costs involved in making the R6 competitive. A very pricey supplemental radiator had to be purchased and installed on Rocco's bike to help mitigate the excessive heat generated by their "little engine that could," a 599cc engine that is operating at its maximum to help Rocco keep himself at the pointy end of the Supersport field. And Stoney is constantly looking for ways to lighten the bike because it is not yet at its minimum allowable weight. The lighter the better, obviously.
That's the way things stand for pretty much all the R6 teams and riders competing in MotoAmerica Supersport. Supplemental radiators are almost ubiquitous on the R6s in MotoAmerica, and the struggle to reduce weight is real. Titanium bolts, carbon fiber parts, lighter-weight fairings…whatever it takes to get down to the minimum allowable weight because less weight yields more horsepower, higher performance, lower lap times, and that can be the difference between being in the top five, getting on the podium, and even winning.
One of the reasons cited for not fully adopting the World Supersport rules in MotoAmerica Supersport is cost. A ported cylinder head is an expensive piece of kit. And, as Stoney Landers fully admits, he's already spending a lot of his hard-earned money to maximize the performance of their R6 as it is. He'd have to spend even more on that ported cylinder head. And there is no guarantee that those modifications would get Rocco any closer to the front than Rocco already is.
It's a conundrum, to be sure.
And what is the future of the closed-course-competition/track-day-only Yamaha YZF-R6? Daane wouldn't speculate because he is primarily concerned about the current motorcycles competing in MotoAmerica. But the R6 is already a limited-edition motorcycle, and its future is cloudy at best.
By the way, Josh Hayes will be back. He is planning to race an R6 at New Jersey Motorsports Park and Barber Motorsports Park, which are the final two rounds of the 2022 Supersport Championship. He is also a rider coach for Rocco Landers, and Stoney has said that Hayes's coaching has done wonders for Rocco.
Stoney Landers also told me that bringing a knife to a gunfight is good training for his son in the long run. "As much as the imbalance is present, it has made Rocco thrash that R6 to go fast," Stoney said. "I kind of love it because, when Rocco gets in a class like Stock 1000 and, eventually, Superbike, he will be so fast."
For the full 2022 MotoAmerica schedule and to purchase tickets for MotoAmerica events, click HERE
For information on how to watch the MotoAmerica series, click HERE