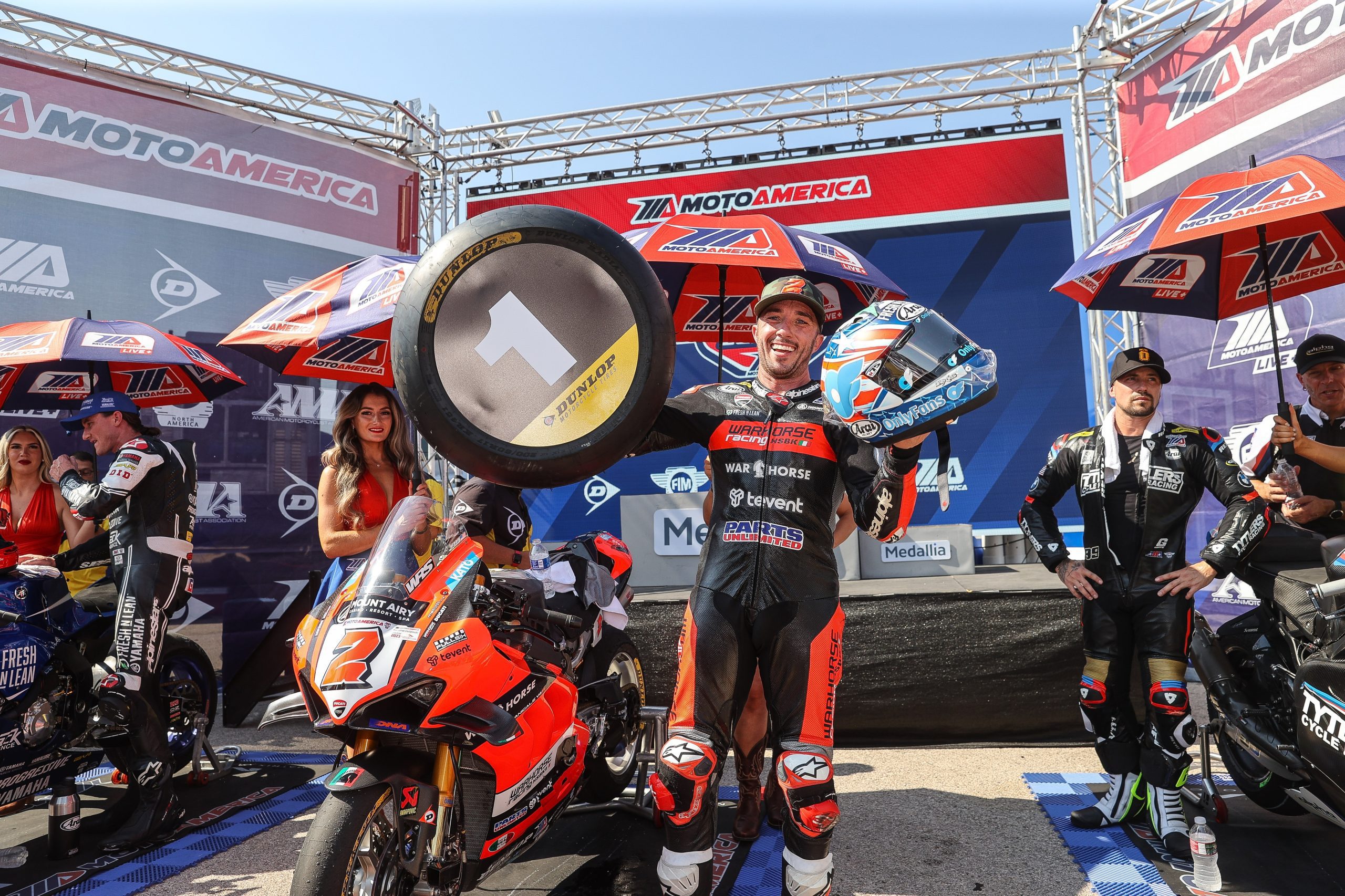 The following is from Ducati…
Josh Herrin and Xavi Forés made it an excellent weekend for the Warhorse HSBK Racing Ducati NYC at Circuit of The Americas in Texas with Forés taking a win, second place and the MotoAmerica Supersport Championship title and Herrin taking his second Superbike win of the season in race two to make up for a mechanical DNF in race one.

Herrin's race two performance was fearsome, leading from the green light and holding 2023 MotoAmerica Superbike Champion, Jake Gagne, at bay across the 10 lap encounter. Herrin and the Warhorse HSBK Racing Ducati NYC Panigale V4 R were in perfect sync on Sunday and his result limits the damage in the championship to give him a 28 point gap over third placed PJ Jacobsen heading into the final round at New Jersey Motorsports Park on the weekend of September 22-24.

For Forés, the Spanish Bull made good on his promise to win the 2023 MotoAmerica Supersport Championship as a rookie with victory in race one over Suzuki's Tyler Scott. The young Scott reversed the tables in race two, with Forés coming home second but more than happy with his performance in front of his young family who were in attendance from Spain.

Forés can lay claim to not just the 2023 title but also the most number of wins in a single season in the history of the MotoAmerica Supersport Championship with nine victories and counting with one round to go.

Josh Herrin (Warhorse HSBK Racing Ducati NYC– #2)
"I can't thank the Ducati USA guys and my team enough for believing in me, for taking a chance on me last year to win the Supersport title and then to come back to Superbike. I said before we came to CoTA that if we have a track we've had time on this bike before we arrive, we'll be right there and that was the case this weekend. Thanks to everyone—my family, my team, everyone involved—for giving me this opportunity."

Xavi Forés (Warhorse HSBK Racing Ducati NYC– #12)
"Overall, it was a positive weekend," Forés said. "We got the title in race one, which was the plan, and the rest of the weekend was quite positive. We led most of the sessions and most of the race laps, but today I was struggling on the straight with the horsepower of the other bikes. I really didn't like that, but it's something we have to deal with. I accept it, because this makes my riding better.
"Once again, thank you so much to all the people within Ducati, everyone within the Warhorse HSBK Racing Ducati NYC team. We have back-to-back titles, which we are so happy about, and now we will try to finish strong in New Jersey."

The final round of the 2023 MotoAmerica Superbike and Supersport Championship will take place at New Jersey Motorsports Park, NJ, on September 22-24, 2023.
---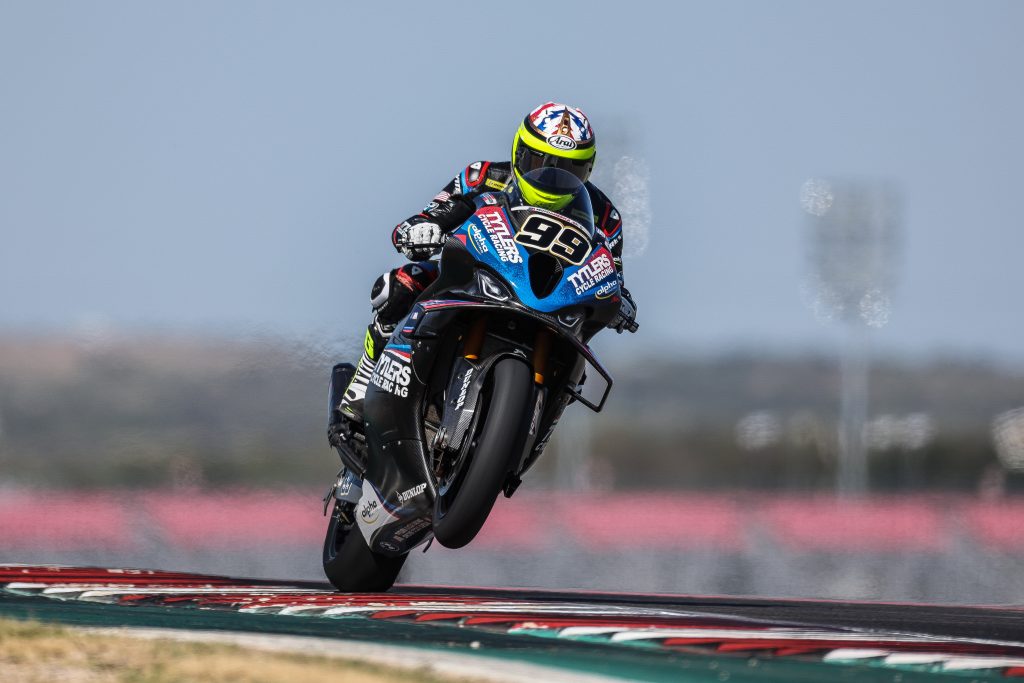 The following is from Tytlers Cycle Racing…
PJ Jacobsen took his seventh podium finish of the season at COTA last weekend, to consolidate third position in the overall MotoAmerica Superbike standings with just one round and two races remaining.

Extreme weather conditions meant difficult conditions for both rider and team, but as ever the Tytlers Cycle Racing team took it in their stride to ensure another front running weekend for them and the BMW M1000 RR.

Jacobsen, who took a hard fought fourth on Saturday was once again joined on track by Corey Alexander who continued to show pace and Superbike newbie Stefano Mesa, who was making his debut in Superbike with the team that he had been competing with in Supersport all season up to this point.

Saturday's opening race, which was restarted and run over a reduced distance of twelve laps after an on-track incident, saw the trio finish inside the top ten after PJ, Corey and Stefano had qualified fourth, eighth and tenth respectively. PJ was fourth across the line with Corey sixth and Stefano ninth.

Sunday saw another disrupted race due to on track incidents but when the race eventually got under way over a reduced distance of ten laps the Tytlers Cycle Racing trio were once again right in the mix. A solid third for PJ was reward for his continued hard work both on and off track whilst a little further back Stefano and Corey crossed the line almost together, the pair separated by just over half a second, with Stefano just edging Corey in the closing stages.

The team now move to the New Jersey Motorsports Park where they hope to end the season as they began it – on top of the podium.

Stefano Mesa: "It was a good weekend riding the superbike for the first time at COTA. The whole weekend went well, and the experience was really positive. We made a lot of steps every time we rode which resulted in us going faster every session. I am so stoked about that. Race 1 was very challenging – the hot weather made it a very long twelve laps, but we made it work. It was the first time I had put so many laps together on a superbike and I definitely learned a bunch and was able to go and work with the team a little bit and say what I was feeling with the bike. In the warm up I improved by over a second which gave me a good feeling ahead of Sunday's race. The first start (of race two) I kind of messed up and I stalled the bike, so I was lucky a red flag came out. After the red flag it was a good race for us. I got up front a little bit and made some passes and was able to battle with Ashton (Yates). I've had such an overall positive weekend and am super happy with the progress we made. Hats off to the whole team for welcoming me and giving me positive vibes all weekend. See you all in New Jersey."

PJ Jacobsen: "Race one started off decent but then I started struggling with grip issues half way through the race and just went backwards. It was physically really hard as well so the best we could end up with was P4, which all things considered wasn't the end of the world. It was a crazy second race. The track was very hot and greasy and some of other guys were making mistakes and crashing out. I tried to stay with Josh (Herrin) and Jake (Gagne) to close the gap in front of me, but I just couldn't do it. Again, the grip was going away for me, so it got really difficult, but I was able to finish on the podium. For the championship we are in a good position, and I am looking forward to New Jersey and to finishing the season in style!"

Corey Alexander: "We had another trying weekend with technical difficulties and limited track time. We took some positive results with a sixth and eighth, but I know we didn't show our true potential this weekend. I'm excited to wrap up the year on a high note at my home track in two weeks' time. I want to thank all my crew for their hard work in very hot, it was a tough weekend for them especially. See you at NJMP."
---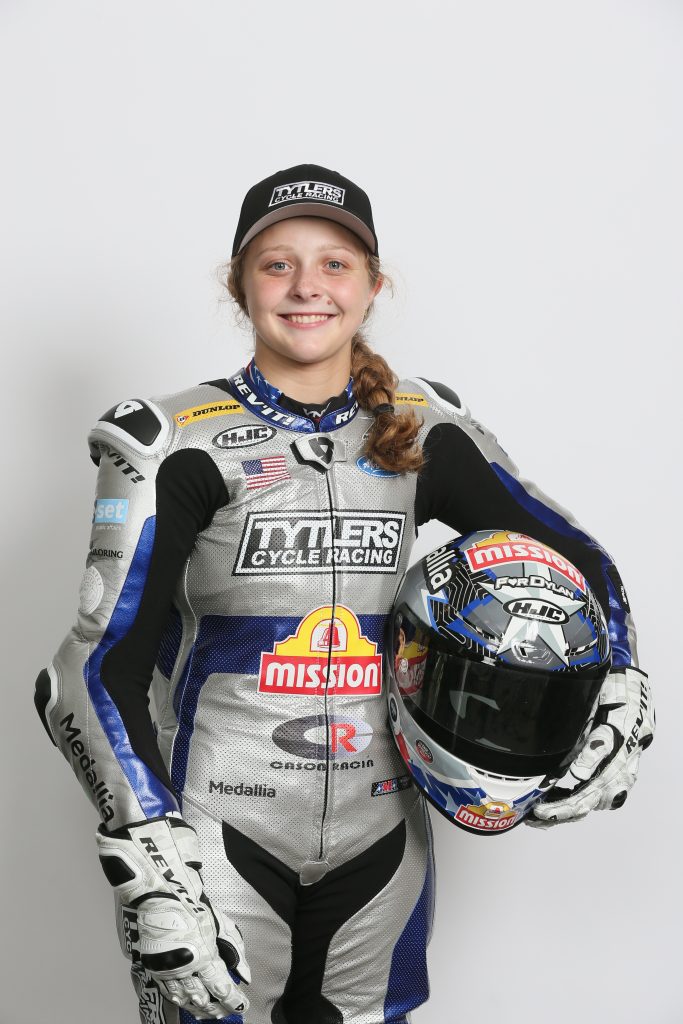 The following is from Tytlers Cycle Racing…
Cool, calm, and collected at COTA is how we can describe Kayla Yaakov's debut Supersport weekend with us. Successful and impressive are just two words we could use as the Junior Cup race winner and Twins Cup podium finisher raced to a double points scoring finish in the weekend's two races, the penultimate round of the MotoAmerica season.

Steady progress on Friday led to a more then respectable final qualifying session that saw the #19 Tytlers Cycle Racing Kawasaki rider line up sixteenth after she improved her lap time overnight by 1.4s.

Fourteenth in the red flagged opening race on Saturday, Kayla shone on Sunday crossing the line tenth, narrowly missing out on eighth in a shortened six lap sprint.

Looking ahead to the season finale, Tytlers Cycle Racing is exciting to see how Kayla will fair at a circuit she knows – New Jersey Motorsports Park in a little over a week!

Michael Godin – Crew Chief for the Tytlers Cycle Racing Supersport Program: "We had a great first weekend working with Kayla. We knew that a new bike and track was going to be a challenge. I was very impressed with her race knowledge and feedback. We made continuous changes all weekend getting her more comfortable and it paid off with a top-ten finish and personal best lap time on the last lap chasing for ninth place in race two on Sunday. The team and I are really looking forward to racing at New Jersey, a track she knows well."

Kayla Yaakov: "I knew riding this brand-new bike for me this weekend would be a challenge, but the team did a great job of trying to get me comfortable. We improved each session and, in the races, so we can only go further forward from here. We made some big changes for the first race on Saturday, which ultimately helped us in some spots, and hurt us in others. All things considered; I was super happy to be in the battle for the top ten in my first supersport race. After making some great improvements for Race 2, I was able to get into the top 10, which was my original goal for the weekend). We had the pace for a better placing, but unfortunately, I lost some ground early on due to fighting with another rider. Either way, I am super pleased with the progress myself and the team made all weekend. It's now full focus on New Jersey. I'm ready to keep learning and having fun on the ZX-6R."
---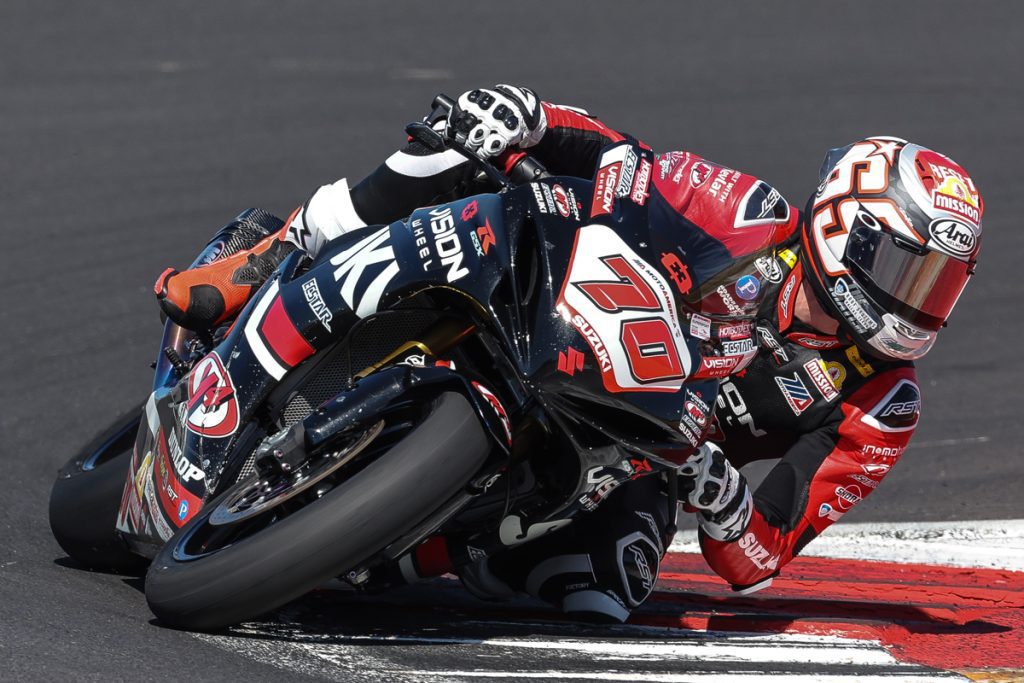 The following is from Suzuki…
Vision Wheel M4 ECSTAR Suzuki's Tyler Scott registered another impressive victory in his young MotoAmerica career on Sunday, following an intense final-lap showdown. After a red flag concluded Saturday's Supersport race early, Scott made the most of his white-flag lap in Sunday's rematch to earn a hard-fought win

Following an early-race stoppage that set the stage for a shortened six-lap sprint race, Scott and a rival proceeded to trade first position back and forth. That led to a spectacular last-lap shootout that saw the two engage in a series of braking duels, side-by-side cornering, and escalating tests of courage. Scott held firm with an inspired effort to snare his third win and tenth podium of his '23 campaign aboard the next-generation Suzuki GSX-R750.

"It was an amazing race," Scott said. "I can't give enough thanks to the whole Vision Wheel M4 ECSTAR Suzuki team. The bike was awesome this weekend, and the race was super exciting. That is definitely one of the most fun races I've ever had, and it's even better when you end up on top of the box."
Even after stunning the paddock with a top-five MotoAmerica debut aboard the Vision Wheel M4 ECSTAR Suzuki GSX-R750 on Saturday, FIM JuniorGP regular Torin Collins found a way to top himself on Sunday. The up-and-coming Collins battled it out to the stripe with some of the most proven riders the MotoAmerica Supersport category offers and ended up on top of the three-rider fight for the final spot on the podium.

Collins said, "The Vision Wheel M4 ECSTAR Suzuki team put in so much hard work for me this weekend; I wouldn't have been able to do this without them. The race was difficult. I knew it would be hard with riders of that caliber on my tail the whole race and it was."
Unfortunately, Teagg Hobbs' ambitions to push teammate Scott for victory ended early on Sunday. After coming home with a top-three finish the day before, Hobbs suffered a huge highside crash while running third and chasing the leaders in the opening stages of the race. Despite a red flag, Hobbs' machine was too heavily damaged to return to the fray for the restart.

"I started well and at the beginning of Lap 2, I was making a push to get back up to the two guys in front of me," Hobbs said. "I felt like I gained a couple of tenths, then got thrown off in the righthander. It's disappointing, and I'm a little sore but also a little lucky. I'm really looking forward to getting another shot in New Jersey at a track I know well." Despite Hobbs' setback, the Suzuki GSX-Rs continued to be the bike of choice for most of the top ten finishers in Supersport in Texas.
Vision Wheel M4 ECSTAR Suzuki Superbike pilot Brandon Paasch strongly rebounded from his Saturday DNF. Paasch put in a consistent and measured ride aboard his GSX-R1000R Superbike to secure his third top-five of the year, despite running just a partial season with the team. Paasch's fifth place also marked his eighth top ten in ten attempts with the team.

Paasch said, "It went much better for us today. I think we turned it around and got back up in the top five where we need to be. The bike setup felt better, and I was more comfortable. This was going to be a tough track for me because I don't have many laps here, but now we go to New Jersey, which is pretty much my home track. I feel we are making good progress and strong improvements."
After scoring his first Superbike podium on Saturday, Richie Escalante set his sights on a career-first premier-class victory on Sunday. Escalante was very much in contention to attain the lofty goal too, piloting his Vision Wheel M4 ECSTAR Suzuki GSX-R1000R in a close third before suffering a lowside crash at full lean on lap 4. Escalante picked his bike back up and soldiered forward to the checkered flag, ultimately coming home in 16th position.

"It was a great weekend for us," Escalante said. "I came in with big expectations because the team had done a great job in giving me a new swingarm and more power. The feeling from the bike was really great. I had more grip, and the bike seemed even calmer when pushing hard. I was trying to be fast and consistent and we finally got on the podium on Saturday. On Sunday, we improved the bike even more in the warm-up. I was in the top three during the race and felt I had the speed to win, but I made a mistake and lost the front. That is part of racing. We are closer to the front than ever and I thank the team, our sponsors, and my family for helping me get there."

The 2023 MotoAmerica AMA/FIM North American Road Racing Championship season will conclude on September 22-24 at New Jersey Motorsports Park, in Millville, New Jersey.
---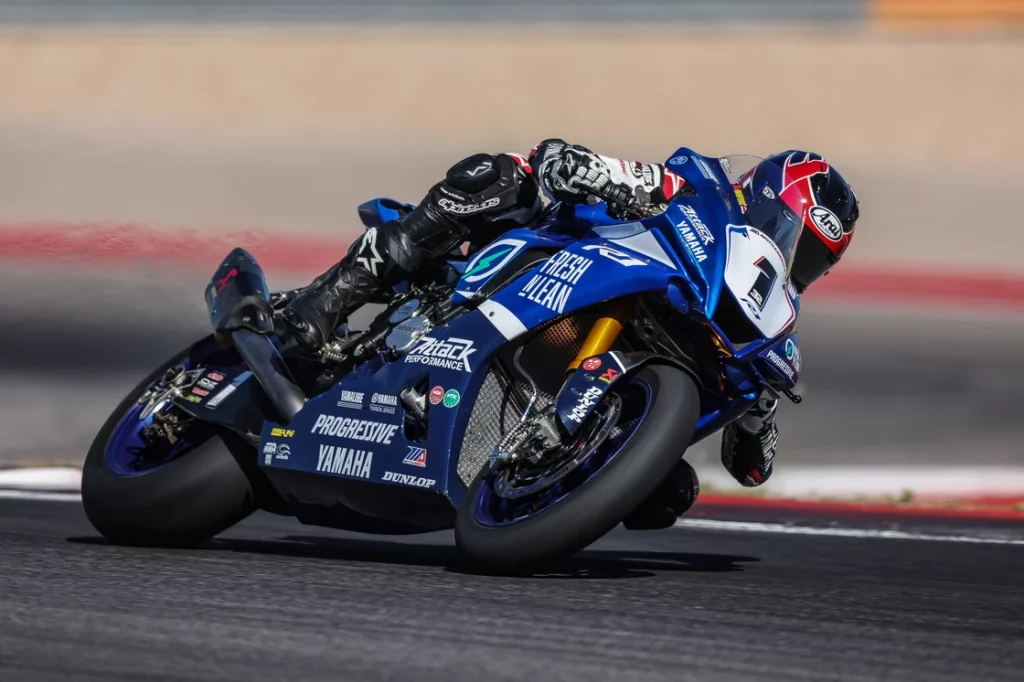 The following is from Yamaha…
Fresh N Lean Progressive Yamaha Racing's Jake Gagne took home a runner-up finish in today's restarted MotoAmerica Superbike Race 2 at the Circuit of The Americas. Unfortunately, JD Beach's second race of the weekend as a fill-in rider ended early with a crash.
On the heels of his 10th win of the season in yesterday's Race 1 at the Grand Prix track in Austin, Texas, Gagne got another great start in the runner-up spot. The race was red-flagged, calling for a complete restart and a shortened 10-lap race. Once again, the three-time MotoAmerica Superbike Champion slotted into second and was battling up front. He kept the leader in sight but ultimately rode his own race in the greasy track conditions, crossing the line in second and securing his 17th-podium finish this season in 18 tries.
Beach was looking for another top result after returning to the podium for the first time yesterday since his departure from full-time Superbike racing in 2019. He got a good start into third behind Gagne but crashed early on the opening lap in the challenging conditions. The race was red-flagged with oil on the track from another rider, and there was a complete restart. Although the team quickly repaired the damage to the bike from his crash, Beach was just shy of making the sighting lap and had to restart from the back of the grid. Undeterred, the dirt track/road racer got a great start and made his way to sixth, but unfortunately he came together with another rider at the end of the opening lap and did not finish the race
The Fresh N Lean Progressive Yamaha Racing team heads to the New Jersey Motorsports Park in two weeks' time for the MotoAmerica season finale in Millville, New Jersey, on September 22-24.
Richard Stanboli – Fresh N Lean Progressive Yamaha Racing Team Manager
"Today did not go quite as planned. Jake rode a good race but was struggling a bit in Race 2, which kept him from fighting for the win. JD had a great start but unfortunately fell on the opening lap and again after the restart. On the bright side, he was very competitive for the limited time he has been on our R1. We will regroup and be ready to put on a good show for our fans at NJMP.
Jake Gagne – Fresh N Lean Progressive Yamaha Racing
"It was a tougher race for me today. I struggled to keep pace with the leader and brought it home on the podium. Overall, it was a great weekend in some intense heat. We've got a little break here and then will be back at it in New Jersey looking for some more wins."
JD Beach – Fresh N Lean Progressive Yamaha Racing
"Race 2 just wasn't a great race for me. There's not much to say. I made too many mistakes, and they didn't only cost me but also Matty (Scholtz). I feel bad for letting the Attack team down and also messing up the Westby team's race. I want to put today behind me and look forward to NJMP."
---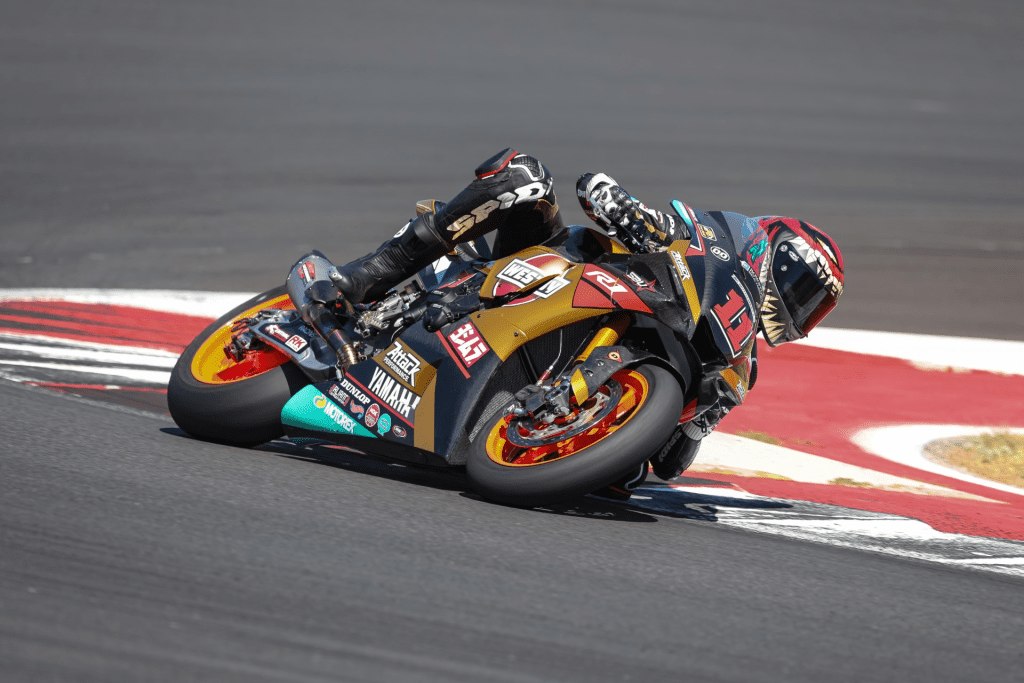 The following is from Westby Racing…
Coming into round eight of the 2023 MotoAmerica Superbike Championship, Westby Racing had high hopes for another stellar weekend at Circuit of The Americas (COTA). With two runner-up results last year at COTA, Mathew Scholtz and the team were brimming with anticipation of another podium-producing weekend.
Saturday's fifth-place result was a disappointment for Mathew and the team, but they went to work on Saturday night with a solid plan to improve in Sunday's race two. Well, sometimes, the best-laid plans can be thwarted by unexpected circumstances. Such was the case when another rider crashed, and his sliding bike took Mathew out of Sunday's Superbike race two.
"Getting fifth in Saturday's race wasn't what this team was looking for nor what we expected," Mathew said. "But we made some changes overnight and went into Sunday's race two looking to put the Westby Yamaha on the podium. It didn't quite go to plan, however, because I got hit by another rider's bike, and there was nothing I could do to prevent it. I took a pretty rough tumble from the impact, but I was able to get back on my feet after taking a moment to recover.
"We've got one more round left in the season, and we're as determined as ever to get the results this team and (team owner) Tryg (Westby) deserve. See you in New Jersey."
The Westby Racing team will finish out the 2023 MotoAmerica Superbike season on September 22 through 24 at New Jersey Motorsports Park in Millville, New Jersey.
---
The following is from Altus Motorsports…
The heat in Austin, Texas, for the MotoAmerica race at Circuit of The Americas was almost unbearable. But, in spite of the weather, the team had a good weekend.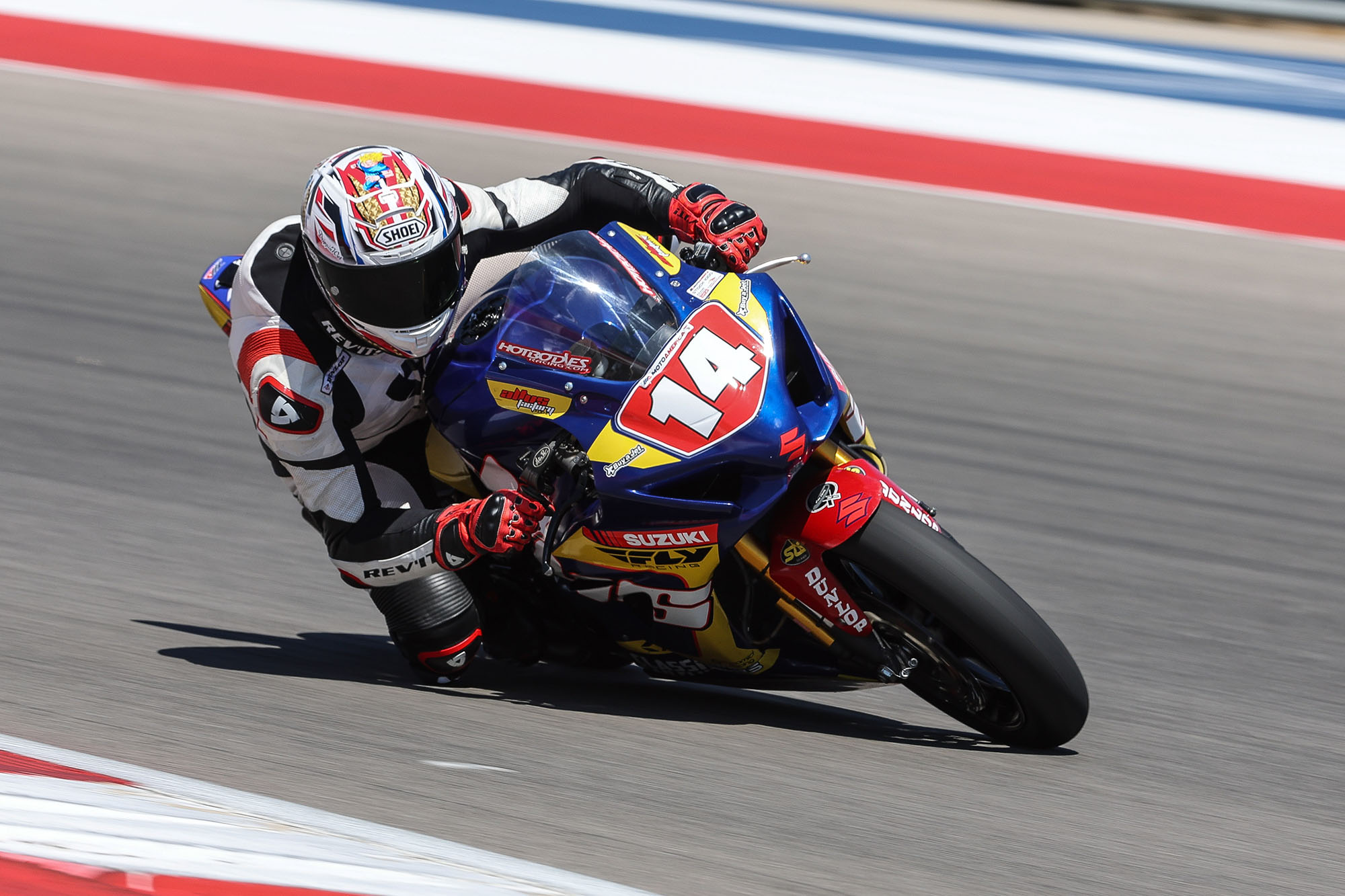 Stock 1000:
Two-time MotoAmerica Stock 1000 Champion Andrew Lee took control of the Altus Motorsports Suzuki GSX-R1000R at the Circuit of The Americas round. Having never ridden COTA or the Altus Motorsports Stock 1000 bike, Lee was on a bit of a learning curve. Undaunted, he went to work immediately and was 18th of 40 entries by the end of Practice 1. By the end of the second qualifying session, Andrew was fast enough to lock down 12th on the starting grid. The lap times continued to come down during Race 1. He dropped another second and crossed the finish line in 8th place. In the Sunday Stock 1000 race, Andrew went over a second faster and was in a battle for 7th place. Ultimately, he matched his previous finish with an 8th.
Andrew Lee: "It was a great race weekend. I'm so thankful for the opportunity to work with George, Janette, and the whole Altus Motorsports Team. Our crew put in a lot of work to get me comfortable on the Suzuki GSX-R1000R. We started a little on our back foot with no testing, and, admittedly, a little rusty. On Sunday, we made some big changes that made me a lot more comfortable. But, unfortunately, it was so late in the weekend! We concluded the weekend with 8th-place finishes in both races. I believe the results are great for our first weekend with the team and at the new track."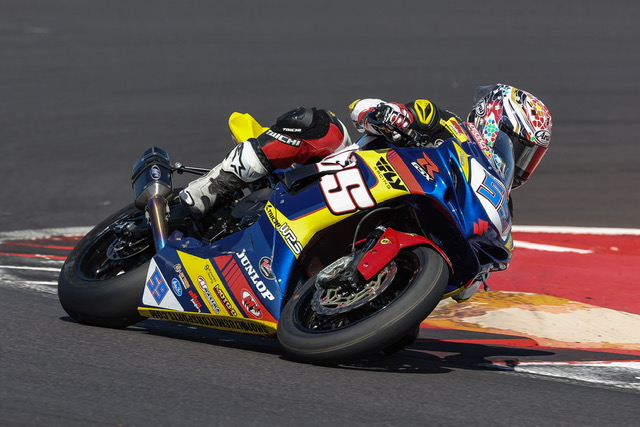 Supersport:
Jaret Nassaney came into Austin on a high. After a difficult season, he and the team finally found a comfortable setup at the last round at Pitt Race. He was hopeful to build on that momentum at Circuit of The Americas. And they did! Nassaney dropped time in every session, ultimately qualifiying 14th. In Race 1, he finished the race in 10th place. In the second Supersport race of the weekend, he went faster and crossed the finish line in 8th.
Jaret Nassaney: "It was a good weekend! Friday, we struggled with gearing, but we got it sorted Saturday. We were still working on setup right until Race 1. I got a good start and made my way up to 10th or 11th but got shuffled back to 15th or 16th when a rider in front of me overslowed for a corner. I managed to fight my way back to 10th before the red flag. In Race 2, I got a bad start but it got red-flagged. On the restart, I had a much better launch and made it up to 8th and stayed there. I'm super happy with the improvement and hope to end the season on a high note."
George Nassaney: "It was a really good weekend. With COTA only six hours from home, lots of our family and friends came out to watch. I can see that Jaret is comfortable and making progress in the right direction. He is getting more and more comfortable working with our new Crew Chief Boyd Bruner, and Andrew did an amazing job. He'd never been to COTA and jumped on the bike and did very well. Big thanks to everyone on the team for putting up with the heat and making Texas a successful round."
---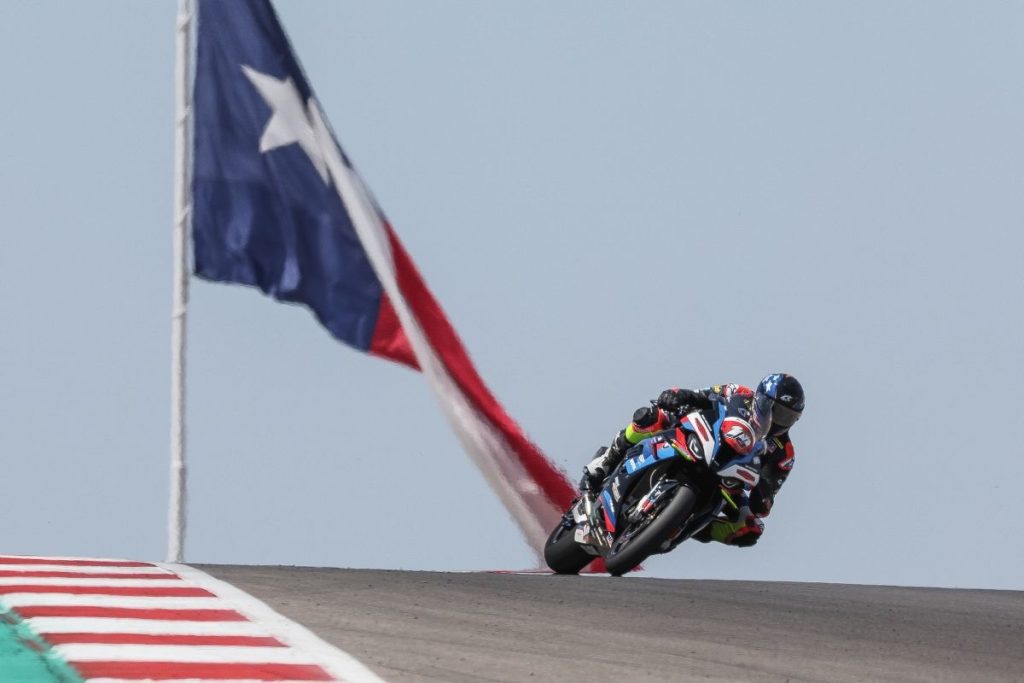 The following is from Travis Wyman Racing…
As the curtain fell on the 2023 MotoAmerica Stock 1000 season this past weekend at Circuit of the Americas, Travis Wyman closed out his sixth season racing in the class with a pair of runner-up finishes aboard his BMW M 1000 RR. After enduring a difficult weekend at the previous Stock 1000 round at Brainerd International Raceway in July, Wyman's strong showing at his Austin, Texas-based team's home round allowed him to finish the season third in the Stock 1000 points standings.

It's the fourth time in four years that Wyman has finished third or better in the Stock 1000 standings, as well as the fifth time in the past six years — all aboard BMWs. In total, Wyman racked up one victory, five additional podium finishes and a pole position in the abbreviated five-round, 10-race 2023 Stock 1000 schedule while also competing full-time in the King of the Baggers.

Wyman had a stellar start to the weekend. With the Stock 1000 field stacked with 44 entries for the season finale, Wyman was the fastest of all of them in Friday practice by more than a second. Like he did at Brainerd, Wyman had a very strong showing in Qualifying 1. He ended that session with a best lap time almost one second faster than his best practice time and remained more than a second faster than the next rider on the time sheets.

Though Wyman improved his best lap time again by 0.396 seconds in Saturday morning's Qualifying 2, another rider set a slightly faster lap time in the session. Though he missed out on his second Stock 1000 pole position of the 2023 season by about a quarter of a second, Wyman did secure second on the starting grid for the round's two Stock 1000 contests.

Saturday's Race 1 ended positively for Wyman despite experiencing grip issues in the race's later stages. After getting a good start, Wyman made a lunge for the lead as the field entered the Circuit of the Americas' iconic Turn 1, but was narrowly beaten out for the holeshot and slotted into second place. Though he hounded the race leader for the first few laps of the eight-lap race, Wyman's front tire began losing grip and feel as the race went on. With a large gap to the scrap for third place, Wyman was able to moderate his pace to bring his M 1000 RR home in second place for his fifth podium finish of the season.

Unlike Brainerd where Wyman's motorcycle endured a technical problem in Race 2, Wyman had an excellent start to the Sunday Stock 1000 race at Circuit of the Americas and finished Lap 1 in the lead. Wyman maintained the race lead on Lap 2 and most of Lap 3 before being overtaken at Turn 19. Wyman retook the lead later on Lap 4, but was again passed on Lap 5. Like in Race 1, Wyman had a big gap to third place and finished the race in second place for his sixth podium appearance of the season.

Wyman's strong results at Circuit of the Americas helped him move up from fourth to third in the final Stock 1000 points standings.

Wyman and his team thank the many sponsors, technical partners and fans whose support helped Travis Wyman Racing weather several technical failures to achieve another strong finish in the Stock 1000 points standings. Travis Wyman Racing's plans for the 2024 MotoAmerica season will be announced at a later date.
Travis Wyman / No. 10
"This was a very positive way to end a racing season. For the struggles we encountered earlier this year, I'm happy to have finished third in a hard-fought championship battle. I can't thank Alex Torres of Fast Line Motorcycle Performance and the rest of my team enough for their relentless effort this year, and I'm grateful to the many sponsors and technical partners whose support helped make this program possible for 2023."