The following is from HONOS HVMC Racing…
Honos HVMC Racing leaves Road Atlanta with mixed results from riders Corey Alexander and Richie Escalante over the weekend.
Riding his all new 2021 Graves Spec Kawasaki ZX-10RR for the first time ever, Corey Alexander showed good pace in practice and qualifying sessions immediately running within the top 8. Ultimately he would have to settle for a P6 starting position whilst getting caught out by a red flag in the final minutes of Q2. Stock 1000cc Race 1 resulted in a 6th place finish with a failed mid-race charge to the front after Corey miscalculated a pass through lapped traffic. Race two added to the frustration with a ride through penalty after a jumped start, compounded by another penalty for pit lane speeding. Despite this, Corey managed to rally to a P13 finish.
In Superbike Race 1 the #23 machine was forced to start from the back of the grid after missing the sighting lap. Corey managed to work his way up through the field into 8th position and in the lead of Superbike Cup class only to have a mechanical issue force him out of the race. Sunday's Superbike race 2 saw Corey wrap up his weekend with a solid 11th place finish and 3rd in the Superbike Cup class amongst fellow Stock 1000cc competitors.
Corey commented "This weekend was trying for the entire team with Richie and I both having to swap to a backup chassis after big crashes. After virtually no testing we had hoped for the best but things did not go 100% according to plan. Overall I am super pumped with our program for 2021 and how everything has come together. I want to thank all of our sponsors for getting us here. We will come back to fight even harder at VIR."
Richie Escalante had a better weekend than his teammate aboard his HONOS HVMC Graves Spec Kawasaki ZX-6R, challenging for the lead through practice and both qualifying sessions. In race one Richie was able to keep close to the eventual race winner and finish second, without any challengers from behind – a full thirty seconds clear of the pack. Race two proved to be a bit more difficult after an early race mistake distanced him from the leader but again resulted in a second place finish twenty seconds clear of the rest of the field.
Richie was overall happy with his results and stated "After a big crash Saturday I am happy to come away from the weekend healthy and with 40 points. Our whole team worked really well together and I am very thankful to them for their hard work. I am eager to get to Virginia, one of my favorite tracks!".
The Honos HVMC Racing team heads to Virginia International Raceway in Alton, Virginia for round 2 of the MotoAmerica Championship May 21-23. You can purchase tickets to the event via MotoAmerica.com or in person at the race track.
The following is from Warhorse HSBK Racing Ducati…
The Warhorse HSBK Racing Ducati Team and rider Loris Baz had their ups and downs during the opening round of the 2021 MotoAmerica HONOS Superbike Championship at Road Atlanta.
The 28-year-old Frenchman Baz had never ridden the track previously but went straight to work during Friday practice and qualifying aboard his Ducati V4 R. Baz and finished third overall. The team had another round of qualifying Saturday morning, and Baz remained as fast, qualifying third.
Baz got off to a strong start during Saturday's Race 1 but crashed while battling for the lead with five laps remaining. The crash led to an 11th place starting position on Sunday's grid for Race 2. Baz quickly worked his way to the fourth position before a DNF due to a technical problem aboard the V4 R.
"For sure, it was not the weekend we wanted," Baz said. "But we will keep the head up. The guys in the team did a strong job. I needed a better start in race two than on I did on Saturday and got it, but I still don't have a good feeling on the new tire. But once the tire started to drop, I felt so good. The feeling was awesome on the Ducati. I went P3 but then we had a technical issue, so I had to come in and change the part. I am disappointed, but once again, I will keep the head up because there is still 450 points in this championship on offer. We're alive and we're going make it up. We will work harder and we will come to VIR stronger than ever."
With 450 championship points remaining in the nine-race MotoAmerica HONOS Superbike Championship, the team will regroup and prepare for the challenge at Virginia International Raceway, which is set for May 21-23.
The following is from Scott Power Sports…
Tyler Scott, aboard his Scott Powersports KTM RC 390 R, won the opening race of Sportbike TrackGear Junior Cup. Scott backed the win up with a second place in the race two on Sunday. The performance has him tied for the championship lead going into the second round at Virginia International Raceway.
"We had a lot of unknowns coming into this race. Tyler hasn't raced this KTM at all prior to this, and the Ninja 400's have been consistently developed for a couple of years" team owner Mike Scott said. "And while the results are impressive, what's also impressive is the outpouring of support from the MotoAmerica paddock, the fans, and specifically fans of the KTM brand. Tyler was even asked to sign a fan's bike in the pits after his win!"
"I'm not usually the nervous type, but coming in here not knowing if our package could be competitive definitely had me thinking" Tyler added. "Once we got going, and I could see that the bike could hang in the draft, I knew it would just come down to my riding and using the KTM's strengths. Racing with a bunch of my friends was really fun. The first win was awesome, but the second place in race two stung a little. We'll head to VIR even stronger using everything we learned this first weekend."
The team is incredibly thankful to the companies that have helped them along the way, including KTM North America, Arai helmets and Scott Powersports. Special thanks also go out to Bob Robbins, Dave Loikits, Dale Quarterley and Eraldo Ferracci for their help and mentorship.
The next MotoAmerica Sportbike Trackgear Junior Cup round is at Virginia International Raceway on 5/21.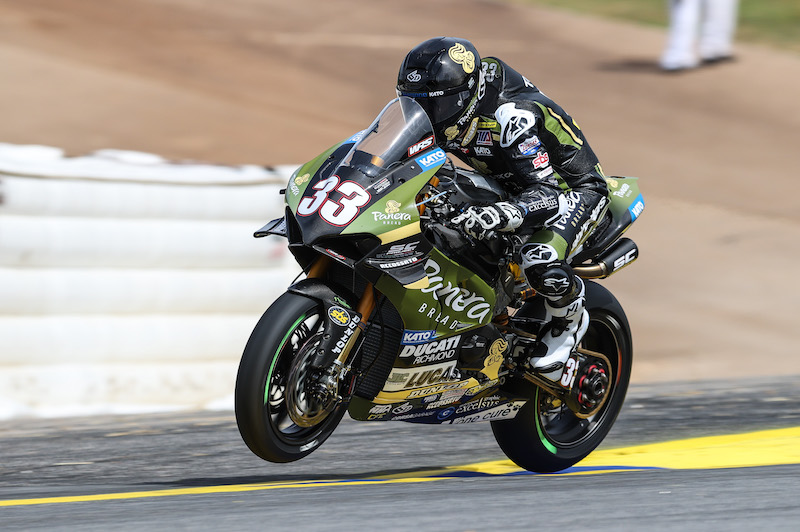 The following is from KWR/Panera Bread Ducati…
The KWR/Panera Bread Ducati Team competed in the first round of the MotoAmerica Superbike series this past weekend at Michelin Raceway Road Atlanta. Kyle Wyman finished 5th and 6th in races one and two respectively while also finishing 2nd place in the King of the Baggers race on his Factory Harley-Davidson Screamin' Eagle Road Glide.
Friday's qualifying practice day was filled with hiccups for the Ducati team as they sorted through some electronics gremlins that kept them in pit lane for most of the day. Wyman was able to complete 11 solid laps at the end of QP2 that would place him 6th on the day. Saturday's final qualifying session saw Wyman put his Panera Bread Ducati 7th on the grid for race one later that afternoon, after being unable to utilize the Dunlop qualifying rear tire due to a clutch issue.
"Going into the Road Atlanta weekend we had less than ten laps on our new Ducati Superbike," Wyman said. "I was really looking forward to putting a solid day together on Friday to acquaint myself with the new package, but some small issues prevented us from really putting in the time needed to get that done."
"Truly it's hard to find anything on the new bike that hasn't been changed or improved over 2020," Wyman added. "'We've moved over to Accossato brakes which is a big deal, and the new factory fuel tank and tail unit seen on the current WSBK spec Ducati machines overseas. We've done everything possible this winter to align our motorcycle with the world championship bikes so that we can have a better comparison with our peers in Bologna. We've added Racebolt with KATO Thread Inserts to every corner of the machine to ensure its reliability. We've moved to a vastly improved SC-Project Exhaust system that uses a double undertail outlet. This is by far the highest level spec we've been able to produce at KWR, and I know that the ceiling his high with this new machine."
In Saturday's King of the Baggers qualifying, Wyman was able to put his Harley-Davidson Road Glide in P2 on the grid, just .050 of a second behind series rival Tyler O'Hara on his Factory Indian Motorcycle. This qualifying would set the grid for Sunday's race, but Saturday afternoon would host the debut of the Panera Bread Ducati in Superbike Race One.
In Superbike race one Wyman got off to a strong start and settled into a lonely 6th position, running the full 19 lap race distance with no battle. He was the benefactor of some late race attrition that would put him in 5th spot by race-end.
"Race one I spent a lot of time just getting familiar with the new machine and trying to adjust myself to the SBK coming off the Bagger, which was more difficult than I had originally thought it would be going into the weekend," Wyman said. "5th place is a good result considering the time on the bike but the top guys are quite a way up the road. We needed to try a few things for the Sunday warm-up to be better prepared for race two."
On Sunday Wyman would pull double duty, and race the Harley-Davidson Road Glide in the King of the Baggers main event before SBK race two. In the baggers race Wyman got off to a hole shot lead that would put him with a 1 second gap over rival O'Hara. Wyman relinquished the lead on lap 4 after a two-lap scrap that saw the leaders swap positions. In the end, Wyman finished 2nd in the race just a half second behind in his King of the Baggers debut, and 25 seconds clear of 3rd.
"On the Harley I knew it was going to be between Tyler and I when the race started," Wyman said. "My plan in the race was to manage the pace the best I could so I could look after my equipment, as we had had some cooling issues with the bike throughout the race weekend. My goal was to bring it home no worse than second but if I had a chance at the win, I would take it. When Tyler got a bad start I decided to put my head down and pull a gap. I was able to do that but toward the middle of the race I had to start looking after the engine and make sure I could bring it home. I was able to stay with him through the last lap but we just didn't have the steam to bring home the win."
"All told I'm happy with our debut and we learned a ton about our Road Glide, which is still in its early stages of development. With round one of three now in the books, we need to win the last two races at Road America and Laguna Seca to take this championship. That's our focus."
Next up was Superbike race two, and Wyman got off to a stronger start than race one, but found himself in the same lonely position falling short of the race pace in the front group. Wyman would bring home the Panera Bread Ducati in 6th place. With loads of data and experience that was missed in the abbreviated pre-season, the KWR team now has a plan for the upcoming round two at Virginia International Raceway in three weeks time.
"The first round is in the books now and I'm happy to have scored points in both races, but not satisfied with our pace or results overall. We've got some work to do in order to get more comfortable with the bike but I know the KWR team will be able to put out a runner for the rest of the season. It's up to me as a rider to start maximizing the potential of our bike so with our few mechanicals sorted out I look forward to pounding out laps in Virginia and figuring it out."
Round two at Virginia International Raceway will not feature the King of the Baggers but is set for a Superbike double-header May 21-23, 2021.
The following is from Jeremy Cook Racing…
For Jeremy Cook, his first full pro road racing season started at a track he'd never ridden on before. Despite enduring mechanical problems with his BMW S 1000 RR on Thursday and Friday, the Bob's BMW Jeremy Cook Racing rider got a positive start to his first full MotoAmerica racing season when he finished in the points in Sunday's Stock 1000 race.

Cook – who is an instructor for presenting sponsor Motorcycle Xcitement — first competed in a MotoAmerica race in 2015, and MotoAmerica's season-opening Superbikes at Atlanta round marked the first of nine MotoAmerica rounds that Cook plans to compete in this year.

After encountering problems with his motorcycle's clutch system Thursday night while prepping the BMW and Friday during the Stock 1000 Class' Friday practice session, Cook qualified 23rd for the weekend's two Stock 1000 races.

In Saturday's race, Cook moved up three positions on the first lap, crossing start/finish in 20th-place. He got past another rider on Lap 2 and maintained 19th place to the end of the contest. In Sunday's Stock 1000 race, Cook made another good start and was running in 15th place at the end of Lap 1. Though Cook dropped as far as 18th on Laps 8 and 9, he recovered in the latter stages of the race to finish 15th and claimed his first championship point of his 2021 campaign.

The next stop on MotoAmerica's schedule is VIRginia International Raceway May 21-23. Though Cook has some bad memories of the Alton, Va., track from a severe crash he suffered there in 2009, the Maryland rider also has ample experience on the facility's 2.25-mile North Course and will be targeting his first top-10 finish of 2021 that weekend.

Jeremy Cook / No. 81
"It was a bit of a struggle this weekend at Road Atlanta. We raced in several Championship Cup Series races at New Jersey Motorsports Park last weekend and thought we were fully prepared for what lied ahead. It was my first time racing at Road Atlanta, and it's a steep learning curve with this very physical racetrack. Between trying to get the bike set up for a track we didn't know and the mechanical issues we dealt with Thursday and Friday, it felt like we were behind the eight-ball most of the weekend. I have to give a huge shout out to Roger Lyle of Motorcycle Xcitement for helping us with track knowledge and technical support. I learned a lot about racing at Road Atlanta by going to school on the riders I was competing against and was able to use that knowledge to score Sunday's points-paying finish. My bad memories of VIR still linger in my head, but I'm happy to be heading to a track my team and I know well."