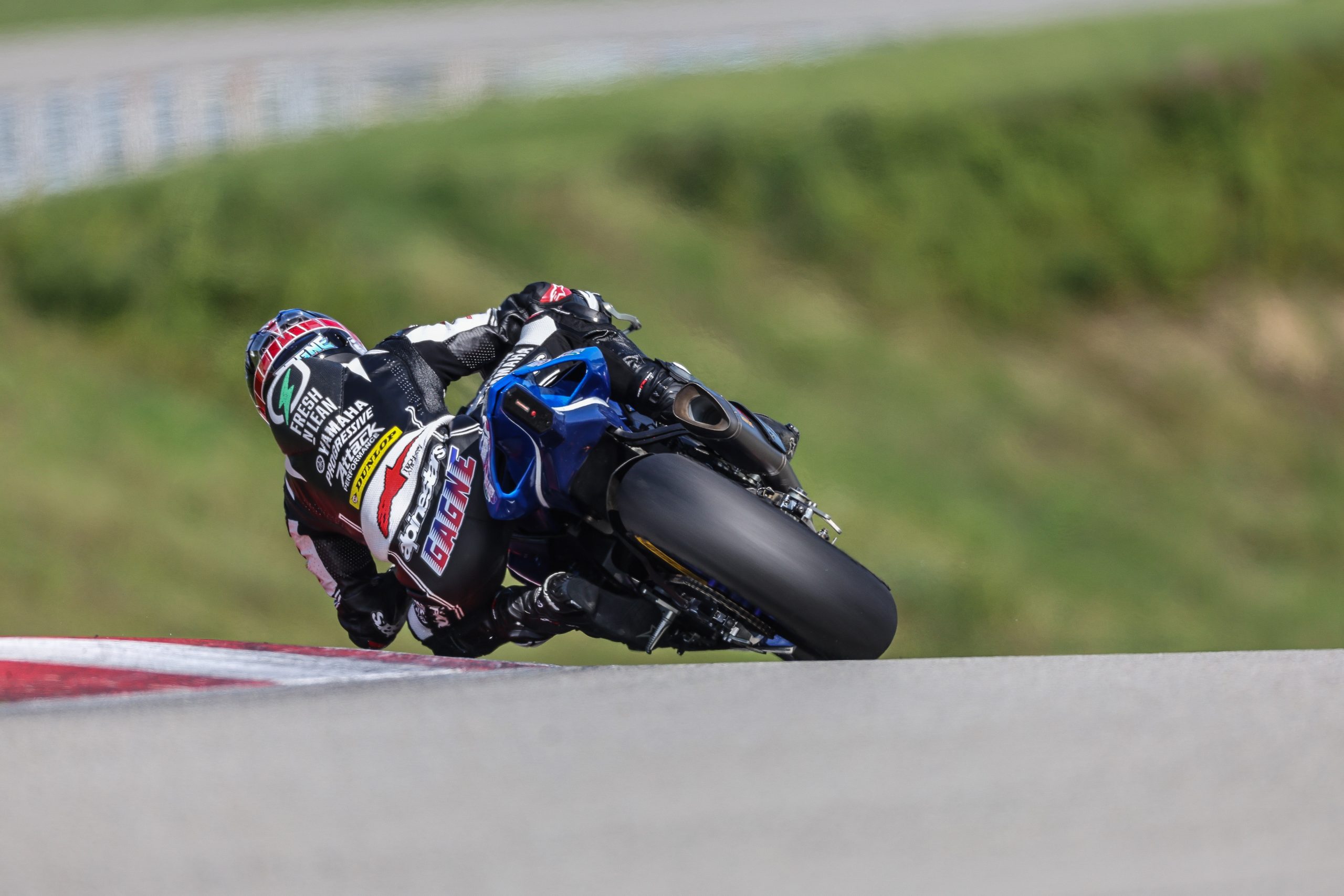 The following is from Yamaha…
Fresh N Lean Progressive Yamaha Racing's Jake Gagne took home his third-consecutive MotoAmerica Superbike Championship in style, sweeping the weekend at the Pittsburgh International Race Complex. The Colorado rider reigned supreme, winning both superbike races today in Wampum, Pennsylvania, to clinch the title two rounds early. Filling in for the injured Cameron Petersen, JD Beach continued to make progress in the challenging conditions, improving to a top-five finish in Race 2 and a sixth-place finish in Race 3.
Earlier today, Gagne got a great start in Race 2 and quickly claimed the lead. The Colorado rider threw down some fast times early and built a gap up front, but then the red flag came out with 10 laps to go. After the restart, Gagne grabbed the holeshot but was unable to break away from the pack in the eight-lap race. He kept cool under pressure and rode on to secure his eighth victory of the season and second of the weekend to move closer to the crown.
In Race 3, it was another flying start from Gagne with the holeshot. Although he was unable to ride away from the competition early on, he set the pace up front and threw down consistently fast times to build a gap and cross the line with a comfortable victory. Gagne's superbike sweep at the Pittsburgh International Race Complex secured his third-consecutive premier-class title two rounds early with nine wins and a total of 13 podiums. During those three years, the Fresh N Lean Progressive Yamaha Racing Rider has amassed an impressive tally of 38-career superbike wins aboard the Attack Performance Yamaha R1 and looks to add some more at the final rounds.
With more seat time, Beach continued to make progress in his first weekend back to superbike racing and got a better start in Race 2. In seventh, the dirt track/road racer jockeyed for position and kept pushing, making the pass for sixth on Lap 7 before the red flag came out. Moving up a row for the restart, Beach got another good start in sixth. He then closed the gap to the lead group with four laps to go, ultimately advancing to fifth. In the final race of the weekend, Beach was eighth after the start and made the pass for sixth on Lap 4. Once again, the Kentucky rider closed the gap to the lead group and rode a smart race in the greasy conditions to finish sixth.
Next up for the Fresh N Lean Progressive Yamaha Racing Team is the penultimate round of the MotoAmerica Superbike Championship at the Circuit of The Americas in Austin, Texas, on September 8-10.

Richard Stanboli – Fresh N Lean Progressive Yamaha Racing Team Manager
"The weekend went perfectly for us. Jake rode smart, won all three races, and against the odds, the championship. The crew did a great job, and our R1s ran great. We are very pleased that we can put counting the points behind us and will now just concentrate on winning.
"JD did a good job as well. He showed good pace and stayed within striking distance of the lead group in today's races. It was a fun weekend, and we look forward to the last two events at COTA and NJMP."
Jake Gagne – Fresh N Lean Progressive Yamaha Racing
"It was a little unexpected and a little hard to put into words. Hats off to the whole team, my crew. It's been a challenging year, but we've learned a lot – me as a rider and together as a team. I've just got an amazing group of people around me, and I get to ride this amazing R1. It feels so good to get my third title, and it's going to feel good going into these next few rounds battling with these guys and not having to worry about the championship.
"It's been different from the last couple of years. We weren't always the fastest guy out there, but we were pretty consistent. Even if we weren't able to win the race, we brought it home and got a lot of podiums. It's amazing when the competition is so stacked. This field is getting gnarlier every year, and it's going to be another battle next year, but we've still got some more races to go."
JD Beach – Fresh N Lean Progressive Yamaha Racing
"I'm really happy with how the day went. Every race and every time I got on the bike, I felt better and better. I know I did the one-off race in 2021, but really it's been four years since I've raced a superbike, and I'd honestly say I felt almost as good as I did in 2019. I had a blast being at the tail end of the podium battle in Race 3. I'm not sure what the fortune holds for me for the rest of the season, but I hope to be on the bike again."
---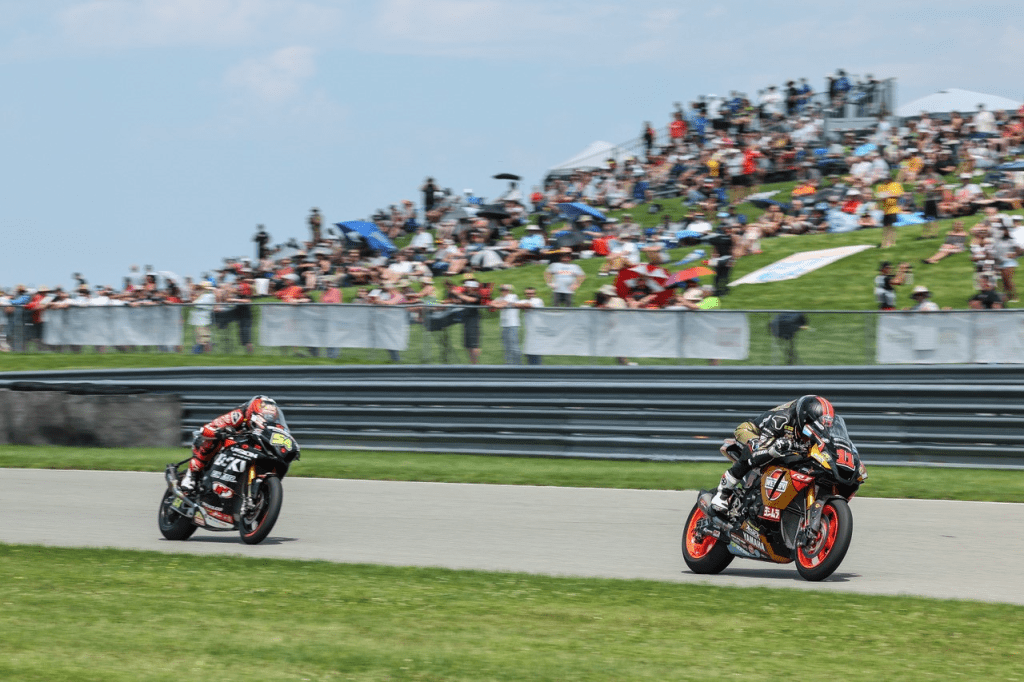 The following is from Westby Racing…
The final day of MotoAmerica Superbikes at Pittsburgh was a very good one for Mathew Scholtz and his Westby Racing team. With a third-place finish on Saturday at Pittsburgh International Race Complex (Pitt Race) already under their belts, Mathew and the team notched a fourth-place result earlier in the day on Sunday. Then, in a rare second Superbike race on Sunday, making it a total of threeSuperbike races for the weekend, Mathew delivered his best result of the event, which was a runner-up finish to cap things off at Pitt Race.
All told, that's a total of eight podium appearances and five runner-up results in Mathew's and the Westby Racing Team's last six race weekends at Pitt Race.
Mathew started from the outside of the front row in both of Sunday's races based on his qualifying result from Saturday morning.
In race two, he slotted in behind Jake Gagne on the opening lap He was overtaken by PJ Jacobsen and then Josh Herrin, which moved him into fourth where he doggedly held on to the position and withstood a strong challenge from Richie Escalante.
"The start wasn't the greatest for me," Mathew said about race two. "I kind of dropped down to fourth slightly, and I was just trying to hang onto Gagne, Jacobsen, and Herrin. I was struggling. I was losing a lot of time from the final corner to the first corner, and from wheelie hill to corner four. So, I was just basically going backwards and forwards. I was on the limit. I couldn't go any faster."
Following race two, the team made some critical adjustments to the setup on Mathew's #11 Yamaha YZF-R1 Superbike. He got a much better start in race three and slotted into second place in pretty short fashion. And, even though Herrin once again overtook him about halfway through the race, Mathew was able to get back around him and re-establish himself in second where he focused on chasing down Gagne in the lead. At the checkered flag, Mathew finished just a little more than a second and three-quarters behind Gagne.
About race three, Mathew commented, "We made a pretty decent change on the traction control just to help when I first crack the throttle open so that the bike doesn't just want to spin as you first start to wind it on. I was definitely pushing the front more while on the gas, but it helped me to roll through the middle of the corner to keep up with the Ducati a little bit better. Early on in the race, I was struggling a little bit because I was on the absolute limit. I kept my confidence, though, and I managed to get past Josh with a couple laps to go and open up a small gap. So, I'm really happy with that. I'm happy with the changes that we made to the bike, and I think it's going to work well for us at the next two tracks."
Mathew's third-, fourth-, and second-place results at Pitt Race have moved him back up to fifth place in the Championship standings with two rounds and four more races to go in the 2023 season.
The Westby Racing team will be back in action on September 8 through 10 at the Circuit of The Americas in Austin, Texas, for round eight of the 2023 MotoAmerica Superbike Championship.
---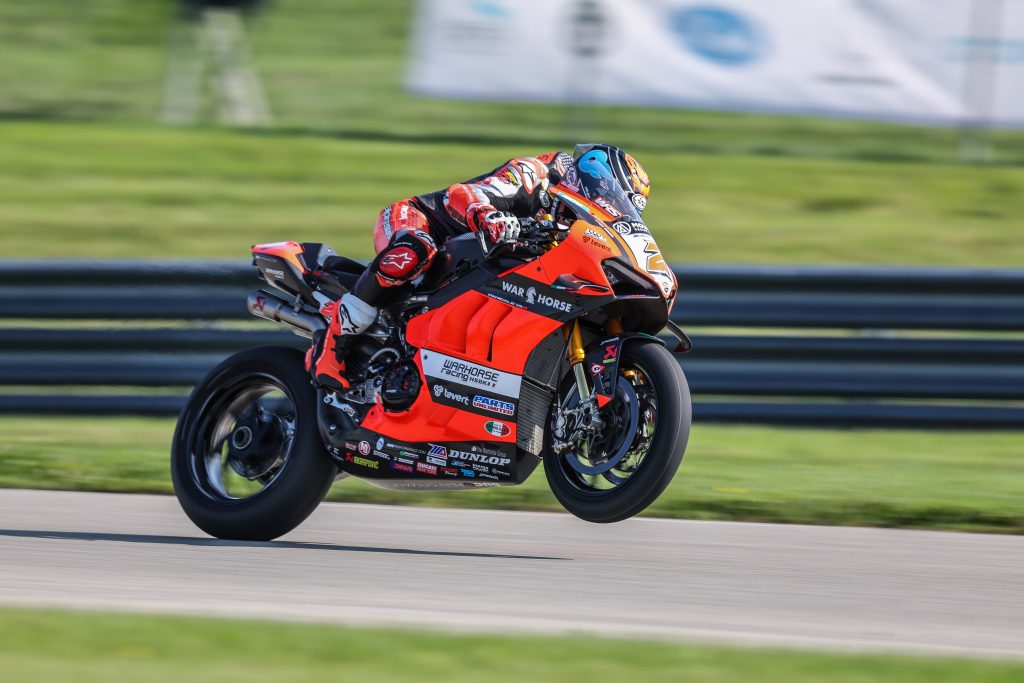 The following is from Ducati…
The seventh round of the 2023 MotoAmerica Superbike and Supersport Championship, held at the stunning 2.8-mile Pittsburgh International Race Complex, saw Warhorse HSBK Racing Ducati NYC stars Josh Herrin and Xavi Forés fighting at the pointy end in both categories.
In the three races for the Superbike category, Herrin came away with sixth place in race one and dug deep in races two and three to finish in third each time out behind Jake Gagne.
Herrin had his hands full with attention from Suzuki's Richie Escalante in races two and three but resisted the his advances, Herrin's two podium places cementing second in the championship on 236 points.
Forés nearly took the race one win, finishing a scant 0.180 behind race winner, Kawasaki's Stefano Mesa, and had to settle for second place in race two behind Suzuki's Tyler Scott.
Regardless, Forés is in the box seat to clinch the title at Circuit of The Americas in September as he heads into the round with an 86 point advantage and only needs to leave Texas with 50 points in hand.
Josh Herrin (Warhorse HSBK Racing Ducati NYC – #2)
"This weekend, I'm happy," Herrin said. "To get two podium finishes after the start of the weekend, I'm stoked. It's hard to say you're happy when you're getting third places when in my mind I'm on the best bike, but it is what it is. We're nearly there and just missing that final piece to put it all together. Hopefully, I get to do another year with this team, which I think will help a lot given the experience I have. I'm happy to be back on the podium. I tried my hardest and was sliding around like crazy. It was a positive end to the weekend and now we're onto COTA, a track we know well and one I know the bike and I will be strong at."
Xavi Forés (Warhorse HSBK Racing Ducati NYC – #12)
"Overall it was a good weekend with two second places," Forés said. "It was great to be back on the podium after the disaster in Brainerd. I was happy with my performance this weekend. It wasn't enough to win but we are getting closer to the target of the title. We've got a small break between here and COTA, where I will spend time with my young family and recharge the batteries. My goal will be to take the title at COTA and then look to the future, where I hope to ride a Panigale V4 R soon."
Round eight of the 2023 MotoAmerica Superbike and Supersport Championship will take place at Circuit of The Americas in Texas on September 8-10, 2023.
---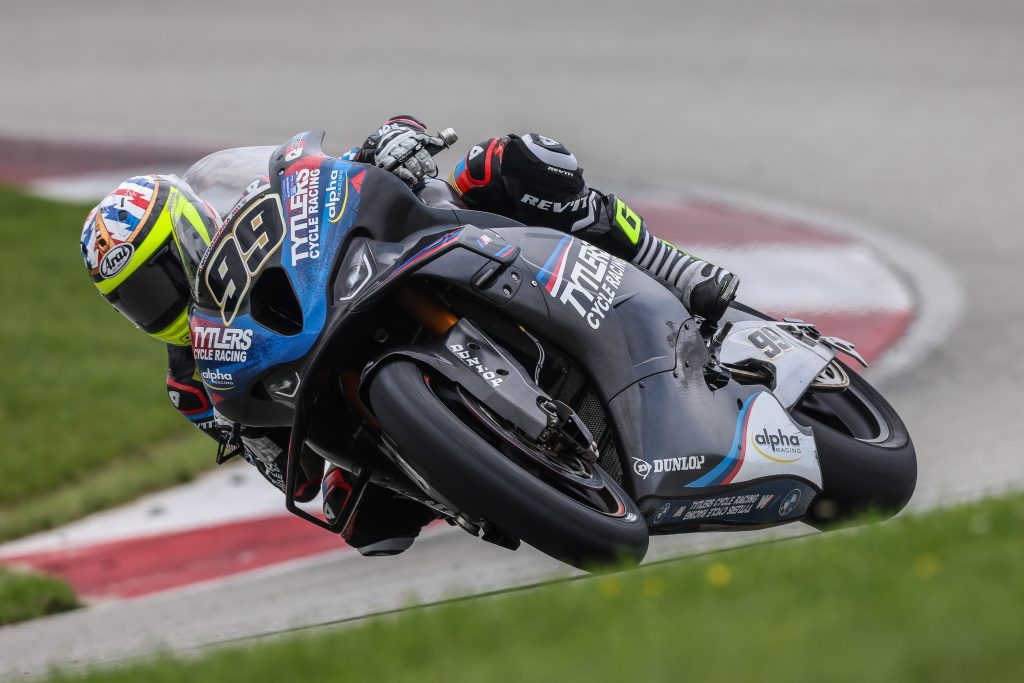 The following is from Tytlers Cycle Racing…
It was a challenging weekend for Tytlers Cycle Racing in the latest round of the 2023 MotoAmerica Championship which took place last weekend at the 2.8mile undulating Pittsburgh International Race Complex. 
 
Known affectionately as Pitt Race, round seven of the series saw the return to the track for former multiple champion Cameron Beaubier, who by his own admission was tentative on Friday before putting himself into contention for another front running weekend in qualifying. He took sixth on the grid just behind Brainerd race winner PJ Jacobsen who was consistently inside the top five throughout the event. 
 
PJ would once again be the team's top scorer across the weekend's three Superbike races. The New Yorker bagging fifth, second and fifth place finishes to move into third overall in the points standings. He was in the fight for the podium in all three of the seventeen lap encounters.
 
Cameron Beaubier raced to his eighth podium of the year on Saturday to keep his title hopes alive before an incident during Sunday's second race floored the #6, bringing a temporary halt to proceedings. A mechanical issue for a rival left Cameron with nowhere to go, the result a scary looking crash that ruled him out of the rest of the weekend. 
 
It was a slightly tougher time for the team's third rider Corey Alexander who after qualifying on row four of the grid finished twelfth in Saturday's opening race. He finished eighth in race two on Sunday before retiring in race three. 
 
The results mean the title fight is over for the team as far as 2023 goes but with both PJ and Cameron in contention for a top three final placing their full focus is on the final two rounds at COTA and in New Jersey where the intention is to put the BMW M1000 RR on the top of the podium before the season ends. 
 
Corey Alexander: "It was a challenging start to the weekend in terms of grip for everyone and we tried a bunch of things to try to find some which included some changes for race one that didn't pay off. It was a very long and difficult race on Saturday, and I was looking forward to a more positive result in both races on Sunday. We managed a P8 and much better pace on Sunday afternoon's first race but still struggled with grip issues throughout. Unfortunately, we suffered a mechanical before the start of race three. We made some big improvements between the races, and it would've been nice to see them through with a better result but onwards we go to COTA."
 
Cameron Beaubier: "I am happy with a P2 in race one on Saturday especially after how the weekend started. We struggled in practice and qualifying but made some positive changes going into the race which brought us into contention. On Sunday morning we made a couple of positive changes and were able to go fastest in warm up and I was looking forward to two good races. I got a bad start in race two, the first of two for us on Sunday and was trying to make my way through but was having major grip problems. Unfortunately, Ashton (Yates) had a bike problem right in front of me and I was left with nowhere to go and had a nasty get off. The bad luck has been rolling lately but it is nice to be home and for the healing to start."
 
PJ Jacobsen: "The first of the weekend didn't go as I had hoped. I was fastest on Friday but it then kinda went a bit downhill. I wasn't happy to come away with fifth but was super motivated to improve for the rest of the weekend. Sunday's first race was good for me. I was able to get another podium with a P2 after the race was stopped. It sucks what happened to Cam (Beaubier) and I wish him a speedy recovery. We were close to the win, and we made some changes for race three. It was much hotter, and I was in the hunt for the podium again but unfortunately, we had to settle for another fifth. We are now third in points, and we move to COTA with the goal to once again be on the box."
---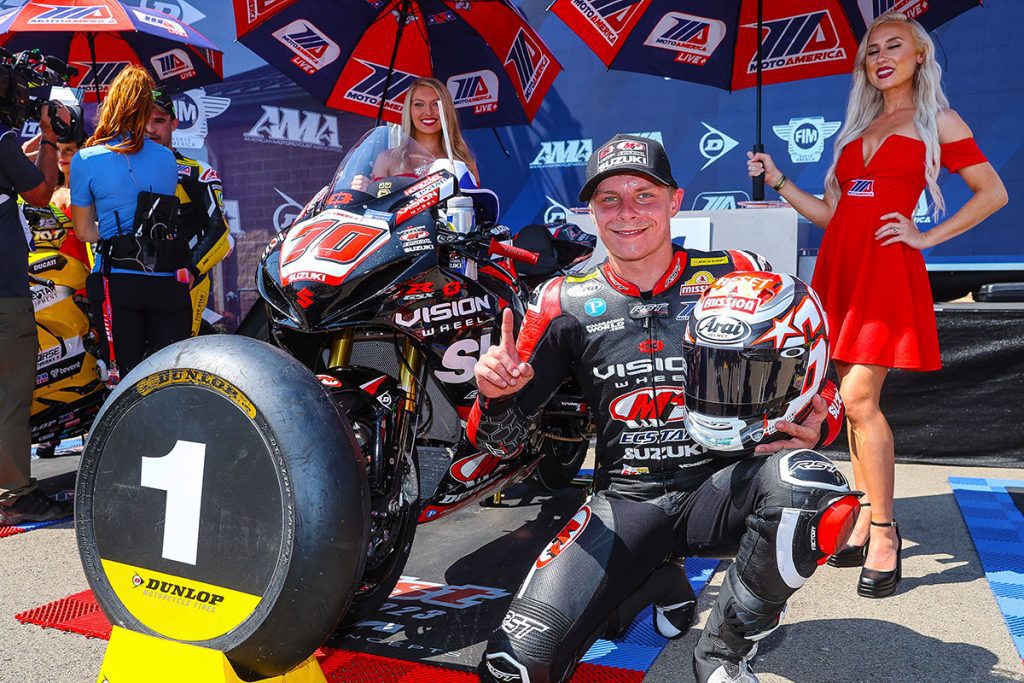 The following is from Suzuki…
Suzuki Motor USA and Team Hammer returned to the top step on the podium with a triumphant Sunday to conclude the MotoAmerica weekend at Pittsburgh International Race Complex in Wampum, Pennsylvania.
Vision Wheel M4 ECSTAR Suzuki rider Tyler Scott was determined to not only extend his five-race consecutive podium streak, but do so with another victory. Scott once again blasted his way into the mix despite his outside Row 2 starting position and was engaged in an intense dogfight for the lead. Following a thrilling sequence of laps featuring multiple passes and three-wide braking contests, Scott finally opened a bit of breathing space at the front. Once clear, he upped the pace even further with several blistering laps aboard his next-generation Suzuki GSX-R750 and ultimately commanded a margin of victory of nearly three seconds. The win was his second in the season's most recent three races and Scott's sixth consecutive podium result. Scott's weekend results were a strong first and third in Supersport.
"The race today was definitely a lot harder than yesterday," Scott said. "I knew it was going to be hard to pass, so when I saw the opportunity to lead, I took it. Pushing the pace out front is a lot more stressful on your riding, but I just kept pushing and I saw my pit board go up two-tenths, four-tenths, six-tenths. I couldn't have done it without the whole Vision Wheel M4 ECSTAR Suzuki team preparing a beautiful bike this weekend. We made some improvements this morning which really paid off."
Teagg Hobbs was in outstanding form as well, despite once again getting pushed back in the opening corner chaos. Hobbs ran as a part of an early six-rider train at the front in the early laps aboard his Vision Wheel M4 ECSTAR Suzuki GSX-R750 before settling into a duel for fourth. The class rookie went to school on one of the most decorated and experienced riders in the paddock and ultimately worked his way by to secure fourth place at the finish.
Hobbs said, "I was looking forward to this weekend and not just because I really like this track and it's close to my home; I made a few mistakes in Race 2 at Brainerd, and I wanted to show my team I would come back from those and that's the type of rider I am. I'm happy. The goal is always top five. We started low, but qualified second and then took a couple of top fives, so I can't complain. I want to say a huge thanks to the whole Vision Wheel M4 ECSTAR Suzuki team."
Vision Wheel M4 ECSTAR Suzuki's Richie Escalante rode the roller coaster on Sunday, but ultimately walked away with his head held high after matching his career-best premier-class finish of fourth. The second-year Superbike ace was back to his top-five standard following a disappointing Saturday and Escalante was motivated to take advantage of his Sunday speed on the Suzuki GSX-R1000R. Unfortunately, he crashed on the last lap of the day's first Superbike contest while gunning for his maiden podium position.
Escalante looked to make amends in the afternoon race, and showed plenty of fight in the effort. Escalante passed his way up to third in the waning stages of the race, but was soon after displaced to fourth and then fifth in the spectacular shootout. Undaunted, Escalante managed to counter with a bold, final-lap overtake to claim fourth ahead of the checkered flag.
"Both races were very tough, and I am happy with how competitive we were," Escalante said. "It looks like I was sliding around everywhere when you look at it on TV, but I was confident. The team gave me a great bike, and it feels 70 or 80% better than when we started on Friday. In Race 2, I was trying for the podium and knew I needed to take advantage of the opportunities to pass that came up, so I took a risk, and it didn't pay off. In Race 3, I just gave it all I had every lap. I wanted the podium and was putting up a good fight. Then I was passed for fourth on the last lap, but I thought, 'Not today,' and got the position back. My confidence is exceedingly high, and I am looking forward to Austin. It is close to Mexico, and I know there will be a lot of support from the fans."
Vision Wheel M4 ECSTAR Suzuki's Brandon Paasch continued to come to grips with the squad's GSX-R1000R Superbike, twice running in contention for sixth after finishing ninth on Saturday. In Sunday's first contest, Paasch achieved that precise result to improve his top-ten streak to seven races. Unfortunately, the run of results ended in the afternoon, when the New Jersey native suffered a DNF after controlling sixth place just two laps from the end.
Paasch said, "It was another good weekend for us. I am learning a lot, and I think we might be a little ahead of schedule as far as how things are going. We made some real headway in Race 2. We stayed with the lead group for a while. As the tire went off, I lost some ground, but we still were able to get sixth place. I had a lot of confidence going into Race 3. I made a move for position and ended up running into the grass, but I was able to run pretty well after that. It looked like another solid result before we had a problem at the end. I had a lot of seat time again and we are closer to the leaders, so I feel confident going into the next round."
Team Hammer will next travel to the Circuit of the Americas in Austin, Texas, for the penultimate round of the 2023 MotoAmerica AMA/FIM North American Road Racing season on September 8-10.
---
The following is from Rodio Racing – Powered By Robem Engineering
With the 2023 MotoAmerica Twins Cup season winding down, both Rodio Racing – Powered by Robem Engineering riders took home a victory and podium finish at the class' penultimate round of the 2023 season. 2020 Twins Cup champion Rocco Landers took top honors in the Saturday Twins Cup race at Pittsburgh International Race Complex, while his teammate Gus Rodio's victory in Sunday's race allowed him to retake and increase his lead in the Twins Cup points standings.
Both riders also delt with some disappointment at the Aug. 18-20 event, as Rodio came oh-so-close to a runner-up finish on Saturday, while a crash in Sunday's warm-up session made Landers' race on Sunday a more challenging task. Despite the setbacks, the team achieved its third 1-2 finish of the season, and both riders are locked in a three-way battle for the championship that will be decided at the season finale in September.
The weekend started well for the Rodio Racing – Powered by Robem Engineering duo. In Friday morning practice, Rodio and Landers were the second- and third-fastest riders, respectively. Both riders lowered their best lap times from practice by more than a second in the Friday afternoon Qualifying 1 session, and Rodio claimed provisional pole position by a narrow 0.063 second margin. Landers provisionally qualified third.
Qualifying 2 ended up being Landers' moment to shine. After spending most of the session in third place, Landers put down a blindingly fast lap with a few minutes to go in the session and claimed his fifth pole position of the year. Rodio finished qualifying in third place, putting both of the team's Aprilia RS 660s on the front row for the round's two Twins Cup races.
Saturday afternoon's Race 1 was the scene of a Rodio Racing – Powered by Robem Engineering victory — and nearly a 1-2 finish. Rodio and Landers slotted into second and third place, respectively, as the field went through the holeshot. Rodio was the first to make a move to the lead, which he accomplished on the first lap at Turn 7. Landers also moved up a position and few corners later, and it was Rodio who led the field at the end of the first lap. Landers briefly fell to third in the running order early in Lap 2, but was back into second place by the time he exited Turn 4. Landers then made a pass on his teammate Rodio for the lead and – except for briefly dropping to second at the start of Lap 4 – Landers led every lap and clinched the win by more than three seconds. Rodio ran the remainder of the race in third place, though he made a big push in the closing laps for second place but had to settle for third by a mere 0.042 seconds.
Sunday got off to a downer start for one of the team's riders, as Landers suffered a minor crash during the morning warm-up session. As a precaution, Landers and the team decided to make an engine change before Race 2.
The start of Race 2 mirrored Race 1, as Rodio and Landers were running second and third at the first turn and Rodio quickly made a move to take the lead a couple corners later. The three riders battling for the lead quickly began pulling away from the rest of the field, and Rodio dropped to second place before the end of the first lap. Most of the shortened nine-lap race featured an intense battle between the three riders vying for the lead until the other frontrunner made a mistake on the last lap that allowed Landers and Rodio to pull away from him. Though Landers had the lead heading into the last few corners, Rodio was able to get by him before the finish line to take the win by a mere 0.104 seconds.
Rodio ended the weekend at PittRace with an eight-point lead in the points standings, while Landers is in third place – just 14 points behind Rodio with two races remaining.
The last round of the 2023 MotoAmerica Twins Cup season is scheduled for Sept. 22-24 at New Jersey Motorsports Park in Millville, N.J.
Gus Rodio / No. 96
"We struggled a little bit with bike setup this weekend and getting through the second sector – which is the esses and backstraight. We made some progress today, but we took a gamble on the tires. We made a step in the right direction today with the setup, but the tire was a little greasy. I'm happy with the results we had this weekend, and we lengthened the points lead a little going into my home race. I'll have a lot of friends and family at the next round, and we'll see what happens there."
Rocco Landers / No. 97
"This is a good track for me, and the team had the bike working really good. I made a mistake this morning and we took the precaution of changing the engine. Unfortunately, that change resulted in a loss of power. I tried hard in the race, and I don't know if I could've done much more than I did. It was good to get another 1-2 result."
Robem Engineering's technical partners for 2023 include Aprilia Racing, Piaggio Group Americas, Bitubo Suspension, Dunlop, Woodcraft Technologies, Dymag, Vesrah, Sprint Filter, DID, Sara Chappell Photos, NGK/NTK, Blud Lubricants, Millennium Technologies, Motovation USA and SC-Project.
Rodio Racing's technical partners for 2023 include NJ MiniGP, Luxestar VIP, MAR Contractors, Evolve GT, N2 Racing, Dunlop, Spellcaster Productions, Kathedral, The Martinn and MVR Endeavor.
---
The following is from Altus Motorsports…
The MotoAmerica round at Pittsburgh International Race Complex or, "Pitt Race", was a successful one for the Altus Motorsports team. Alessandro Di Mario was extremely impressive and put the Altus Kawasaki Ninja 400 on the podium in both Junior Cup races. In Supersport, Jaret Nassaney is feeling comfortable on his GSX-R750 for the first time this year and is poised to finish the season strong.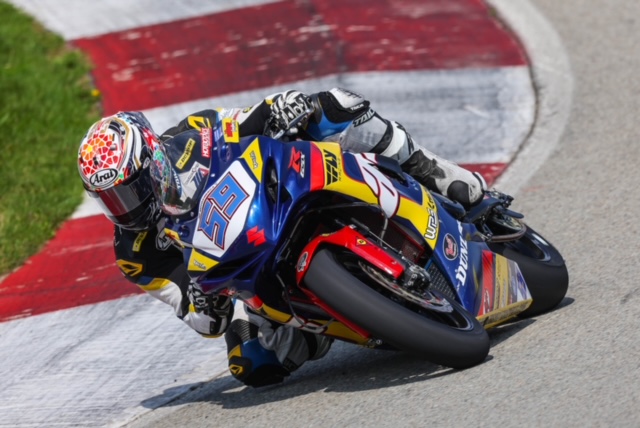 Supersport:
Jaret Nassaney made notable progress during the MotoAmerica round at Pitt Race. While his 10th-place qualifying position might not immediately suggest improvement, this weekend marked a significant turning point. His setup and feeling on the bike were the best they have been so far this year and will be the foundation to finish the season strong. He started both the Supersport races from 10th and finished Race 1 in 9th and Race 2 in 11th.
Jaret Nassaney: "We are definitely moving in the right direction. We had a decent race on Saturday and would have had a better result on Sunday, but we struggled with a quick shifter issue that hurt my pace a bit. Overall, I'm happy with the weekend and looking forward to the next round."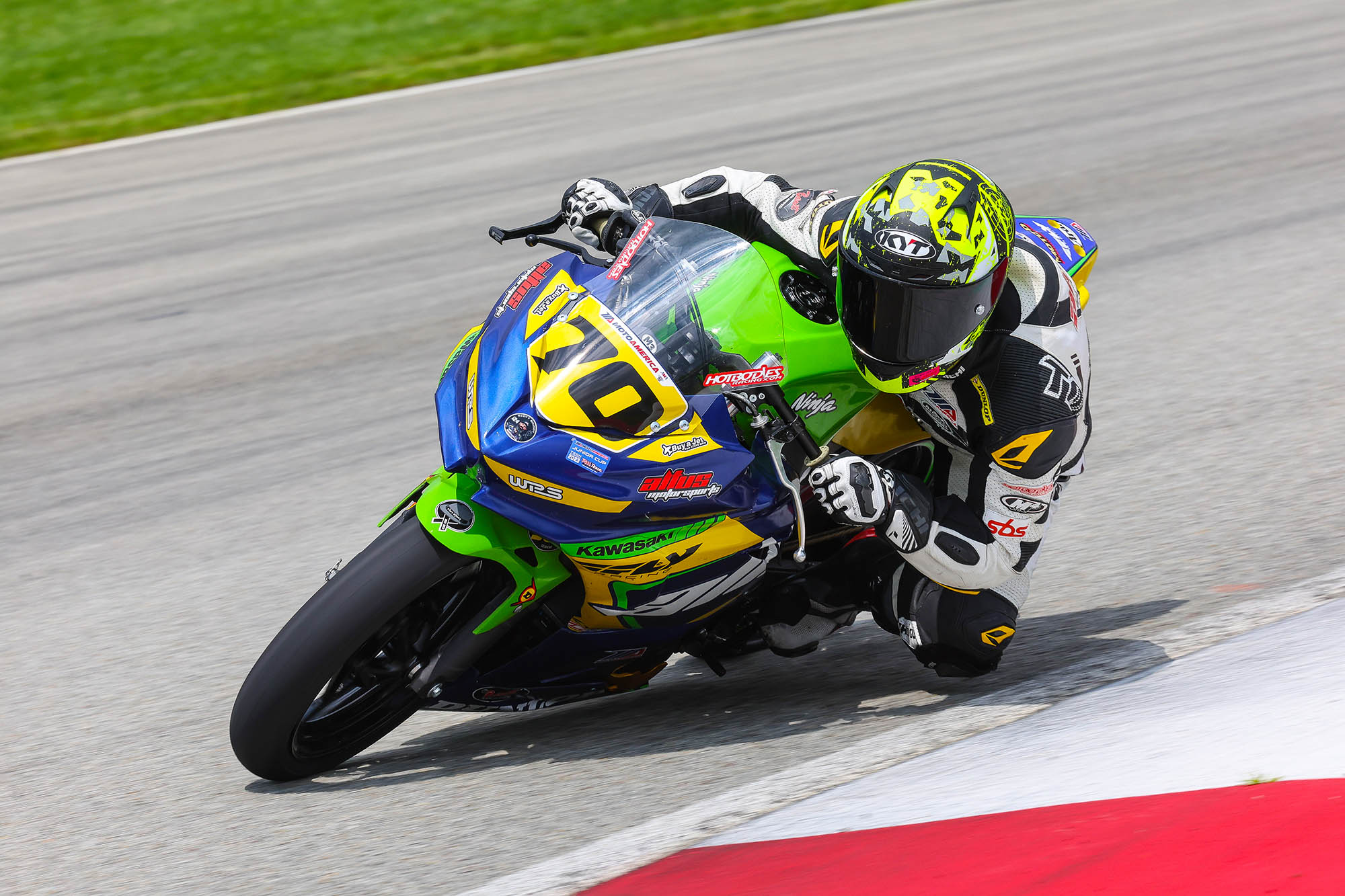 Junior Cup:
Alessandro Di Mario had a breakout weekend at Pitt Race. After topping the timing chart for Practice 1, he ended up qualifying 4th and started both Junior Cup races from the head of the second row. 
Throughout both races, Di Mario consistently ran with the lead group, actively participating in the intense battles at the front of the pack. His consistency and determination earned him a 3rd-place finish in the first race.
Sunday's Race 2 saw Di Mario seize the holeshot and lead the race until a red flag temporarily halted proceedings. Upon the restart, he quickly maneuvered into 3rd position and made a decisive move to regain the lead by the third lap. The remainder of the race was marked by his unwavering presence at the front. Alessandro even led the final lap but narrowly missed the victory, as he was overtaken at the finish line, ultimately settling for a well-deserved second place.
Alessandro Di Mario: "We made some setup changes which made me a lot more comfortable on the bike. Sadly, the shifter broke on the first motor, so I had to use the spare one which was less powerful. I probably wouldn't have gotten drafted at the line with the first motor, but it is what it is. I still had a great weekend, but I would like to have a better one at New Jersey."
George Nassaney: "I am very happy with our results in Pittsburgh. Alessandro had his best finishes of the year and rode amazingly. He is going to be on fire at New Jersey. It's been a very tough season for my son Jaret, but he is now feeling more confident. Hiring Crew Chief Boyd Brunner was the best decision I could have made for our team. We know our riders will finish the season strong. I would personally like to thank Boyd Brunner, Mike Castro, Blair Ramey, William Gerken, LJ Parker, and Ed Longacre for all the hard work this past weekend."