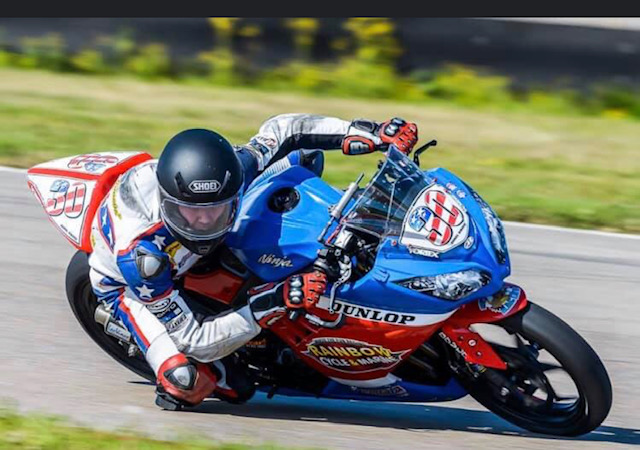 The following is from Altus Motorsports Tucker Hagerty…
Eighteen-year-old Daniel Kinard has joined the Altus Motorsports Tucker Hagerty racing team, and he will pilot an Altus Factory-built Kawasaki Ninja 400 in the 2020 MotoAmerica Liqui Moly Junior Cup Championship.
At age five, Kinard began racing a Honda CRF50F on kart tracks in Oklahoma. He has spent the past three years on ultra-lightweight bikes, honing his racecraft in CMRA and WERA. He finished 2019 with a win in 300 Superstock at the WERA Grand National Finals at Barber Motorsports Park. For Kinard, the natural progression is to move up and compete on the national stage in 2020 against the fastest kids in the U.S.
"I'm excited to grid up in Liqui Moly Junior Cup. I've raced some of those riders before, and I know how fast they are. The competition will make me better and quicker," said Kinard. "My initial goal will be a top-10 finish, but my long-term aim is a career in this sport. To do that, I need to keep pushing myself."
Kinard's father Danny added, "We are from Oklahoma, and Altus has been our sponsor since we raced Supermoto. We've followed the team and we know their bike is good. Joining the Altus family is a good fit."
Altus Motorsports Tucker Hagerty team owner George Nassaney commented, "We are excited to complete the team for 2020. We've been actively looking for someone to hop on our Ninja 400. The Junior Cup class is important, and we are committed to helping develop new talent and growing the sport. We have a competitive bike and some good baseline settings from Kevin Olmedo last season. Our crew chief Eric Gray will take the chassis data from last year and adapt it to Kinard. Aside from the mechanical support, Daniel will join some seasoned riders in our pits with plenty of experience to share. We are looking forward to helping Daniel grow, learn and achieve his goals. We can't wait for the season to start."
—-
The Altus Motorsports team is supported by Altus Motorsports, Tucker Powersports, Hagerty, Suzuki, VP Lubricants, RS Taichi, Arai, Moto D, Bonamici, Hotbodies Racing, SBS Brakes, Vortex, Motion Pro, Law Tigers Oklahoma, M4 Exhaust, Dunlop, Team Hammer, and Altus Factory Racing.
To purchase tickets for all MotoAmerica events, click HERE
For information on how to watch the MotoAmerica Series, click HERE
For the full 2020 MotoAmerica Series schedule, click HERE