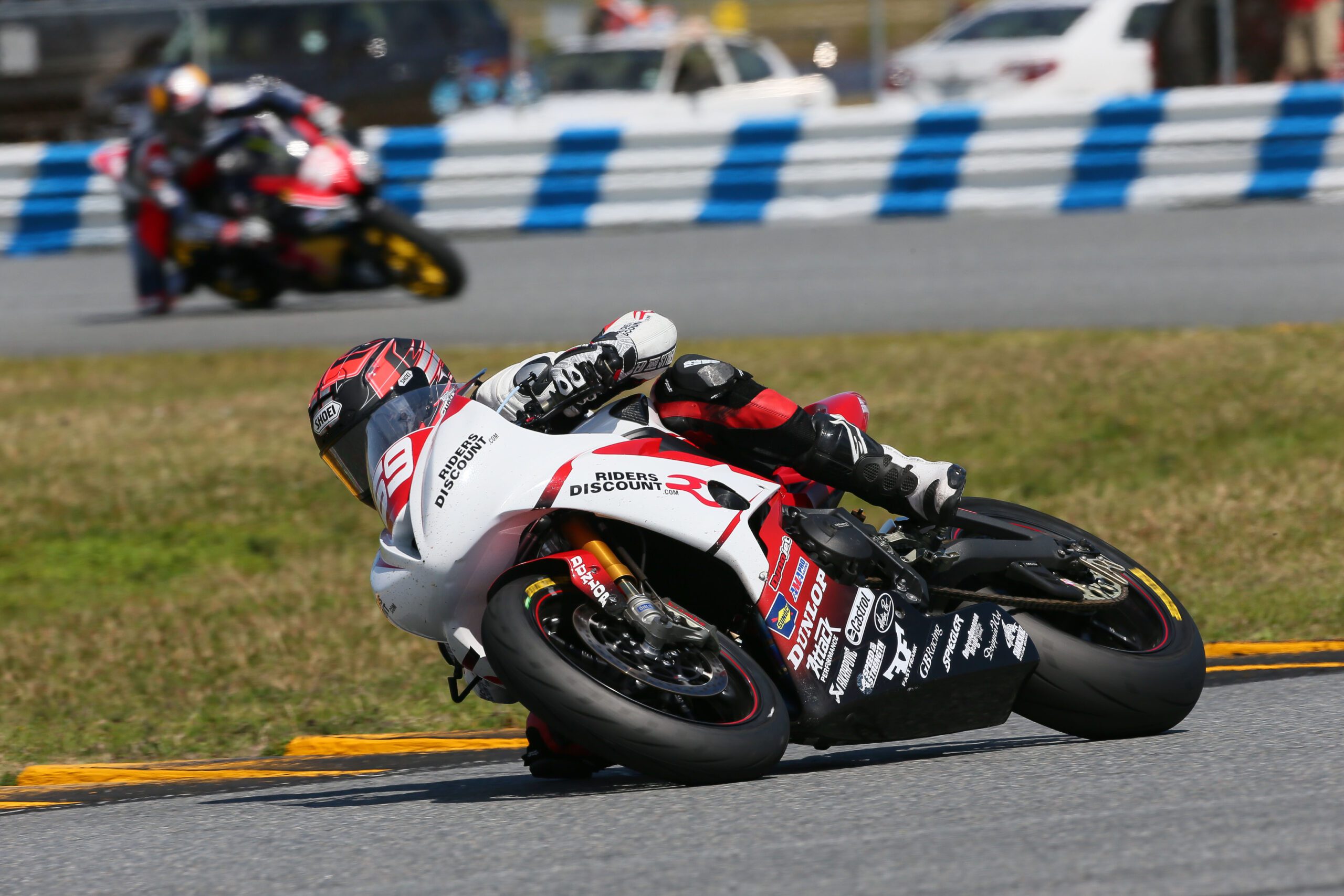 With the news that MotoAmerica is headed to Daytona International Speedway in March of 2022 for the Daytona 200, we decided the perfect way to build excitement for the event would be to start digging through the history books and memory banks. Since Paul Carruthers is literally as old as the Speedway itself and covered almost 30 Daytona 200s as a journalist while working at Cycle News, it was a no-brainer that it would be him who would take on the task of trying to recall the good and the bad. And since we are the home of the AMA Superbike Series, we figured we'd have him start his look back with the 1985 Daytona 200 – the first of the 200s to feature Superbikes – and go from there. This week, we focus on the 2014 and 2015 Daytona 200s.
2014
Winner: Danny Eslick, Triumph Daytona 675
Oklahoman Danny Eslick gave Triumph its first Daytona 200 win in 47 years when he turned in a near-perfect performance to end a drought for the British marque that dated back to Gary Nixon's victory in 1967 on his T/100R.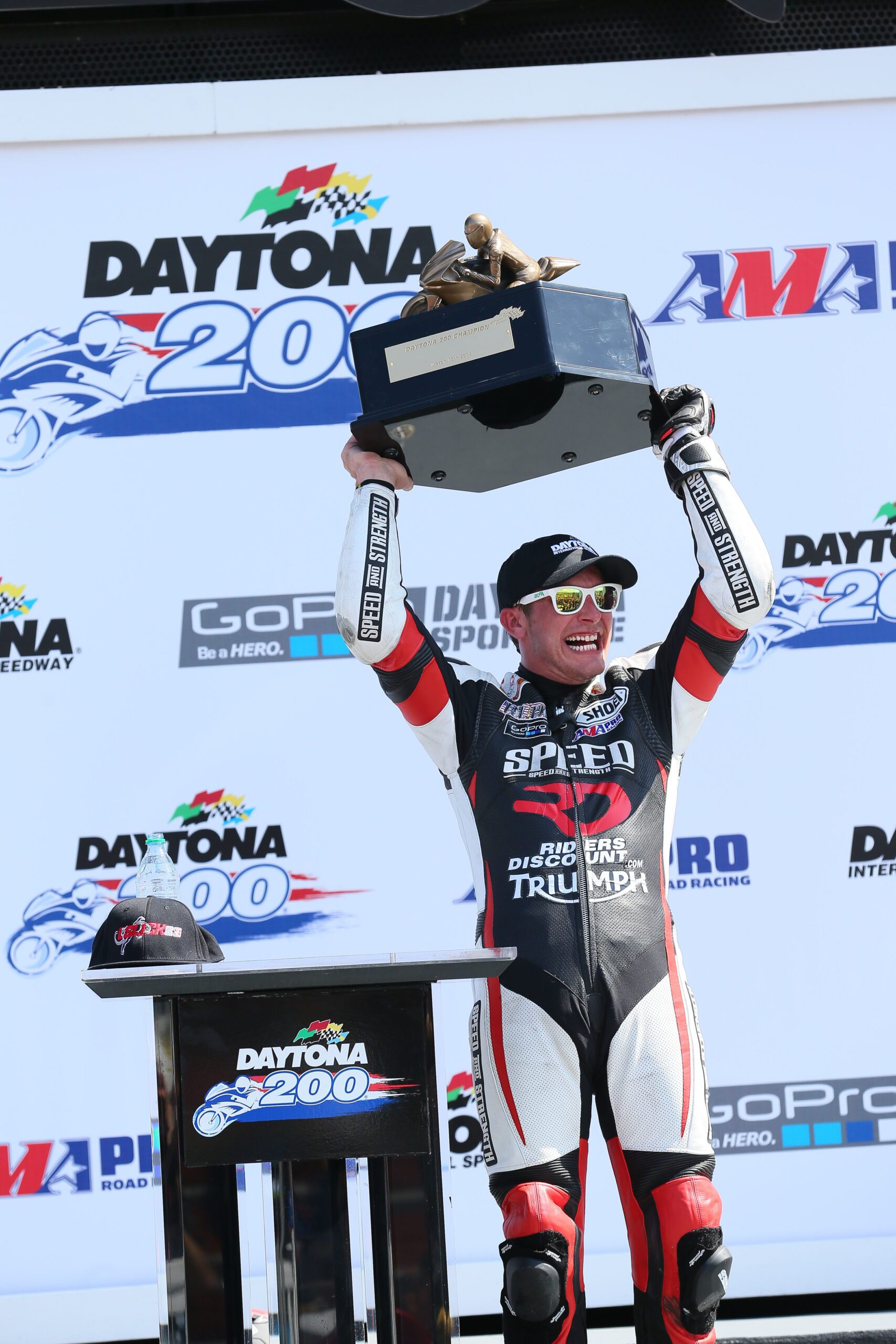 "I knew I had the motorcycle to win seven or eight laps in," Eslick said. "It didn't matter if I led out of the chicane or if I was fourth out of the chicane, I could lead across the stripe. That bike ran really, really well. That Triumph was amazing. I had a lot of little issues, but it was awesome."
The Turning Point: There were four riders battling at the front and it looked like those four would take the fight to the finish line after 200 miles in the 73rd edition of the race. But it wasn't to be as Dane Westby and Jason DiSalvo crashed out of the battle together in turn one after the second pit stop, with the crash breaking up the lead quartet. That left Eslick and Jake Gagne to battle for the win with Eslick able to pull away on his Riders Discount Triumph.
Westby showed his sportsmanship by walking over to the Castrol Triumph team and personally apologizing to all the team members, especially DiSalvo.
Newsworthy: After 200 miles of racing, Eslick topped RoadRace Factory/Red Bull Yamaha's Gagne by 10.9 seconds with young Jake Lewis landing in Victory Lane on his MotoSport.com/Meen Motorsports Yamaha – some 37 seconds behind Eslick at the finish. Fourth place went to Bobby Fong on his Triumph.
Y.E.S./Monster Energy/Graves Yamaha's Garrett Gerloff was one of the pre-race favorites to win the 200, but a crash put an end to his chances. Gerloff's team, however, was able to get his Yamaha YZF-R6 back on track and the Texan clawed his way to a fifth-place finish.
Five former Daytona 200 winners started the 73rd edition: John Ashmead, Jason DiSalvo, Joey Pascarella, Steve Rapp and Jake Zemke. Zemke was the top finishing former winner with his eighth-place finish on the GEICO Honda.
Twenty-one-year-old Cameron Beaubier won his first career AMA Superbike race when he was victorious in the second of two races at Daytona International Speedway. Beaubier's victory came a day after Josh Hayes won his 42nd career Superbike race. Hayes topped Roger Hayden and Beaubier in race one with Beaubier besting Hayden and his Yoshimura Suzuki teammate Martin Cardenas in race two.
2015
Winner: Danny Eslick, Suzuki GSX-R600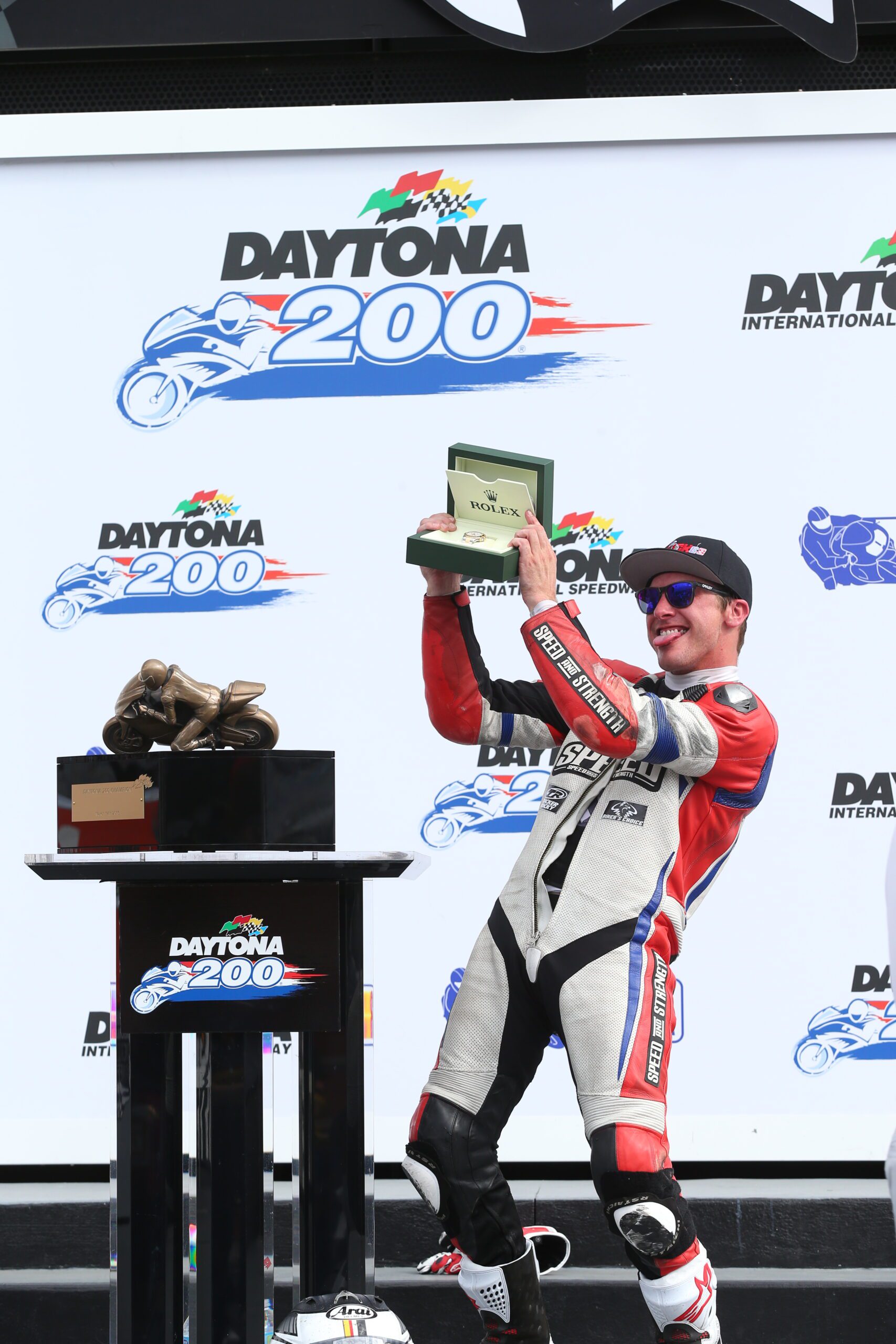 TOBC Racing Suzuki's Danny Eslick won the 74th Daytona 200 in typical Daytona style with a textbook draft pass on Wheels In Motion.com Meen Motorsports Yamaha's Josh Herrin on the final lap to take home back-to-back Daytona 200 victories.
"The last couple of laps were pretty crazy," Eslick said. "I thought I was all by myself and I looked back and there's big number two (Herrin). So, I kinda eased up. I knew he was going to catch me, and I didn't want him to catch me right there at the end. He did right what I wanted, he went by me, and I drafted past him across the line. It was kind of text-book draft passing at Daytona."
The Turning Point: The race, sanctioned by the American Sportbike Racing Association for the first time, didn't have the normal drama of green flag pitstops as four red flags pretty much killed that traditional element of the race. "That's probably the first 200 in history that didn't have pit stops," Eslick said. "We didn't have the live green flag pitstops, but it kept everybody tight and kind of kept the race close, which was good for the fans.
Newsworthy: Eslick's margin of victory over Herrin was just .086 of a second. Third place went to Geoff May on his self-run-crowd-sourced effort dubbed "Project Mayday." May was in the hunt for victory until his final pitstop when a piece of the quick-dump fuel filler came off in the gas cap.
The Daytona 200 was the only road race during Bike Week as for the first time in a zillion years the race wasn't a round of any AMA championship.