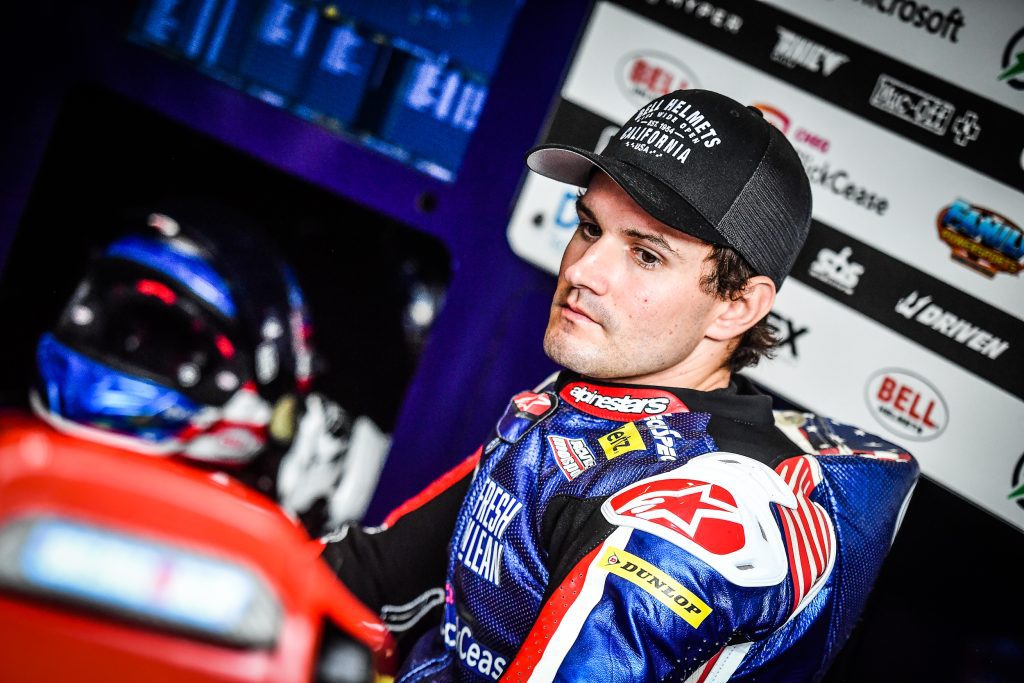 The following is from American Racing…
Cameron Beaubier has called time on his Grand Prix career and will part ways with American Racing at the end of 2022.
The five-time MotoAmerica Superbike Champion has taken the decision to return home to the USA and race in the national series once more after two years in the Moto2 World Championship.
While the team and Cam had made provisional plans to continue working together in 2023, he's decided on a different course of action, which we fully understand and respect.
In two years together, Cam and the American Racing team have shared some of the highest of highs that Moto2 can bring, not least starting from pole position at our home Grand Prix earlier this year. We want to thank Cam for his commitment, work ethic, and above all, his friendship. We look forward to seeing him continue his career with success back on home soil and in the meantime, aim to finish the 2022 Moto2 season together as strong as we started it.
The team is now also making new plans for its 2023 roster and will confirm the new lineup in due course.
Cameron Beaubier #6 –
"This wasn't an easy decision, that's for sure. Firstly, though, I want to thank the team for the opportunity to be here and compete on the world stage and now for respecting my decision. I'm glad that I've shown that, when things click together, I'm competitive towards the front.

But I mainly came over here with the hopes of progressing into MotoGP, and I'm going to be 30 in December. So, no matter how good I do next year, I don't see myself getting into MotoGP at 31 years old. I'm OK with that but I don't want to find myself racing in this class year after year, so I've decided the twilight years of my career would be better spent at home again.

As well as how intense it is on the track, I'm not gonna lie, part of my decision comes from getting homesick. I've been in Northern California my whole life, and it has been difficult spending significant amounts of time away from everything and everyone I know and love. I didn't realize how much I appreciated racing in the MotoAmerica series and that ability to be home after every race weekend.

I can understand that some of my supporters will be disappointed not to see me on the world stage anymore, but I want you all to know that I'm really happy that I took the chance to come over here, be a Grand Prix rider, and experience life in this paddock again as an actual adult. It's given me a huge amount of respect for all the riders here and actually how competitive and how talented everyone here is. I've grown as a rider in the past two years, and I'm looking forward to taking that with me closing out this season as strong as I can, for myself and the team."
Eitan Butbul, Team Owner – 
"Cameron told us back in Misano of his plans to go back to the U.S. and naturally I was very sad to hear he's taken this course of action. But, ultimately, I respect him and his choice to spend more time with his family going forward.

We had run the course of his initial two-year contract and provisionally agreed on an extension for 2023, where I believed he could fight for the title given the progression he's shown. The unforgettable moments we've had together have shown everyone he has what it takes to be up front.

Off the bike I've found him to be one of the nicest and coolest guys you could ask for to work with, and I'm looking forward to continuing pushing with him for the results he deserves over the final six rounds.

I want to make it clear that the team's project on bringing American riders into the World Championship is still at the heart of everything we do at American Racing, and we will continue to look for the next American rider to bring in. 

We also understand now that, going forward, we also need to create a step between MotoAmerica and the Moto2 World Championship to make a smoother transition for American riders, which is why we are working on an option of taking the team into the FIM JuniorGP European Moto2 class, as well to more readily prepare young and talented riders for the demands of the World Championship's intermediate class."