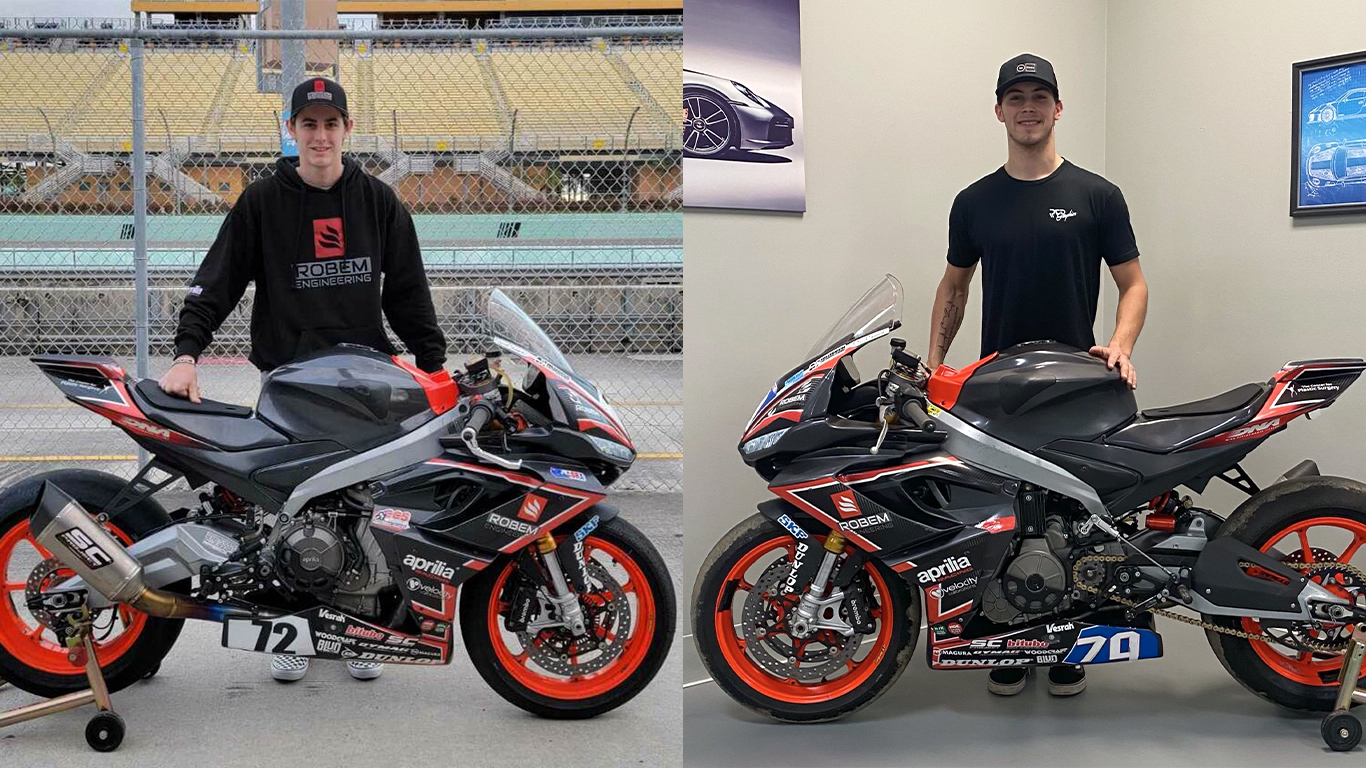 Robem Engineering has signed Ben Gloddy and Teagg Hobbs to their team, and both riders will compete aboard Aprilia RS 660s in the 2022 MotoAmerica Twins Cup Championship. The "twin" New Hampshire natives bring a wealth of talent and MotoAmerica road racing experience to the team to meet the elevated level of competition in Twins Cup in 2022.
Robem Engineering, along with partners Piaggio Group and Aprilia Racing, are excited for the opportunity to replicate the success of the team's 2021 MotoAmerica Twins Cup Championship-winning season on the Aprilia RS 660.
Hobbs began his road racing career at age 14. He will be starting his third MotoAmerica season and his second full Twins Cup season, which included last year's five podiums, including two wins over the 10-race championship despite being injured mid-season. "I am excited to be involved with a new platform in 2022 with Robem Engineering and Aprilia. I know Ben and I will be an asset to each other as we hunt down the Twins Cup Championship," said Hobbs.
Gloddy began riding at age four and road racing full-time at age 14. He moves up to Twins Cup after two successful Junior Cup seasons, which included last year's impressive 16 podiums and four wins over the 18-race season. "I am very excited to be joining Robem Engineering aboard the Aprilia RS 660 in MotoAmerica Twins Cup this year. Robem is a solid team, and I look forward to growing with them in the hunt for the Championship in 2022," said Gloddy.
The introduction of the Aprilia RS 660 and its homologation for MotoAmerica Twins Cup in 2021 resulted in a Championship-winning package in its first year of competition. A full year of development will help meet the challenge of increasing manufacturer involvement in the MotoAmerica Twins Cup Championship.
Robem Engineering specializes in the design and fabrication of racing parts for Suzuki, Yamaha, and Aprilia lightweight twins, as well as other bespoke racing parts in conjunction with industry partners. Visit www.robemengineering.com or follow them on Facebook or Instagram.
Check out our breaking-news Episode #167 of "Off Track With Carruthers And Bice" where Gloddy and Hobbs announce their 2022 plans: