Fifteen-year-old Ben Gloddy, who finished fourth in last year's SportbikeTrackGear.com Junior Cup Championship with eight podium finishes aboard his Quarterley Racing/On Track Development Kawasaki Ninja 400, has joined Landers Racing for the 2021 Junior Cup season. Gloddy will once again be aboard a Kawasaki.
"First of all," Gloddy said. "I want to thank Dale and Alex Quarterley, Bob Robbins, Eraldo Ferracci, Eric Wood, John Grush, Sergio Di Molfetta, The Big S, Scott Stump, Danny Walker, the entire Quarterley Racing/On Track Development Team and all of the sponsors who were involved in 2019 and 2020. Everyone's hard work, guidance, and dedication over the past two years will forever be a part of my story, and I am grateful to everyone, including my fans, who have helped me get to this point in my career. I learned a lot from Dale and will carry that knowledge forward with me.
"I am very excited to join Landers Racing this season. They have a solid program, and we know they can build a race-winning bike. I intend to prove I am capable of winning, too. Stoney, Rocco and the entire Landers family have become great friends of mine over the past couple seasons, and I know we will work great together."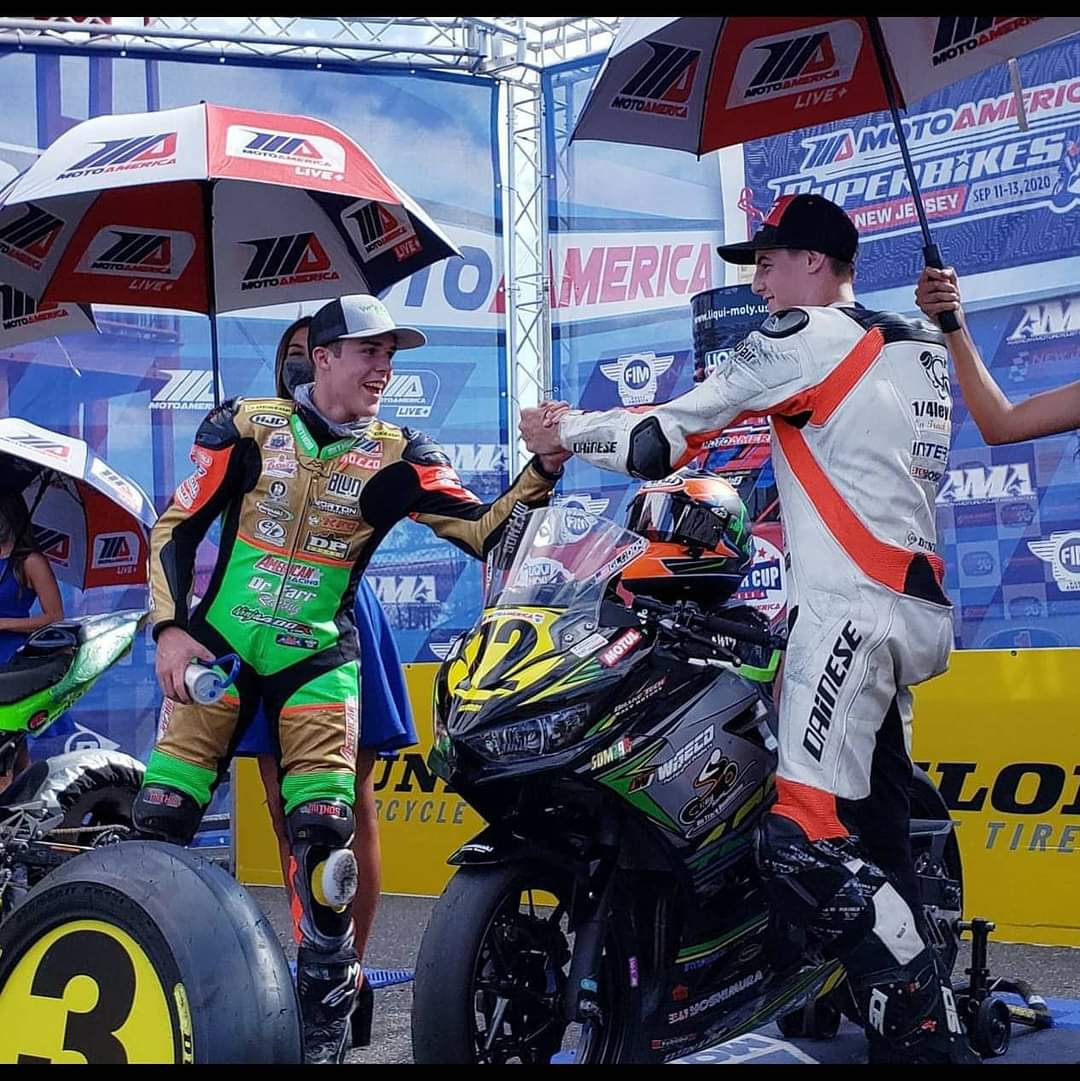 Landers Racing team owner Stoney Landers commented, "Ben came onto the MotoAmerica scene midway through 2019 in the Junior Cup class. He was young and didn't have a ton of road racing experience. Right away, I noticed he was putting in respectable finishes and has just gotten more and more consistent as the races have clicked by. I know he has had some good people in his corner to help bring him along, such as Danny Walker, Bob Robbins, Dale Quarterly, Eraldo Ferracci, and Eric Wood, to name just a few. Our package worked well for Rocco, so I am looking forward to giving Ben the same level of commitment that helped Rocco get the job done. It will not be easy due to all the fast kids who are continuing in Junior Cup, as well as some very quick kids that are joining the class. We will be pushed constantly, but we are ready for the challenge. Ben's work ethic, talent, and interest to improve will serve him well."
Gloddy, who is from Northfield, New Hampshire, will continue as a guest instructor for both the American Supercamp and the Penguin Racing School. He has been coached under American Supercamp since 2011 and, as one of the original two kids selected to be part of the Penguin Racing School Youth Mentor Program, Gloddy continues to be a part of their program and helps coach and mentor other youth racers.
Rider and team sponsorship opportunities are available for the 2021 season. To join the team, contact Christina Day at [email protected] or Stoney Landers at [email protected]
You can contact Ben Gloddy at [email protected] and follow him at bengloddyracing.com, as well as on social media at @bengloddyracing.
To purchase tickets for all MotoAmerica events, click HERE
For information on how to watch the MotoAmerica Series, click HERE
For the full 2021 MotoAmerica Series schedule, click HERE