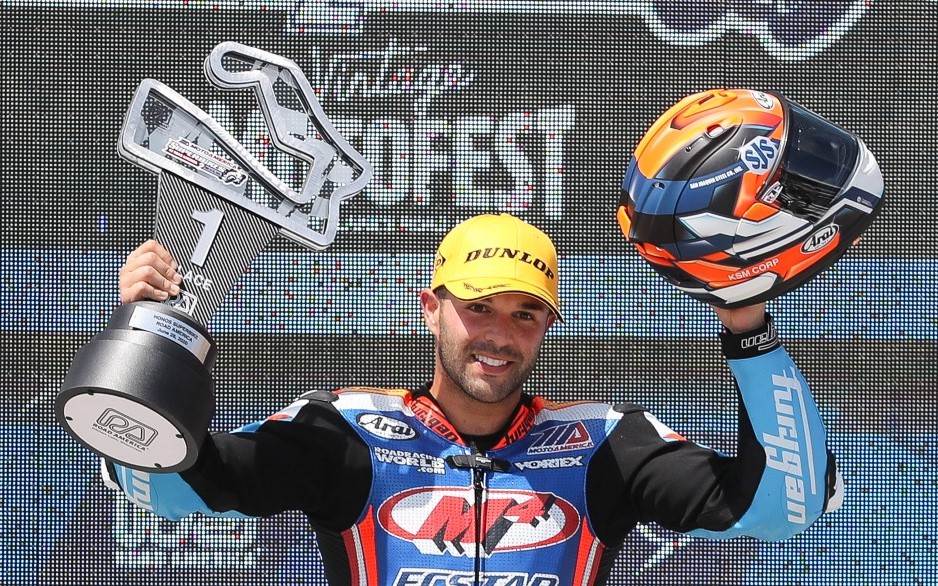 The following is from SDI Racing…
SDI Racing, LLC, promoters of the legendary Sacramento Mile AFT dirt track race at Cal Expo, has joined forces with Roland Sands Design to field a factory S&S-built Indian Challenger motorcycle for former Supersport series champion Bobby Fong in selected rounds of the 2022 MotoAmerica Mission King of the Baggers road racing tour.
Fong, the 2019 MotoAmerica Supersport Champion, with six victories, moves from the Superbike series to the popular King Of The Baggers tour with the No. 50 Sacramento Mile/SDI Insulation-backed Indian Challenger and the Roland Sands Design team beginning with the series' season-opening doubleheader events at Daytona International Speedway on March 11-12. 
Fong also is scheduled to race the No. 50 machine in two additional doubleheader race weekends at Michelin Raceway Road Atlanta on April 23-24 and WeatherTech Raceway Laguna Seca on July 9-10. The Stockton, California, native has an impressive motorcycle racing career in a variety of series including starting in Northern California flat track competition before moving to pavement action.
"We are very excited to team up with Indian Motorcycle, Roland Sands Design, S&S and Bobby Fong for a very strong effort in the popular Mission King Of The Baggers Championship in MotoAmerica in 2022," said Steve DeLorenzi, president and CEO of SDI Racing and the Sacramento Mile.
"SDI Racing has been associated with Rogers Racing, Indian and champion Jared Mees in the American Flat Track national series for many years," said DeLorenzi. "And we have seen the enthusiasm grow for King Of The Baggers. Bobby is also a champion rider, and Roland puts together an excellent operation. We are pleased to promote our Sacramento Mile event within the Baggers series, also."
Fong also is motivated for his King Of The Baggers series debut with Indian and the Roland Sands Design team.
"I am very excited to work with the Roland Sands Design team and SDI Racing in the Baggers event this year," said Fong. "With Roland's brand, I fit in there well with the factory Indian Challenger. I tested the bike recently, and I feel like it is very fast. I'm anxious to get to Daytona and see how we stack up against the competition. I went to Roland's shop in Southern California and was very pleased with his operation."
Sands' racing organization will bring five motorcycles to Daytona to compete in the King Of The Baggers and the Super Hooligan events at the famed 3.57-mile, 14-turn road circuit that utilizes the 31-degree banking.
"We believe with have a strong combination with the Indian Challenger and Bobby for the No. 50 Sacramento Mile/SDI Insulation bike," said Sands. "Bobby has proven to be a champion in other series, and recent testing showed he was immediately quick on the Indian machine. Having SDI Racing aboard brings a new aspect to our team with the Sacramento Mile and SDI Insulation flat track experience. I feel it presents an outstanding element to the popular Baggers tour."
The Mission King Of The Baggers series has been a new, innovative project for Indian Motorcycle and Gary Gray, Vice President – Racing, Technology and Service for Indian Motorcycle, is enthusiastic for his company's involvement in 2022.
"We have seen the growth and popularity of the Mission King Of The Baggers series, and we are very anxious to get our Indian Motorcycle baggers on the track at Daytona," said Gray. "Bringing in a rider like Bobby and a team such as Roland Sands Design to combine with Steve's SDI Racing involvement is a strong effort for Indian Motorcycle this year. We are excited to see Bobby get to the top of the podium with our bike."
The Mission King Of The Baggers action gets underway at Daytona International Speedway with practice rounds set for Thursday, March 10, at 10:10 a.m. EST with qualifying scheduled for 2:10 p.m. The first King Of The Baggers eight-lap feature will start at 3 p.m. EST on Friday, March 11, while the second Baggers event takes place at 4 p.m. EST on Saturday, March 12.
The Law Tigers Legendary Sacramento Mile presented by Knauf Insulation dirt track races will be held on Saturday, August 20, at the Cal Expo Fairgrounds. Tickets are currently available at www.sdi-racing.com.