In advance of next month's MotoAmerica round at Brainerd International Raceway (BIR) in Minnesota, Calishine Racing's Aden Thao participated in this weekend's Central Roadracing Association (CRA) event at BIR. For 17-year-old Thao, it was his first time at the Minnesota racetrack, and to say he likes it would be an understatement.
Thao competed in the CRA's Ultralight Cup Expert class on Saturday and won all three races. Along the way, he also set a new track record in the Ultralight Expert class aboard his Kawasaki Ninja 400.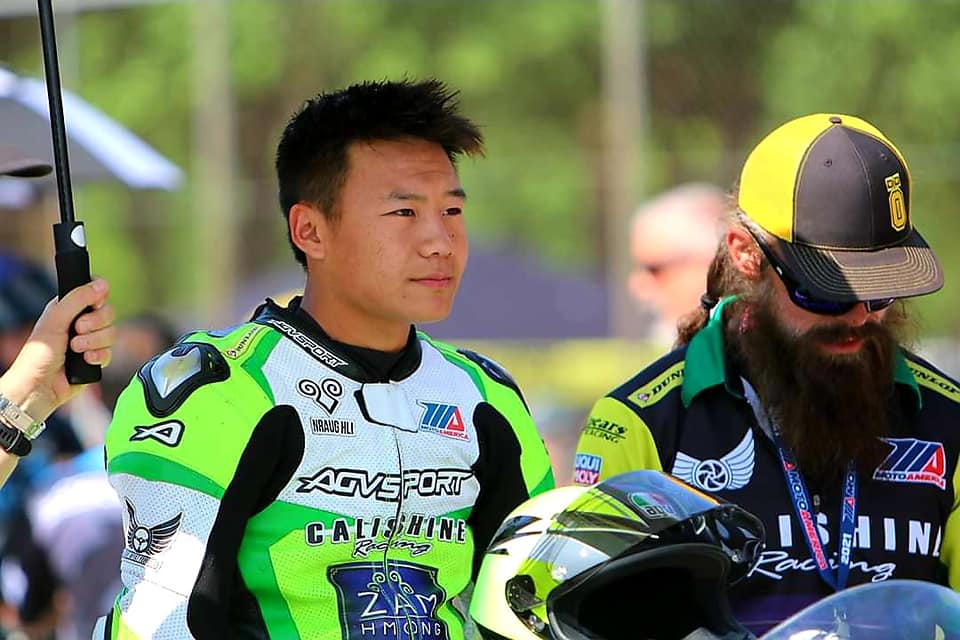 Commenting on his day, Thao said, "It's my first time at Brainerd, and I really love the track. It has a really smooth surface and is really fast and flowing. Turns one and two are probably the craziest turns here in America. The track is known for having the fastest turn one in the United States, and I definitely know where they got that from now that I've ridden it. Winning three races today felt great. I've got my Calishine Racing crew here, along with my Mom and my Dad, and they all helped me get here and get these wins today. With our truck and equipment already heading to Washington, we were pretty limited on what setup changes we could make, but they put me on a great bike, and I was able to do some really solid lap times out here. The track record here was a 1:47, and in my second race today, I did a 1:43.9, so I'm pretty stoked about that. I think we can run even faster here, but we were pretty limited on tires. Tomorrow, we are expected to have rain all day, so I don't think we'll be in the 43's.
"I'm pretty excited for MotoAmerica to come here to Brainerd. I'm going to capitalize on this seat time and the experience from this race weekend to hopefully benefit me in Junior Cup when we come back here. We have a lot of data from this weekend that we can use when we come back. I've figured out a lot of the great places to pass and also where I shouldn't be on the track, so that will help a lot."
Thao and his Calishine Racing team will return to BIR on July 30 through August 1 for round six of the MotoAmerica Championship where he will compete in the SportbikeTrackGear.com Junior Cup. Heading in next week's round four at Ridge Motorsports Park, Thao is currently ranked 10th in the Championship standings.
To purchase tickets for all MotoAmerica events, click HERE
For information on how to watch the MotoAmerica Series, click HERE
For the full 2021 MotoAmerica Series schedule, click HERE