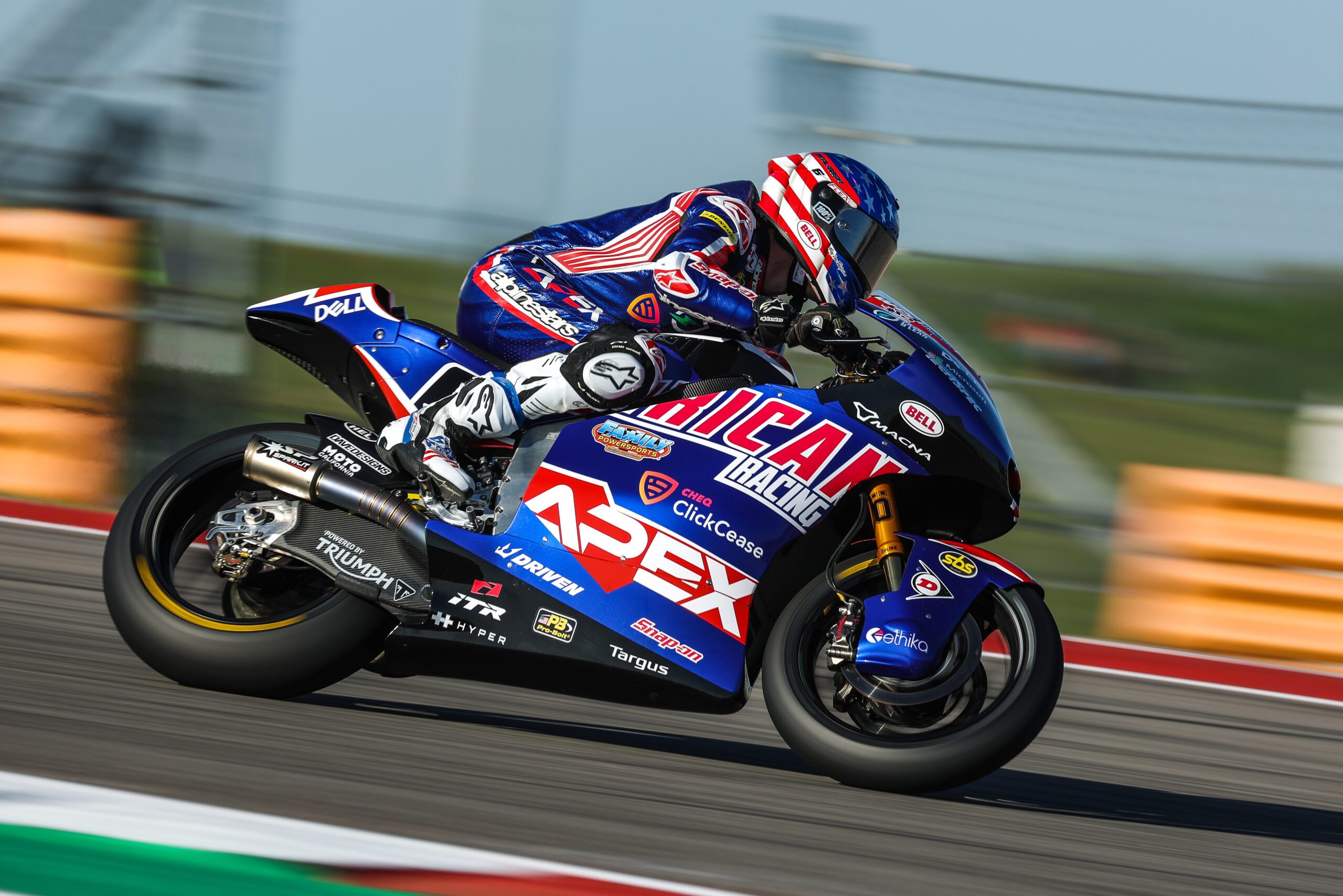 The American Racing team made history on Saturday at the Circuit of The Americas in Austin, Texas, with five-time MotoAmerica Superbike Champion Cameron Beaubier becoming the first American rider on an American team to earn a Moto2 pole position in the U.S.

Back on home soil, Beaubier quickly adapted to the mostly resurfaced Circuit of The Americas as the Californian ended the combined practice sessions comfortably within the top ten to secure his direct passage into Q2. Keeping his head down, Beaubier put in the work in front of his home crowd and gave them something to cheer about as he delivered a faultless lap to snatch his maiden pole position in Moto2, and the new, all-time lap record.

On the other side of the garage, it was a difficult start to 2021 MotoAmerica Supersport Champion Sean Dylan Kelly's home race weekend. The rookie suffered a heavy crash at turn 11 in FP2, picking up an injury to his hip, but he gritted his teeth and soldiered on as he continues to find his feet in the Moto2 class. Struggling against his injury, Sean ended qualifying in 28th as he prepares to put on a show for the home fans tomorrow in the race.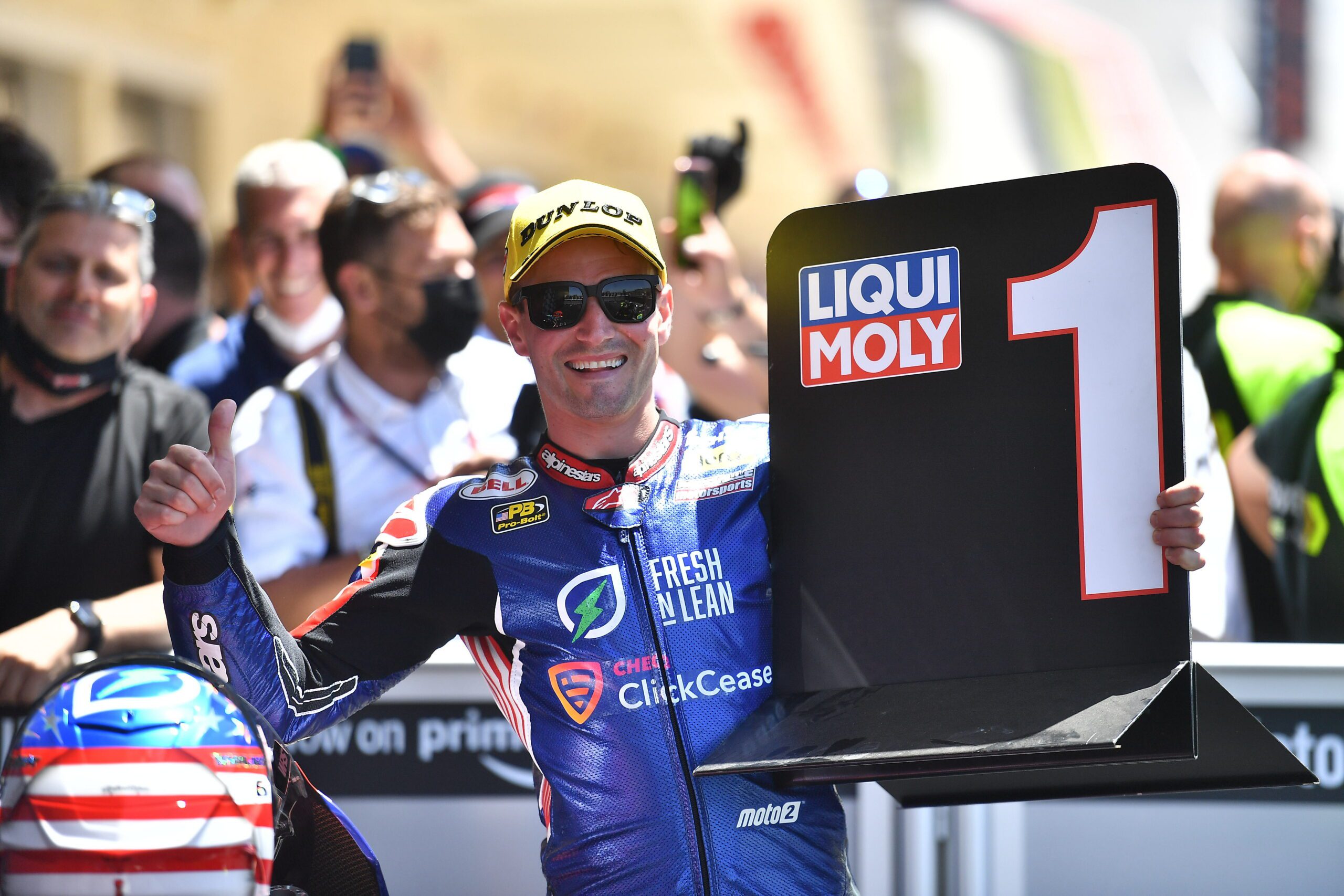 Cameron Beaubier #6 – 1st
"I was not expecting pole. My goal was just to qualify on the first two rows, that way I can have a clean start tomorrow, but I just felt hooked up. The American Racing team has been working so hard this year, and especially this weekend. I know this track has been good for me. It was last year, and I knew we could put on a good showing this year. Obviously, it's just qualifying, so I don't want to get too excited, but it feels so good after the struggles we went through last year. There were definitely a lot more lows than highs, but we're trucking along and this year, we've been riding around the top 10, floating thereabouts, and it definitely motivated me coming here.

"Rolling around the track on the cool-down lap and seeing the fans go crazy, it means everything to me to be riding in front of the home crowd and, to put it on pole, it feels pretty dang good! I've missed wearing this yellow Dunlop cap. I didn't think I would, but it's been a couple of years, so it's going to have a special place at home.

"My quiet goal coming into the weekend was, at minimum, a podium, but we'll see. It's going to be a long race as 18 laps around here is no joke. Canet and Vietti are riding incredible right now, especially Vietti to come through Q1 after a tough day yesterday and put it on the front row. It's pretty incredible stuff. They're riding on another level, but I feel really good here this weekend, and I think we could have a good race here tomorrow.

"Shout out to the American fans! It's incredible to see how many people have turned out just for Saturday to cheer us on, and I'm wearing the red, white, and blue proudly!"

Sean Dylan Kelly #4 – 28th
"It was definitely a challenging day. I'm happy I was able to get back on the bike. We need to look at the positives: I'm in one piece, I got through qualifying, and I'll be in the race tomorrow but it was definitely a challenging day after yesterday. The hip is feeling very sore, and unfortunately, I had some other issues as well today, so it just made it a challenging day. But, we just need to absorb these tough moments. I knew we were going to have some hard days this year, and this is one of them. I just need to keep my head up and, going into tomorrow, hopefully we get to the checkered flag so we can give the American fans a big thank you.

"I'm super-stoked for the entire team and Cam! I think that everyone really deserved that, I think Cam definitely deserved that after a tough year, so I'm excited to see what he can do tomorrow."

John Hopkins, Sporting Director
"American Racing getting a pole position on home soil is honestly a dream come true. Honestly, I feel better about this than I ever did about my entire racing career. To be able to give back, give that advice and help these riders maximize their potential and see the differences and then also get the appreciation and respect back from them, I really love this job.

"Cam was calm, collected. I've never seen him so focused in my life. I just sat with him right before the start, and I leaned down and said, 'Look, Cam, treat this like any other MotoAmerica race. You're here in America, You've got all your American guys around you. Treat this exactly like you did all those times you showed up at Superbikes, knowing you could beat the rest of the field. You've been in the top three all weekend. You've already done the work, you've already taken care of the hard stuff. Just go out there and keep doing what you've been doing all weekend and you can make it happen.'
"He was calm, he was focused, and he had that mental edge, that mental confidence that you need. This championship is so tight, it's so close, we're talking tenths, they make such a huge difference, so just having that mental confidence is all he needed to make that next step, and I think we're going to see the new Cam Beaubier in the Moto2 Championship for the rest of the season."