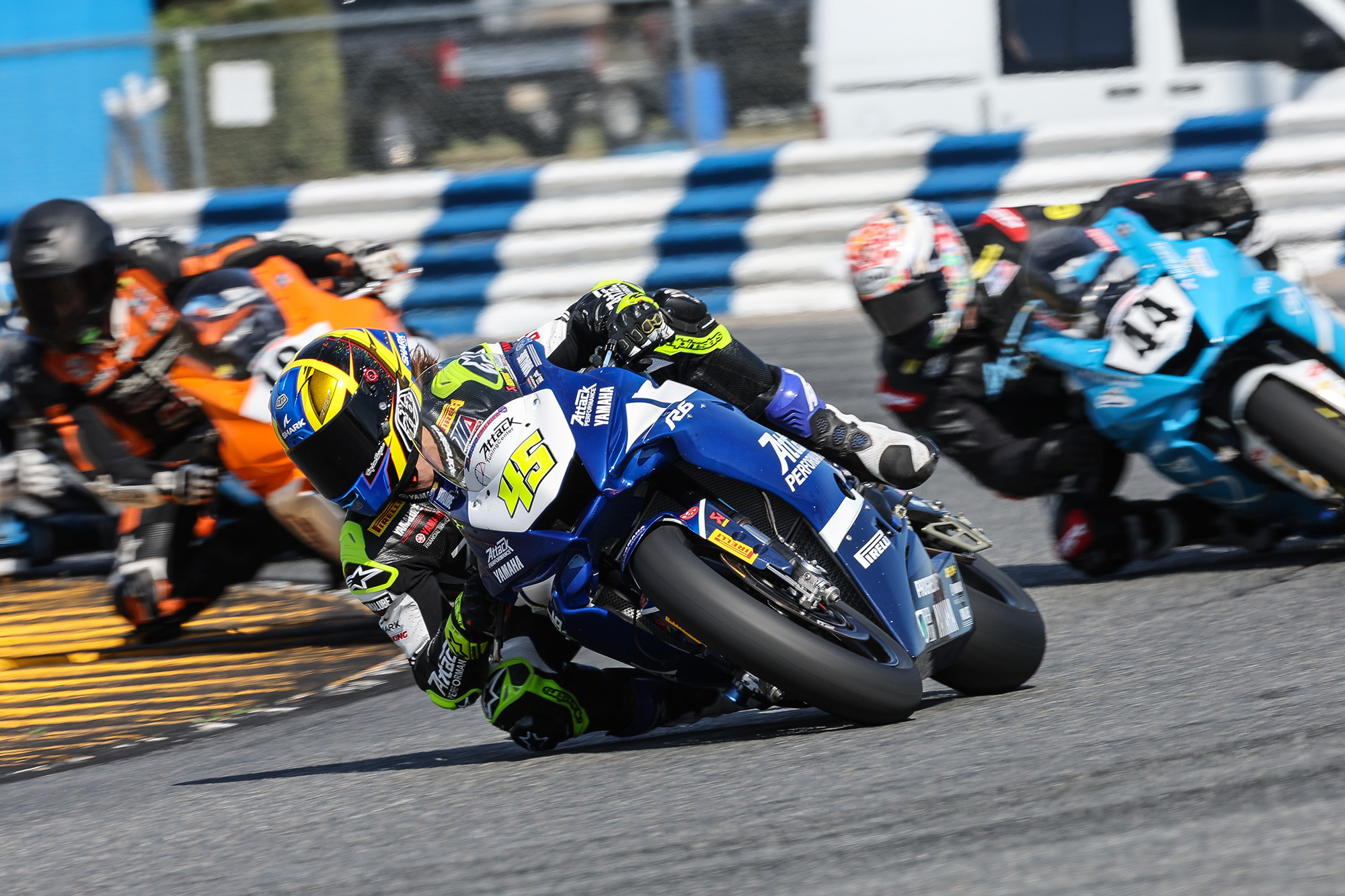 The following is from Yamaha…
Petersen Returns To The Podium In Drama-Filled Daytona 200
Attack Performance Yamaha Racing's Cameron Petersen overcame adversity to cross the line third in a drama-filled 81st running of the Daytona 200 at Daytona International Speedway.
Coming just .007 seconds shy of the win last year, Petersen and the team were aiming for the top spot at the historic 200-mile race in Daytona Beach, Florida. When the lights went out, he quickly made his way to fifth from the seventh spot on the grid and then advanced to third. Unfortunately, he had a technical issue two laps into the race and ultimately was shuffled back and lost touch with the lead group. The South African pulled into the pits on Lap 12, and although he still was struggling to find his comfort zone, he kept pushing to make up lost ground. After his third pit stop, he made a big push and was able to close the gap on the race leader. Petersen passed the leader to join the lead lap, and then a crash brought out the red flag with five laps remaining.
With the red flag being shown before Lap 53, the rules called for a restart and that there be a minimum of 10 laps. So it was a new race with Petersen in sixth for the restart in a 10-lap sprint. Sitting sixth after the first lap, he put his head down to join the lead group and battled for the win. It was the typical chess match with drafting battles on the high banks of Daytona with multiple lead changes. Petersen fought to the end, ultimately taking third to earn his second-consecutive podium finish at the historic race.
The team now sets their sites on defending the title in the premier class and preparing for the MotoAmerica Superbike season opener at the Michelin Raceway Road Atlanta on April 21-23 in Braselton, Georgia.
Richard Stanboli – Attack Performance Yamaha Racing Team Manager
"The race really was just the last 10 laps. It showed how good the Yamaha R6 is and that it's very competitive against the other bigger bikes. We're pretty pleased with our result, even though we thought we could have had a little bit better race. Something happened with the clutch, I think, after the start. He was able to collect it up and un-lap himself, and that got us the opportunity to race for the win, which was great. This was a shop project. We came here to have a little fun with our little bike, but now it's time to get serious with Superbike racing."
Cameron Petersen – Attack Performance Yamaha Racing
"It was a crazy Daytona 200. The 57 laps didn't really matter because the red flag came out, so it was a sprint toward the end. It was just a little bit unfortunate that after the first start, I had a problem with the clutch and just kind of struggled to stay with the group. I couldn't get on the brakes. I couldn't tip the bike into the corners the way I wanted to, so, I was really struggling through the infield. Thank god for that red flag because the last 10 laps, I just put my head down, and I was like, 'Man, give it your all. Whatever happens, happens.' There was just so much chaos. I didn't even know I got on the podium. I was about to get undressed and was ready to go home, and somebody ran over and was like, 'Hey, you're on the podium.' It's not only for me. I think it's just massive for the team to get a podium. A lot of effort goes into this single event with the bike, the travel expenses, and everything. So, I'm glad I could get on the box for the team, but I'm ready to get back on my Superbike."
---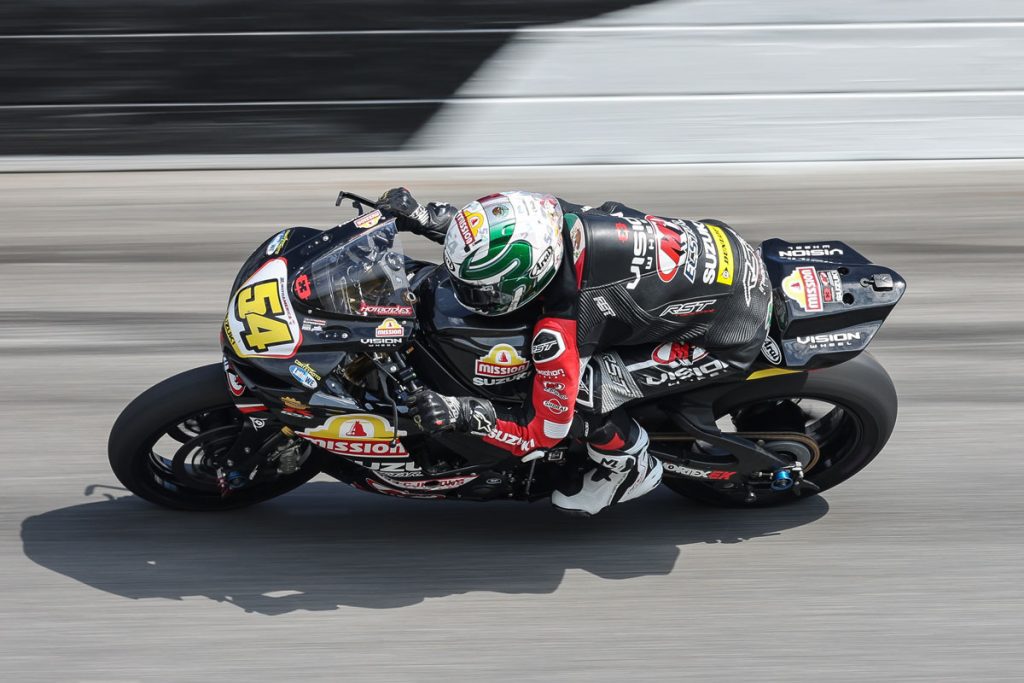 The following is from Suzuki…
Sixth For Vision Wheel M4 ECSTAR Suzuki's Hobbs And Disappointment For Escalante In The 81st Daytona 200
Vision Wheel M4 ECSTAR Suzuki left the MotoAmerica AMA/FIM North American Road Racing season opener with a top-ten result and a heavy dose of tough luck after missing a potential victory late in the running of the 81st Daytona 200.
MotoAmerica Superbike regular and former MotoAmerica Supersport champion Richie Escalante orchestrated a flawless performance as he negotiated the equally prestigious and arduous race. He guided the Mission Foods Suzuki GSX-R750 at or near the front of the pack deep into the contest, including leading into both scheduled pit stops.
Seemingly locked in a two-rider race for victory with less than ten laps to go, Escalante was taken out in a collision that occurred when his opponent attempted a tight inside pass in Turn 1 that resulted in a penalty. Despite the ruling in his favor, the incident still instantly erased Escalante's excellent shot at the victory.
Escalante said, "First of all, I want to thank the team for everything they did for me, from pre-race testing, to qualifying and setting the lap record, to the amazing pit stops during the race. The Mission Foods Suzuki GSX-R750 was fantastic. I thought we performed well in the race, running a particularly good pace. It came down to the last ten laps, and I was trying to separate. There was a racing move, another rider touched my bike, and I crashed. I have a lot of respect for Josh Herrin. He is a former Superbike champion and has won a lot of races. I thought I was the fastest today, but sometimes you win, sometimes you lose, and sometimes you crash. We didn't win so I am not 100% happy. I thought we did well all week, but it did not work out the way we wanted in the end. It's back to work on Monday to get ready for Superbike in Atlanta."
A couple of short laps later, Vision Wheel M4 ECSTAR Suzuki's Teagg Hobbs came together with a lapped rider while running inside the top five. A resultant red flag provided the team with a shot at redemption after facing complete disaster, and Hobbs took full advantage.
Hobbs battled with the lead group in the 10-lap shootout for a victory that followed the stoppage, even leading in its early stages. He gradually lost touch with the drafting war for victory, securing an eventual sixth-place effort in his maiden race aboard the Vision Wheel M4 ECSTAR Suzuki GSX-R750.
"I came together with another rider, and race officials made me go to medical," said Hobbs. "I was getting checked out when I saw the team putting my bike back together in pit lane on the screen. After they said I was okay, I put my gear back on and started limping back to the pits, then I borrowed a golf cart and made it back just in time. I was able to get up to the front and lead two laps but the bike and the rider both had some issues resulting from the crash. We got a good result at least. Over the weekend, we made nice progress and got the bike sorted."
Unfortunately, Tyler Scott's bid for the win from the front row never really materialized. The prodigious pilot encountered technical issues early and ultimately retired just 14 laps into a scheduled 57 (and actual 62) laps.
Scott said, "For the start in Turn 1, the bike was good, but we soon had electrical problems. I tried to do the best I could. Eventually, I had to pull off due to safety concerns. It didn't go the way we wanted but I'm really looking forward to racing the 200 with the team next year and can't wait for our next race in Atlanta."
---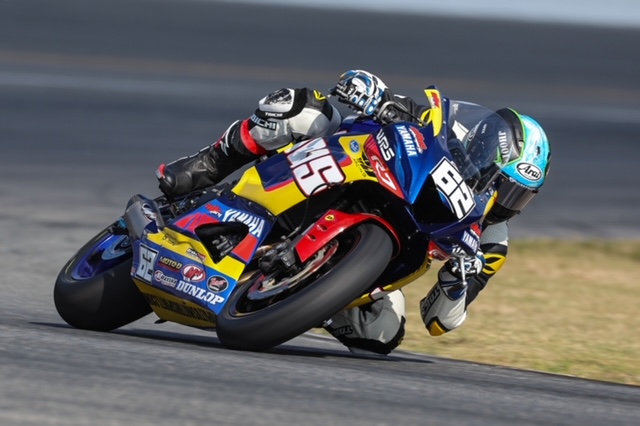 The following is from Altus Motorsports…
Limandri Jr. Impresses In His Debut Ride In Twins Cup

The 2023 MotoAmerica season kicked off in Daytona Florida. With the Twins Cup running as one of the support classes to the famous Daytona 200, Altus Motorsports was there in support of Joseph Limandri Jr. onboard the team's new Yamaha YZF-R7 entry in the class.
Despite having minimal seat time on the new platform, Limandri quickly adapted and qualified 12th for Race 1 on Friday.
During the race, he engaged in a three-bike battle and emerged as the victor, finishing in 7th place. On Saturday, the Altus team made some modifications to the bike that improved its aerodynamics significantly. Limandri Jr. started from 11th in Race 2 and managed to stay with the lead group, finishing an impressive 5th after a red flag forced a restart.
"I'm really thankful to Mike Castro, Eric Gray, and the entire Altus team. They worked hard and gave me a great bike. I love working with the team, and I'm ready to push to the top step. I can't think of a better way to celebrate my 18th birthday than racing at Daytona!" said Joseph Limandri Jr.
With the successful debut in the Twins Cup class, Limandri Jr. is optimistic about the season ahead and is looking forward to competing at the front.
Team owner George Nassaney acknowledged the tremendous effort that went into preparing the Altus Factory-built Yamaha R7. The bike was built in house by Team Manager Eric Gray, who worked long hours to ensure it was ready for the Daytona race, even with several key parts arriving just a couple of weeks before the event. "This past weekend was amazing to see all of the work paying off. Joseph rode very well and gave excellent feedback to his crew chief Mike Castro and team manager Eric Gray. Both worked to improve the bike every session, and the results showed. We are excited to leave Daytona with solid points, and we are all very proud of Joseph. Now it's time to get back to the race shop and get the team ready for Atlanta."
---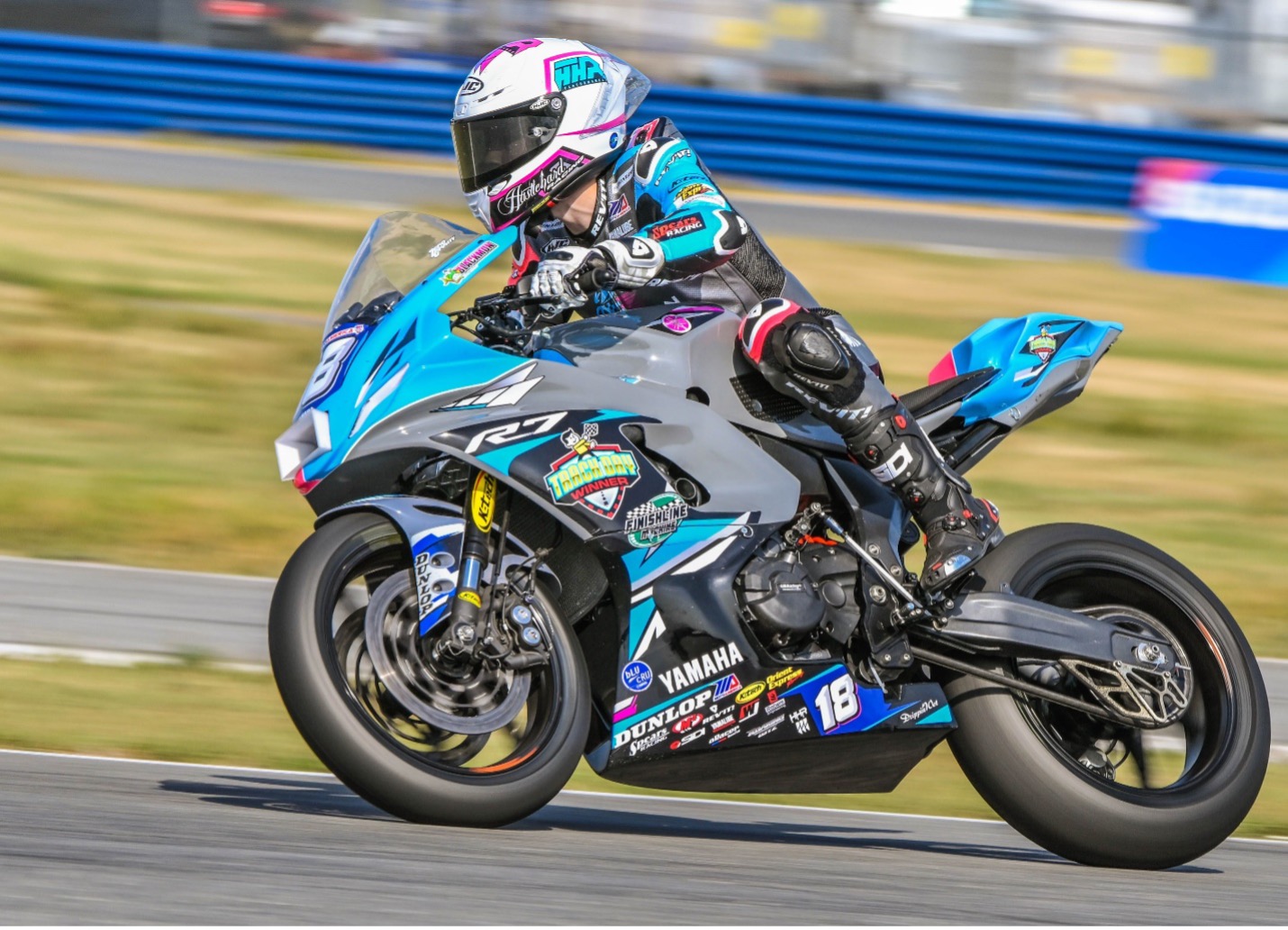 The following is from Trackday Winner/Blackmon Racing…
Blackmon Overcomes Injury To Double Podium At Daytona
The 2023 MotoAmerica Twins Cup Championship debuted at Daytona International Speedway over this past weekend. There were three days full of close racing from all the classes that were featured at the race. The Twins class saw some new talent enter the class, while other riders made their return such as Jackson Blackmon.
The 21-year-old rider from South Carolina suffered an ankle injury back in June of 2022 at Road America that ultimately put an end to his 2022 season. Trackday Winner/Blackmon Racing has made a return in 2023 with Jackson back aboard a 2022 Yamaha YZF-R7. With this being his third year competing in the class, he was hoping to use that experience to gain great results and minimize mistakes. Upon hitting the banks of Daytona in practice one, it was evident that Jackson hadn't lost any pace.
Coming out of the offseason, the team encountered multiple challenges while preparing for 2023. New partners for this year include K-Tech Suspension, M4 Exhaust, Robem Engineering, Spears Racing, REV'IT!, and Hustle Hard Racing. Trackday Winner has returned as title sponsor with numerous associate sponsors, including Yamaha, Yamalube, Finishline Machine, HJC, and Wiseco.
Blackmon Racing came to Daytona with a strong package that delivered astonishing finishes and fast speeds. Qualifying was up and down for Jackson. Continuing to make big changes to the race setup made it hard for him to get fast laps. He ended up starting seventh for the races, but he was feeling confident in the settings for race 1 on Friday.
The first of the two races scheduled for the weekend consisted of some chaos that broke up the lead pack early on. Jackson had to take evasive action in a crash that saw him back in fourth position and seconds behind. He was able to continually find pace to eventually catch up to the second-place rider, Then, on the final lap he made a draft pass to the line to take over the position. From ending his last race with injury to starting this season with a podium was exactly how he wanted to return to racing.
The second and final race of the Twins class at Daytona saw a different story unfold. Starting with a red flag early on made for a five-lap restart. Blackmon struggled a bit in the infield and that let the top two guys get away, but he was still able to manage third place to make for a double podium weekend.
"The weekend couldn't have gone much better," Blackmon said about his 2023 Daytona experience. "It's been a long road of recovery on my ankle as well as a lot of long nights to prepare the bike for round 1. So I was very pleased to pay back my Trackday Winner/Blackmon Racing team with two days on the box. These results give me a lot of confidence heading into Atlanta, and I cannot wait to get back on track soon." Trackday Winner/Blackmon Racing would like to thank their 2023 partners for their support: Trackday Winner, Finishline Machine, Yamaha, Yamalube, K-Tech, Orient Express, HJC, REV'IT!, Robem Engineering, M4, Spears Racing, Wiseco, Hustle Hard Racing, Drippin' Wet, and Sidi.
---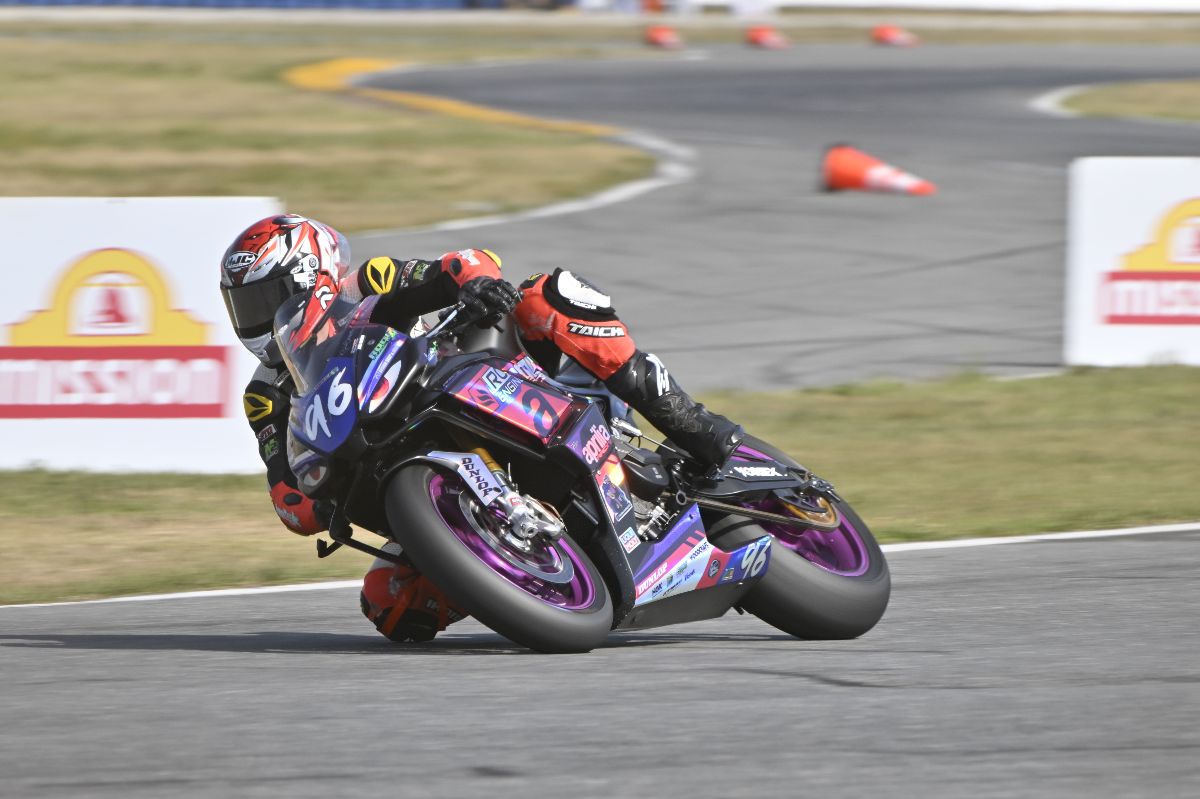 The following is from Rodio Racing – Powered by Robem Engineering…
Rodio Takes Victory In First MotoAmerica Twins Cup Race Of 2023
It wasn't Gus Rodio's first time racing an Aprilia RS 660 at Daytona International Speedway, but the New Jersey rider kicked off the new-for-2023 Rodio Racing – Powered by Robem Engineering collaboration by scoring a win and runner-up finish at the opening round of the 2023 MotoAmerica Twins Cup season.
Rodio piloted his Aprilia to a commanding win in his first race with the new team and came oh-so-close to scoring a second victory at the March 9-11 event.
Rodio's teammate, New Hampshirite Ben Gloddy, had a positive start to the Daytona round before suffering an unfortunate injury that did not allow him to finish Friday's Race 1 or contest Saturday's Race 2.
In the Twins Cup's first on-track session of 2023, Rodio ended Thursday practice at the top of the time sheets. He bested the next fastest rider in the class' only practice session by 0.064 seconds. Gloddy finished practice fifth-fastest. Later Thursday, Rodio and Gloddy finished Qualifying 1 fourth- and sixth-fastest, respectively.
Friday morning saw Rodio secure fourth on the starting grid in the second and final qualifying session. He missed out on pole by a mere 0.216 seconds. Gloddy wrapped up qualifying in sixth place.
The Daytona round's first Twins Cup race took place Friday afternoon and saw Rodio put in a dominant performance. Rodio moved up two places in the first several corners and was battling for the lead before the end of Lap 1. Gloddy also got a good start and ran as high a third before another rider crashed in front of him at the exit of the west horseshoe. The crash forced Gloddy to take evasive action, but unfortunately the crashed bike made contact with Gloddy's RS 660, which caused Gloddy to crash. What was a three-way battle for the lead between Rodio and two other riders in the middle of the nine-lap race gradually became a one-rider show as Rodio pulled away from the other frontrunners to win by more than eight seconds.
Unfortunately for Gloddy, he suffered an injury when he was forced off track that did now allow him to take part in Saturday's Twins Cup Race 2.
The second race was an eventful one for Rodio, who made the most of a race restart to extend his lead in the Twins Cup points standings. Rodio's motorcycle began exhibiting a problem with its fuel cap on the warm-up lap, which caused Rodio to pull back into his pit box while the rest of the field was forming up for the race start. The team worked relentlessly to get the motorcycle repaired in time to rejoin the race, and a short time later the race was stopped on Lap 3 due to a crash.
The race was restarted with its original starting grid and five laps to go, and Rodio once again quickly made his way forward to the battle for the lead. He was in the race lead at the end of Laps 1, 3 and 4 and gradually broke away from the rest of the field with another rider. Rodio put in a valiant effort to get a good drive out of the backstraight chicane but was bested to the finish line by 0.162 seconds. Rodio's second place added 20 valuable championship points to his tally, and he leaves Daytona with a nine-point lead in the class standings.
The MotoAmerica Twins Cup's next round takes place April 21-23 at the Road Atlanta circuit in Braselton, Georgia.
Gus Rodio / No. 96
"It was an awesome first race of the season. I was able to break away from the pack and win my first Twins Cup race. It was my biggest margin of victory and I'm very happy. In Race 2, I broke away from the pack with another rider and had a race-long battle for the lead. I ended up second in a close finish. I'm really happy with this result as I didn't think we would make it on track due to an issue we had. I'm really excited to get to Atlanta and keep working towards our goals."
---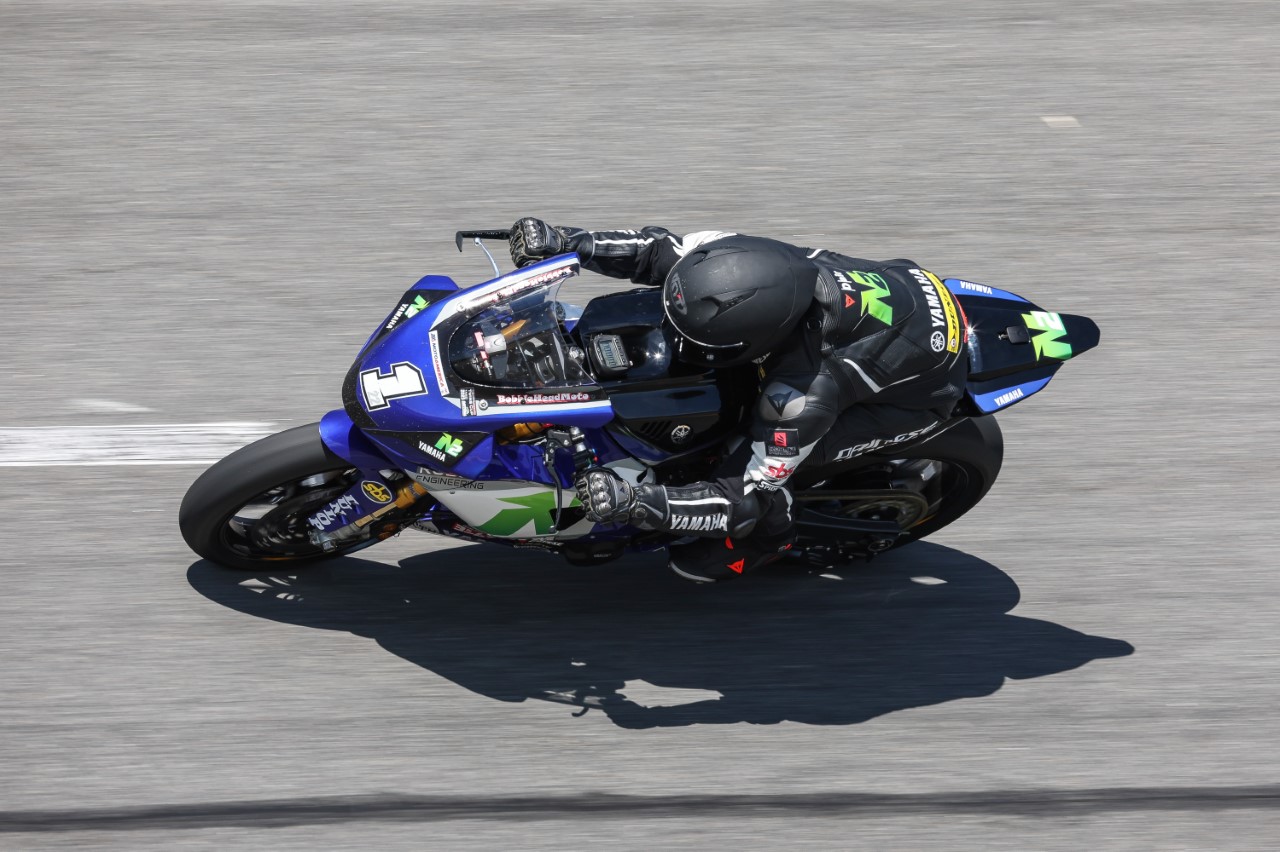 The following is from N2 Racing/BobbleHeadMoto…
N2 Racing/BobbleHeadMoto's Blake Davis Scores Two Top-Five Finishes at Daytona
N2 Racing/BobbleHeadMoto's Blake Davis leaves Daytona with a pair of fourth-place finishes in Twins Cup and an eleventh-place finish in his first Daytona 200. Blake was fast in every session, scoring pole position in Twins Cup and leading both races, but small mechanical issues prevented him from capitalizing on his speed. Blake also competed in his first Daytona 200 aboard a Blake Davis Racing/Biothermal Yamaha YZF-R6, and he ran with some of the best riders in the country in the final laps.
Blake was fast from the moment the team unloaded the championship-winning N2 Racing/BobbleHeadMoto Yamaha R7. He led nearly every session and qualified on pole despite a crash in Q2. Blake just missed out on a chance at the Time Attack qualifying session for the Daytona 200 and qualified on row four in 13th place.
Championships are about scoring maximum points on your bad days, and that is exactly what Blake did. In Twins Cup Race 1, he battled for the lead for most of the race until he started having temperature issues with his R7 that require that he back off a bit to make it to the finish in fourth place.

Twins Cup Race 2 was very similar with Blake having race-winning speed in the beginning, but suffering some minor technical issues. Instead of crashing or pulling in, he stayed out and nursed his Yamaha R7 to the finish line in fourth place. Those two fourth-place finishes leave him fourth in the points and 19 points out of first.

Blake's focus in 2023 is defending his Twins Cup Championship, but he will participate in several Supersport rounds on his Blake Davis Racing/Biothermal Yamaha R6. The Daytona 200 was Blake's first Supersport race, and he did not disappoint. Despite having an issue at the start that saw him fade back to well outside the top 20, he kept fighting for the entire race, putting in fast, consistent laps. The N2/BobbleHeadMoto/Blake Davis Racing team gave him two great pit stops, which put him in the lead group for the final ten-lap sprint. The sixteen-year-old battled with the best, most experienced racers in the country for those last ten laps running as high as second place. In the end, he finished sixth on the race track, but a pit lane speed penalty pushed him back with 11th. An amazing result for his first Daytona 200.
Blake Davis – "It was a tough weekend on the Yamaha YZF-R7 in Twins Cup. We were fast straight away and always in the mix, but we had some technical issues related to a crash that kept us from reaching our potential. It was positive that we brought home solid points in every race, and we are in decent shape to start the season. The Daytona 200 was awesome! I made a mistake in the beginning, but we fought the entire race, and it was so much fun battling with the lead guys. Thanks to my N2/BobbleHeadMoto crew for an awesome R7 and thanks to Biothermal for all the support with the R6."
Shiloh Salopek (Crew Chief) – "This was a tough weekend for the team, but we were able to leave with valuable championship points from both races and the knowledge to be more prepared for the next round at Road Atlanta in April."
About N2: N2 – Ride, Race, Learn.
Founded in 2014, N2's mission is to build a sustainable motorcycle community through safe, structured motorcycle track days, advanced rider training programs based on Yamaha Champions Riding School teaching methods, with a strong affinity for motorcycle road racing. N2 successfully resurrected Motorcycle Endurance Racing in America partnering with WERA Roadracing and creating the N2/WERA National Endurance Series by Dunlop. N2 is a premier participant in the MotoAmerica pro racing series with a multi-rider team competing in several classes. N2 is also a major contributor to the Roadracing World Action Fund through fundraising efforts and support from its large member base.
For the full 2023 MotoAmerica schedule and to purchase tickets for MotoAmerica events, click HERE
For information on how to watch the MotoAmerica series, click HERE