There was a time in AMA professional road racing when riders would compete in more than one race class. In the late 1980s and 1990s especially, it was fairly common for riders to race in both Superbike and 600 Supersport, or 750 Supersport and 600 Supersport, especially when factory race teams were prevalent, and the motorcycle manufacturers coveted the Superbike, 750 Supersport, and 600 Supersport Championships. Superbikes were mostly 750cc motorcycles back then and the 750 and 600 Superport machines were, of course, sportbikes that had their heyday during that era.
Also, until the "Big Kahuna" Nationals debuted in 1998 at Road Atlanta, there was only one race in each race class at an event, whether it was Superbike, 750 Supersport, or 600 Supersport. So, riders could compete in two classes and two races without overextending themselves.
In the MotoAmerica era, which began in 2015, the Series' three major race classes—HONOS Superbike, Supersport, and Liqui Moly Junior Cup—have races on both Saturday and Sunday at each round. Stock 1000 and Twins Cup have either one or two races at each round, depending on the venue.
With all that being said, 15-year-old Rocco Landers has a chance to accomplish something that hasn't been done in 13 years. Landers is currently the season points leader in both the Liqui Moly Junior Cup and Twins Cup class, and if current trends remain the same, he will become the first AMA road racer to win two championships in the same season since Ben Spies won both the Superbike and Superstock Championships in 2007.
Think about that. The last time someone won two AMA road racing championships in the same season, Rocco Landers was barely two years old.
All told, seven riders have won two AMA road racing Championships in the same season, and they are all legends of the sport:
2007: Ben Spies – Superbike and Superstock
2006: Jamie Hacking – Supersport and Superstock
2000: Kurtis Roberts – 600 Supersport and Formula Xtreme
1995: Miguel Duhamel – Superbike and 600 Supersport
1992: Scott Russell – Superbike and 750 Supersport
1989: Jamie James – Superbike and 750 Supersport
1988: Doug Polen – 750 Supersport and 600 Supersport
Perhaps the most memorable double championship winner was also the first Canadian to win a Superbike title. And that's Miguel Duhamel, of course. In 1995, Duhamel won six AMA Superbike races in a row, which, at the time, broke future MotoAmerica president Wayne Rainey's record of five straight victories.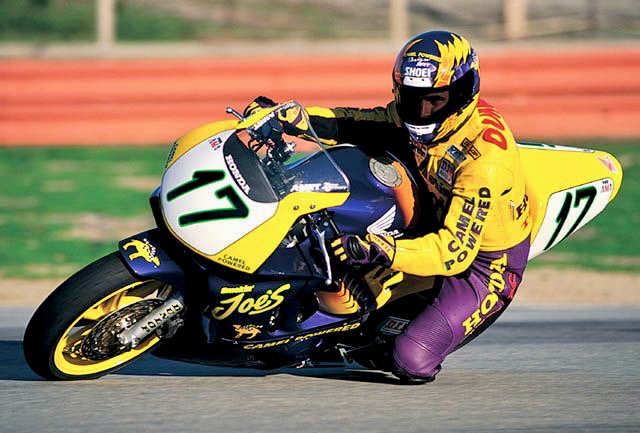 Duhamel also dominated the 1995 600 Supersport Championship by winning nine of the 11 events, which included an unbeaten streak of eight straight races that broke Doug Polen's record. And, for his double-accomplishment, Duhamel was named the 1995 AMA Pro Athlete of the Year.
In the 2020 Liqui Moly Junior Cup class, Landers' current streak reached nine straight victories in New Jersey. The question now becomes whether or not Landers can clinch the championship by the end of round eight in Indianapolis next month. He is expected to miss this season's final round at Weather Tech Raceway Laguna Seca because of his commitment to race in the Red Bull MotoGP Rookies Cup, so Indy will be a critical round for Landers.
In Twins Cup, Landers has come on like gangbusters at the past few rounds. At New Jersey, he went from eight points in arrears of then-points leader Kaleb De Keyrel to now leading the championship by a full 19 points heading into this weekend.
So, Landers now has his sights on a double championship just like Spies, Hacking, Roberts, Duhamel, Russell, James, and Polen did so many years ago. The kid could join quite an elite group of riders, to say the least.
To purchase tickets for all MotoAmerica events, click HERE
For information on how to watch the MotoAmerica Series, click HERE
For the full 2020 MotoAmerica Series schedule, click HERE