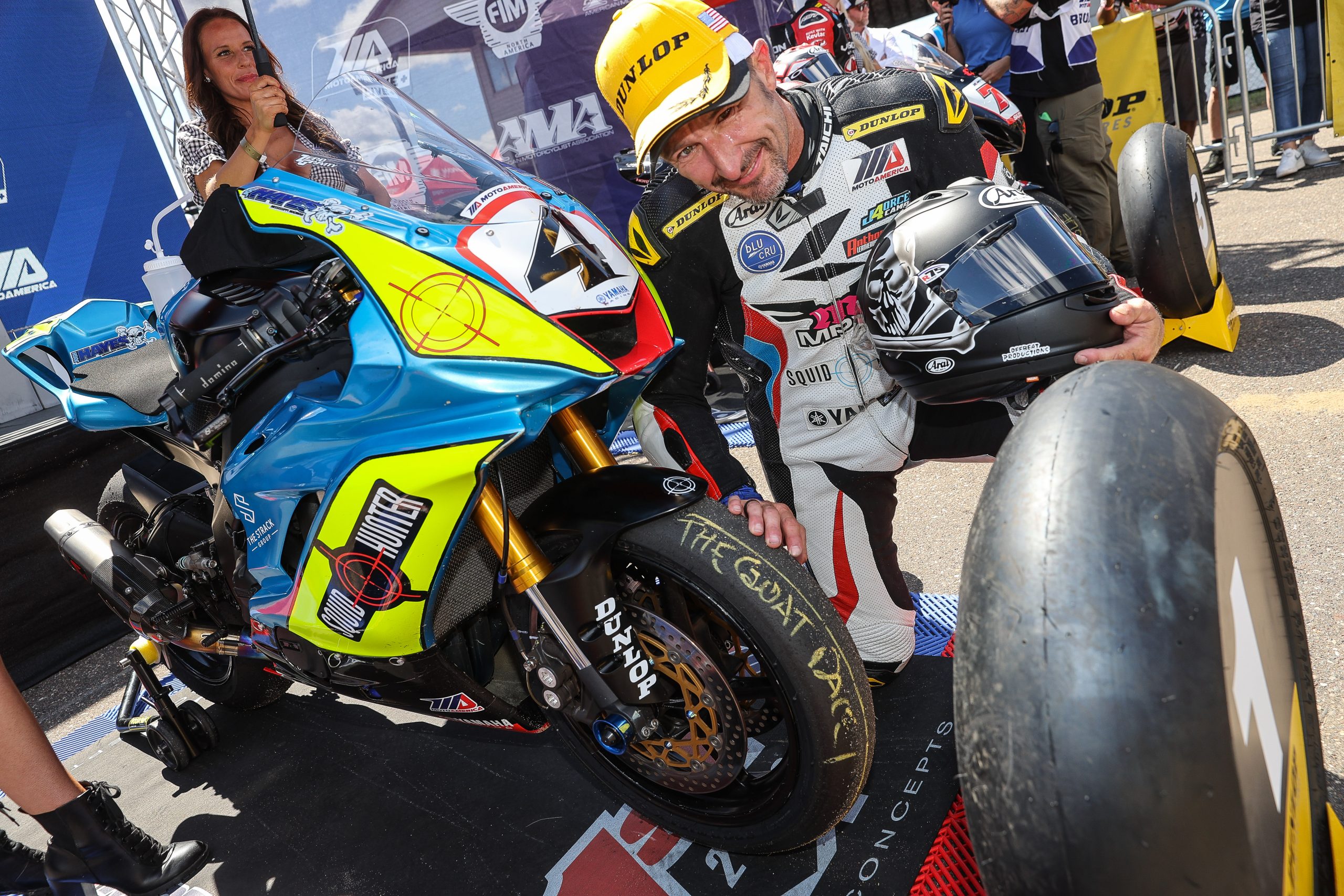 Random notes, comments, statistics, musings, and bits of trivia from the MotoAmerica Superbikes at Brainerd event:
Four Score And Seven Wins Ago
The Mississippi Madman. Hurricane Hayes. No matter what you call him, 48-year-old Josh Hayes is now the winningest rider in American professional motorcycle road racing history. His 87th race victory in Supersport race one at Brainerd eclipsed AMA Hall of Fame legend Miguel Duhamel, a man who inspired Hayes to be a motorcycle road racer in the first place. "I really looked up to that guy," Hayes said. "He's one of the reasons I got involved in this sport, and I learned so much from Miguel."
It's notable that, on Sunday, Hayes very nearly notched his 88th AMA/MotoAmerica win. The Squid Hunter Racing Yamaha rider finished second to 17-year-old Tyler Scott, who was born more than six years after Hayes won his very first professional motorcycle road race, at Daytona in 1999 aboard a Team Hammer Valvoline EMGO Suzuki GSX-R750. Ironically, Scott is racing for the same team (Team Hammer) and on a direct descendant of the same motorcycle (Suzuki GSX-R750) on which Hayes got that first win.
In The Interest Of Time
Speaking of Hayes, he is not only still winning races, but he's also still breaking lap records. In Saturday's Supersport race one, on his way to breaking the tie with Duhamel for most all-time race wins–on lap 3 of 16, to be exact–Hayes did a lap time of 1:33.598, which was faster than the lap time of 1:33.694 recorded by Sean Dylan Kelly during race one at Brainerd in 2021.
The track was slightly reconfigured this year, too. An adjustment of the curbing in turn 10 made the track a little bit slower than it previously was, which is why very few lap records were broken.
Besides Hayes's new Supersport race lap record, Disrupt Racing's Hayden Gillim set a new race lap record in Steel Commander Stock 1000. Gillim's time of 1:32.671 on lap 6 of 12 in race one broke the race lap record of 1:32.671 that he set in last year's Stock 1000 race at Brainerd.
Also, in Mission King Of The Baggers, Sac Mile/SDI Racing/Roland Sands/Indian rider Bobby Fong did a 1:35.354 on lap 4 of 9 in race one, which is a new class lap record and race lap record. Fong went faster than his own previous race lap record of 1:35.606 in last year's KOTB race at Brainerd and also faster than Tyler O'Hara's class lap record of 1:35.456 set during KOTB first qualifying last year.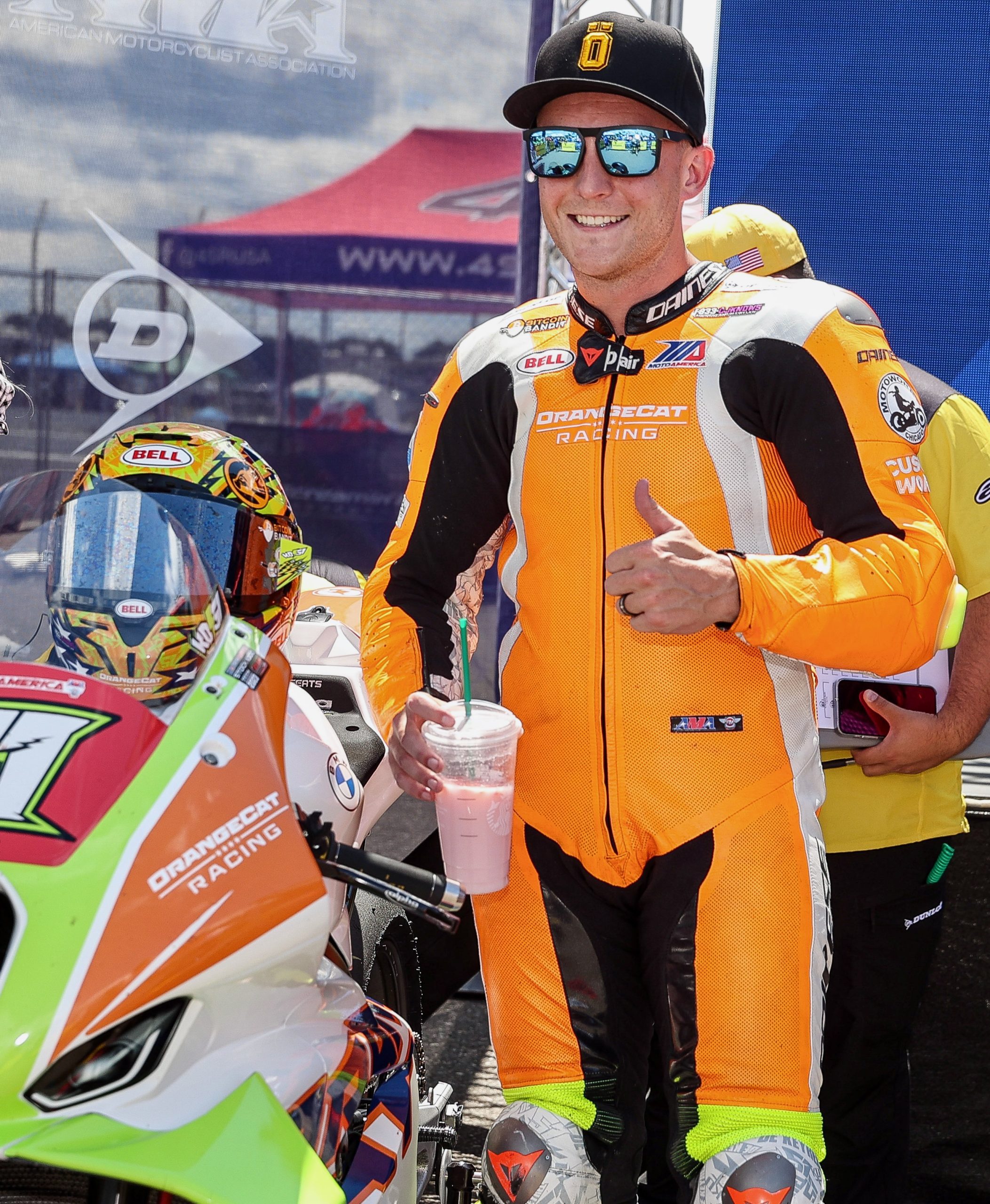 It Has A Certain Ring To It
Orange Cat Racing BMW's Kaleb De Keyrel had a pretty good weekend back in his home state of Minnesota. Not only did the rider formerly from White Bear Lake, Minnesota, positively kill it in an in-studio interview at Minneapolis-based CBS-TV affiliate WCCO-TV on Thursday, but he earned the pole position for the weekend's two Steel Commander Stock 1000 races then proceeded to finish as runner-up in both race one and race two. And, he was also finally able to reveal that he and his fiancé Marissa Lehner got married on July 12. The De Keyrels had to keep it a secret until after their extended families in Minnesota were told the news. De Keyrel was sporting his new wedding ring on the podium after both of the races.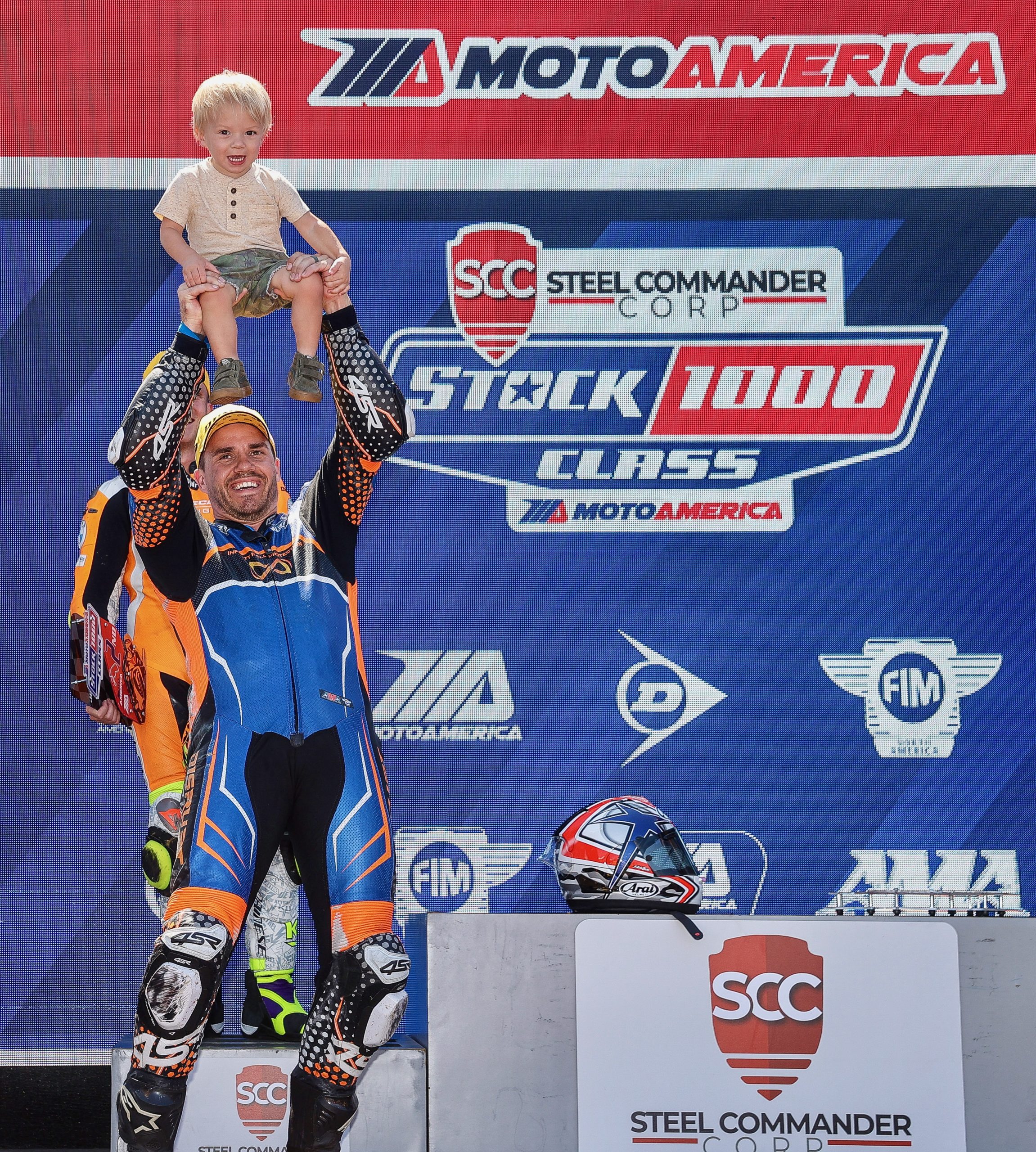 Man Of The Meet
Hayden Gillim also had a great weekend in Minnesota. The Kentucky rider won both Steel Commander Stock 1000 races aboard his Disrupt Racing Suzuki GSX-R1000R, finished 6th and 7th, respectively, for Disrupt Racing in the two Medallia Superbike races, was third in the Mission King Of The Baggers Challenge, then won Saturday's KOTB race one aboard his Vance & Hines Harley-Davidson, and wrapped up the weekend with a runner-up result in Sunday's KOTB race two. All told, Gillim competed in seven races, and he won three of them and finished on the podium in five of them (even though, technically, the KOTB challenge is a winner-take-all event, Gillim still finished third in that three-lap dash for cash). He is now leading the Mission King Of The Baggers Championship by three points over Kyle Wyman and James Rispoli, who are tied for second place, and he sits just eight points behind Ezra Beaubier in the Steel Commander Stock 1000 Championship standings.
Full Speed Ahead
Medallia Superbike rider PJ Jacobsen achieved the highest trap speed of the weekend at Brainerd International Speedway, and he got that accomplishment out of the way early. Aboard his Tytlers Cycle Racing BMW M 1000 RR in Friday's Superbike Practice 1, Jacobsen went 163.0 miles per hour on lap 10 of the 15 he did in that session. In Steel Commander Stock 1000, Orange Cat Racing BMW's Kaleb De Keyrel also went fastest right out of the gate on Friday. On his penultimate lap in Friday's Practice 1–lap 10 of 11–he got his BMW M 1000 RR up to 153.5 miles per hour. In Sunday's Mission King Of The Baggers race two, Tyler O'Hara achieved a highest trap speed of 145.0 miles per hour aboard his Indian Motorcycle/Progressive/Mission Foods Indian Challenger on lap 3 of 9. In Supersport race one, Teagg Hobbs went 144.5 miles per hour on lap 5 of 16 aboard his Vision Wheel M4 ECSTAR Suzuki GSX-R750, and he reached the same trap speed on his 7th and final lap in Sunday morning's warm up session. Then, Tytlers Cycle Racing's Stefano Mesa got his Kawasaki ZX-6R up to that same trap speed of 144.5 miles per hour on the opening lap of the restarted, five-lap Supersport race two on Sunday. The Junior Cup rider who achieved the highest trap speed in that class was Fernandez Racing's Jayden Fernandez, who went 122.7 miles per hour on his 11th of the 12 laps he did during Saturday morning's final qualifying. And, in Royal Enfield Build. Train. Race., Sonya Lloyd and Holly Varey each went 111.1 miles per hour on their Continental GT 650 motorcycles on lap 2 of their 8-lap race on Sunday afternoon.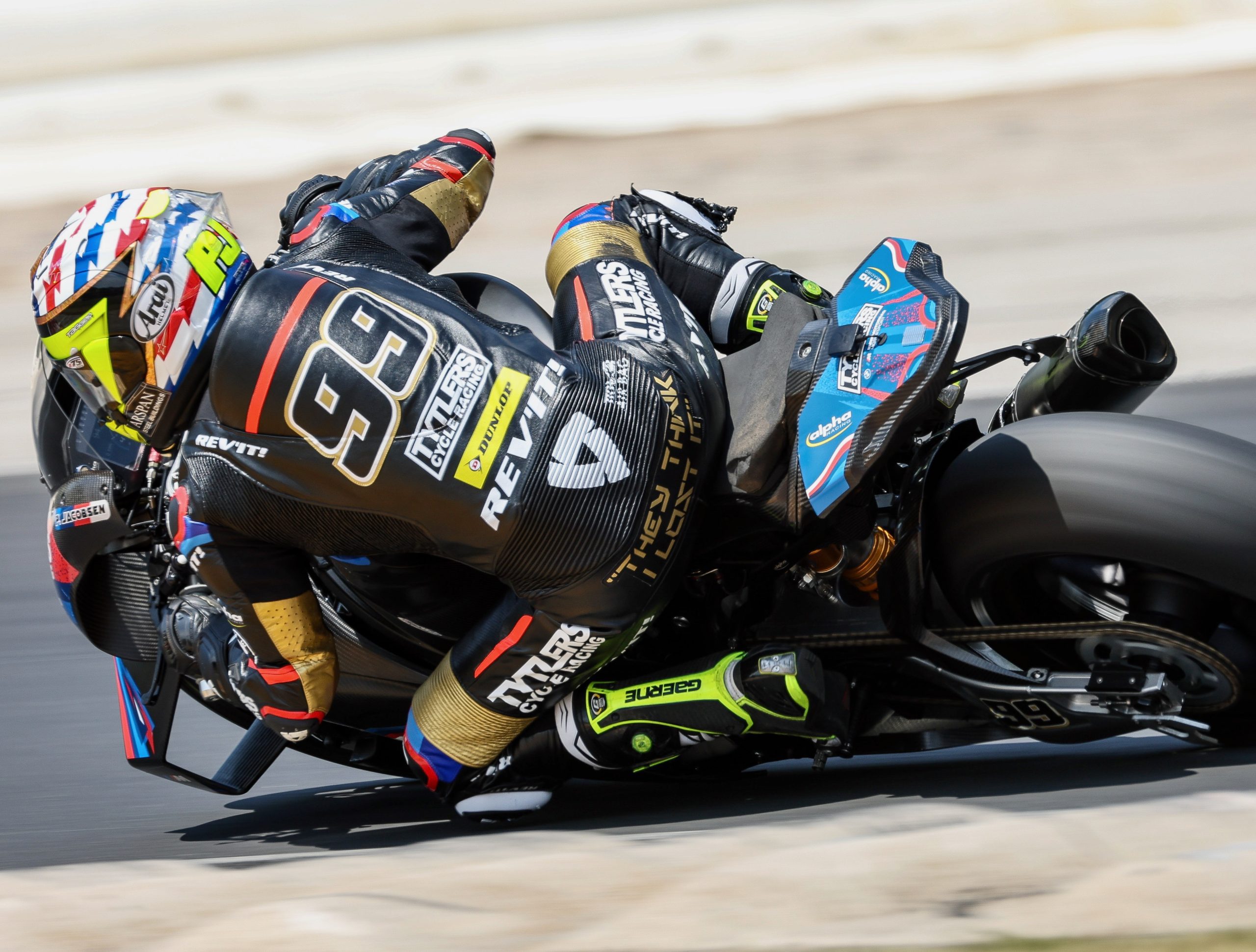 "They Think I Lost It"
Tytlers Cycle Racing's PJ Jacobsen is probably going to want to change the butt-patch on the back of his REV'IT! leathers. The rider of the #99 BMW M 1000 RR won Sunday's Medallia Superbike race two at Brainerd for his first victory in MotoAmerica's premier road racing class. Jacobsen, who turns 30 on August 7, previously won races in the Supersport World Championship and finished as runner-up in that series in 2015, He also has Grand Prix and World Superbike racing experience. So, whoever "they" are, take note: Jacobsen won it.
Jacobsen's first MotoAmerica Superbike win was also Scott Jensen's first victory as a Superbike crew chief and the second time Jensen has stood on an AMA podium. Jensen himself raced in AMA Superbike from 1999 to 2010, and he also raced in Superstock, earning a podium finish at Road America in 2007 aboard a HALOF Racing Suzuki.
For the full 2023 MotoAmerica schedule and to purchase tickets for MotoAmerica events, click HERE
For information on how to watch the MotoAmerica series, click HERE