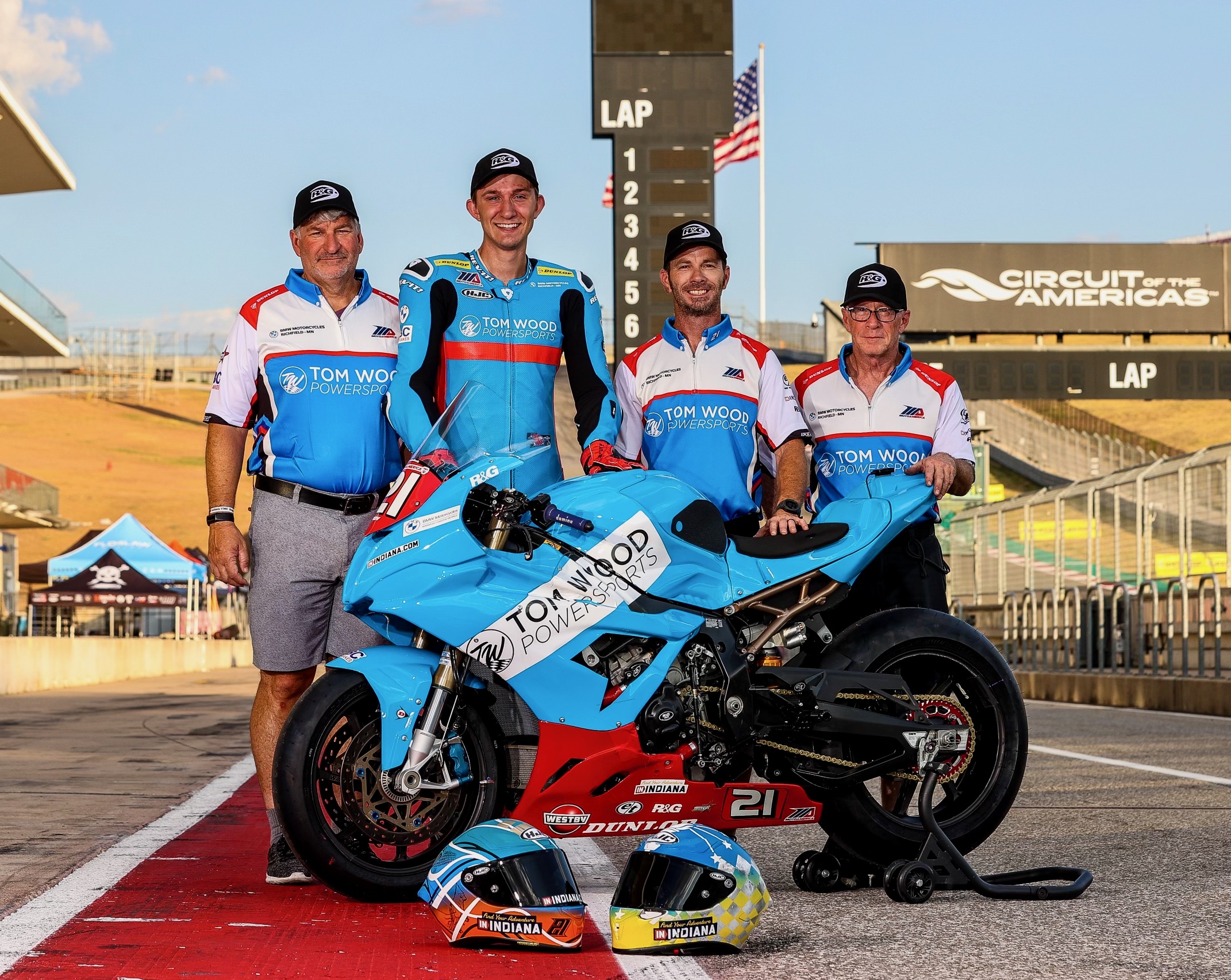 Random notes, comments, statistics, musings, and bits of trivia from the MotoAmerica Superbikes at Texas event:
Indiana Lamkin And The Superbike Cup
Congratulations to Tom Wood Powersports BMW rider Nolan Lamkin, who clinched first place in the 2023 Superbike Cup one round early. Lamkin will be presented with his $25,000 first-place check at next weekend's MotoAmerica Superbikes at New Jersey event. As a side note, while he was racing in Texas, Lamkin sported a new "Visit Indiana" tourism-themed helmet that his brother painted for him.
And They Were Just Warming Up
If you think the Sunday warmup sessions are a leisurely morning cruise through the park, check this out: five of the six riders who recorded the highest trap speeds in their respective classes at COTA did so during the Sunday Morning Warmup sessions. Here are the speeds:
• 194.5 – PJ Jacobsen, Tytlers Cycle Racing BMW M 1000 RR, Medallia Superbike Sunday Morning Warmup
• 186.4 – Kaleb De Keyrel, Orange Cat Racing BMW M 1000 RR, Steel Commander Stock 1000 Sunday Morning Warmup
• 169.9 – Tyler O'Hara, Indian Motorcycle/Progressive/Mission Foods Challenger, Mission King Of The Baggers Sunday Morning Warmup
• 166.9 – Kayla Yaakov, Tytlers Cycle Racing Kawasaki ZX-6R, Supersport Sunday Morning Warmup
• 166.9 – Torin Collins, Vision Wheel M4 ECSTAR Suzuki GSX-R750, Supersport Sunday Race Two
• 158.3 – Jeremy McWilliams, Indian Motorcycle/Progressive/Mission Foods FTR 1200, Mission Super Hooligan Sunday Morning Warmup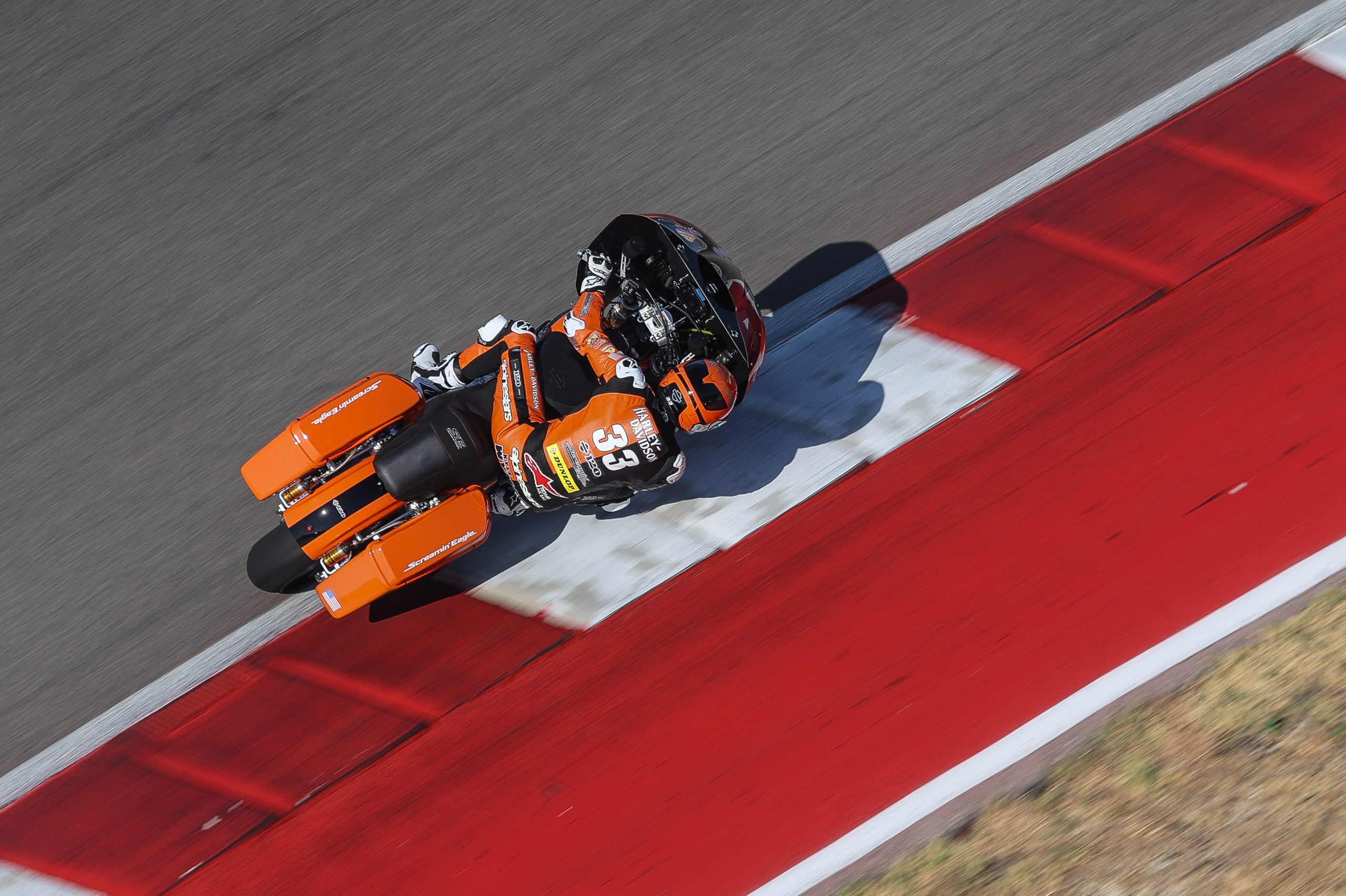 Lean Machines
I've mentioned before that Mathew Scholtz often reaches lean angles up to 61 degrees while cornering aboard his Westby Racing Yamaha YZF-R1 Superbike, but what about the Mission King Of The Baggers bikes? With their super-wide engines and frames, huge transmission and engine cases, big exhaust systems, and those hard bags sticking out each side, the riders can't lean the bikes anywhere near the angles that Scholtz achieves…can they? H-D Screamin' Eagle Road Glide rider Kyle Wyman looks like he's practically getting his elbow down in the turns, so I asked him what kind of lean angles he achieves. "57 degrees," Wyman said. After picking my jaw back up off the floor, I continued, "Are you touching down any hard parts?" "Oh yeah, all the time," Wyman replied. "We need to work some more on it. Raise the ride height because I keep scraping."
Torin On A Tear
Canadian rider Torin Collins competed in his first-ever MotoAmerica race weekend at COTA. The Calgary stampeder was the third Supersport rider on the Vision Wheel M4 ECSTAR Suzuki team, and he finished fourth in Saturday's Supersport race one, then improved his result in Sunday's Supersport race two with a third-place finish and a spot on the podium. By the way, Torin's name is of Irish origin. It means "chief" and is derivative of Thor, the Norse god of thunder. That's appropriate, since Torin wielded a hammer in Texas.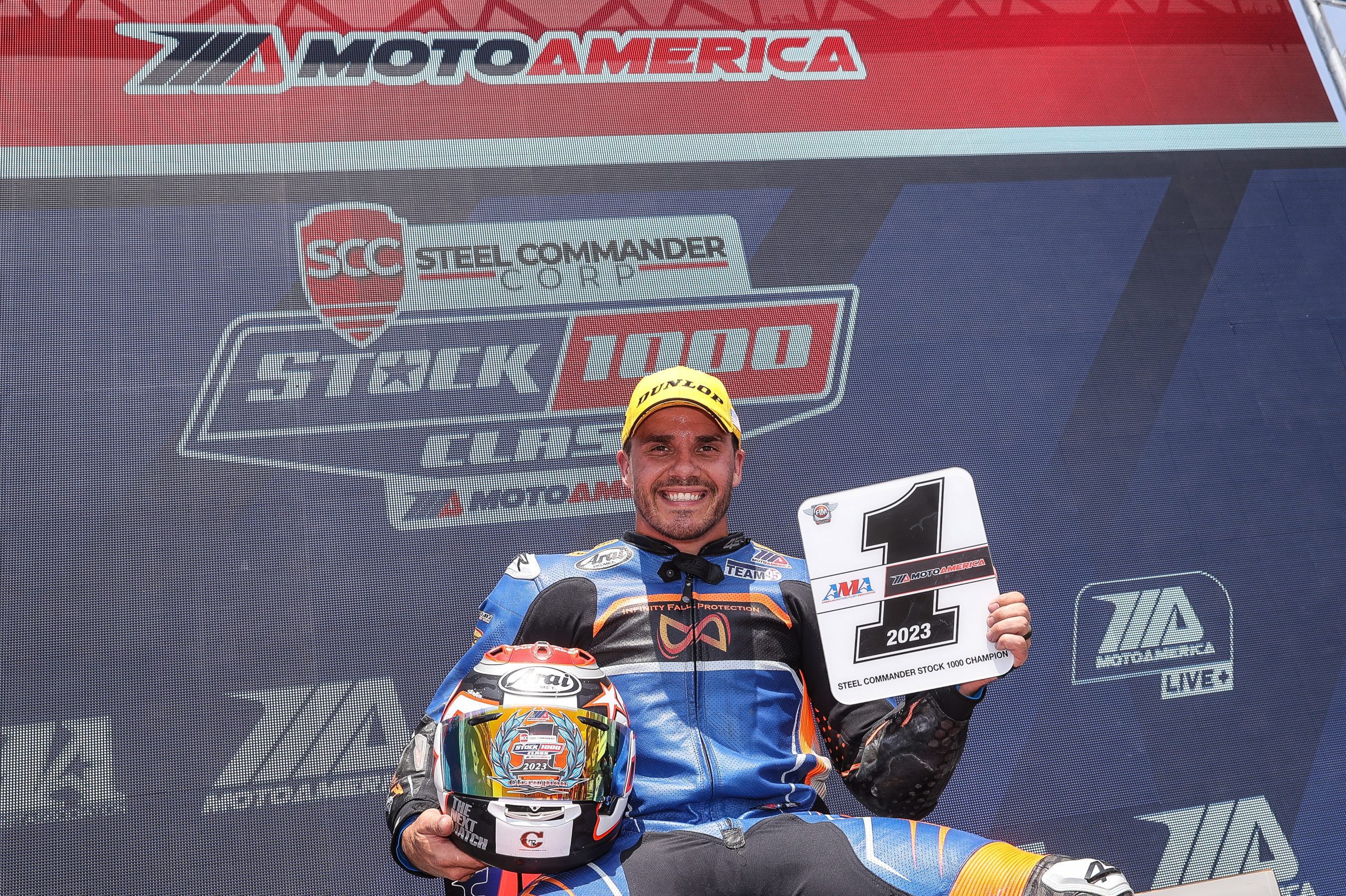 Steel Commando Gillim
Speaking of "hammers," how about Hayden Gillim? The Kentucky ironman competed in three race classes and a total of six races over the weekend: Steel Commander Stock 1000 on a Disrupt Racing Suzuki, Mission King Of The Baggers on a Vance & Hines Harley-Davidson, and Medallia Superbike on a Disrupt Racing Suzuki. Gillim notched two runner-up results in King Of The Baggers, won both Stock 1000 races, and clinched the 2023 Steel Commander Stock 1000 Championship.
It's been a remarkable comeback for the once and future champ who said, "I've got two professional championships. The first one was on the feeder 600 class back in 2014 before MotoAmerica took over. It's been nine years since that. So it's been a long time coming. I thought I had it again in 2019, and then, I had a couple bad races and lost it in Supersport. Then, I left (MotoAmerica) and was kind of done with racing. Then, some of the people who are here today got me back into it. This has been all the hard work paying off."
Jake Break
The only rider to set a new lap record in the intense heat at COTA was the guy who clinched the 2023 Medallia Superbike Championship at Pitt Race. In fact, Jake Gagne set two new lap records aboard his Fresh N Lean Progressive Yamaha Racing R1. He broke the lap record of 2:08.184 that Roger Hayden set way back in 2017 with a fastest lap of 2:08.169 in final qualifying on Saturday morning. Later in the day, Gagne then set a new race lap record of 2:08.586 in race one, eclipsing Danilo Petrucci's fastest race lap of 2:08.648 last year.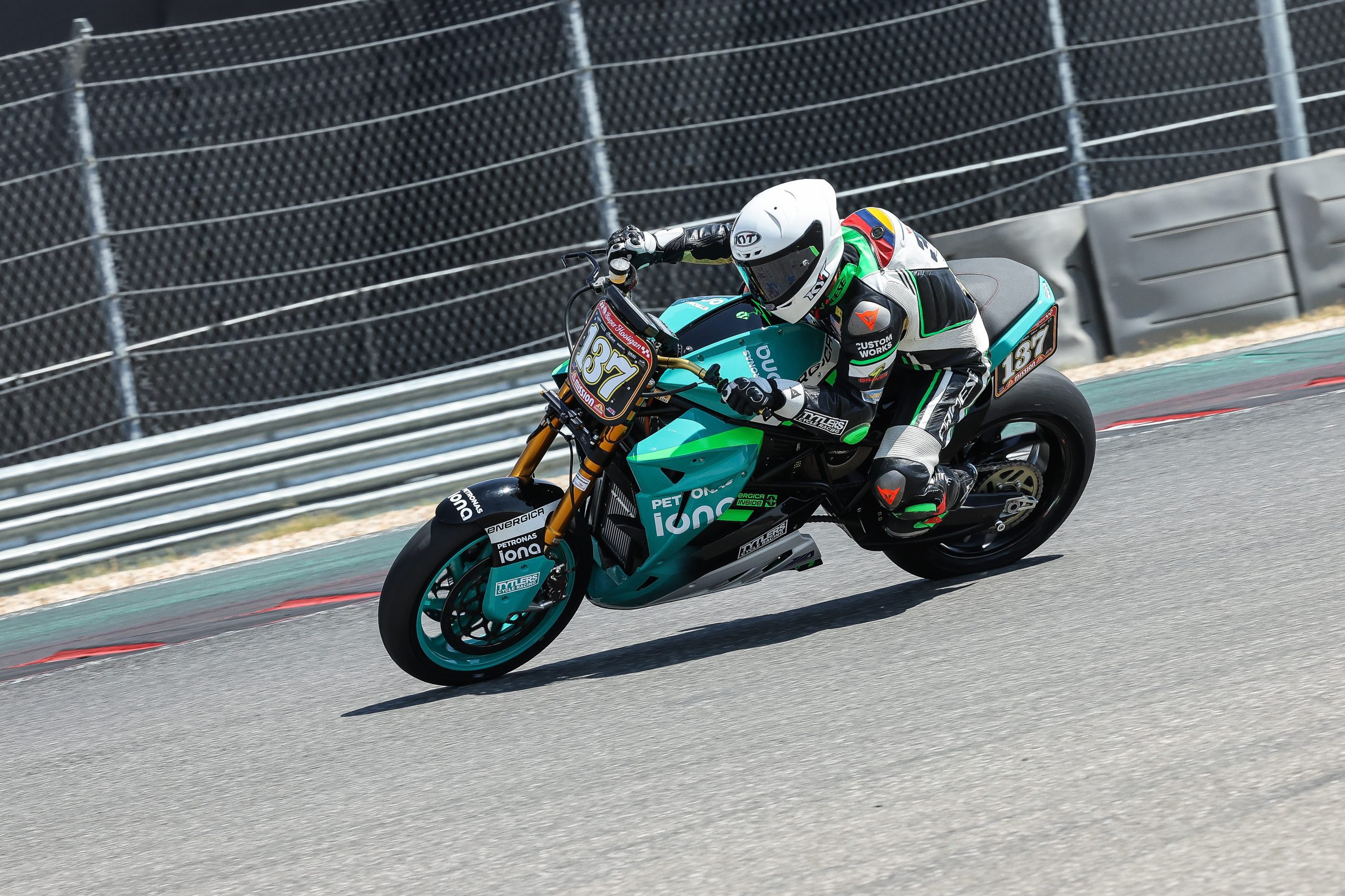 Battery Included
In Saturday's Mission Super Hooligan National Championship race one at COTA, Tytlers Cycle Racing's Stefano Mesa made history again. He became the first rider to put an electric motorcycle–the Energica Eva Ribelle RS–on the podium in a race against gasoline-engine-powered motorcycles. The milestone was a follow-up to the historic holeshot that Mesa got earlier this year at WeatherTech Raceway Laguna Seca, which was also in a Super Hooligan race against gas-powered bikes.
No Foolin' With Super Hooligan
While on the subject of Super Hooligan racing, Tyler O'Hara successfully defended his 2022 Mission Super Hooligan National Championship, which he clinched on Sunday. When asked about the viability of the series, he said, "It's the future. These are the bikes people buy. Look at how many Super Hooligan entries there were this weekend. It's popular, and people can relate to the bikes."
Beach On The Box & Ohnsorg Owned It
Finally, a shout-out to JD Beach and Kyle Ohnsorg. Beach got on the podium with a third-place result in only his fourth Medallia Superbike race this year as a fill-in rider for Cam Petersen on the Fresh N Lean Progressive Yamaha Racing R1 Superbike. Ohnsorg, who is an engineer for Indian Motorcycle and a rookie in the MotoAmerica series, finished third in Mission King Of The Baggers race two aboard his Roland Sands Design/Indian Motorcycle Challenger.