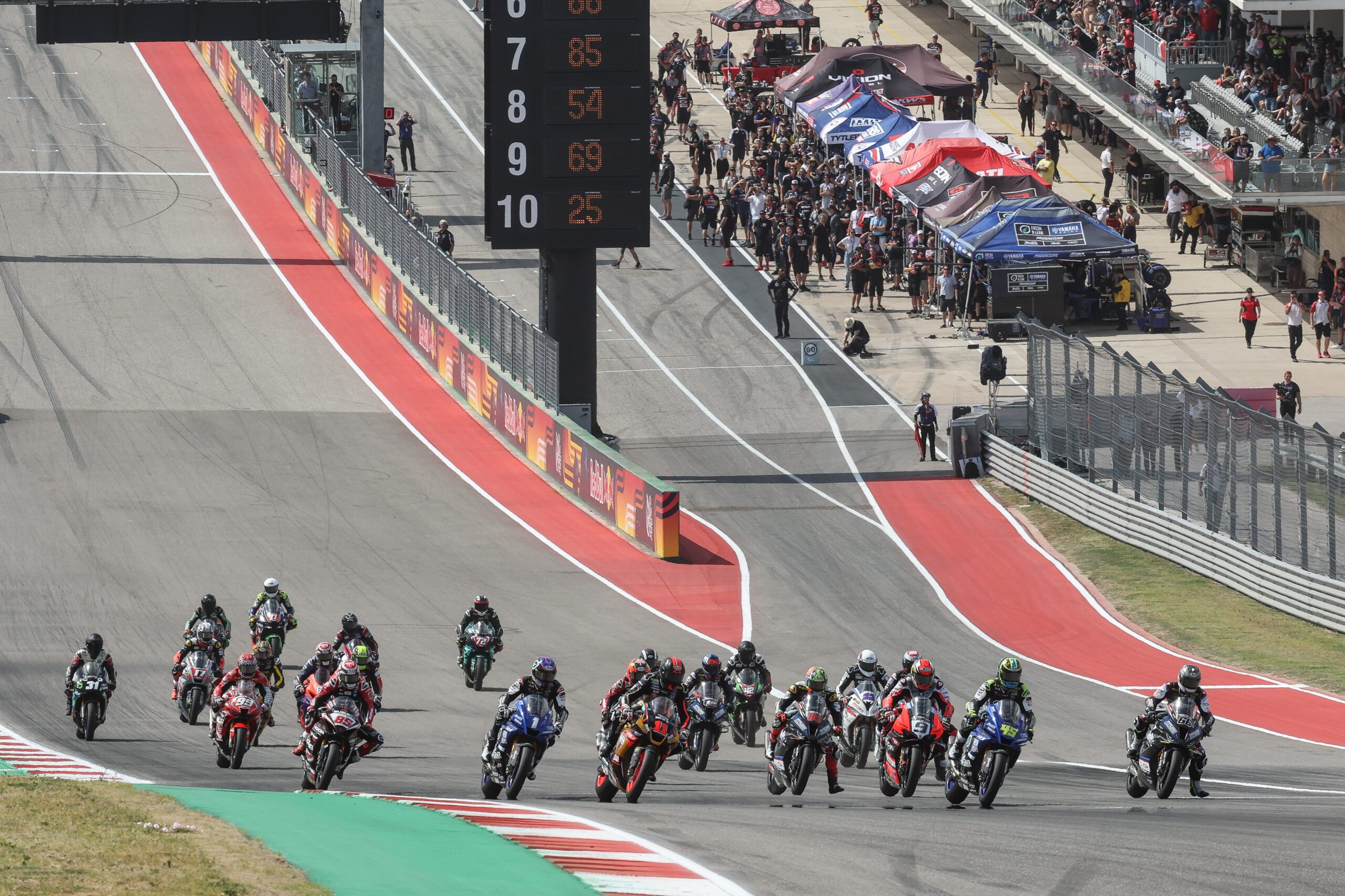 Random notes, comments, statistics, musings, and bits of trivia from the first round of the Medallia Superbike Championship:
Double-Ton Danny
Who had the fastest top speed among all the Medallia Superbike riders at COTA? That would be Warhorse HSBK Racing Ducati NYC rider Danilo Petrucci. The former MotoGP rider went 195.7 miles per hour aboard his Ducati Panigale V4 R in Saturday morning's Practice 2. His top speeds in qualifying and both races were slightly slower (192.3 in Q1, 192.8 in Q1, 190.6 in Race 1, and 189.0 in Race 2), but he consistently had the highest trap speeds of any MotoAmerica rider in each session on the track.
Rippin' Rubba
The newly paved sections of asphalt at COTA–put in to eliminate some of the larger bumps in the track that riders, and even car drivers, had complained about–were expectedly abrasive. VisionWheel/Discount Tire/KWS Motorsports Honda Superbike rider Geoff May said the new surface was similar to Barber Motorsports Park after they resurfaced their track. As a result, May was one of only two riders to go with Dunlop's medium-compound front tire for Sunday's race. The other rider was Danilo Petrucci. Was that the key to his victory? Well, not entirely (see what I did there?), but the runner-up in each of the two Medallia Superbike races, Westby Racing's Mathew Scholtz, did fight hard and closely with Petrucci in the early laps of each contest until conceding the wins, so tire wear was undoubtedly one of the factors.
Should Scholtz have chosen the medium front instead? "No," he said. "The 'soft' front Dunlop is not really that soft. It worked well for me, and the medium just doesn't give me the front-end feel that I like." That's understandable since Scholtz was consistently faster than Petrucci in the twisty, middle section of the course where front-end feel is critical.
Roger The Dodger
Well, it looks like ol' Rog dodged another one. Fresh N Lean Progressive Yamaha Racing's Jake Gagne ran the fastest lap of the weekend, a 2:08.450 in Q1. And yet, it was still not quick enough to eclipse Mr. Roger Lee Hayden's record-setting Superbike lap of 2:08.184, set in 2017's MotoAmerica Superpole qualifying session aboard a Yoshimura Suzuki GSX-R1000.
Out Through The In Door
Due to the MotoGP paddock being locked down tighter than Saturday night at the hottest club in town, it was much easier to get out of the MotoGP zone than it was to get in. Because of that, the MotoAmerica paddock–a kinder, gentler, more-welcoming place (;-)–had visitors from a bunch of World Championship teams, including Jack Miller and Francesco Bagnaia from Ducati Lenovo, who attended Warhorse HSBK Racing Ducati NYC's bike and rider unveiling, and also, the Binder brothers, Brad from Red Bull KTM Factory Racing and Darryn from the WithU Yamaha RNF MotoGP Team, who came over to hang out with their good friends and fellow South Africans Mathew Scholtz and Cam Petersen.
Applause In The Media Center
There isn't a whole lot of idle chit-chat in the Media Center at COTA. It is one of the largest media rooms we visit during the year, and it's also like the United Nations in that journalists and photographers from all over the country assemble there and speak softly in their native tongues to their colleagues seated next to them.
But, just like what happened in previous years when Toni Elias won MotoAmerica Superbike races at COTA, the conclusions of both Medallia Superbike races this past weekend were met with raucous applause, cheers, and Italian-spoken words of delight when Danilo Petrucci crossed the finish line first.
The big screens at the front of the room show the video feed, but there is no sound. So, the sudden outburst is somewhat jarring as a bunch of people who you don't think are even paying attention to the races you are intently watching all shout out at once.
Attack Needed More Track
With no Official Dunlop Preseason Test this season, the Medallia Superbike teams and riders were definitely wont for more track time. And, unfortunately, the schedule at COTA didn't even give them the amount of track time that they get on a normal MotoAmerica race weekend. As it turned out, defending champ Jake Gagne was probably affected the worst. A technical issue with his #1 Fresh N Lean Progressive Yamaha Racing YZF-R1, undoubtedly partially caused by a lack of practice sessions to test the bike's setup, caused him to miss the start of race one on Saturday. And then, there was no warmup session between Saturday's race one and Sunday's race two, so the teams had to use a slightly extended number of sighting and warmup laps just before race two to ensure that their riders' bikes were ready for primetime. Aboard his backup bike, Gagne successfully started the race and made it onto the podium, but one has to wonder if he could have done better if the schedule would have enabled his team and him to test the bike in a morning warmup session before putting it in the show.
PJ At The Point
At the start of Sunday's Medallia Superbike race two, and after a one-and-a-half year hiatus, PJ Jacobsen let everyone know he was back. The former World Superbike rider seemingly appeared out of nowhere and got the holeshot going into COTA's tricky turn one aboard his Tytlers Cycle Racing BMW M 1000 RR. Perhaps it was an early indication that we'll see more of Jacobsen at the front as the season progresses.
For the full 2022 MotoAmerica schedule and to purchase tickets for MotoAmerica events, click HERE
For information on how to watch the MotoAmerica series, click HERE